This past weekend, I flew to Nashville with my girl friends Winnie, Alice, and Roxana. I wanted to get my hands on as much hot chicken as possible after having watched the Hot Ones video series on YouTube prior and salivating each time. So of course I took my food research quite seriously. My friends probably got sick of having so much meat every meal. I think I ate enough chicken to last me through the rest of this year. Anywhos, here's a list of all the places we tried. Enjoy! (P.S. I only brought my phone with me this time, so no DSLR quality photos :T)
Riverside Grillshack
It rained the entire first day we were in Nashville. Our first stop was Riverside Grillshack, a literal shack located in the middle of a large plot of empty land. There is a detached screened-in shack with picnic tables inside. We ordered a burger, grilled cheese, and wings through a tiny window and sat Last Supper-style at one of the tables. Roxana and I split a warm, juicy grilled cheese. I like the pickled sauce it came with for the fries. We did half cajun style and half buffalo on the wings, and while both were great, the cajun rub took the crown for me. We were able to opt out on the fries that came with wings and replace it with two more wings. Even better, they threw an additional wing in there. Although it was pouring outside, I imagine this would be a pretty nice outdoor place to hang and enjoy a meal on a sunny day.
Address: 1000 Riverside Dr Nashville, TN 37206 Rosebank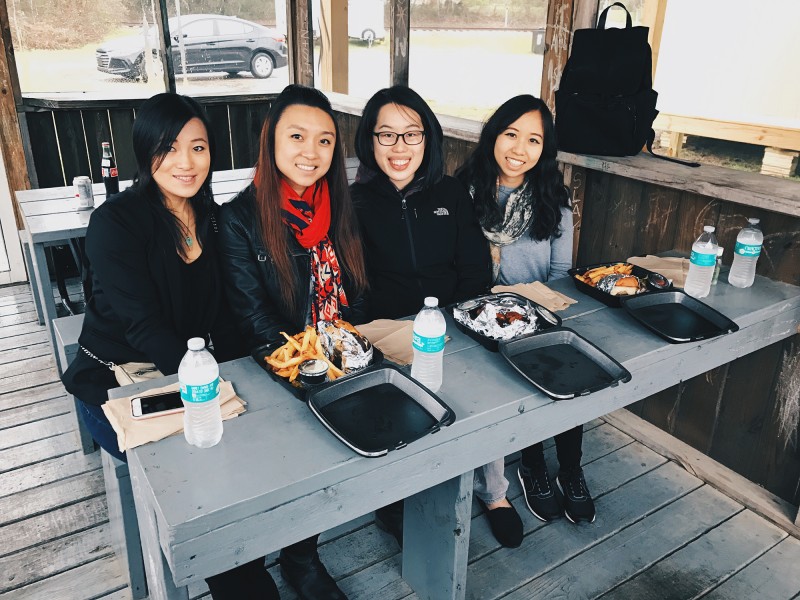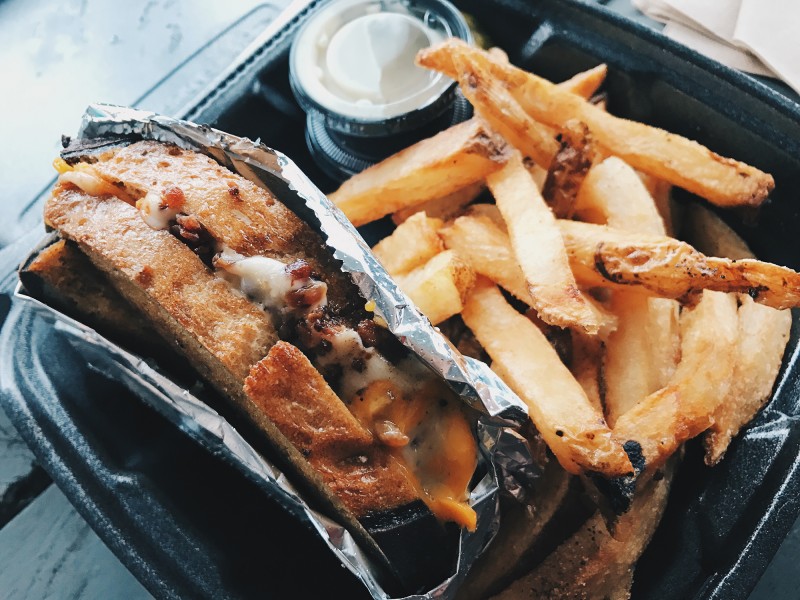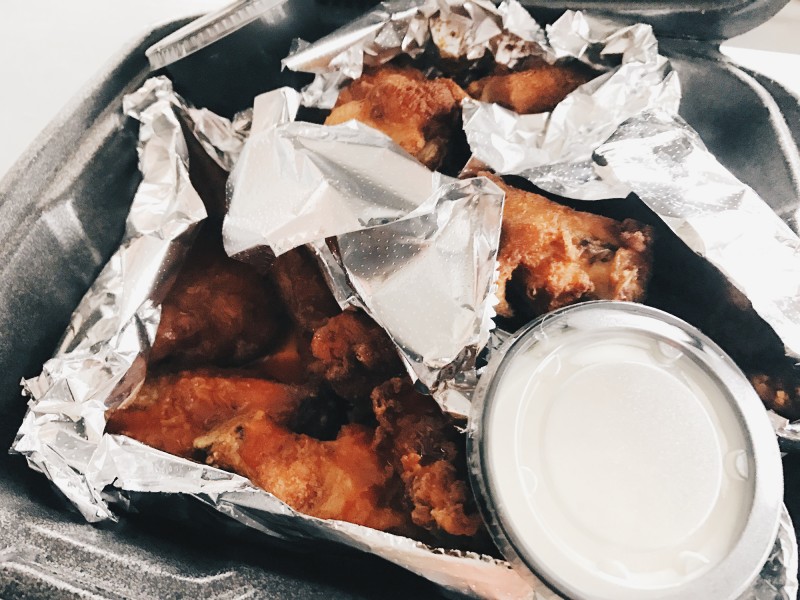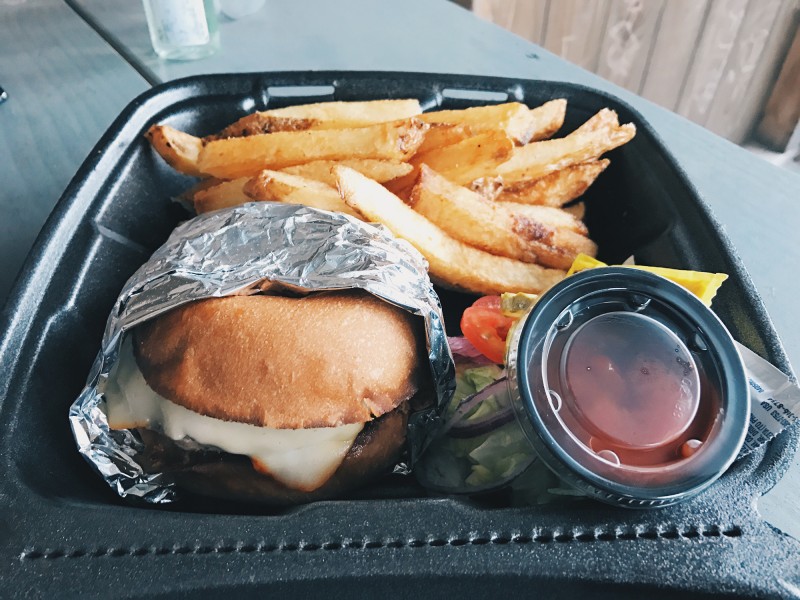 Martin's BBQ
The first thing we noticed upon exiting our car is the strong smell of smoked meat, with elicited an audible "oooh" from us. There is a lot in the back, but it does get filled up quickly. Don't be dismayed by the long line inside – it actually moves fairly quick. We grabbed an empty table while Winnie and Alice ordered the food at the register. We got some dipping sauces – habanero (Devil's Nectar), Jack's Creek (sweet whole hog sauce), Sweet Dixie (sweet molasses and tomato base), Alabama White (creamy vinegar), and Palmetto Gold (tangy mustard sauce). I like how they provided us with so many choices for the wings! Now for the food, we got some wings, ribs, sausage links, brisket, and sides. It was just okay. I definitely had better barbecue in Texas and New York (seems like an unfair comparison). The meat was tougher than expected and not rubbed well. So unless you're really craving some BBQ, I'll say skip this one.
Address (multiple locations but we went to this one): 3108 Belmont Blvd Nashville, TN 37212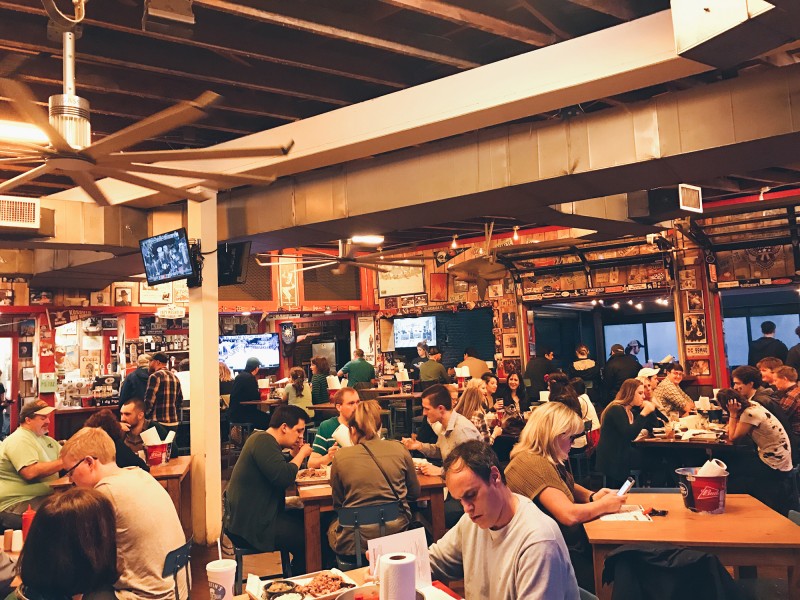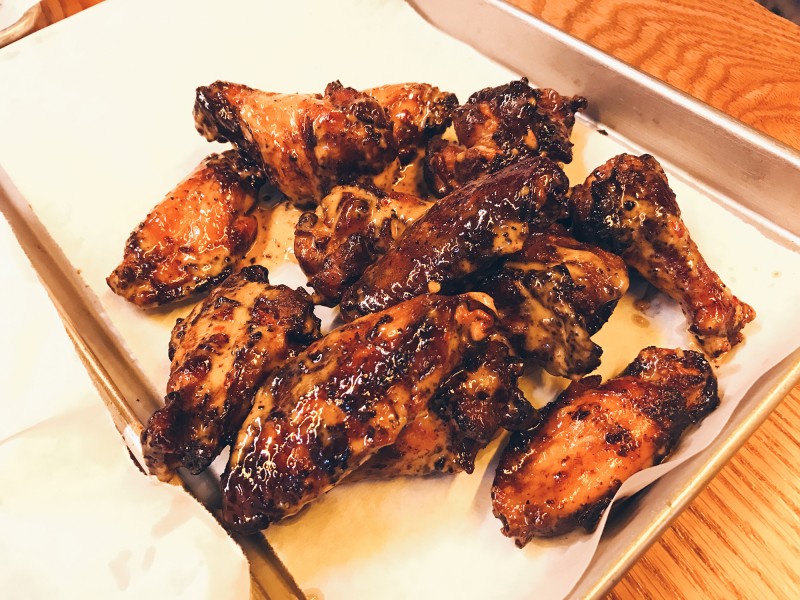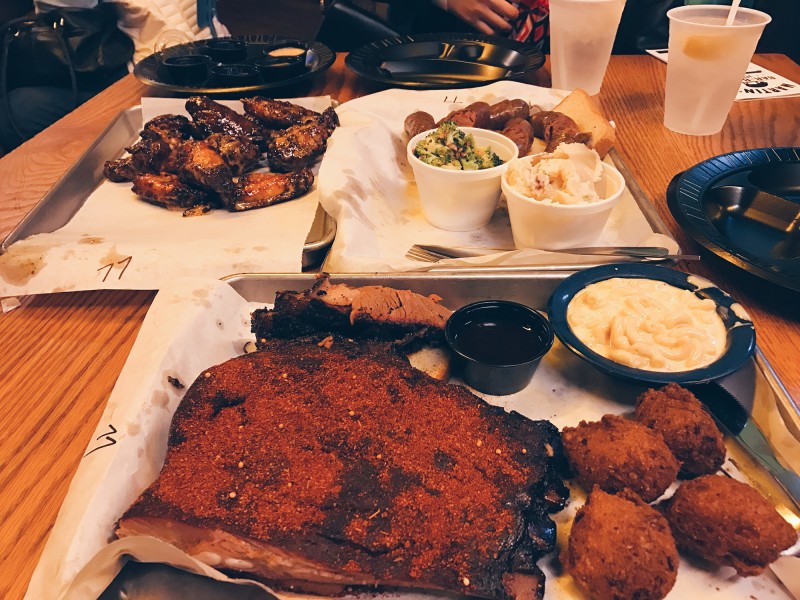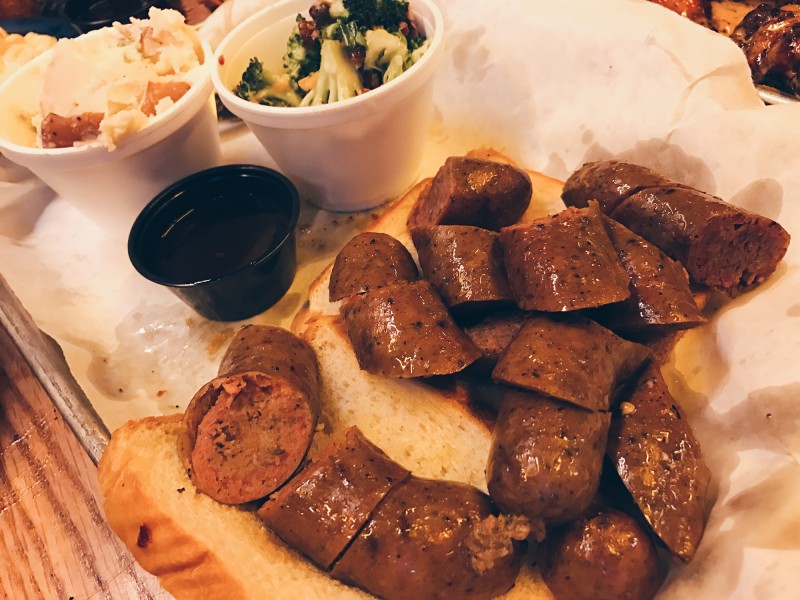 Monell's Dining & Catering
Of all the places we ate at in Nashville, Monell's definitely offered the most unique dining experience. We went to Germantown on a beautiful Saturday morning and waited 30 minutes outside in their garden area. We were later ushered in with two other groups to a communal table. Note that phones are not allowed at the table, because that's just bad manners. So for the next hour or so, we passed around the table biscuits, gravy, cheese grits, corn pudding, bacon, ham, eggs, cinnamon rolls, and potatoes. Good ol' southern soul food. Strangers were conversing with each other. We don't really have anything quite like this in New York. At first we were surprised; usually strangers don't talk to each other. Over our stay, we accepted this is just southern hospitality…people down here say hello and are polite without ulterior motives. Don't expect a long meal, though. It goes by pretty quick so they can bring in the next group of people.
Address: 1235 6th Ave N Nashville, TN 37208 (Germantown)
Prince's Hot Chicken Shack
As I've said, Nashville is known for their hot chicken, and the best ones we've had were from Prince's Hot Chicken Shack. The neighborhood looks pretty sketchy, the restaurant looked kind of like a Chinese takeout place, and the guy calling out our order numbers had a handgun strapped to his leg. But…the chicken is awesome. I'm glad we rented a car, because it is a little out of the way. Would I wait an hour for it again? Not sure. But I'm glad we tried it. They have an odd schedule posted on their menu which states when certain items are available. I don't know why they advertised having wings and tenders that Saturday night when they told us they had none once we got to the cashier. We had to opt for thighs instead. A word of caution: compared to other hot chicken places, the spice level at Prince's is no joke. Winnie ordered a medium and her mouth was on fire. Even with mild, the spice level is decent, and the delicious buttered bread it sits on soaks up all the sauce. The batter was perfectly fried and seasoned, and the meat inside so tender. It was amazing. Best chicken, hands down.
Address: 123 Ewing Dr, Nashville, TN 37207
Biscuit Love
We visited Biscuit Love near downtown on a Sunday morning, and the line extended down the block. It moved rather efficiently and we were inside within 40 minutes. We were handed a menu and placed the order at the register before finding our own seats inside. Water was available up front, too. Biscuit Love is known for their bonuts (fried biscuit dough, lemon mascarpone, blueberry compote), which they served us first. Best to eat it while it's warm, but I wish we had it as a dessert. Of all the dishes we ordered, it seemed the Bill Neal (grits, shrimp, bacon, and mushrooms) was the crowd favorite. The fried chicken was decent, but if we had to compare it with everything else we've tried, we've had better. The restaurant definitely felt more hipster than the other restaurants we'd visited.
Address: 316 11th Ave S Nashville, TN 37203 (The Gulch)
Bakersfield Tacos
Taking a break from chicken every meal, we had dinner at Bakersfield Tacos, close to the Country Music Hall of Fame. Unlike most other places, there was no line and we were seated at a long picnic table right away. The guac wasn't too impressive, with avocados that they didn't grind well enough. But the tacos were all spectacular. We had about three for each person, and that was just the right amount. The meat tacos seemed to be the most popular; I recommend the Bistec and pork belly. The tortillas didn't feel too heavy either.
Address: 316 11th Ave S, Nashville, TN 37203
Arnold's Country Kitchen
Don't be fooled by the cafeteria setting of Arnold's Country Kitchen – this establishment earned a coveted James Beard award. It has some of the best meat-and-three [sides], so popular down here in the south. You can choose between kielbasa, roast beef, fried chicken, and others for meat depending on the day of the week. For sides, choices may include mashed potatoes, turnip greens, creamed corn, pinto beans, salads, etc. Also included are your choice of biscuit or muffin and sweetened or unsweetened tea. At around $15-$16, it's not the cheapest breakfast/brunch to get, but it will fill you up. We got there shortly after it opened at 10:30AM and the place was fairly empty (but fills up quick). Don't forget to try their pies! I loved the pecan.
Address: 605 8th Avenue South Nashville, TN 37203
Hattie B's Hot Chicken
Another one of the top three places for hot chicken is Hattie B's. More often than not, there will be a line out the door (though it was empty at 5pm on a Monday), but it moves quick. There's a number of chicken plates you can order, and they all come with your choice of two sides. Service was fast, and we ordered some extra to take back home on our flight. Compared to Prince's, I would say Hattie B's breading and meat is not as spicy and a bit drier, but it's still a decent contender. Plus, it is located closer to downtown and there was ample seating even on a sunny day. I noticed the employees seem to be really enthusiastic about their job. Oh, and the banana pudding is totally worth getting!
Address (multiple locations but we went to this one): Midtown, 112 19th Ave S, Nashville, TN 37203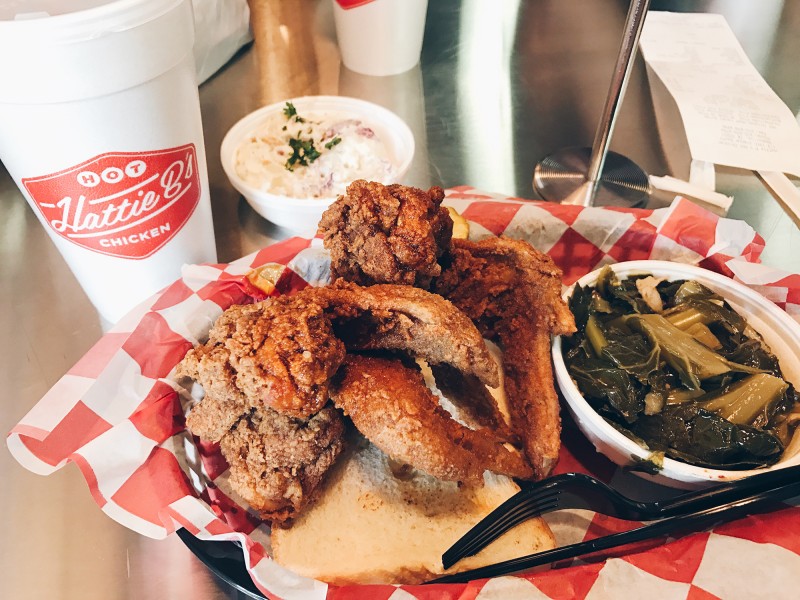 Desserts
If you have a sweet tooth, here are some dessert/coffee shops we recommend:
Last Paletas (gourmet popsicles)
Address: 2911 12th Ave S, Nashville, TN 37204
Mike's Ice Cream
Address: 129 2nd Ave N, Nashville, TN 37201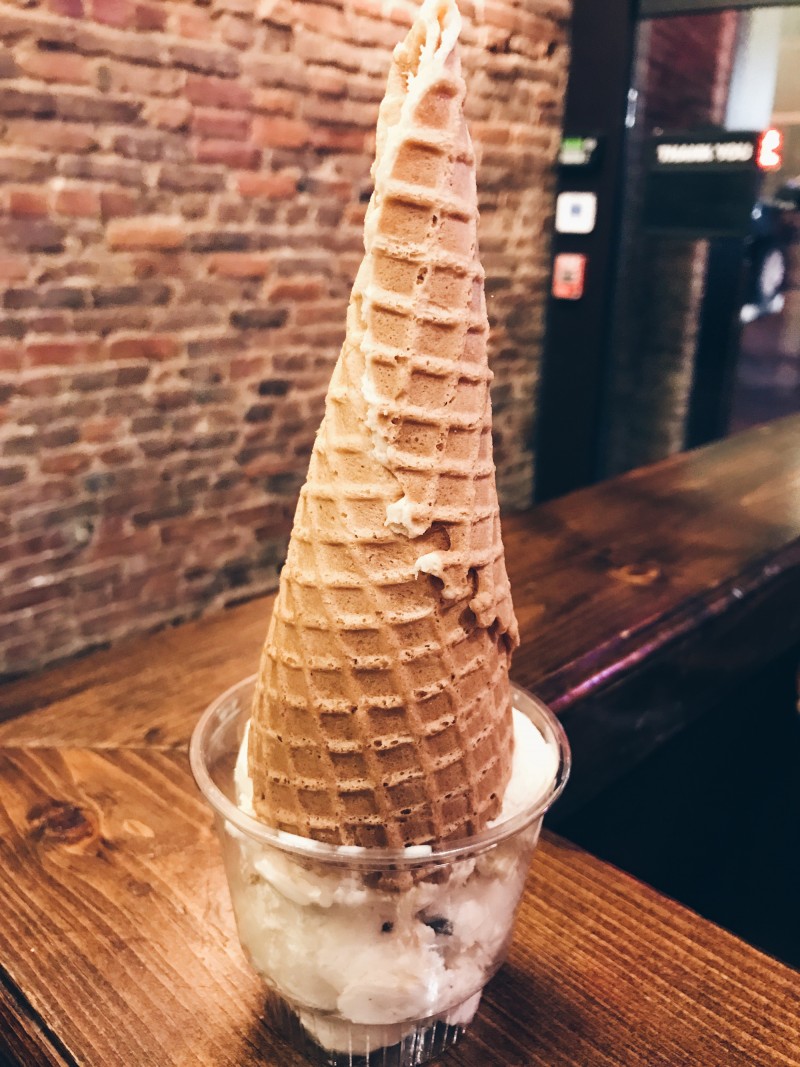 Ugly Mugs (coffeeshop)
Address: 1886 Eastland Ave, Nashville, TN 37206