It was time to embark on our journey aboard the Singapore Airlines A380 in Suites Class. Suites Class is Singapore Airline's First Class tier aboard their Airbus A380 where all the seats in the cabin are suites. If you want to read about the planning process for this flight and how we managed to get seats in the Suites Class, you can read my previous post on it here.
The journey starts with a visit to the lounge after checking in and getting our boarding passes. Singapore Airlines does not have its own lounge at JFK airport, so they partnered with Virgin Atlantic to provide lounge access at the Virgin Atlantic Clubhouse.
This was the best airport lounge we had been to so far in terms of decor, ambiance, and food. You are seated at a small table with a menu and someone would come take your food and drink order. We ordered Bellini and some small snacks from the menu. The food was all very good, but we didn't want to eat too much in order to save room in our stomachs for the food on the plane.
After boarding the plane, we were escorted to our suites. The suites were in a 1-2-1 configuration. We had chosen 2 middle ones so that we would be next to each other. There is a wall between the 2 suites in the middle that can be retracted for 2 passengers that know each other. While we were on the ground, we were offered a non-alcoholic drink and given a food and drink menu that they would be serving when in the air. Apparently, federal regulations prohibit them from serving alcoholic drinks while on the ground. So the champagne will have to wait.
We were each given an amenity kit.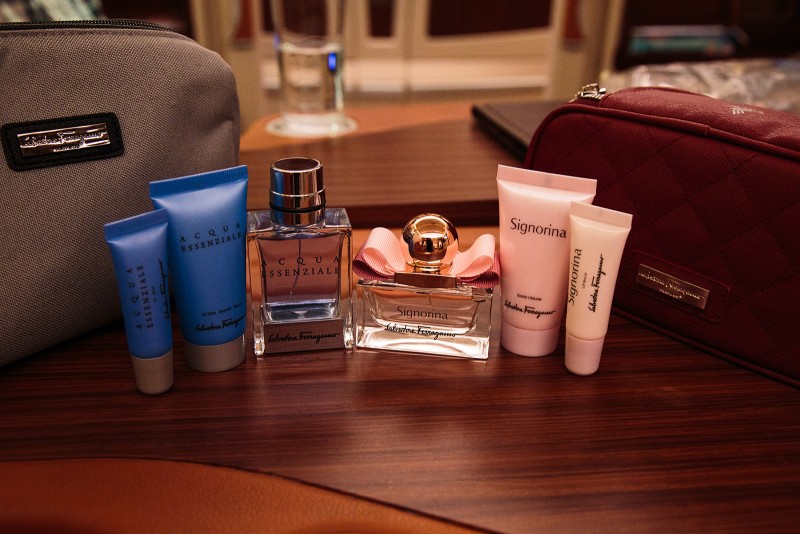 After the plane took off and we were in the air. The flight attendants took our order and brought each of us a glass of Krug. We also had the option to order Dom Perignon, but since we had already tried it previously, we opted for the Krug. The first meal was dinner. Here are some photos of what we ordered.
After dinner, the flight attendants offered to make our beds. While they were making our beds, we hung out in one of the other empty suites. Less than half the suites were occupied, so there were plenty of empty ones. The beds in the middle suites are next to each other, and without the wall in the middle, becomes a double bed.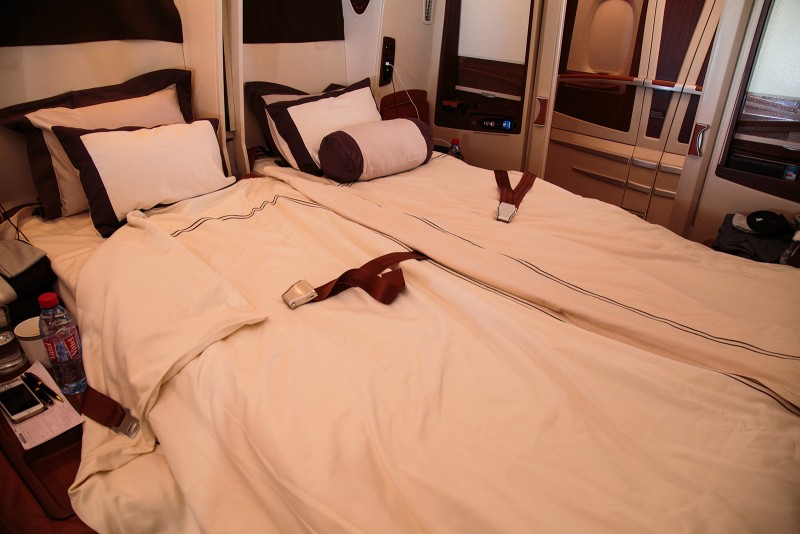 I had decided to propose to Margaret during this flight on the plane. She had previously mentioned to me that she doesn't like proposals in public and in front of a lot of people. So I decided to do so in a private cabin suite on this flight. The plane would represent our love for travel and I had thought it be unique to do so while 30,000 feet in the air in a private suite. As for the timing, I decided to propose to her after the bed was made. I had no idea how little room would be left in the suite after the beds were made. I did not have room to get down on one knee to ask for her hand in marriage. With the ring in my hand while we were lying down and talking, I brought it out, held it in front of her and asked if she would marry me. After a stunned look and a slight pause, she said YES!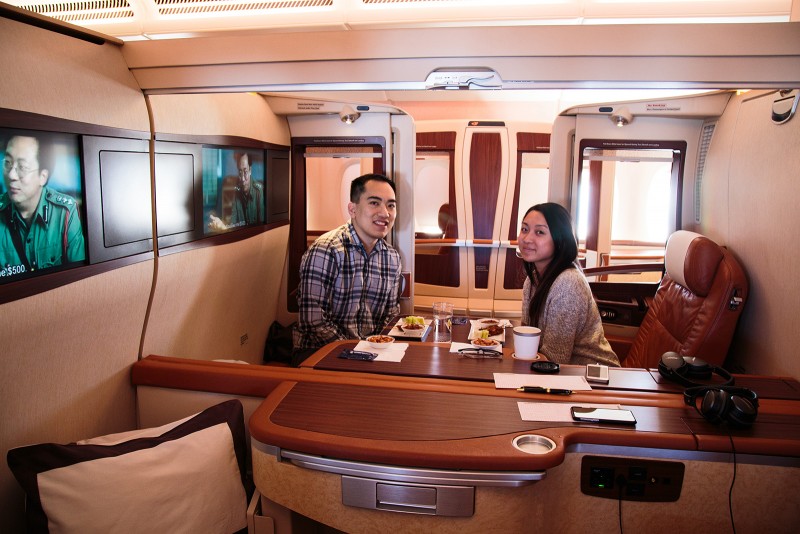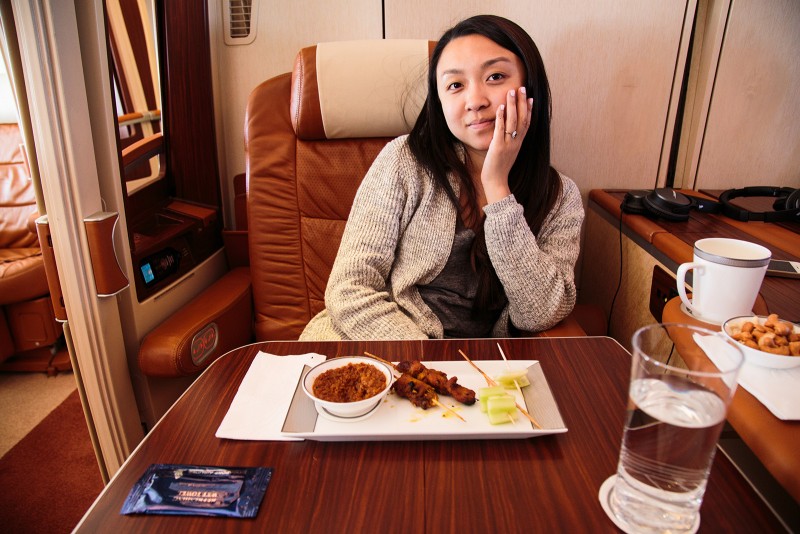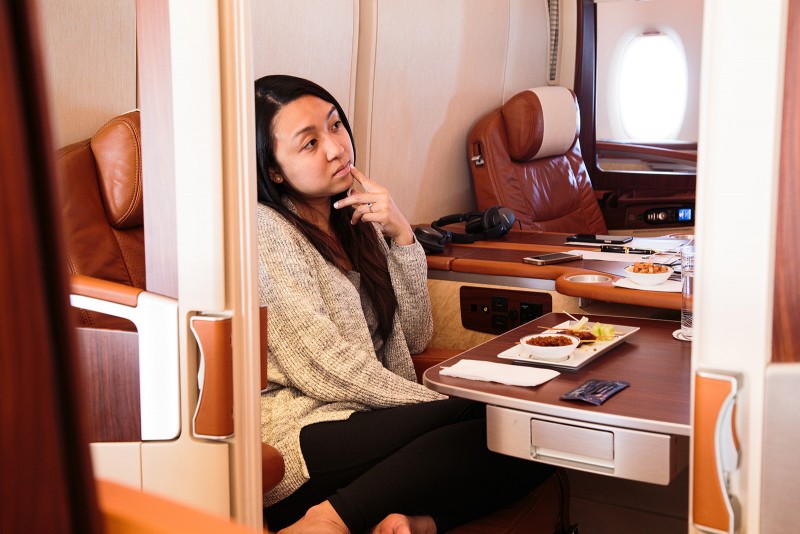 Singapore Airlines does not fly direct to Singapore from New York, so we had to layover in Frankfurt for about 2 hours. The experience was very similar when we boarded the 2nd leg of the flight. Here are some pictures of the meal we had on the flight from Frankfurt to Singapore.
Overall, it was a very enjoyable and comfortable flight, despite the total journey time being around 22 hours. But this was probably the best way to fly for such a long trip. This is definitely a trip to remember, not only because we flew in Suites class, but because it was when Margaret agreed to marry me.