Even before we got to Singapore, I was super excited about dining at Restaurant André, which is one of Taiwanese chef André Chiang's five restaurants. It is lauded as the best restaurant in Singapore and was awarded 2 Michelin stars. Chef André is most well-known for his octo-philosophy approach to his food: unique, pure, texture, memory, salt, south, artisan, and terroir. Each course exemplified one of these eight elements either in its appearance or taste (or both). The dining experience was one of my most memorable (thanks to Tie for this lovely birthday gift).
First off, the entrance to the restaurant is extremely subtle, which is part of its charm. There is an olive tree out front and a navy blue door. Aside from a small sign that says "André" it is kind of easy to miss. The exterior looks like it could be someone's home. Apologies for forgetting to snap a pic of it!
The kitchen and waiting area is on the first floor. When your table is ready, you will be escorted upstairs, which also has a very homey feel coupled with elegant interior design. I sat on the couch area by the windows. My favorite item were the sheep purse holders next to our seats.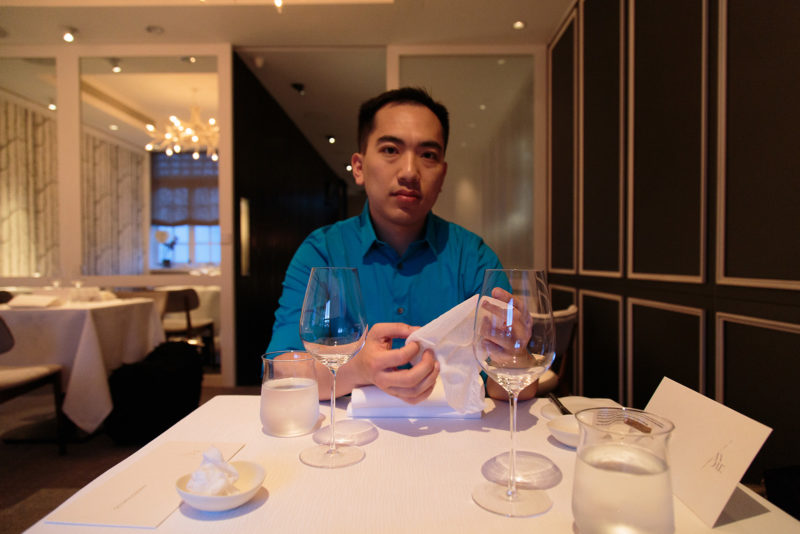 There were four people attending to our table throughout the night: the sommelier, a Korean girl who described each dish to us, a girl who changed your utensils for each course, and Pam (Chef André's beautiful wife), who also elaborated on some of the dishes. Alas, we didn't get the wine pairing because my throat wasn't feeling too well and I was concerned the alcohol would exacerbate it. But I hear it's quite nice – you can't find the wine anywhere else in Singapore. So if you're planning on dining here, do get the wine pairing!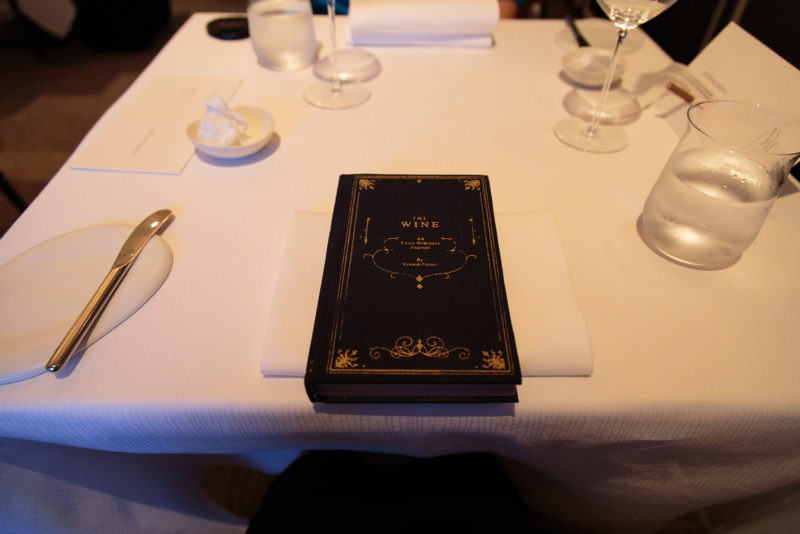 And now, please bear with me – here is a gallery of the dishes we had! I can't remember all of them, but there are descriptions below some. Sorry for the shitty photography – some images were left out because it was out of focus (lighting wasn't the best and neither was the lens). Most of the food is very French-inspired, and Pam informed us that André made many of the plates by hand after learning from a ceramic master in Japan. She said after he retires from cooking, that's probably what he will be doing. I love how the design of the plates perfectly complement the dishes, demonstrating just how much thought goes into each course.
After our meal, Chef André personally came out to chat with the patrons at each table (we took a picture with him at the top of this post). It was so lovely being able to talk to him in person. When asked which is his personal favorite course, he said it's hard to choose because they build on one another throughout the meal…but if he had to, it'd be the sakura dish. He talked about how his mother owns a Chinese restaurant close to Mount Fuji, but he wanted to do his own thing and so ventured out to France to study culinary art. His family is full of artists, which explains the creative presentation of all his dishes and the design of the restaurant itself. I really appreciate how Chef André decided not to simply create Asian dishes and instead pushed himself to learn French cuisine, showing that you don't need to be French to create a good French meal.
Pam escorted us out that night, and all the chefs in the kitchen bid us farewell (there were so many of them!). She mentioned André and her will be touring for his new book soon (we found a copy in Hong Kong and it contains lots of gorgeous food photography) and will be making a stop in New York. Tie noticed someone had a different set menu during dinner, and Pam said they were regulars so they alter the menu for them so they can try some different each time (ballers!). We asked if it was always this hot in Singapore, and she said actually it has been getting worse in recent years, including in her homeland of Thailand. She was walking her dog by Sentosa and it got a heat stroke! 🙁 Here in NYC, global warming seems more subtle than places with extreme heat like Singapore, which is right by the equator. But it is clearly a real thing and so much more suffocating for citizens of those countries.
Address: 41 Bukit Pasoh Rd, Singapore 089855
Hours: 12-3PM (Wednesday and Friday), 7-11PM (Tuesday – Sunday), closed Mondays
Price: $350 SGD per person (not including tax + gratuity) – set dinner menu only