As we prepare to return to Hong Kong in a few weeks, we'd like to share a list of our favorite foods from our last trip there. From street food to restaurants, the city has a ton of sumptuous options. Here's a quick list of the places we dined at during our last two visits!
1. Tim Ho Wan 添好運
This 1-Michelin star dim sum chain has several locations in Hong Kong and throughout Asia. Word has it they're even expanding to America. We went to the one in Sham Shui Po and the popularity of each location varies. My recommendation is get there early and get a number – cheap, quality food is no doubt going to be popular amongst tourists and locals alike 🙂 Once you get inside, you might be seated in the same table with strangers, but the more the merrier? There will be a bowl for you to wash your utensils and a menu for you to mark your selections. Don't think you can go wrong with anything here, but they are known for their pork buns. I wish we came with a larger group so we can order a greater variety of dishes!
2. Lamma Island 南丫島
Since Hong Kong is a harbor city, it is never short of fresh seafood. There are certain islands that are especially renowned for their seafood dining, such as Lamma Island. Sai Kung is also a great choice – hoping to visit it in the near future. Our friend made a reservation for Rainbow Seafood Restaurant in Lamma Island and we took a ferry there from Tsim Sha Tsui. There are also boats going to Sok Kwu Wan 索罟灣, the fishing villages, from Pier 4 in Central. There's a Chinese saying, 坐車坐車頭,坐船坐船尾, which means "sit in front of the car and sit in back of the boat." Helpful advice for those who get motion sickness easily. At Rainbow, we chose our seafood straight from their tanks and asked the employees for recommendations. This was easily one of the best meals we had in Hong Kong.
3. Imitation Shark Fin Soup (Woon Zai Chi) 碗仔翅
I absolutely love the taste and texture of imitation shark fin soup, or woon zai chi in Chinese. It's a thick soup, generally with a blend of vermicelli, shitake mushrooms, strands of egg, vinegar, and some protein. I've never had the real thing because it's uber expensive and banned (killing sharks for their fins is cruel and illegal!). Besides, I've heard that actual shark fin has no taste anyway. Woon zai chi is served in a bowl and can be found in small food stalls or restaurants. We got ourselves a bowl from Wah Kee Snacks 華記小食 and it cost around 28HKD.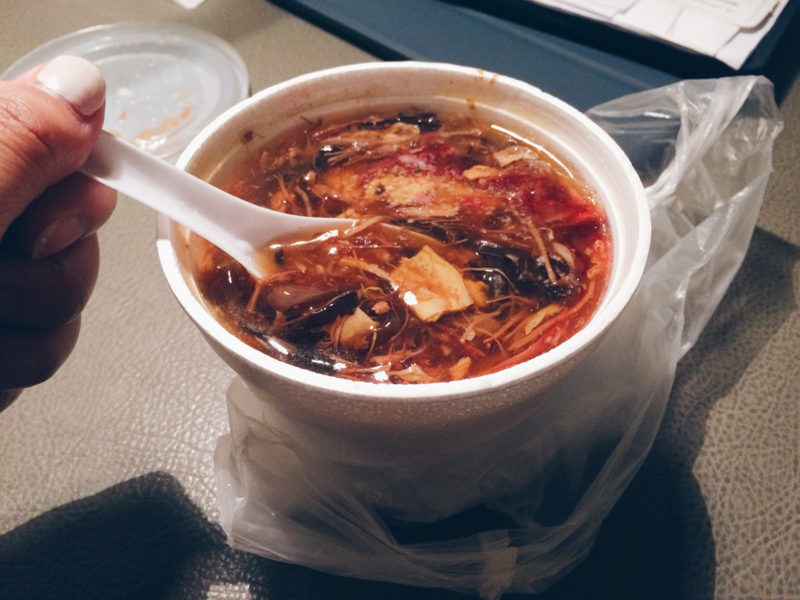 4. Mantis Shrimp 攋尿蝦
After reading the Oatmeal's comic about how badass mantis shrimp are, I had to try some of it in Hong Kong to feel like an even badder badass. Despite its reputation, it has a funny name in Chinese, 攋尿蝦, which translates to "pissing shrimp" because it squirts out water when picked up. Probably because of this unappetizing moniker, I was hesitant to try it at first. But it is freakin' delicious. We had it cooked with salt and pepper, and I liked sprinkling some of the crispy crumbs on my rice. The best place to get it is in Sai Kung, but you can also find it at any seafood establishment in HK.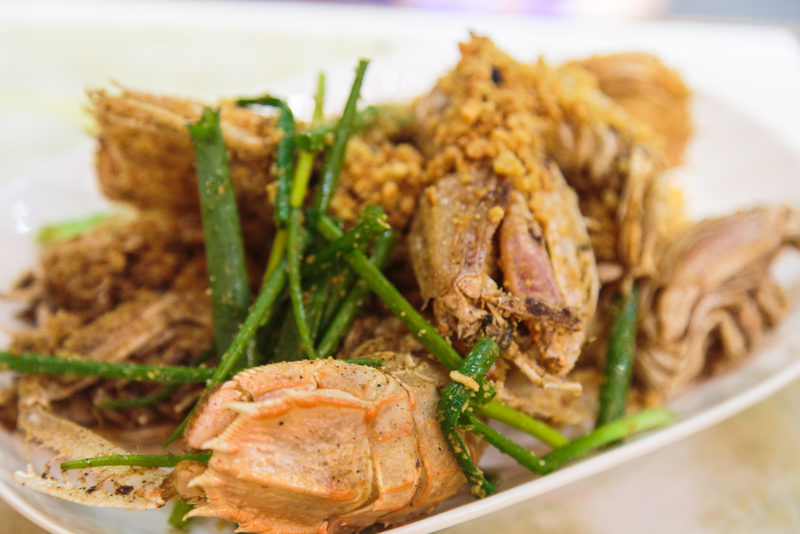 5. Tsui Wah Restaurant 翠華集團
Tie and I are huge fans of Hainanese chicken, and with Hong Kong being so close in proximity to the actual Hainan Island, of course we had to try it out. Tsui Wah is a popular chain of restaurants with many locations all around Hong Kong, and their speciality is boneless Hainanese chicken. The meat is super tender and juicy, and comes with a soup, rice, and spicy dipping sauce. We love it so much that we also went to the one inside Hong Kong International Airport for a quick lunch right before our flight.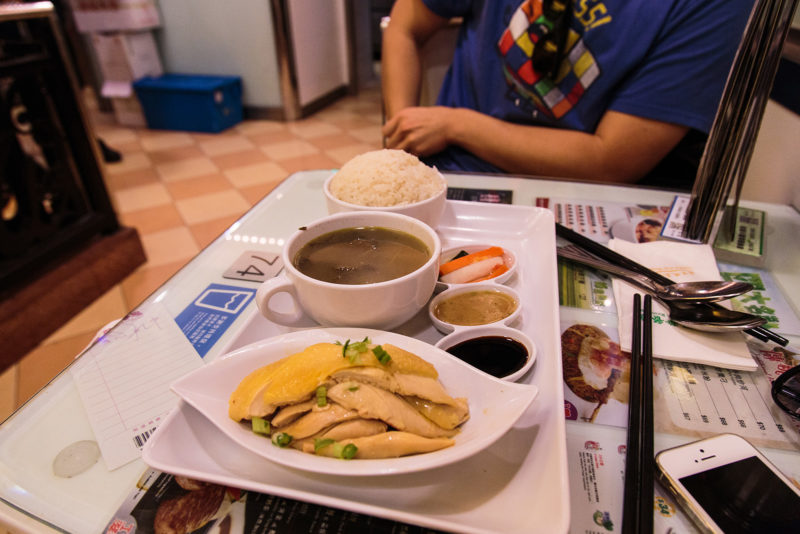 6. Dai Pai Dong 大牌檔
Okay, not exactly a type of food. Dai pai dong are restaurant outdoor seating. Generally located in pedestrian alleys, they provide a very lively dining atmosphere. You might be sitting a few feet away from patrons from another restaurant, and with that many people out in the open, there is a lot of loud chatter. Or you can just walk by and breathe in the intoxicating smell of someone's dinner. Temple Street in Kowloon is a good place to find a lot of dai pai dong.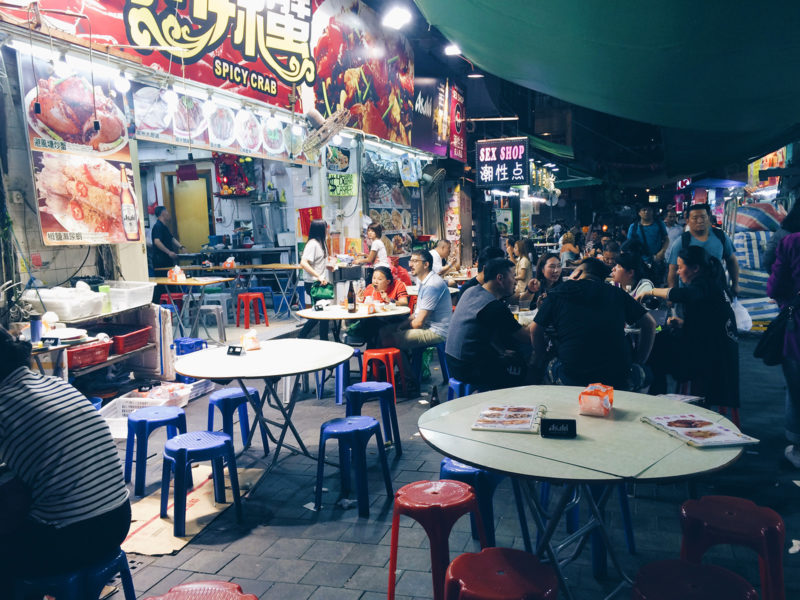 7. Curry Fish Balls and Egg Waffles 咖喱魚蛋,雞蛋仔
Curry fish balls and egg waffles are street food classics in Hong Kong. You can find them everywhere. Curry fish balls, which costs no more than 10HKD per skewer, sometimes come in different flavors as you'll see from the multi-colored sauces they're soaking in. These days it's popular to have egg waffles paired with other desserts, like ice cream or crepes.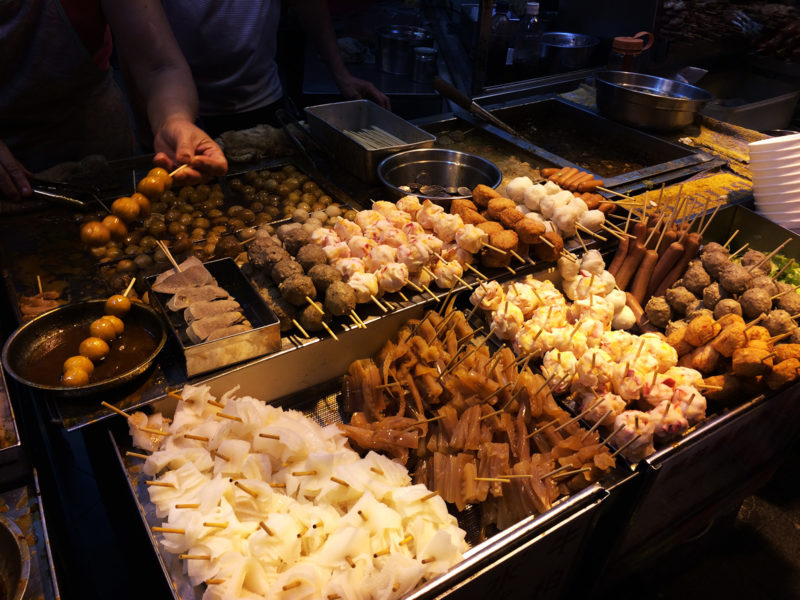 8. Jumbo Restaurant
What drew us to Jumbo was mainly the novelty of it. It's a floating restaurant in Aberdeen so you'll need to take a small boat from right across the water to get there. Jumbo looks very grand and ornate both inside and out, and they serve both western and Hong Kong-styled dinners on separate floors (each with their own decor). We opted for the Hong Kong style, which is chosen from their list of set menus. It was definitely more expensive than we had anticipated, but it's also a good variety of dishes with the set menu.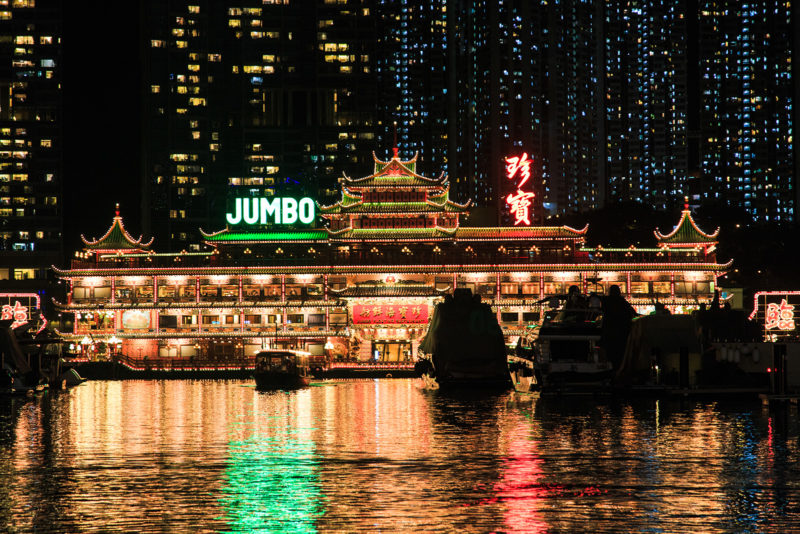 9. Daikiya
Feeling really hungry? Daikiya is one of the more popular buffets in Hong Kong, with lines down the block as eager patrons wait for the restaurant to open. You'll need a reservation even before queueing up. Each patron gets a binder to order food from (and it is an insane selection). The sashimi is pretty fresh, and there are a bunch of other hot food and dessert options as well. Drinks are self-serve and can be grabbed from the communal fridge. Note that there is a 2-hour time limit for dining. But the food comes out so quickly that you just need to be sure your stomach can handle it all!
10. Hing Kee Restaurant 興記煲仔飯
Disclaimer: I am only recommending Hing Kee to people who have never eaten claypot rice before and wants to try. Apparently a lot of people like this place, but I thought it was only so-so. Tie and I often make our own claypot rice at home with preserved meat, and – not even gonna try to be humble here – it is honestly much, much better. Always remember to add the sweet soy sauce or it will taste uber bland! Also I don't know why they didn't bother chopping up the sausage.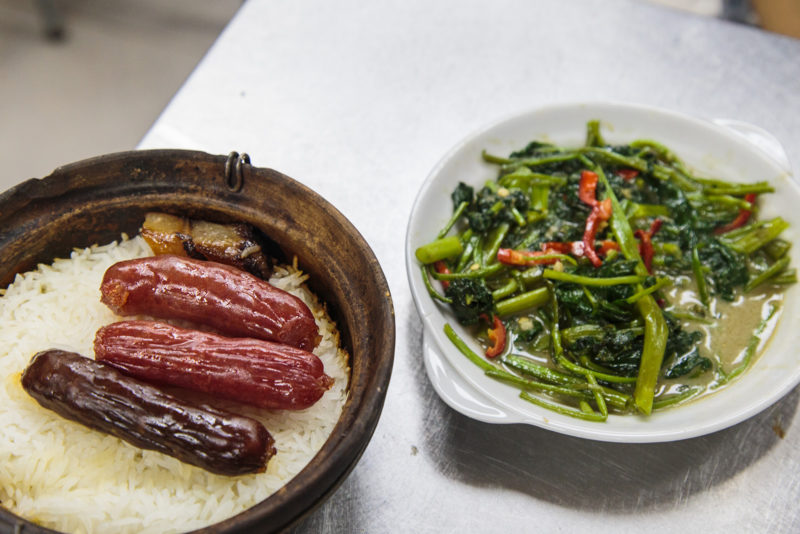 11. Yum Cha
Yum Cha has two locations – one in Central and the original in Tsim Sha Tsui. It's most well-known for their cute dim sum in the shape of animals. Pork buns shaped like piggies, custard-filled buns in orange or green (matcha-flavored), or sausage buns shaped like doggies. There was also a mini bird cage filled with pineapple flavored chicklets that was pretty popular. The flavor was okay and the food was overall quite expensive, but we did it for the 'gram.