I was inspired to do a self-guided photography tour of Hong Kong after watching one too many old DigitalRev videos on YouTube. After doing some research online for interesting places to shoot, we embarked on our adventure (which ended up taking about two days – Kowloon on the first and Central on the second). I wish we had explored the neighborhoods instead of just snapping a pic and moving onto the next spot. Maybe next time when we have more than 2-3 days in HK. My feet started hurting after a while since we were walking to and fro each place, so bringing comfortable shoes is a must. Now on to the list!
Choi Hung Estate
We took a bus to Choi Hung Estate in the morning. This old apartment complex is named such because "choi hung" means "rainbow." Each level is painted a different color in the spectrum, and when paired together with palm trees, it looks like an urban jungle. The best place to shoot is at the equally vibrant playground above the parking lot. Took us a while to find it since it's not ground level. There were a couple of other hobbyist photographers up there. We left shortly after an entire wedding party arrived for a shoot (that's how you know this is the spot!).
Ping Shek Estate
A short walk away is Ping Shek Estate. On the outside, it didn't look any different from your average Hong Kong apartment complex. Inside, we looked up to get a view of the sunlight beaming into the atrium. I liked how the balconies looked like plastic shipping containers. This was pretty easy to locate and we had no problems just waltzing in for a quick snap.
Chi Lin Nunnery
We continued walking to the next location: Chi Lin Nunnery. Even in a chaotic city like Hong Kong, there's a haven for people looking for a little serenity. The high rises make for an interesting backdrop when juxtaposed with the Buddhist nunnery. There's an area towards the back where visitors can pray to statues of Buddha, Guanyin, etc (sorry I'm not very well-versed in anything religious). The plants are pretty well maintained and look especially stunning with the gold pagoda and red bridge over the pond (also, my shirt coincidentally matched).
Oi Man Estate
Another old apartment complex, Oi Man Estate is a cluster of pale green and beige buildings with a food market underneath part of it (we bought a cha siew fan there). They were a lot more strict about letting non-residents enter the atrium. We told the security lady we just wanted to snap a pic and she said ok but make it snappy (see what I did there?). I love seeing those steel sliding doors and clothes hanging outside the windows. It reminded me of visiting my relatives' homes back in China.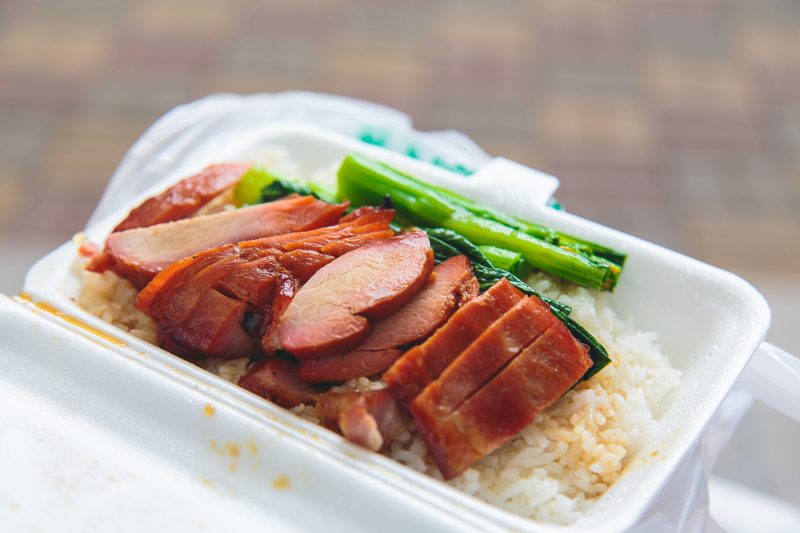 Jockey Club Innovation Tower
The Jockey Club Innovation Tower took us forever to "find." I mean, you can't miss it from a mile away, but it was almost entirely surrounded by barricades. I thought it was some kind of gym at first, given the name, but turns out that's not the case. We soon realized the building is actually inside the Hong Kong Polytechnic University campus, which is why it seemed so inaccessible. That being said, after we found where the students were entering the campus grounds, we too were able to just stroll right in without going through security. The Jockey Club Innovation Tower is actually a building for design, which was right up my alley. There were exhibits of students' work open to the public, and I loved seeing what was in store for the future of my field. I wondered where I would be today had I gone to a design school. The building itself was designed by Iraqi-British architect Zaha Hadid. Beautiful both inside and out. Seeing all the students on campus made us feel young again!
Garden Hill
It was nearing sunset, and one of the best views can be seen atop Garden Hill. We took the train to nearby Sham Shui Po and hiked some 90 meters up the hill to find other photographers already stationed there. We watched as the sun set over Kowloon and the city came alive at night. Might be a good idea to bring some bug spray, as there were tiny things flying about.
Montane Mansion
The next morning we continued our tour and took the train to Montane Mansion. This apartment complex is featured in many movies, probably because it is a good visual representation of just how densely packed Hong Kong is. No issues walking in and shooting some pics.
Graham Street
Graham Street is popular in many fashion shoots because of the stone steps and colorful stalls selling everything from clothes to groceries on the sides. If you keep walking up the sloped street, you will eventually come across a peeling mural of old HK buildings. It made me hungry for more Hong Kong street art. Maybe on the next trip! The mural can be shot across the street, but there are cars constantly moving up the street, so try not to get in the way of traffic.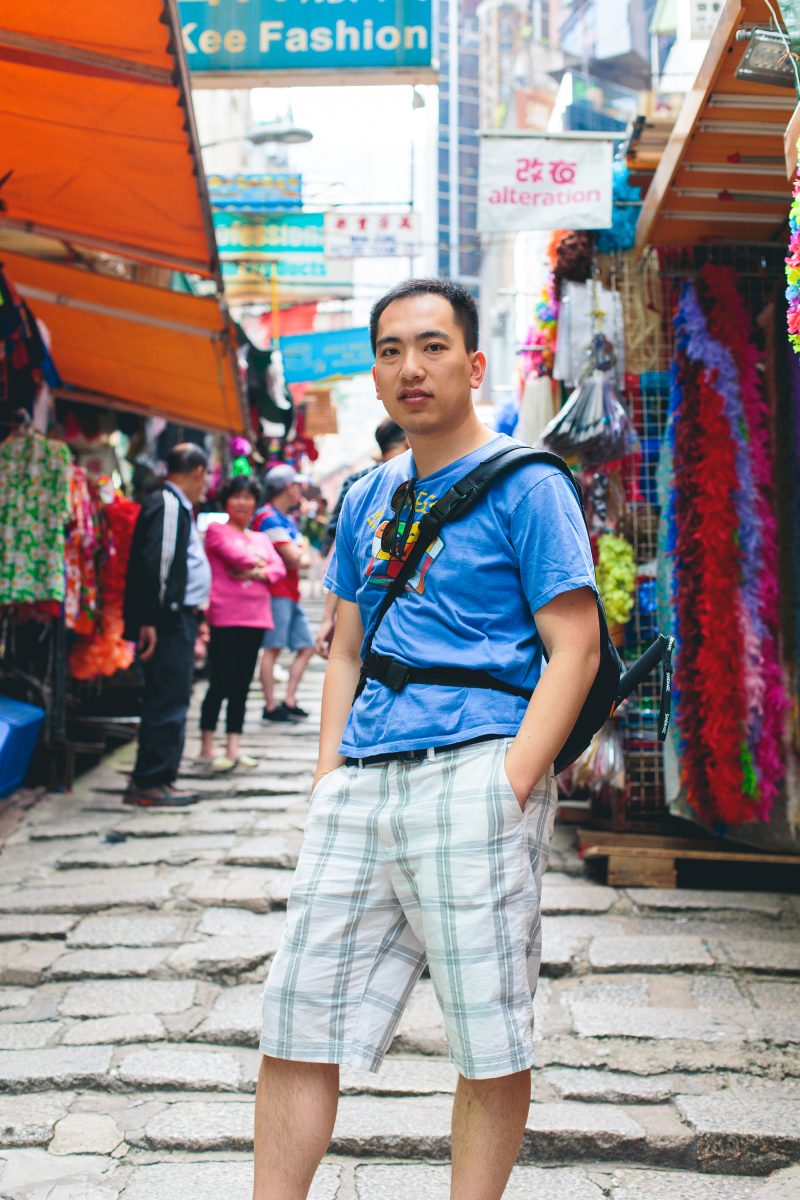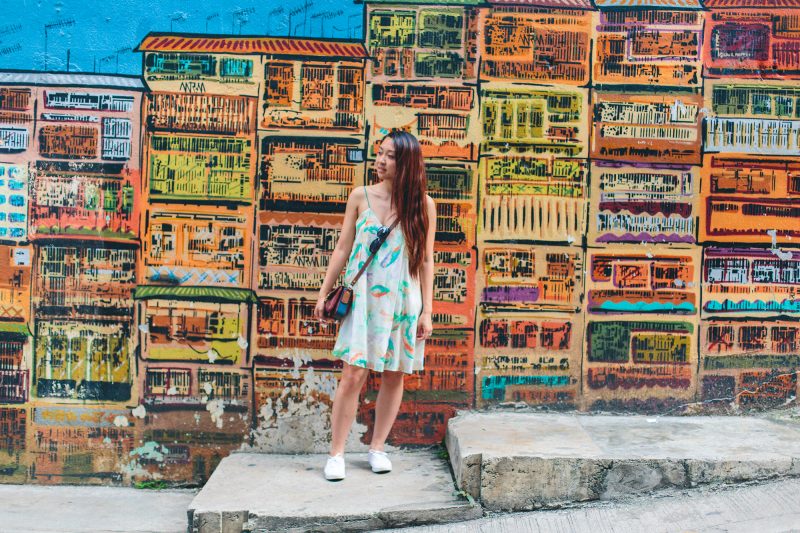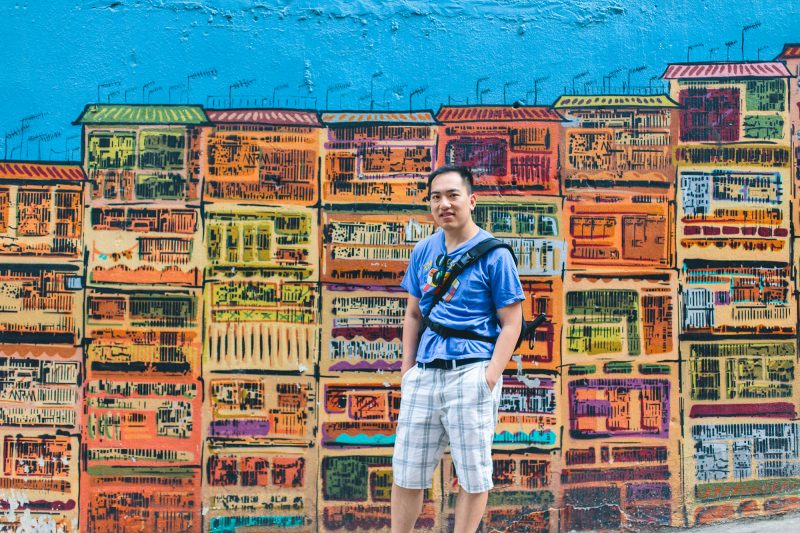 Roof Garden at IFC Mall
I was looking for a bathroom so we stopped by the IFC Mall in Central. Turns out there's also a pretty awesome roof garden, where we got a great view of Kowloon from across the water. We saw a lot of migrant workers chilling by the cafes at the top. Hey, everyone loves free views and a place to lounge.
Victoria Harbor
As the sun was setting, we took the ferry back to Kowloon from Central. After it stopped at Victoria Harbor, we took some pictures before heading back to the hotel. There's a light show every night that tourists wait around for, which I recommend for first-timers. Lasers shoot out of buildings from Central and the lights sync up. This is also a good place to spot a junk boat with its red sails. There aren't too many of those around anymore.