I'll admit, the main reason I wanted to visit Singapore was because I saw the Fung Brothers eating at the hawker stalls there. I think one of the most fascinating things about Singapore is that it is truly a city of immigrants. Malaysians, Chinese, Indians practicing a range of religions from Islam to Buddhism to Christianity. This diversity also lends itself to a diversity of flavors in Singaporean cuisine. Here are some of our recommended foods!
Hawker Centers
Ah, the thing that enticed me to visit Singapore. Hawker centers are open-air food courts that serve a ton of cheap food from various regions, including laksa, Hainanese chicken, char kway teow, and bone broth. There are a number of them throughout the city, but the ones we visited were Lau Pa Sat (Telok Ayer Market) and Chinatown Food Centre. They are no frills and quick; we got there just in time before the lunch rush.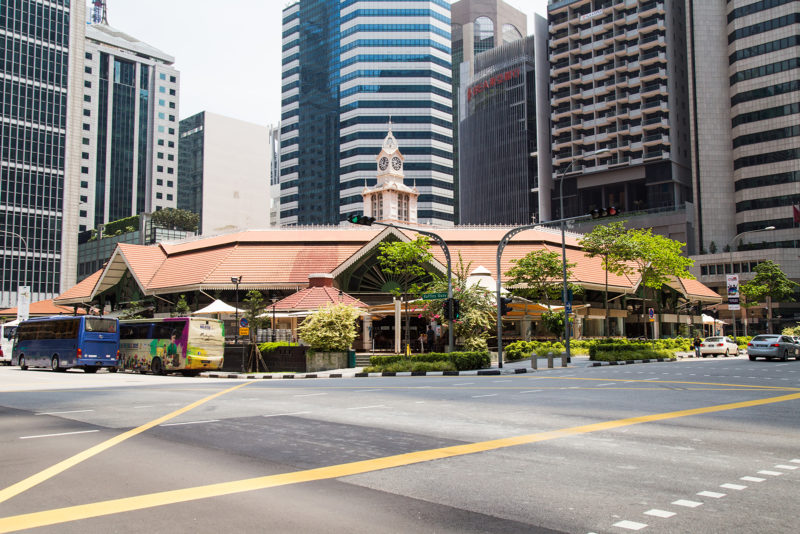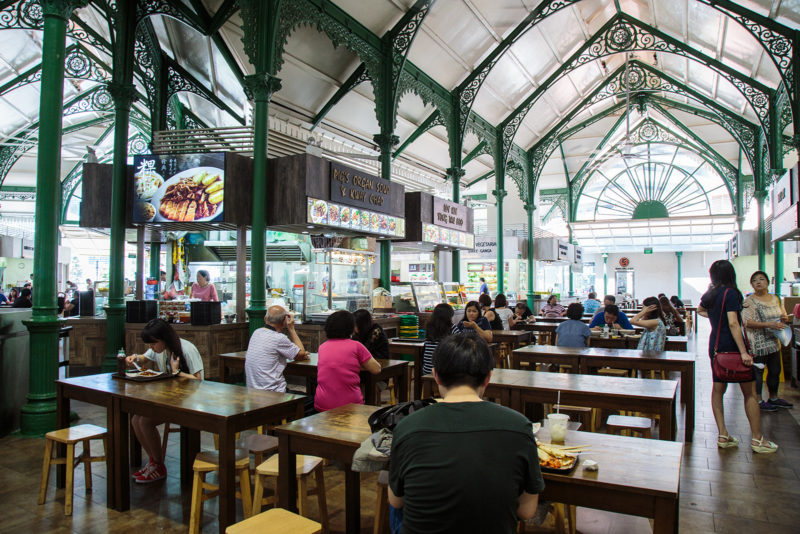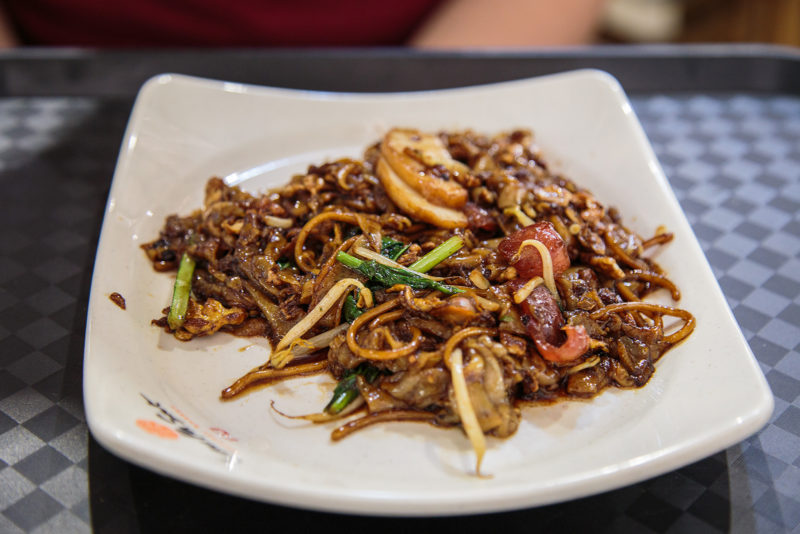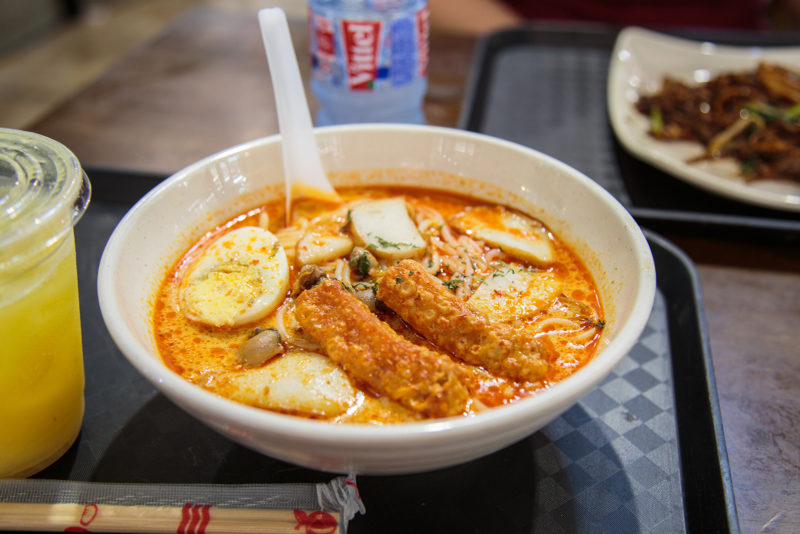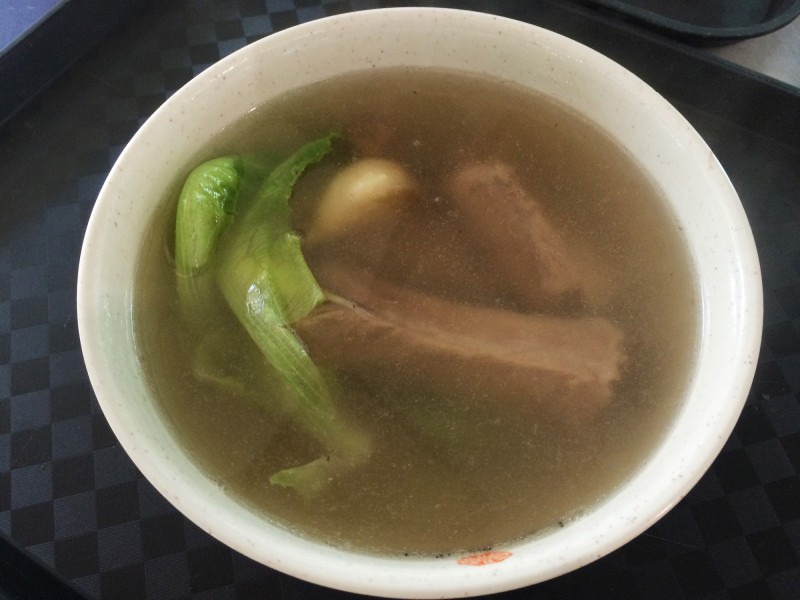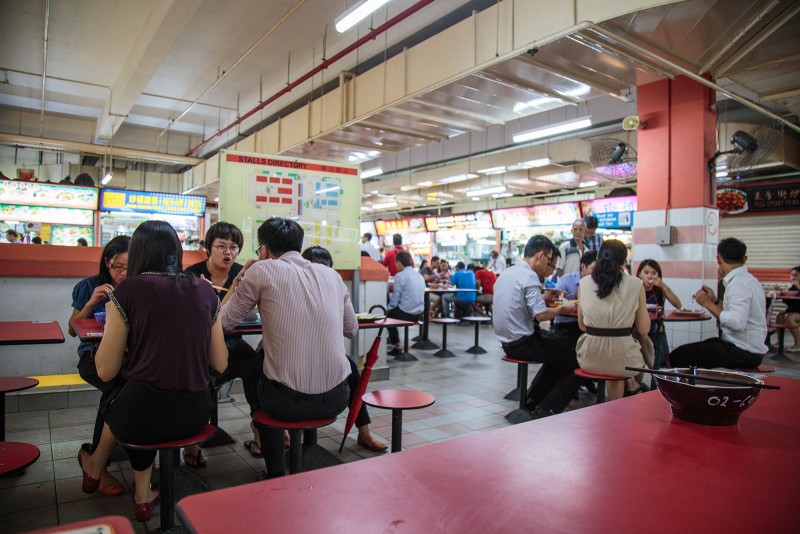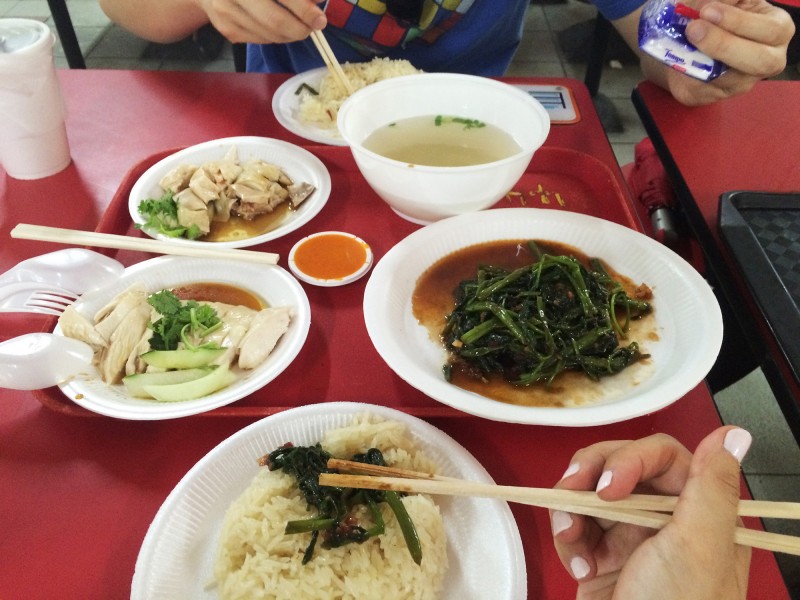 There's also a food center called "Chinatown Food Street" but I wouldn't recommend eating there as most of the stuff are pricey, not so tasty, and geared towards tourists. However it's a good place to admire the colorful architecture 🙂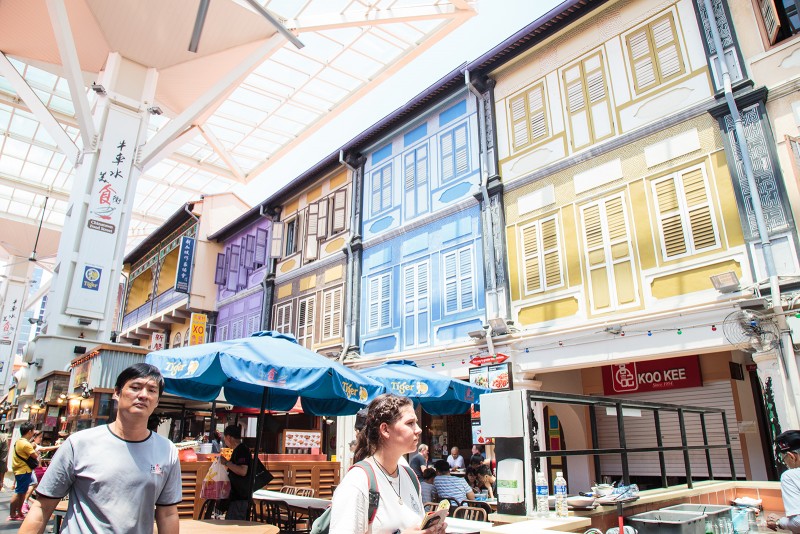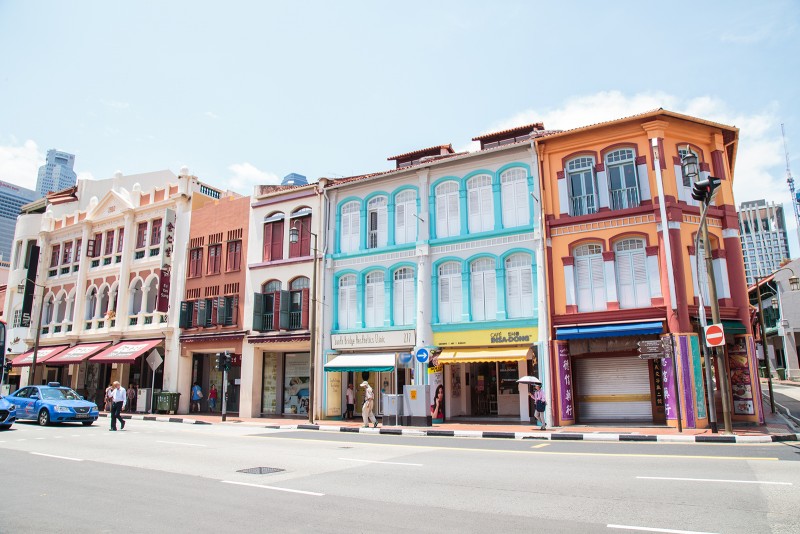 Chili Crabs
Tie loves eating crabs and probably has the most patience for it out of everyone I know. No trip to Singapore would be complete without devouring on some delicious chili crabs. These are huge Sri Lankan mud crabs cooked in a thick sauce of tomato and chili (though there are variations) and are generally not spicy as the name suggests. Often, they come with fried mantou and condensed milk. Mm…
We went to Mellben Seafood for their buttery crab on our first night in Singapore. The wait is pretty long; we grabbed a number and walked around the hawker centre nearby until it was our turn. I was super jet-lagged so I was dozing in and out of dinner, but I do remember the crab was well worth the $90. What we didn't realize at first was that they charge you for the peanuts and wet naps, so if you don't need them, just refuse it in the beginning.
Address: 211 Toa Payoh Lorong 8, #01-11/15, Singapore 310211
Hours: 4pm – 10:45pm (Mon – Fri), 12pm – 10:45pm (Sat – Sun)
For more traditional chili crabs with the sweet and savory tomato sauce, we went to Red House Seafood Restaurant. We saw a lot of families enjoying dinner there, as well as a large Japanese tour group. The sauce was so amazing I smothered my rice with it.
Address: 68 Prinsep Street, Singapore 188661 (several locations)
Hours: 11:30am – 2:30pm & 5pm – 10:30pm (Mon – Fri)
11am – 2:30pm & 5pm – 10:30pm (Sat – Sun)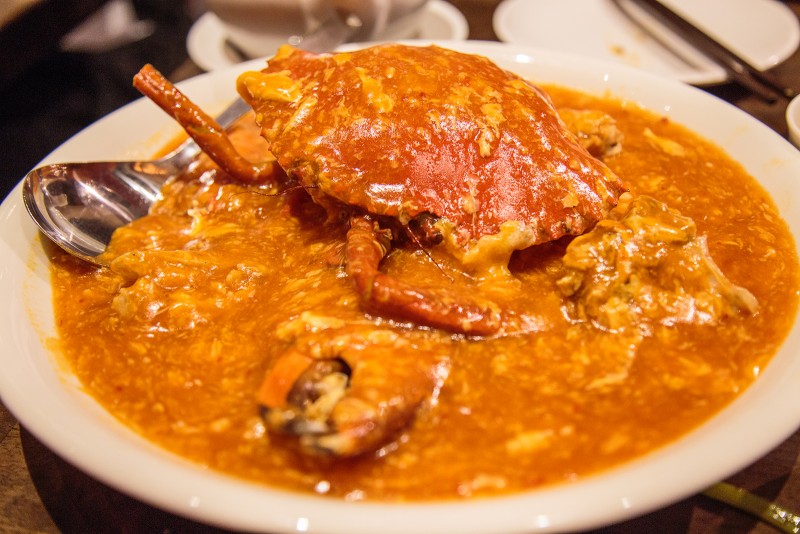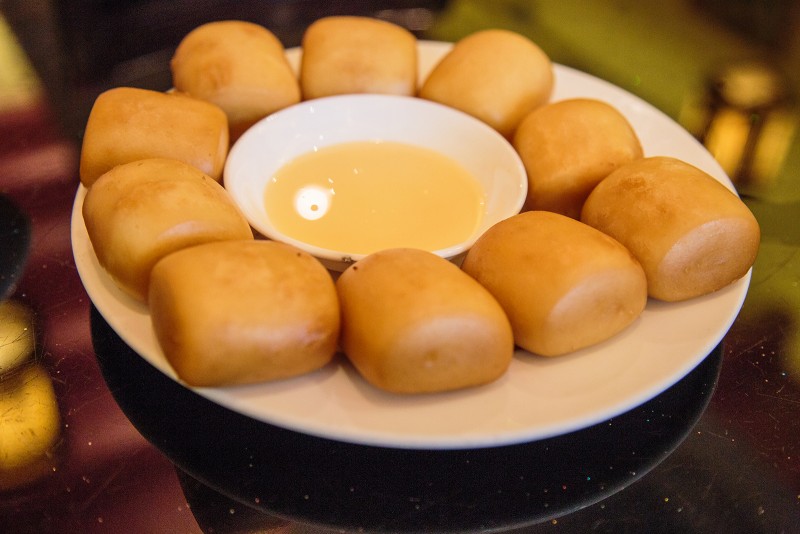 Durian
This foul-smelling fruit is definitely an acquired taste. I don't have the guts to eat it (even though my mom loves the stuff and stinking up the whole house!), but we did try some durian ice cream in Chinatown. Let's just say…it really lingers in your mouth. In fact, because of the stench, there are even signs on the subway saying durians are not allowed. They kinda look like porcupines, and local shops can even prepare them as cakes.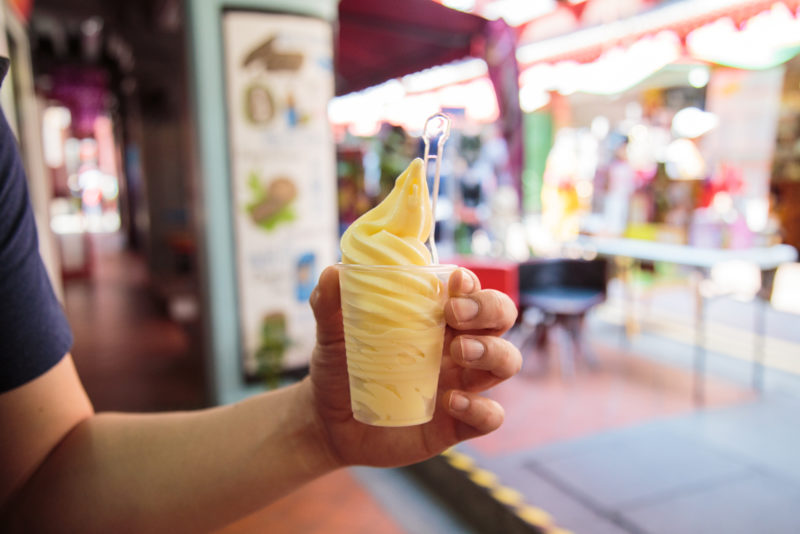 André
I've written about Restaurant André in a previous post, but if you are willing to splurge on a fine dining experience, this would be it. From the presentation of the dishes connecting you back to nature to the avant garde use of classic ingredients like foie gras, I can see why it's often rated Singapore's #1 restaurant.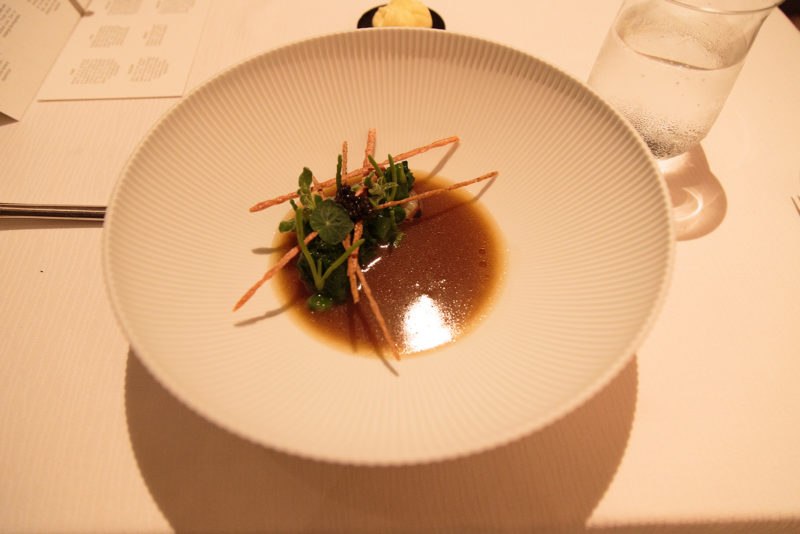 Teppei Japanese Restaurant
For a cheaper omakase meal, try Teppei Japanese Restaurant. I hear you usually have to make a reservation several months in advance, so I was surprised we got two spots about a couple of weeks beforehand. It's about $80 and there are a ton of courses. We went for the 6:30PM seating. Inside is a bar that wraps around the restaurant. I felt there were too many people cramped next to each other, but I guess that's one of the things that differentiates this from a pricier omakase dinner. It got kinda stuffy in there real fast.
The food is prepared by about 4-5 chefs behind the counter with a head chef from Japan. Because of how quickly the food came out, I used my phone camera to take the pictures instead (not enough tabletop anyway). I enjoyed the variety of food such as tempura, sashimi, hand rolls, ice cream, and wagyu fried rice (this is the last part of the meal and you have the option to take it to go if it's too much). Too bad it's hard for me to stomach too much raw food at once and I had to go outside to take a break and get some fresh air.
What made this dining experience special was the way food was served. The chefs would spell words out on a cutting board using chunks of meat and for some courses they literally spoon fed guests. Guys and girls had different hand rolls (guys had the larger ones – sexist? Eh, whatever). And since it was someone's birthday, they turned off the lights and all the chefs emerged with glow-in-the-dark shutter shades and heart glowsticks. It was really wacky, and I love the playful, casual nature of this omakase meal.