Visiting Greece was always something on our bucket list, and this May/June we were able to travel internationally with a group of friends (Winnie, Kacey, Daniel, and Albert) for the first time. It turned out to be one of my favorite trips so far. Having friends to laugh and do stupid things with while exploring a foreign country took us out of our usual hotpot-and-board-game-at-home situation. Not to mention, we ate so much delicious food! One of the best things about traveling with a group is being able to family-style every meal and try as many dishes as possible without breaking the bank. Outside of Astoria, New York lacks an abundance of amazing Greek food so of course we had to stuff ourselves given the chance.
Although Tie and I usually plan a pretty thorough itinerary for our trips, this time we decided to be a bit more spontaneous as we were traveling with a group and understood that some of us would have conflicting interests. I admit that not having a solid plan made me kind of stressed out in the beginning, but I eventually accepted that this should feel like a real vacation so just lounging around sometimes should be okay.
Our first stop was in Athens. We arrived at night after a long flight (~10 hours with a transfer and layover in Milan) and were ready to eat. I generally prefer getting to a new destination at night so we can get a good sleep in before the next day of adventure. Also helps with the jet lag.
We wanted to eat at 2Mazi, a really cute restaurant with a beautiful courtyard for outdoor seating. But unfortunately they were full for the night so we continued on in search for another place. We stayed at Hotel Hermes, which is walking distance to most of the main tourist sites. Didn't realize it was by Chinatown either, as we started seeing a lot of Chinese restaurants. But we're in Greece! Gotta eat some of the local specialities. There were roaches popping up here and there on the streets, which made walking at night seem a bit like walking in a mine field.
Finally we settled on a restaurant called Taverna Saita with outdoor seating. Their tzatziki was on point (Kacey could not get enough of the stuff and ordered it almost every meal!). I loved the dill and yogurt combo – very refreshing! The bread was pretty stale and forgettable – probably should've ordered the pita. Most of the Greek restaurants we visited had subpar bread. Also we tried moussaka for the first time. Normally I'm not a fan of eggplant, but it was nicely masked by all the cheese above it 😀 It was almost like lasagna. We also ordered a sea bass, but Tie said the fish they gave us was clearly a whiting. Not sure if they ripped us off with a cheaper fish or if it's just called something different in Greece. There were cockroaches outside where we sat, but at least there was a cat chasing them away. We noticed lots of strays all over Greece, but they appear to be well-fed and there were many signs asking for donations for the animals (legit? you be the judge).
As we walked back to the hotel, we stopped by The Metropolitan Cathedral of Athens to snap a few quick photos. Hotel Hermes has a sister hotel, Plaka Hotel, with an awesome rooftop bar where you can see the Acropolis at night. We didn't have time to go, but it's recommended to guests.
The next morning, Winnie and I went to Melissinos Art, The Poet Sandal Maker to get some custom leather sandals made. It was pouring outside as we skipped around in the rain. Our other friends went off to get dessert. We arrived at around 10AM and already there were about ten people inside the tiny shop. I imagine if it wasn't raining, it'd be even more crowded. There were two people working – a salesman and the actual sandal maker. The salesman was very terse and doesn't tolerate any dillydallying in the store. But I don't consider him rude…just trying to be efficient. The sandal maker was super friendly, though. They gave us a catalog to look through their 30 or so styles of shoes. They also had an array of leather bags and hats. We tried on the sandals we liked and then after choosing what we want to buy, we paid first and then had the shoes adjusted for our feet. It only took about 10-15 minutes to get it made. They have special materials like colored leather and other decorative ornaments, but it would take additional time. I got the same style Winnie chose. She's a real trendsetter; everyone eyed the same ones after she tried them on. It was only 39€ and quite comfortable. Even if it's a little tight at first, the leather will loosen up over time.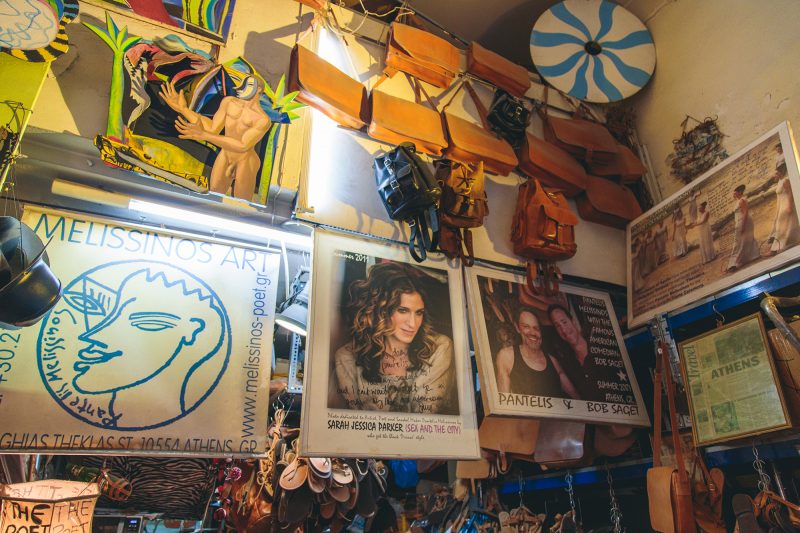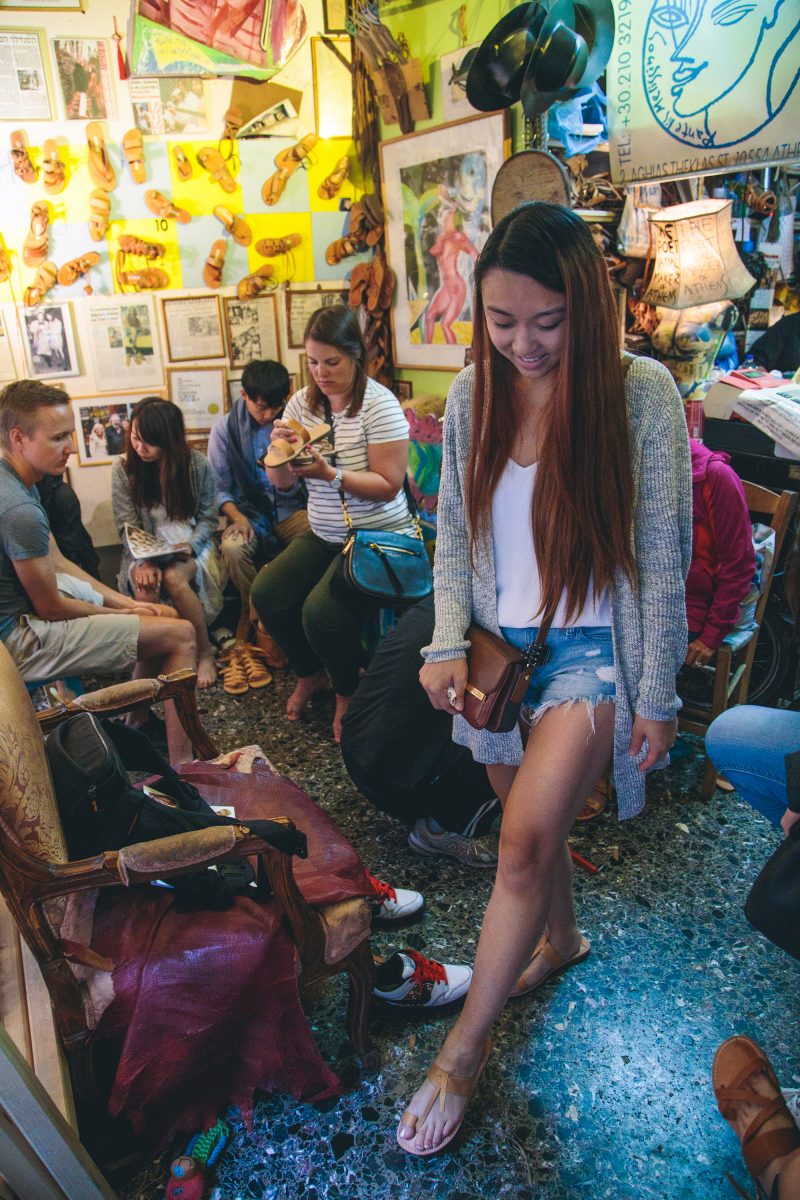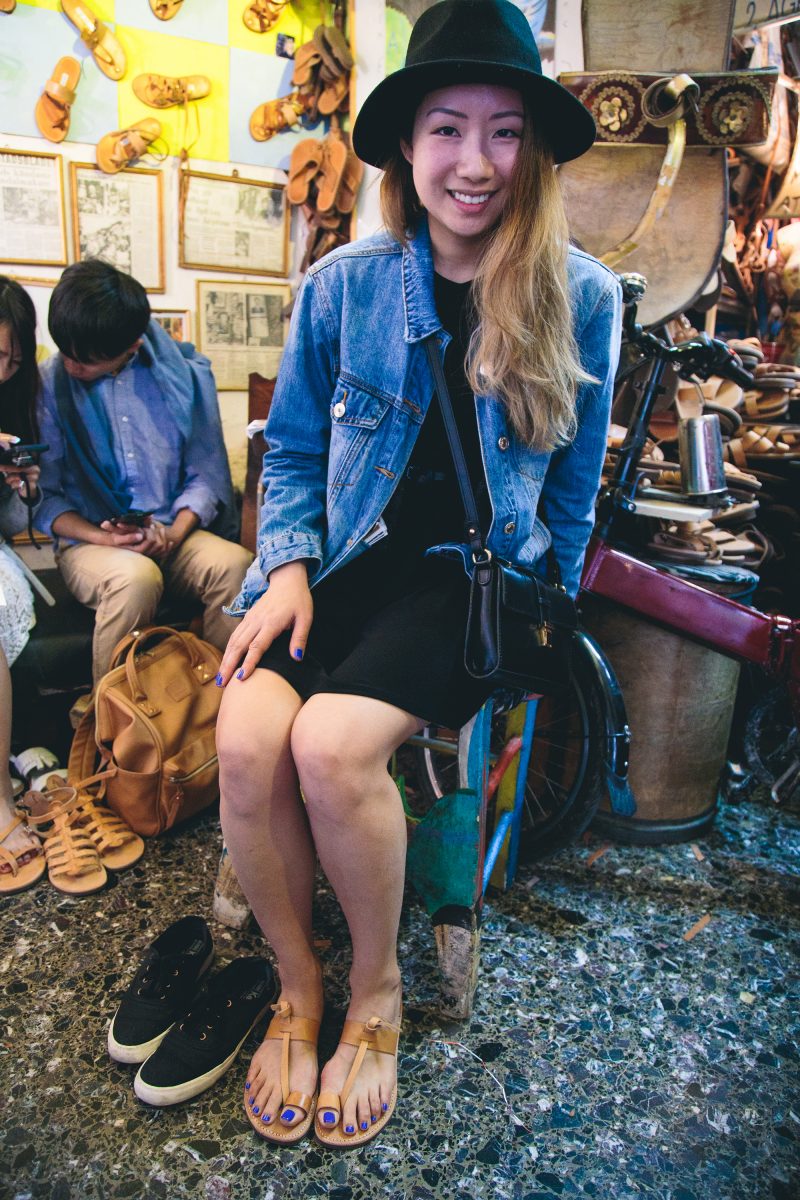 The sandal maker recommended putting nail polish over the nails on the shoes to prevent rusting. Leather will change color overtime regardless of how well you take care of it, but he said rubbing olive oil on them can enhance the color. Also, he told us to make sure we wash both sandals at the same time if it stains to keep the look consistent.
Since it was still raining, we decided to meet up with our friends and visit the indoor Acropolis Museum first. Despite Greece's current economic situation, the museum is actually maintained quite well. The British Museum, which Tie and I have also visited, unfortunately contains a large portion of the Parthenon that was illegally sold to a Lord Elgin by the Ottoman Empire back in the 1800s. To this day they have not been returned despite pressure from the Greek government. I hope one day those pieces will reunite with the Parthenon so we can get a more complete picture of how it was originally supposed to look.
It was getting late in the afternoon so it was time for a lunch break. Outside the museum, we stopped by O Gyros pou Girevis for an authentic Greek gyro (pronounced yee-roh). They had a chicken and lamb variety, both grilling on a giant rolling stick. The meat was so juicy. It felt like I was eating a salad even though there were fries in there, too. This delicious, satiating lunch only set us back less than 3€!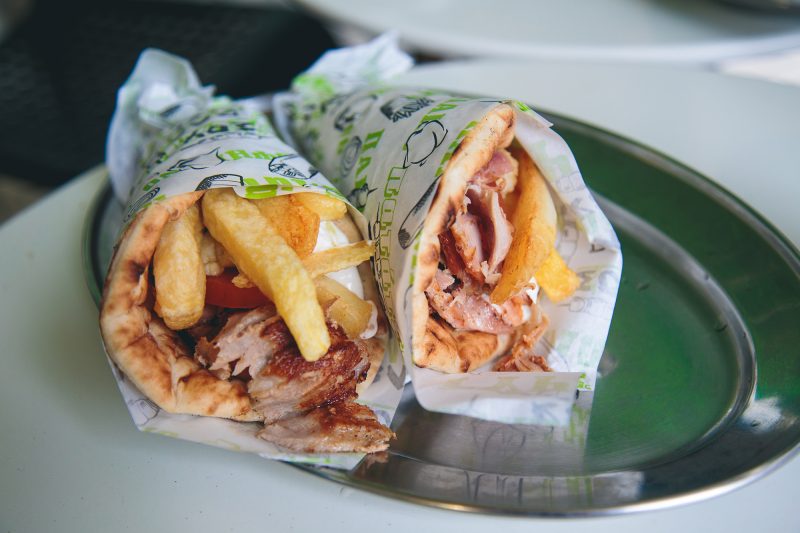 Now for the main attraction in Athens: The Acropolis. I once did a history paper on the Parthenon back in elementary school and since then, had been really eager to visit it one day. Over a decade later, that day finally arrived. We paid for our tickets at a side entrance (they have student discounts!) and began our ascent. The word "acropolis" literally means "highest point in the city," so it is no wonder why the ancient Athenians would erect temples for the gods there. There are several ancient ruins along the path up to the Parthenon, one of the most beautiful being the Theatre of Dionysus, built in honor of the god of plays and wine. It looks like they're still using it for performances to this day. I would love to sit high up on the stadium seating and admire the views of Athens while listening to some good music.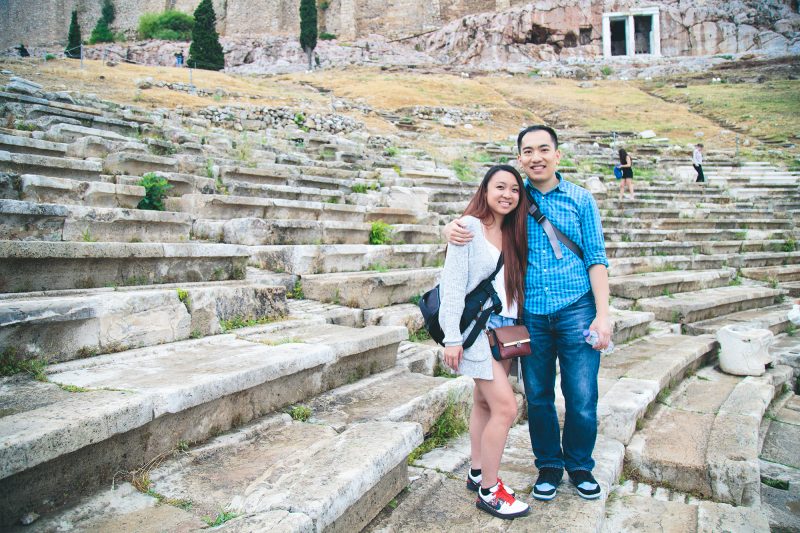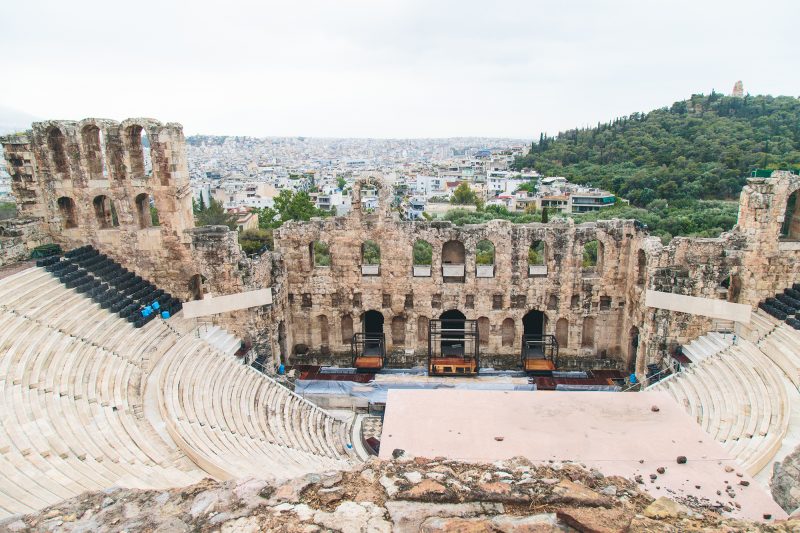 Finally, we reached the summit! Lots and lots of people up there. I was so grateful the rain had stopped. It would've been a real bummer to go all the way to Athens and not see the Acropolis! Definitely would recommend wearing shoes with a good grip. Much of the ground is marble or some other stone and it got very slippery after the rain.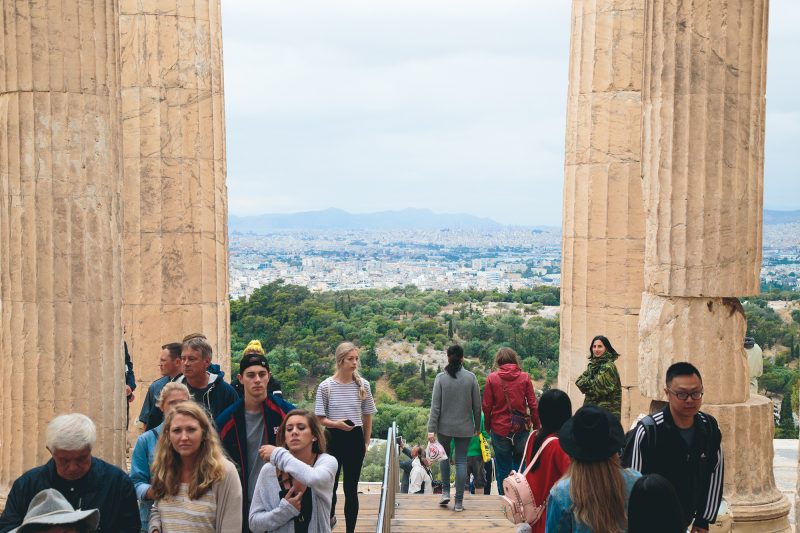 We first checked out the Erechtheion to our left. It was a temple built for Athena and Poseidon, with the most notable detail being the The Porch of the Caryatids, where six maidens served as columns supporting the corner of the structure.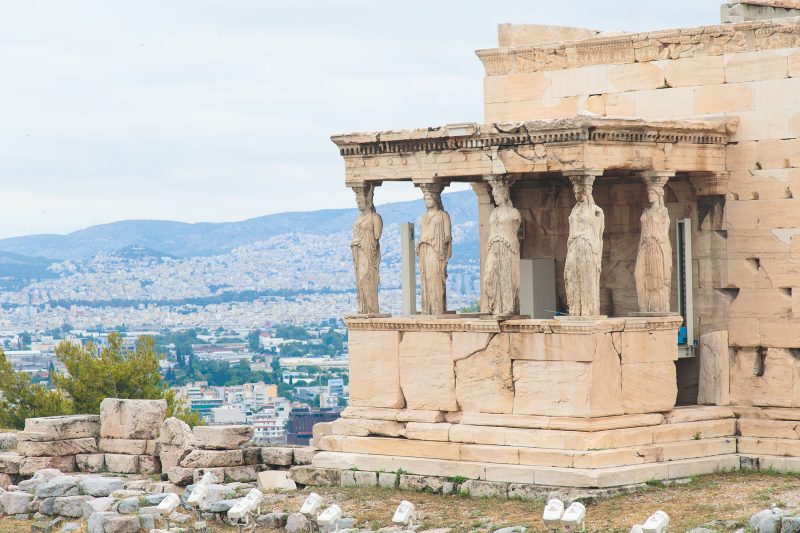 Finally, the Parthenon! It was still mostly under scaffolding and, as I had mentioned before, many pieces were still missing because they're being housed in the British Museum (give 'em back!). We managed to find a good angle to do one of many impromptu photoshoots at. From here it looks like there was barely any scaffolding! I had hoped we'd be able to wander into the center of the Parthenon. Perhaps one day when it is more fully reconstructed, whenever that may be.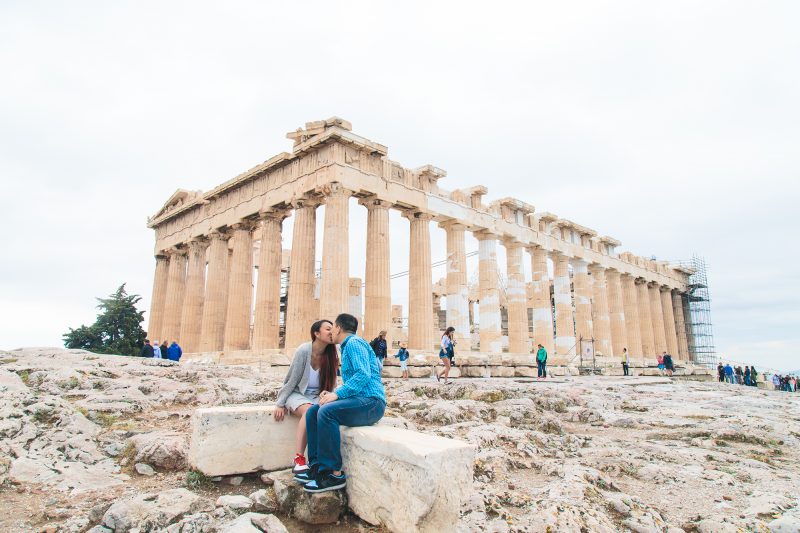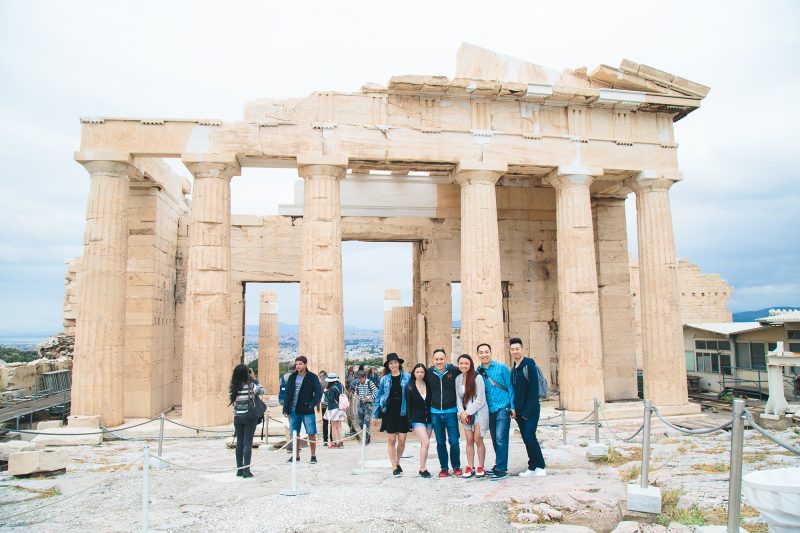 Later we headed down to the Monastiraki area to do a little shopping. We didn't get a chance to check out the flea market, but we went to the touristy shops for the girls to get their gifts. This is a good place for some last-minute souvenirs.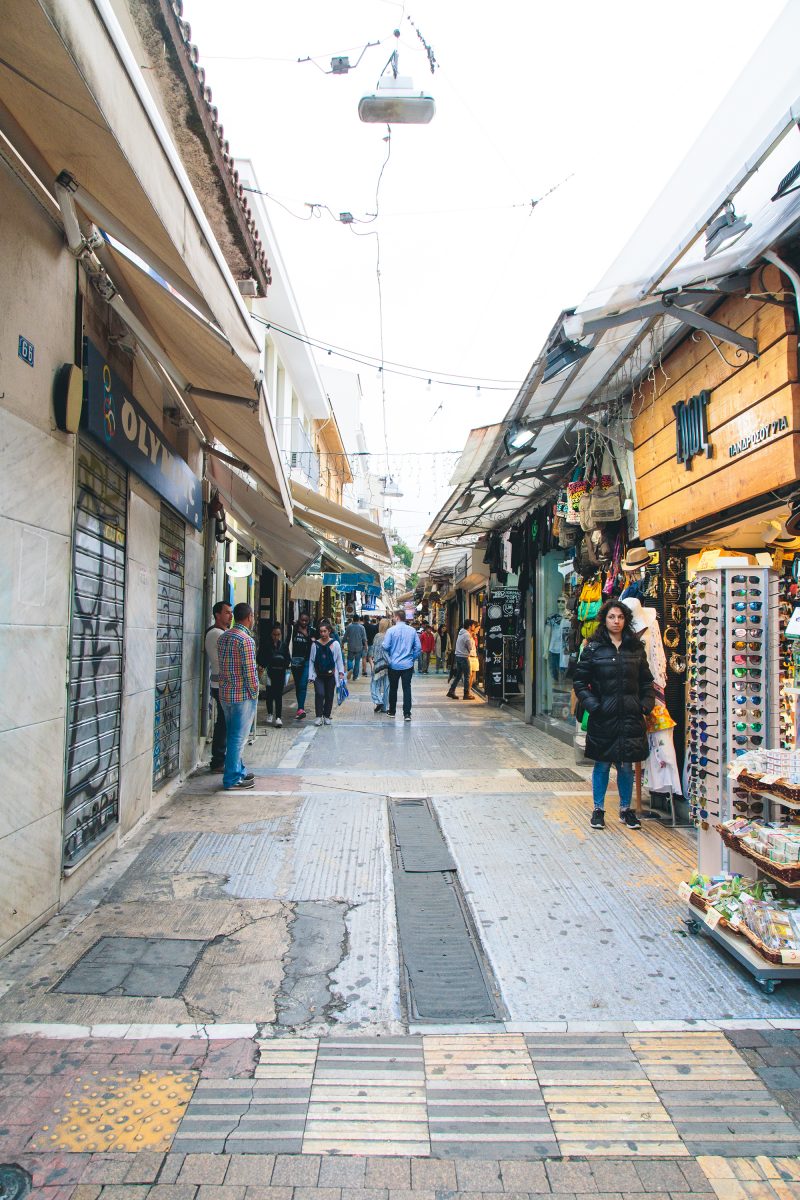 We had a dinner reservation at Strofi, which has a view of the Acropolis from its window. All the food was splendid and I enjoyed the quiet atmosphere (actually I think we were just the loudest – Americans). Also we learned that we should be more direct with our English. The waitress asked if we wanted more water and we said "We're OK," meaning that we were not interested. She brought over another bottle.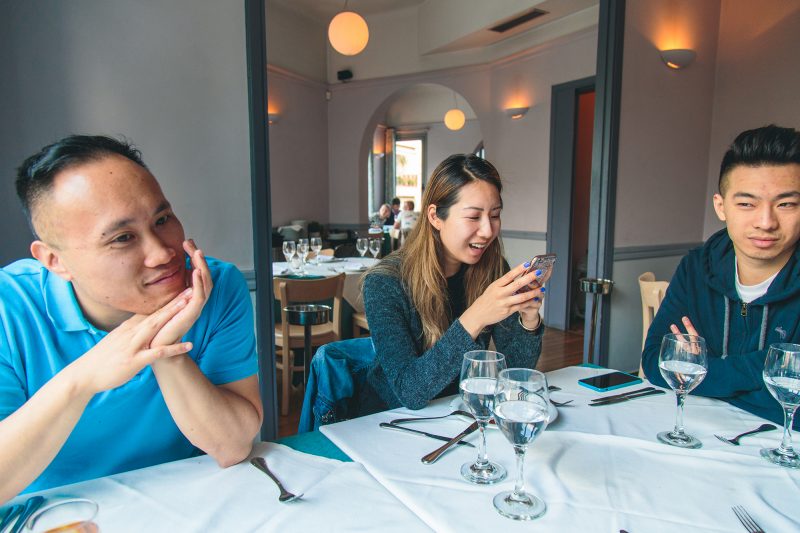 We didn't get to watch the sunset this time because we had a flight to catch, but at least we managed to snag some baklava to eat at the airport. Sweet, syrupy goodness. Onto the next destination – Santorini!