When in Santorini, Oia, all the way in the northwest, is one of the best places to watch the sunset. We walked to the bus terminal in Fira to catch a ride to Oia for €1.60. After about half an hour, we arrived in the parking lot full of cars and ATVs from tourists and locals who drove. Actually, we had contemplated renting ATVs but didn't have an international driving permit and didn't want to risk getting arrested or fined. Plus, I had been reading stories about tourists being injured, especially along the cliffs. So we decided to err on the side of caution and paranoia.
Oia is a very walkable town packed with small shops and restaurants. Our first order of business was to cool down with some gelato at the famous Lolita's, just steps away from where the bus had dropped us off. We saw a woman tying her female dog outside where a male unspayed stray starting having a go at it. C'mon, lady!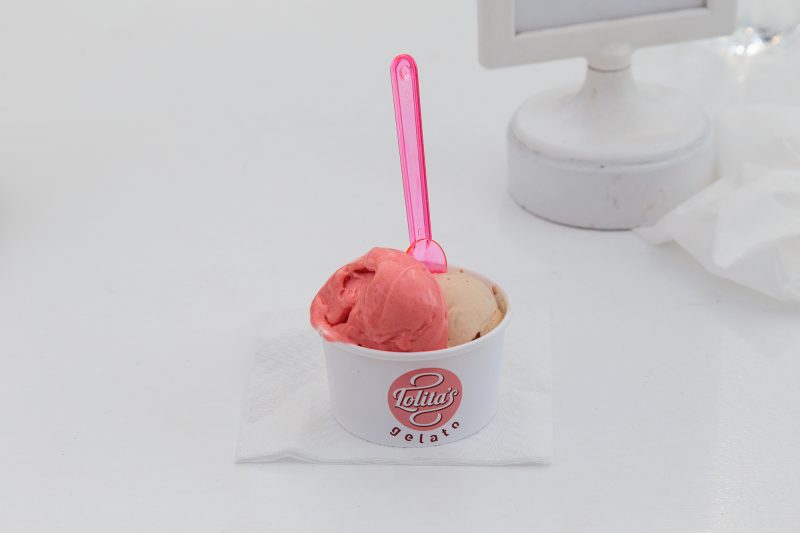 As we headed towards the town center, we couldn't help but notice there were a lot of beautiful doors in these narrow walkways and promptly did some impromptu photoshoots, especially if we were wearing a color coordinated outfit.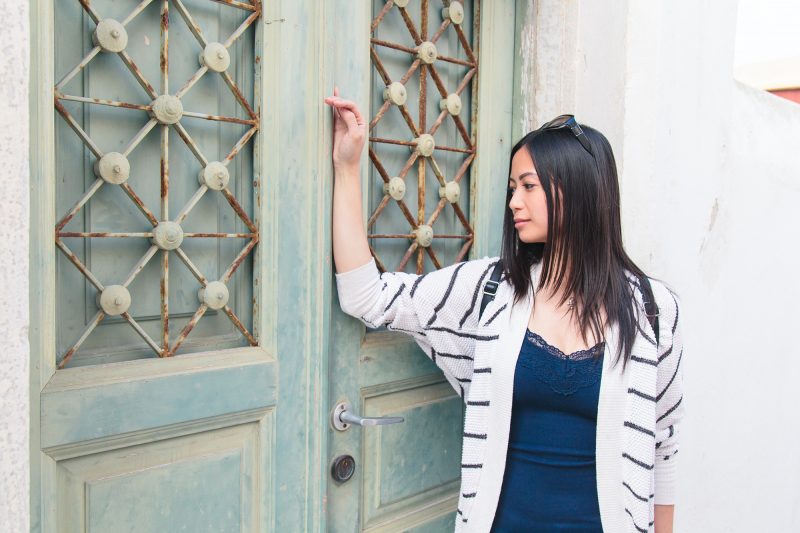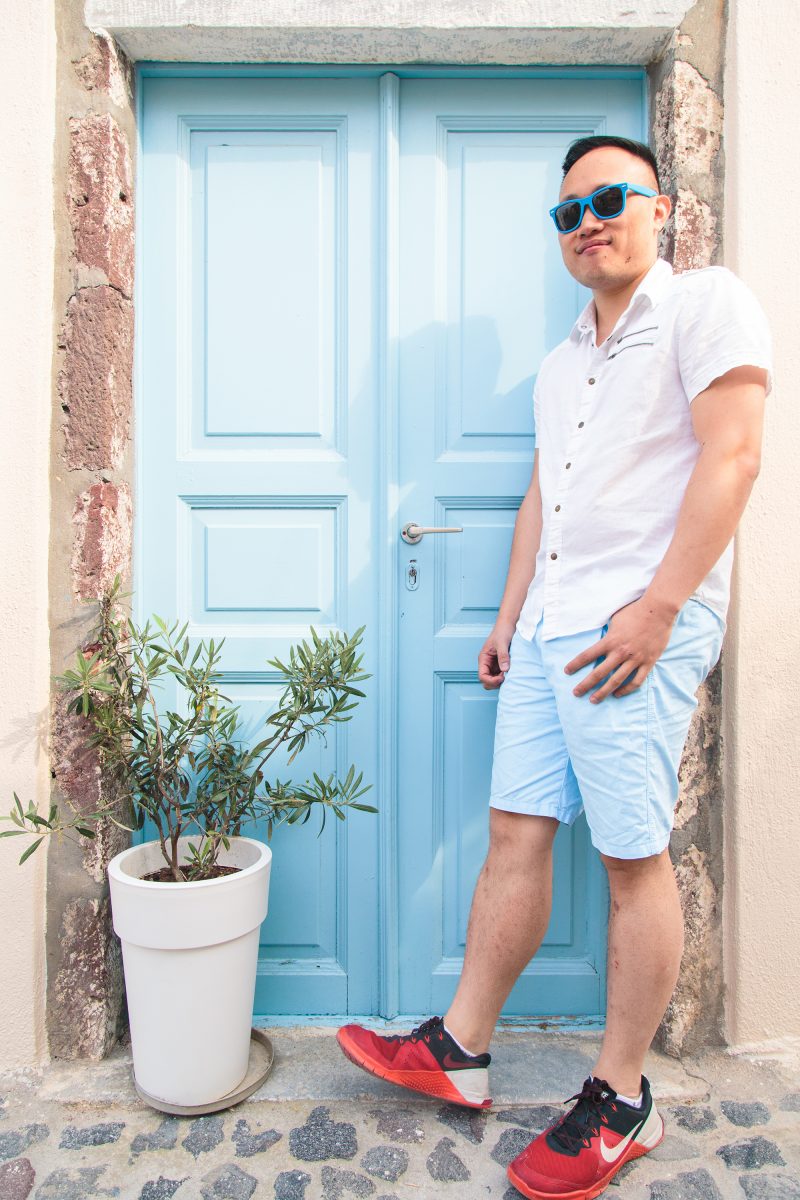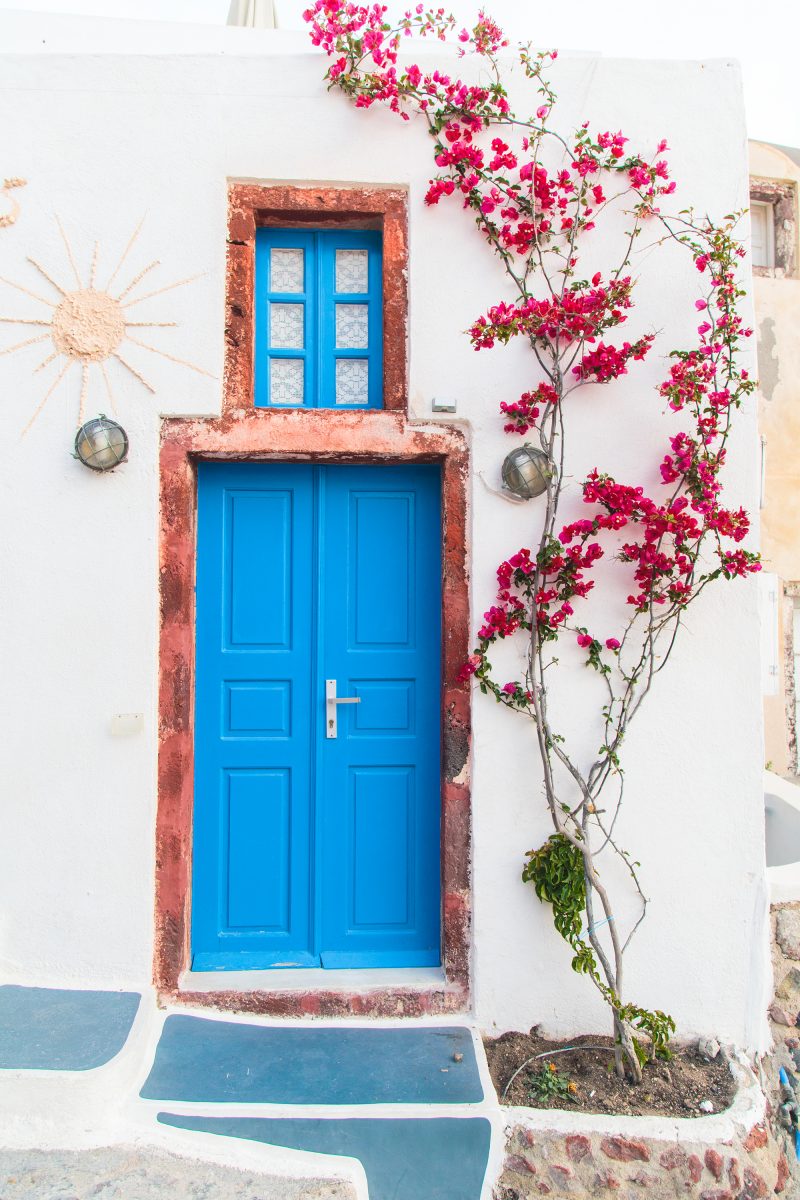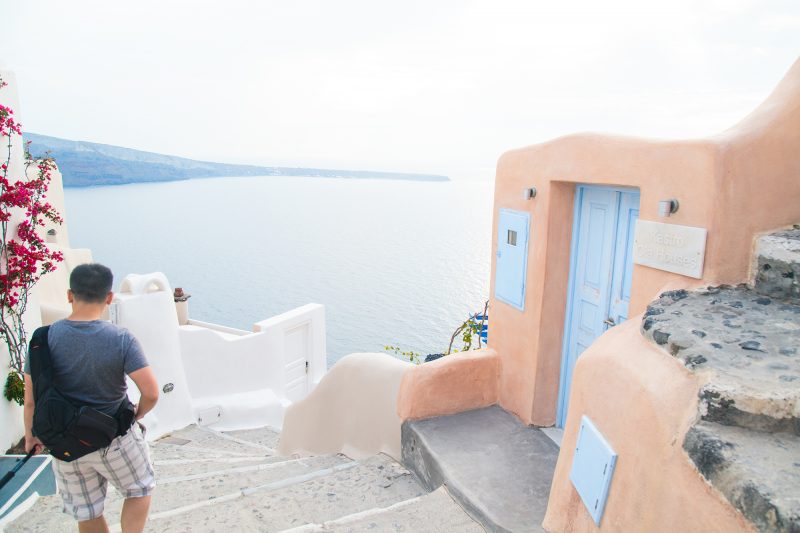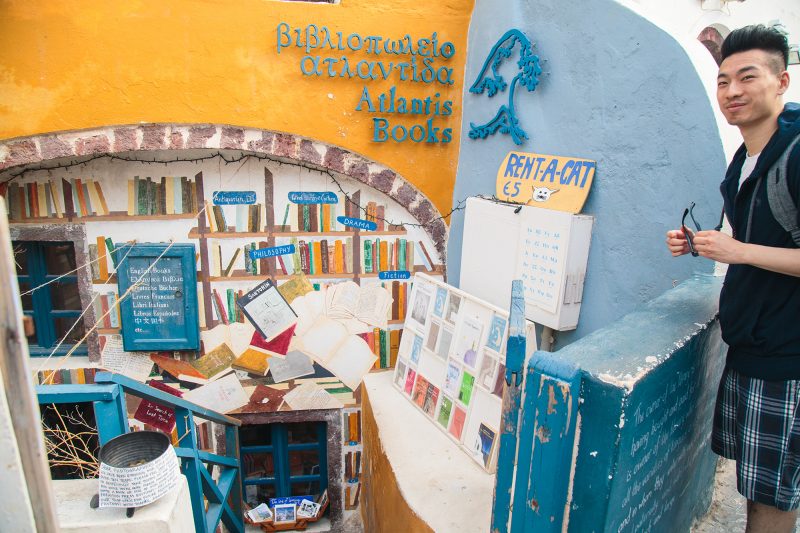 We found the Oia Castle, which is a popular sunset viewing spot. But since sunset was still a few hours away, we just snapped some quick pics and continued exploring the town.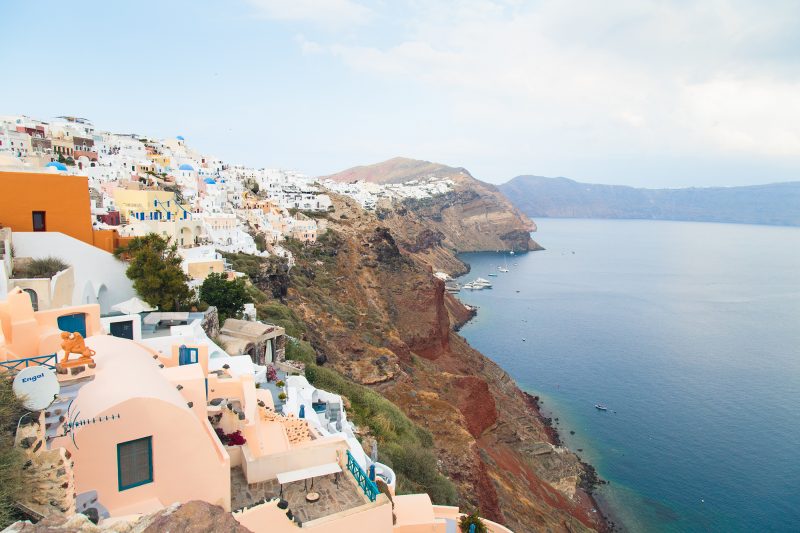 I've seen pictures of Amoudi Bay down below Oia and heard the seafood was delicious since it's right by the water. Since we had some time to spare, we began our descent down the wide rocky steps. No big deal right? Well, that was until we started to see and smell all the donkey shit littered all over the steps. It was disgusting and I pity those poor animals for being forced by their owners to carry tourists, who were clearly too heavy, up and down the stairs. If there is one business I urge you not to support, it's this one.
After what felt like dodging hundreds of landmines and getting a hell of a calf workout, we reached the bottom. When we looked up at the town of Oia, it was a striking perspective, with the majestic red walls of the cliffs staring back at us. Maybe the others in our party did not feel the same way, but I thought the shit-filled hike was worth it at that point.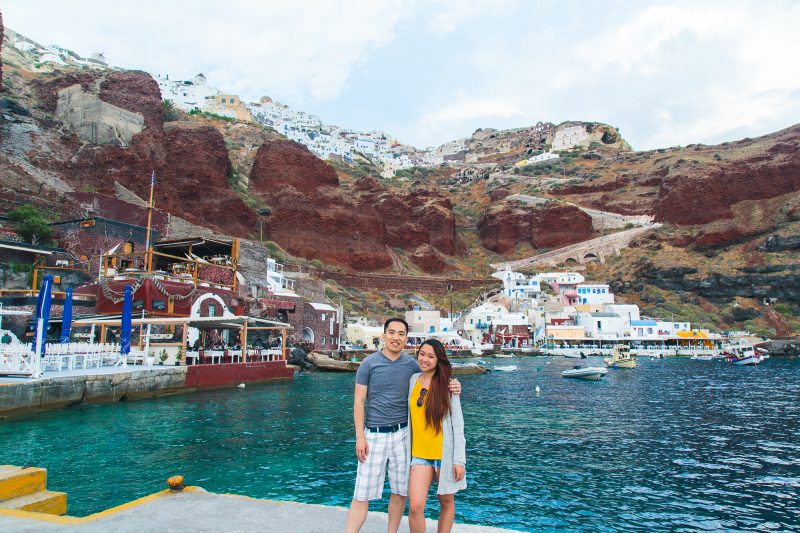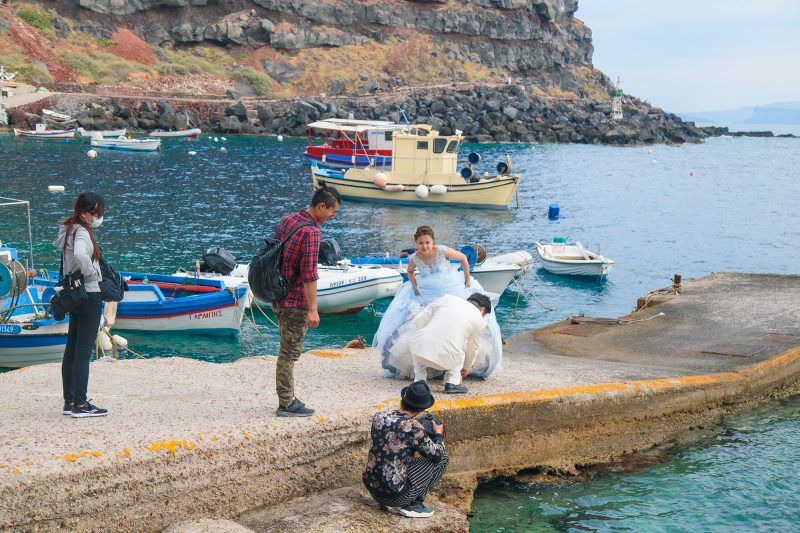 Hungry and a bit tired from the walk down, we treated ourselves to some fresh seafood at Ammoudi Fish Tavern. There are a few restaurants lined along the bay, which is also a great place to watch the sunset if you don't feel like jostling with other tourists at Oia Castle. These appetizers turned out to be one of the best meals we had in Greece.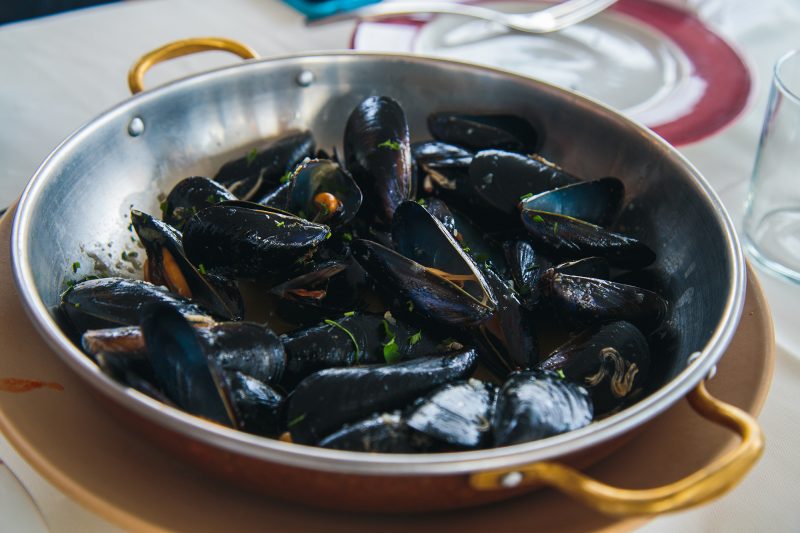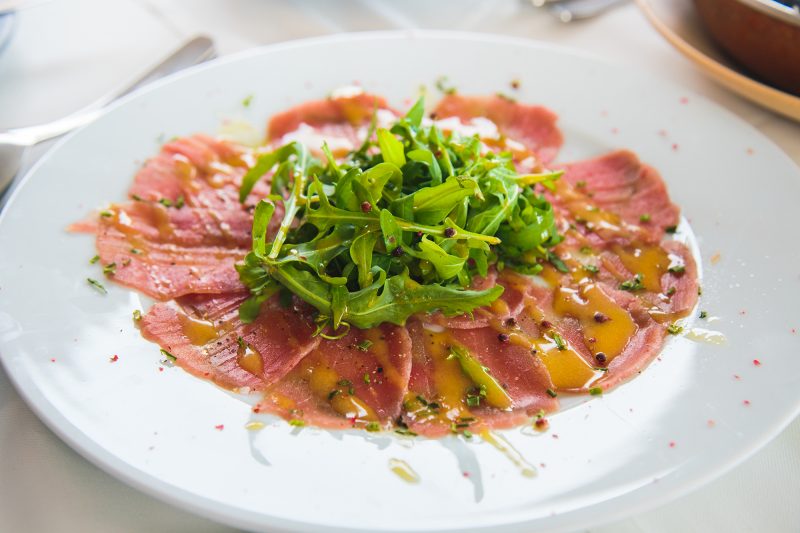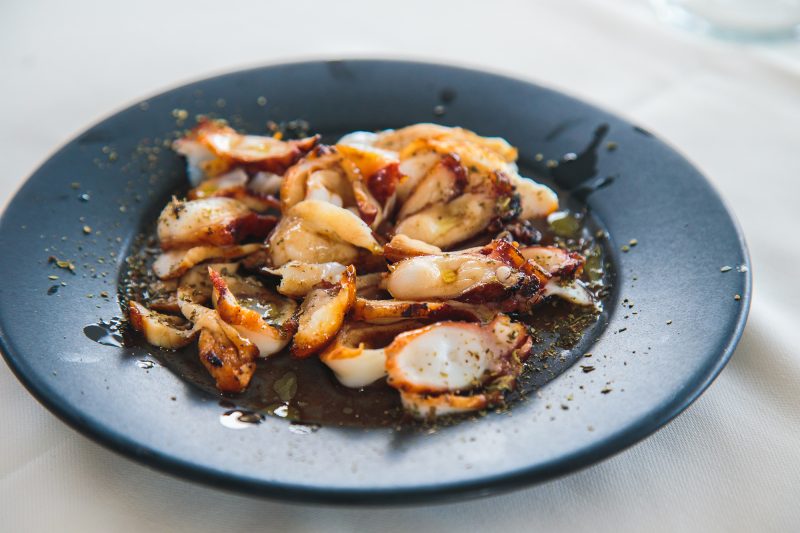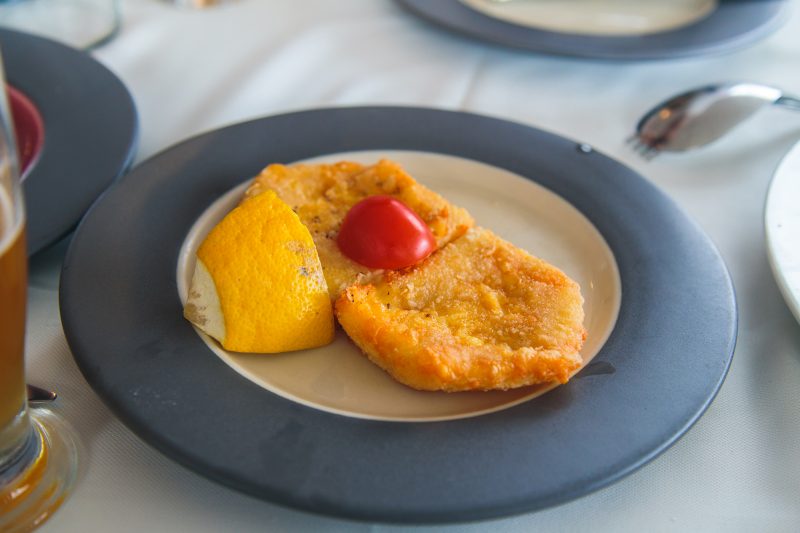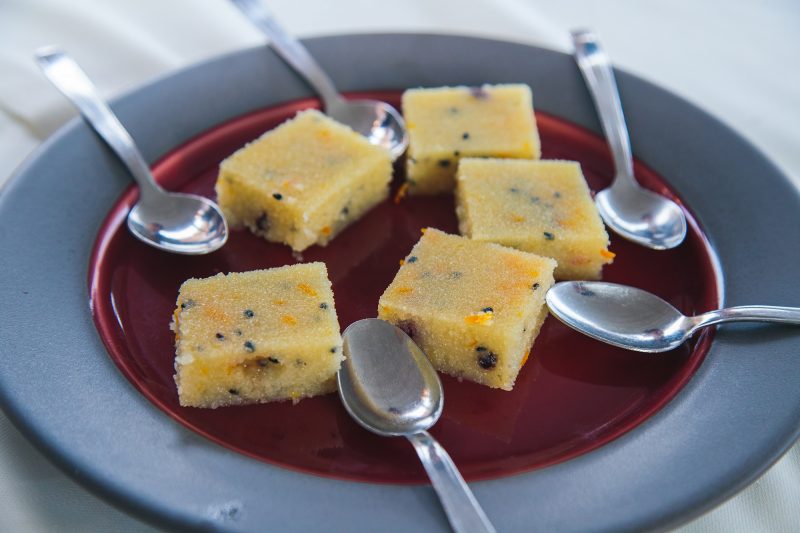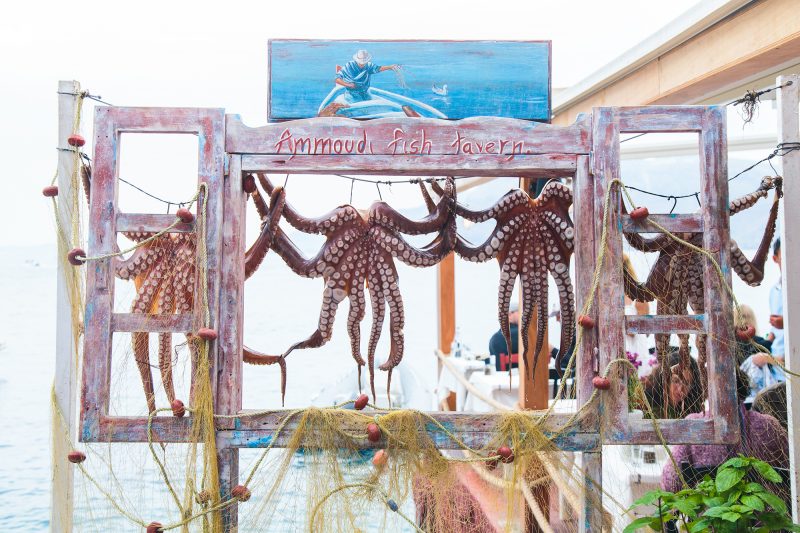 The sun was beginning to set and we dashed back up the donkey shit stairs to reach Oia Castle. Now I'm not a particularly fit person and I don't do cardio as often as I should, but Tie was pretty impressed I was able to run up hundreds of steps while barely stopping to catch my breath. It's a bit frightening the lengths I go for a photo sometimes. We were back at Oia Castle in no time, but by this time it was totally packed with every other tourist also looking to get a snap of the sunset (no drones allowed). By squeezing my way in, giant DSLR in tow, and being that person who shot above other people's heads, I managed to get some pictures and finally take a breather, enjoying what little I could see of the sun. As luck would have it, turned out to be quite cloudy that day! Well, we tried.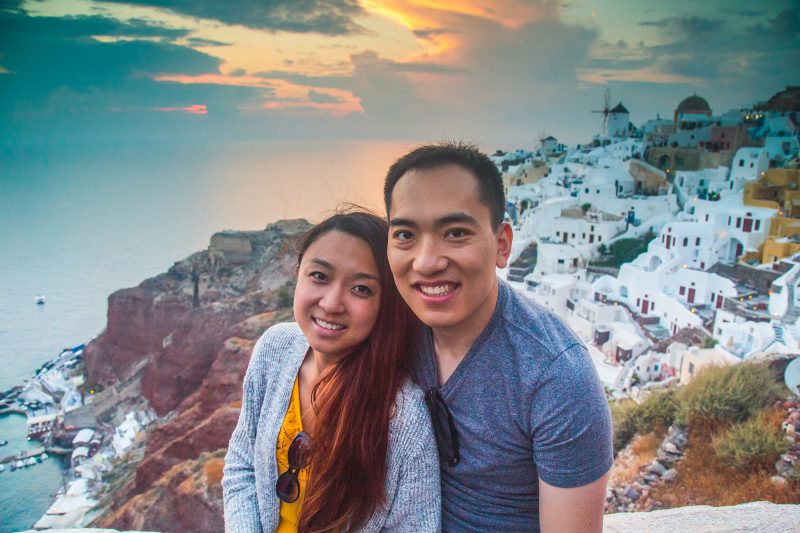 Okay, now that the sky is getting dark, it's time to rewards ourselves with some dinner! I had made a reservation at Floga; normally if you sit closer to the caldera you can watch the buildings light up at night, but since we had a larger party we sat further in.
The buses had already stopped running by the time we finished dinner so the restaurant helped us call a car back to the AirBNB. Since Oia is mostly a walking town, cars cannot drive in and we went back to the parking lot to wait. After seeing and eating a lot in one day, we felt really accomplished! :p