To get to Mykonos from Santorini, we took a car to the port where all the ferries docked. Swarms of people getting on the ships made for a very chaotic morning. We just looked out for the name of the ferry line on our ticket and awaited our boarding time, standing in some poorly formed queues. Tickets were purchased online before our trip. Once we got on the ferry, it was way fancier than I had anticipated. Having only been on a shitty, rocky, and tiny cruise ship once as a kid, this was everything I expected a modern cruise should look. There were several levels of seating, beautiful large windows on the sides, clean bathrooms, comfortable chairs, and concession bars. If only ships moved as fast as planes, I would be A-OK with traveling by sea in this fashion.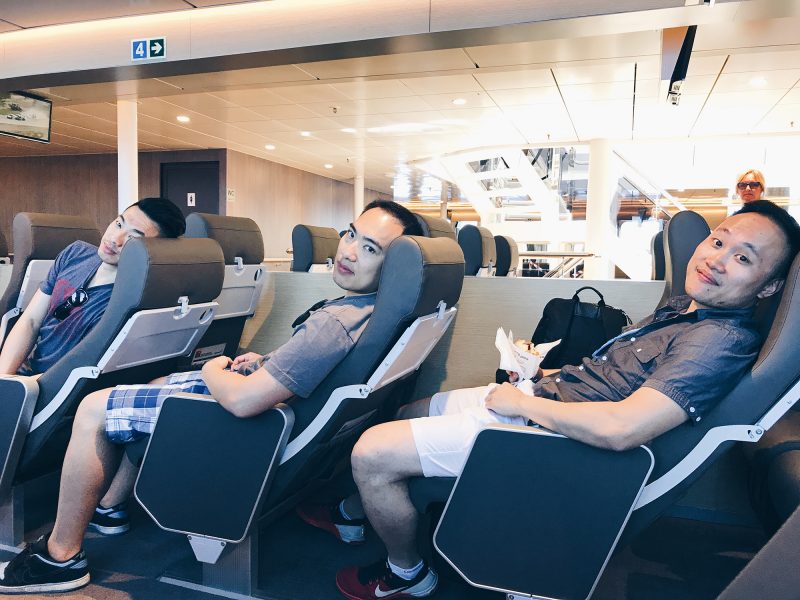 After we arrived at the port, our AirBNB host picked us up and drove us to our new home for the next few days. Unlike Santorini, it's actually a lot more difficult to secure a cab outside of town, where we stayed. As a result, the car service there was super expensive. For a 20 minute ride, it was about €50. If we weren't traveling with a group, it would be completely unreasonable. And yet, taking a cab back from the town center was no more than €30. So frustrating. We had to limit our trips out and made grocery stops on the way back so we could cook breakfast in the morning without paying an extra fare.
Mykonos has a reputation for being a party island, but I can't say we indulged in the night life. This being the last leg of our trip, we just wanted to relax a bit from all the walking we had done thus far. Our AirBNB had a nice pool in the back, but it was always filled with bugs and just a bit too cold for my liking. Great views of the port, though. Much of our time was spent lounging around, sunbathing, playing cards, and listening to music. Aren't we just a bunch of fun people? :p
Our first day there, we went into Mykonos Town to explore the picturesque little alleyways we've seen so many pictures of in the past. Hungry, we went to the famous Jimmy's for some gyros. All over the walls were photos of the owner posing with customers, some being celebrities. Also a random calendar of naked women.
And you know us girls cannot resist a good photo op. Between the white-bordered stone tiles, the vibrantly colored doors and the bougainvillea draped against the walls, every corner was a snap waiting to happen. Unfortunately, we did not bring our DSLR on the first visit there, but we did return on another day for pictures.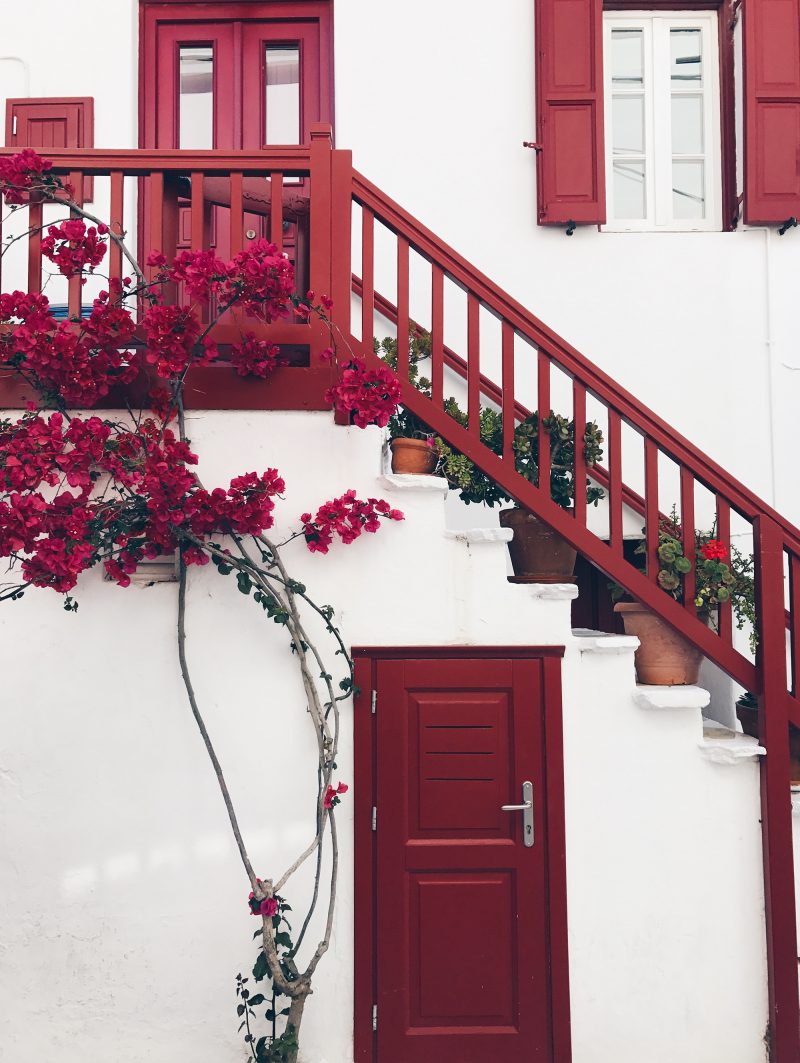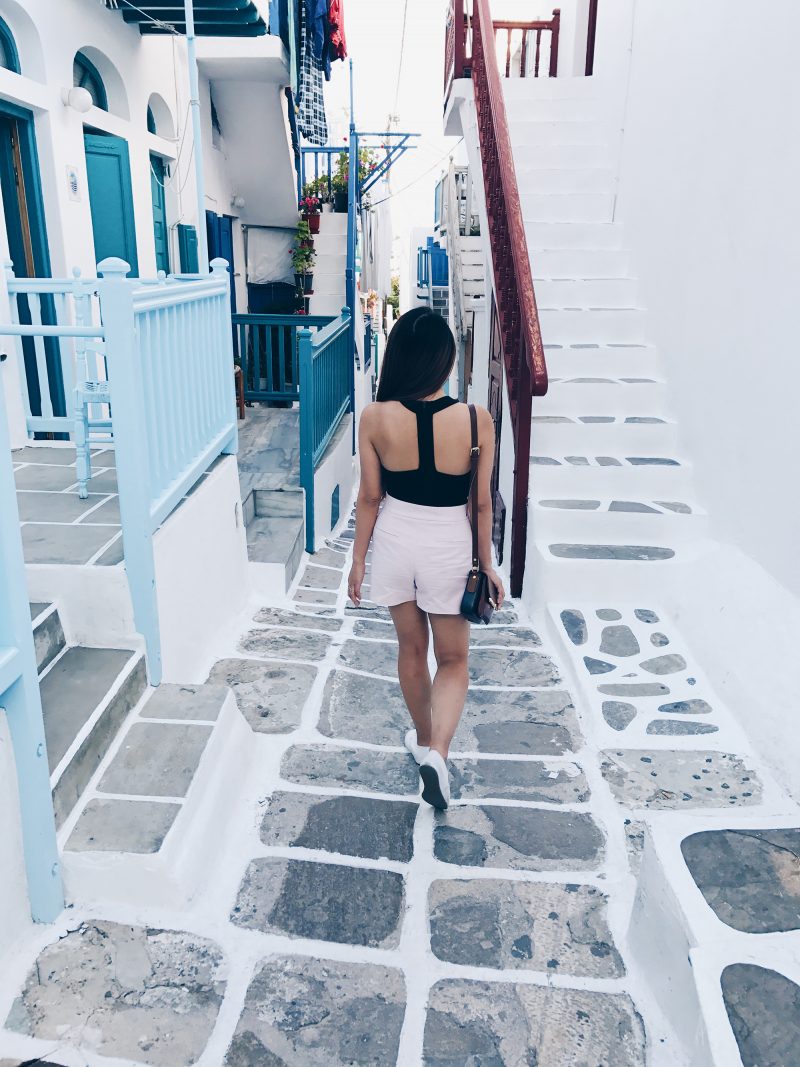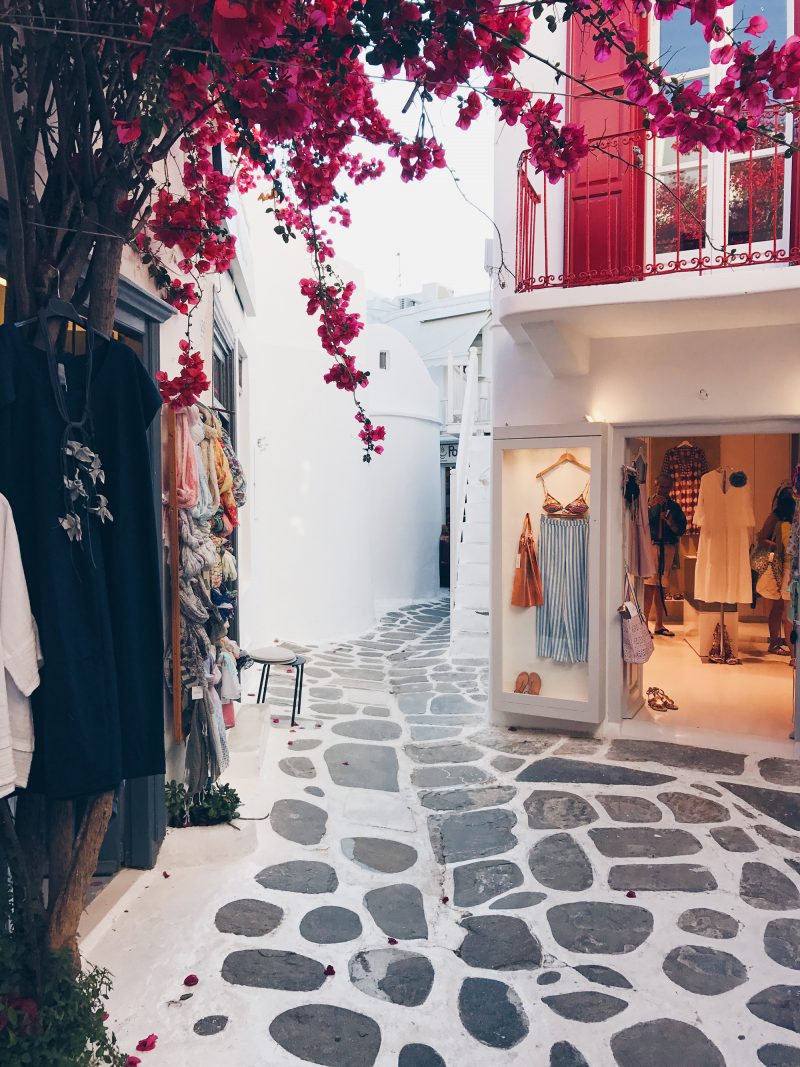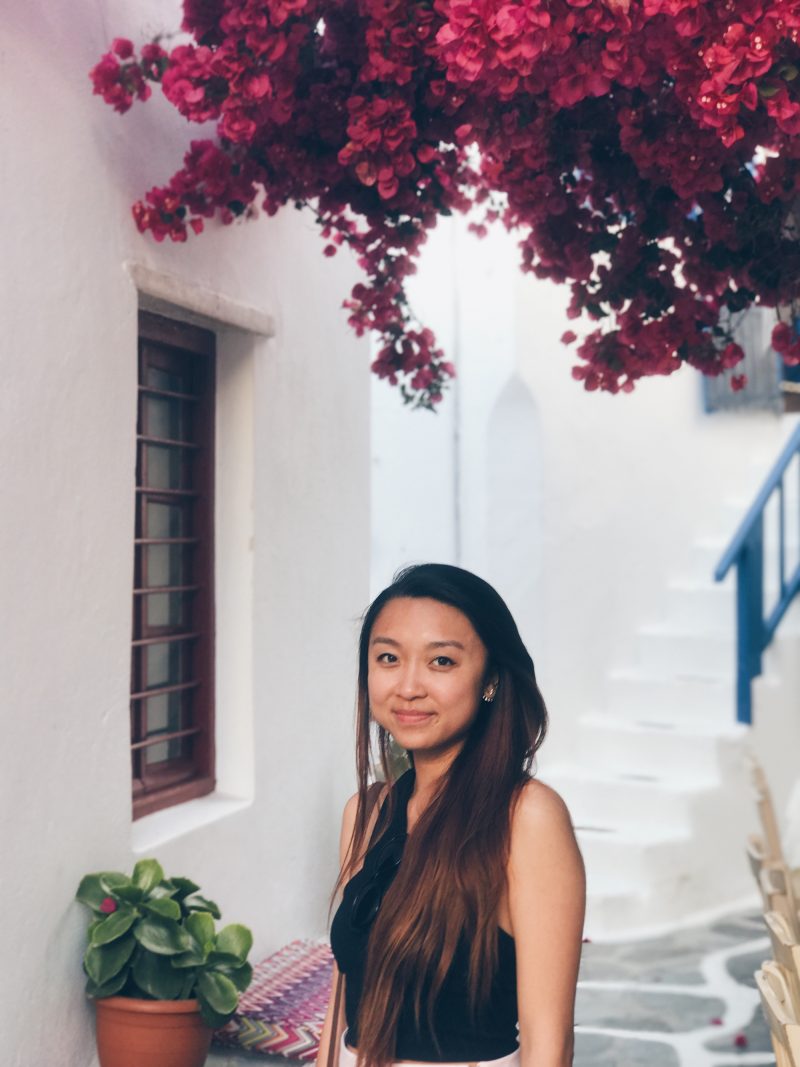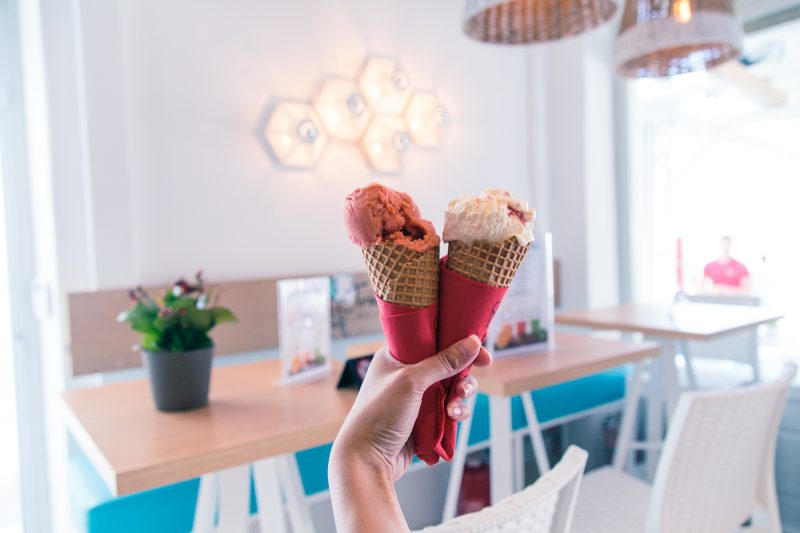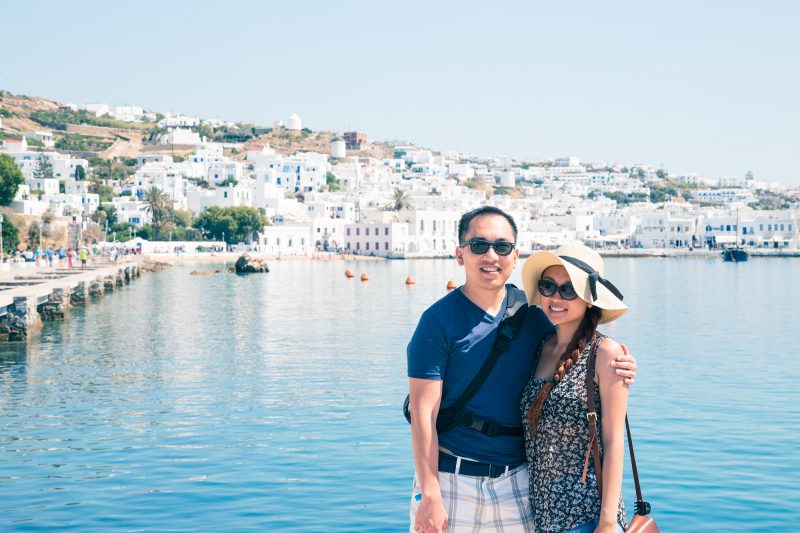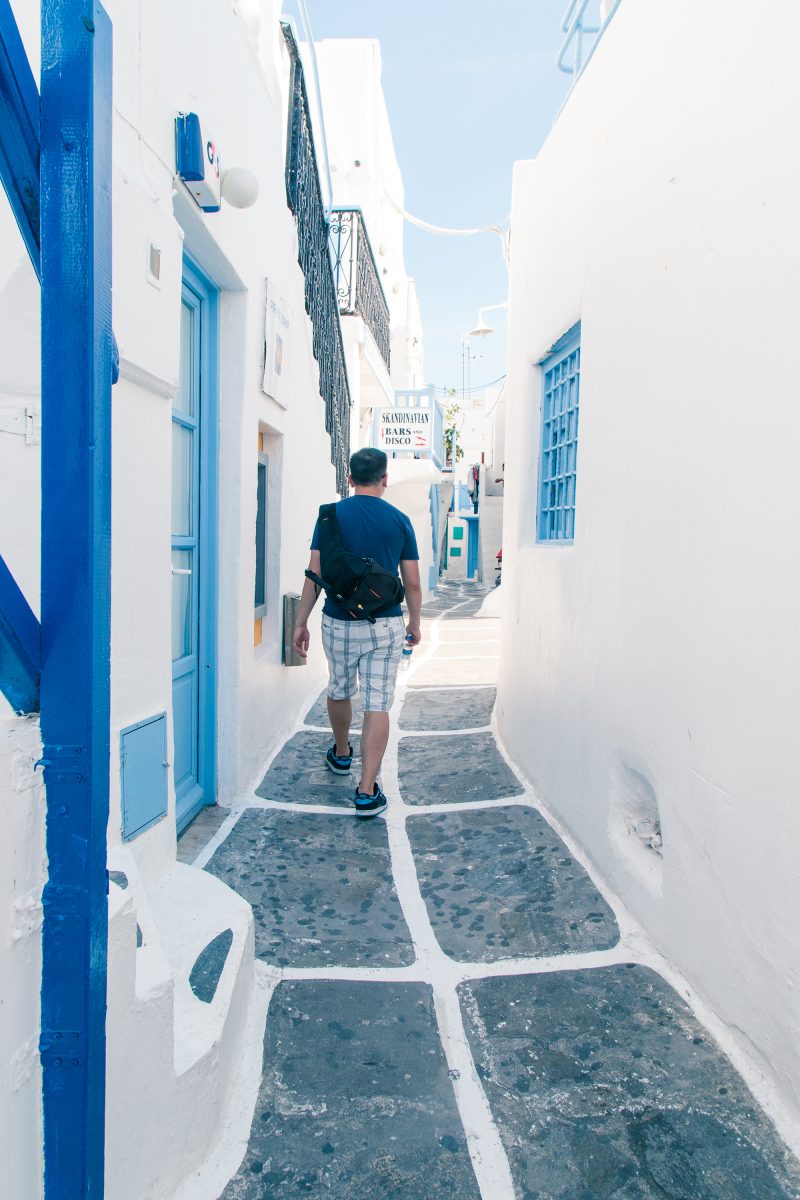 There's a section of town called "Little Venice" where some of the buildings are modeled after the ones in Venice. But don't expect to see any canals there. You will, however, find some Italian restaurants and a wide open area by the water to catch the sunset. We had a timelapse-off to see who could shoot the best video without a tripod.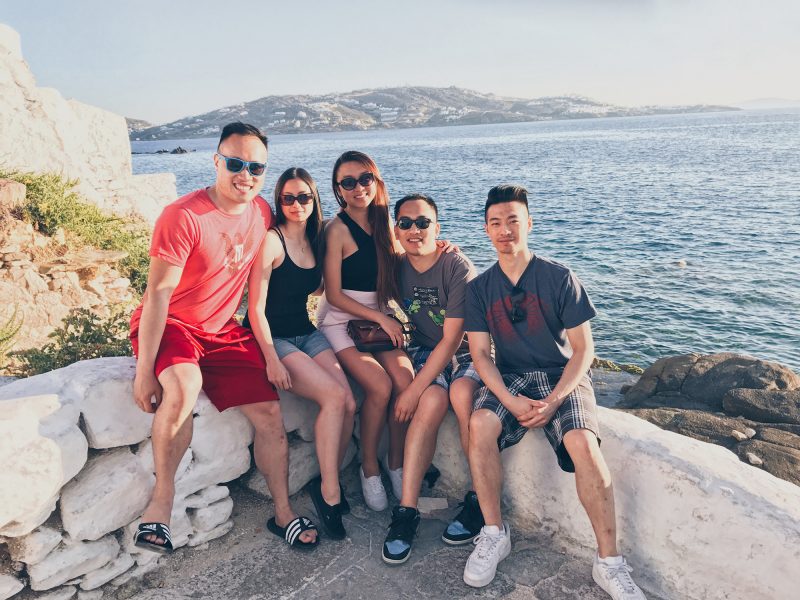 After it got dark, we met up with Winnie and her group of friends at Sea Satin for dinner. There aren't many windmills left on the island, but we saw some near the restaurant. You can actually stay in a few of them, if you're into that sort of stuff. Can't say this was the most extraordinary meal, as they messed up one of our orders and for whatever reason could not split the bill in half. But since Winnie's friend knew a friend who knew a manager there (wonder if he knows Kevin Bacon…), we did get a complimentary fruit bowl and some more dessert wine that was, once again, overly sweet. We then took a cab back from the taxi stand right outside the beach (cars can't drive into the town).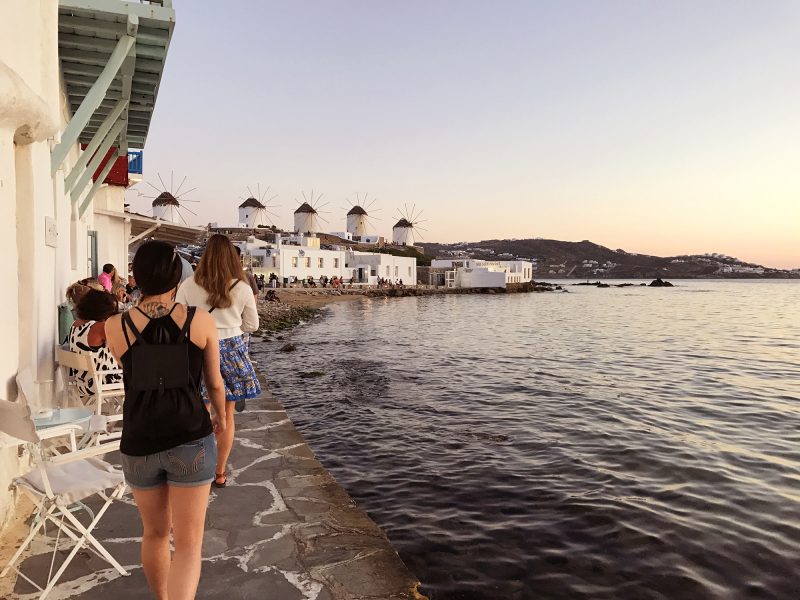 Speaking of beaches, I have to say they were a little underwhelming (at least the ones we've seen on our trip). They were quite narrow and seemed to be filled with pebbles. Not a place I'd spend an afternoon at, but to each their own.
The next day we basically hung around the AirBNB chilling for most of the afternoon before getting dinner at Hippie Fish. The restaurant is set right on the beach so we caught the last of the sunset. While all the seafood was great, we were particularly fond of the mushroom risotto and the clams. Paella was a bit of a letdown. Kinda hoping it'd come out in a giant castiron pan.
On our last day we decided to take a ferry to Delos, a nearby island, to check out some ancient ruins. Tickets were purchased online beforehand for €20. So we took a car back to Mykonos Town, where the boats docked. Far different from the cruise-like ferry we took to Mykonos, this was hot as haaaale inside. I was about to pass out before moving to the top deck, where it was infinitely cooler and way more comfortable. We noticed a couple with a basket of groceries and wondered if they lived in Delos. Because there is practically nothing but ruins and an overpriced grocery store on the island.
Entrance fee for the archaeological site was €12 with a map showing several routes. They have guided tours, too, but we just downloaded an audio guide which proved to be lacking in detailed information. I recommend bringing a hat, sunblock, and lots of water because there is virtually no shade at all (except in the non-air-conditioned museum and grocery store). Delos actually reminded me of Pompeii in Italy, although not as well-preserved. Quite unfortunate since it is still one of the largest and most important archaeological sites in the Mediterranean, being the supposed birthplace of Apollo and Artemis. Now, it is mostly a bunch of half-broken pillars and stones and a theatre in shambles. As you'll notice, I was mostly intrigued by a lizard. The highlight of the ruins was The Terrace of the Lions, which are featured in every souvenir magnet of Delos. The ones placed outside are replicas, but the real ones can be found in the museum.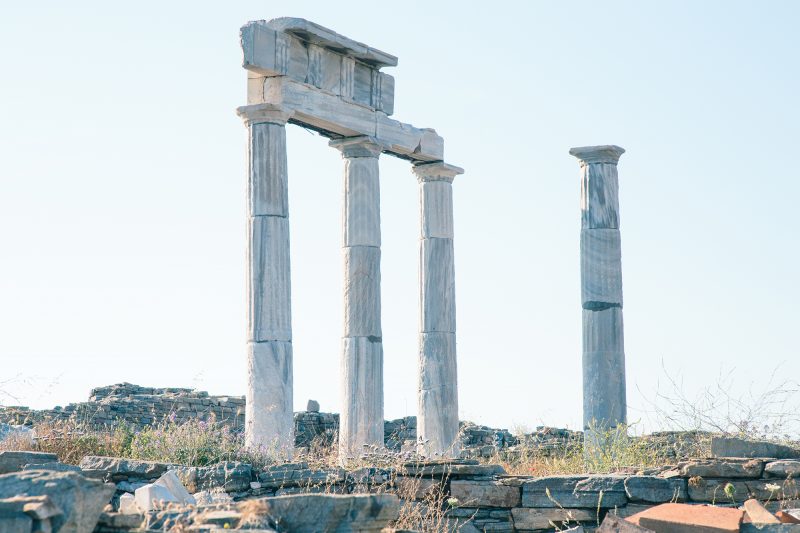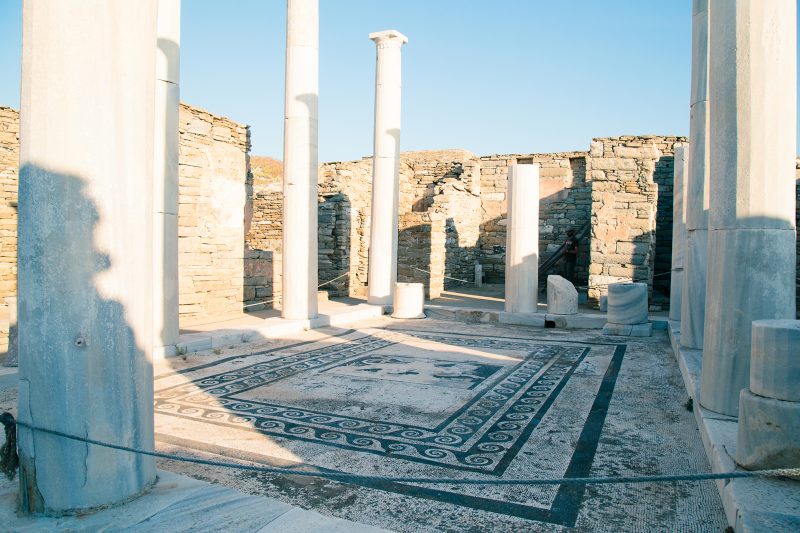 Speaking of, the grocery store and museum were quite far away for people who were already on the brink of dehydration. Not the most impressive collection inside the museum, but at least it was included in the ticket price. That was also the only restroom we found in the whole place. If it wasn't so hot and this wasn't the last ferry of the day, we might've stayed longer to hike up the hill. Alas, our ride awaits.
As we sailed away on the ferry back to Mykonos, the sun started setting. I thought about the ancient peoples of Delos looking up at the same sky years and years ago over that landscape, and felt grateful for this simple pleasure that transcends time.
For our last meal in Greece, a friend had suggested D'Angelo, a fantastic Italian restaurant right in the heart of Mykonos Town. One of the best meals we've had, period. We sat right by the sidewalk and got to people-watch as we ate, like creeps.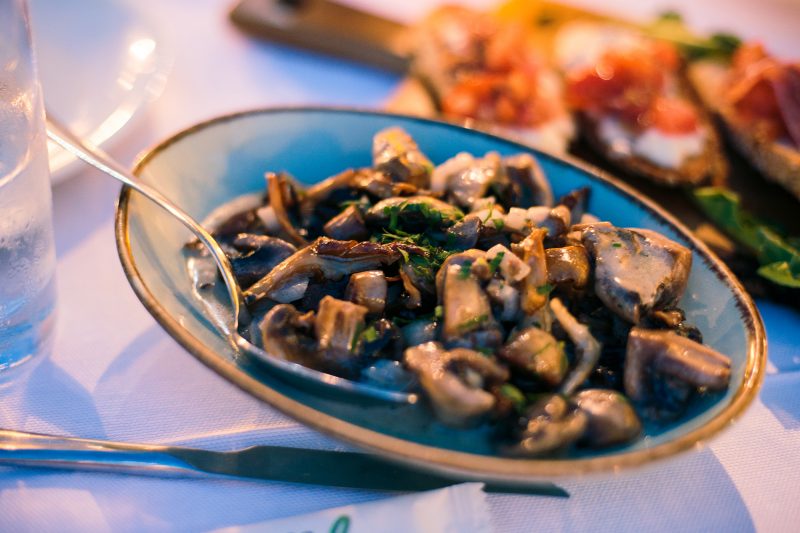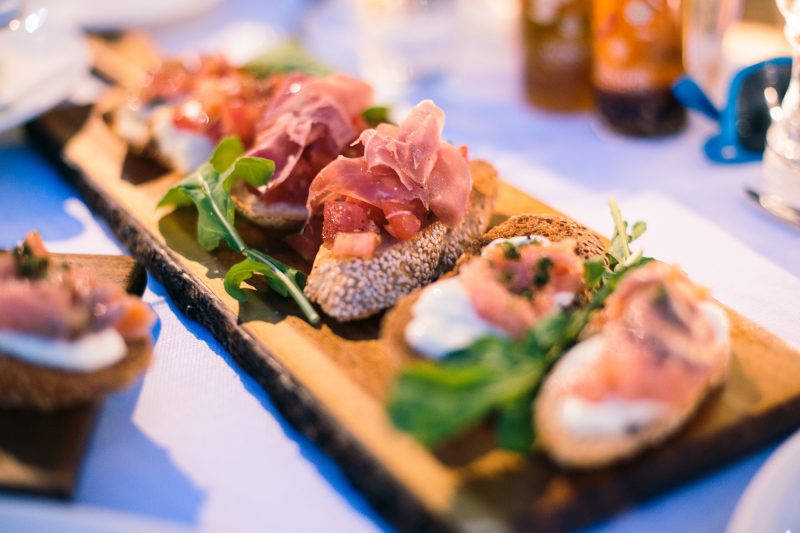 Overall, we had a fantastic time in Greece. It's no wonder they recommend it in all the travel magazines. In the future, I'd like to check out a couple more islands. They each had such a different vibe. Also this being our first international group trip, I'm looking forward to traveling with friends again! There are so many perks: splitting accommodations and transportation expenses, trying out even more varieties of food without not being able to finish what we ordered, and being each other's Instagram husbands! In our case, the girls were the best photographers. xD
ευχαριστώ, Greece!