Bali, which is 90% Hindu despite the rest of Indonesia being mostly Muslim, has a ton of temples. Families in a village would share one, but there are some in particular that are especially beautiful and visited by many tourists. Here's a quick list of the ones we visited. If you plan to go inside the temple instead of walking the perimeters, you will need a sarong (rental usually covered by the admission price). Our driver did inform us that Besakih Temple, however, overcharges you for admission, sarong rental, and a mandatory but unnecessary guide. So we decided not to go (and have read similar negative reviews about it). There are plenty of others anyway, as you will see, and the admission fees are generally quite cheap. Do note women on their menstrual cycle are not allowed inside the temples (though..how will they know?).
Pura Tirta Empul
Inside Pura Tirta Empul is a beautiful holy water pond in which visitors and locals alike bathe or drink. I loved the bright colors of the offerings above the fountains against the blue of the water. There are lots of tourists, but it never felt overcrowded (we went later in the day). We noticed that the locals started at the left-most fountain, washing their heads and then making their way across each fountain towards the right. Men can bathe topless, but women must wear a top. And no wet dresses inside other areas of the temple.
Tanah Lot
Like Uluwatu, Tanah Lot is a popular tourist destination not because of its impressive temple but because of the beautiful rock formation it rests on. It takes shape from being washed by the ocean tide continuously over the years. During low tide, you can walk out to get a picture up close. Within the same area, you also can walk to the nearby Pura Batu Bolong, another temple sitting atop a peculiar rock formation. I personally found this one to be more picturesque. Tanah Lot is also a popular sunset viewing location, though unfortunately the storm clouds were rolling in that day and we couldn't see anything.
Pura Luhur Uluwatu
My favorite temples are definitely those by a large body of water. Pura Luhur Uluwatu rests on a cliff overlooking strong, crashing waves. It's a bit of a walk from one end of the strip of land to the other, so wear plenty of sunblock as there's little shade. The temple itself looked plain, but it's really the landscape that makes the location extraordinary. There are monkeys close to the entrance that love stealing water bottles, hats, sunglasses, and food. Best not to have those things exposed. Because Uluwatu is on the west side and right by the water, it is great spot for viewing sunsets. If you can, stay for the kecak fire dance. We didn't get to see it but have heard great things!
Pura Ulun Danu Bratan
Located by Lake Bratan, this temple was erected for the water, lake and river goddess Dewi Danu. It was selfie stick haven when we visited and can get quite crowded. The temple grounds were absolutely stunning, filled with lush greenery and colorful florals. Very well-maintained, too. You can rent a duck boat if you want to get a closer snap of the temple, but we found that it looked nice enough from the shore. Great place to get some nice reflection shots if the waters are still enough.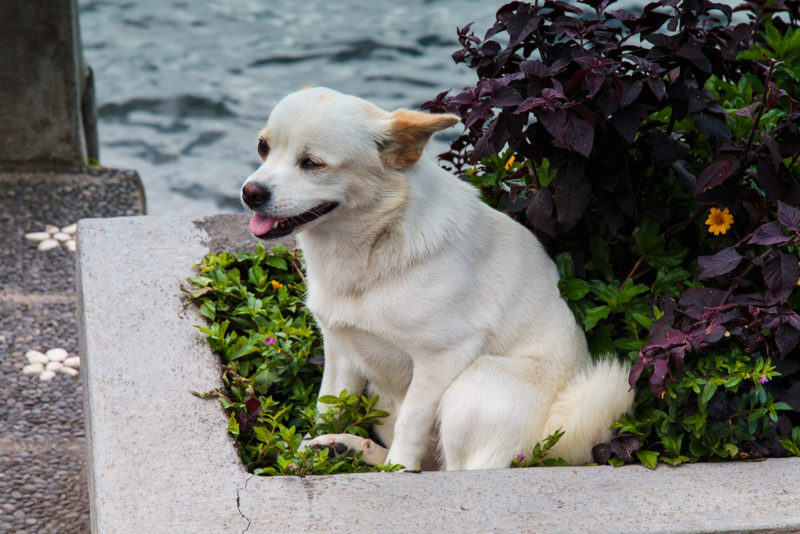 Pura Taman Ayun
The Royal Family Temple, this one was actually less crowded. We went late afternoon since we had a hole in the schedule and it was close to Ubud, and we were able to go in from the side without paying an admission fee. Visitors couldn't go in the main temple area anyway and could only walk around it. The entrance gate was very beautiful – be ready to take turns lining up to get a picture in front of it.
Pura Saraswati
We accidentally stumbled upon this water temple while passing by Ubud Palace. There were only a few people inside when we went. The water lilies in the pond by the entrance looked a little dilapidated, but I can imagine it would be beautiful when flowering. They also have a traditional Balinese dance on Saturday nights and there's a guy selling tickets outside, but we opted for the one in Ubud Palace instead.