Not sure why we don't do this more often, but taking cooking classes in a foreign country is a great way to learn about their culture and meet fellow tourists. We fell in love with Indonesian food during our stay in Bali, so I'm glad we got a chance to prepare some common dishes. Prior to the trip, we booked a morning class at Paon Cooking Class, which lasted from 8:30AM to around 1:30PM. I recommend the morning class because it includes a market tour (afternoon one doesn't), so you see where the ingredients come from and taste some locally grown fruit.
We were picked up via air conditioned van at our hotel in the morning (you fill this info out online), where we were promptly taken to the Ubud food market. It's right by the art market, if you want to check out the place on your own later. Early in the day, we saw a lot of locals hurrying about to buy their groceries and set up shops with few tourists walking around. It gets more chaotic in the afternoon. Our guide took us on a mini tour of the market, where several ladies were preparing daily offerings for the gods. I love seeing the food in their purest form, and we even got to taste some of the fruits. Many of them he just peeled apart with his hands and then chucked the shells behind him. We just had to stay out of the locals' way as they shopped for groceries.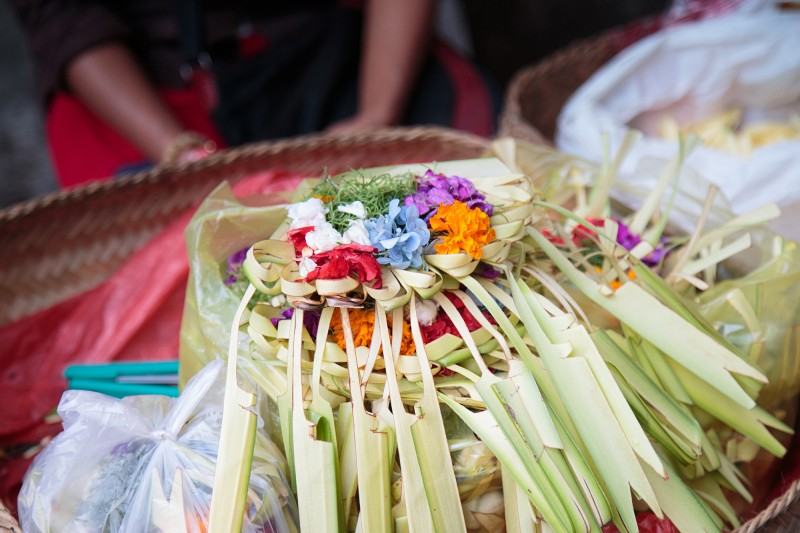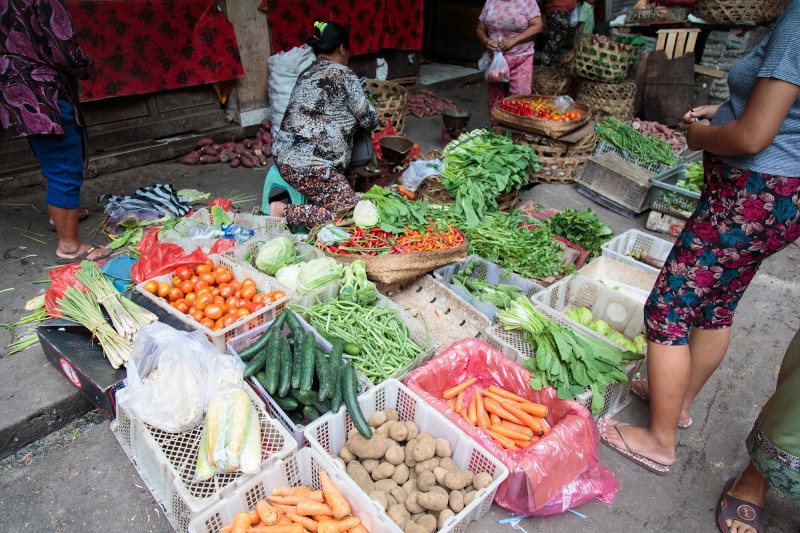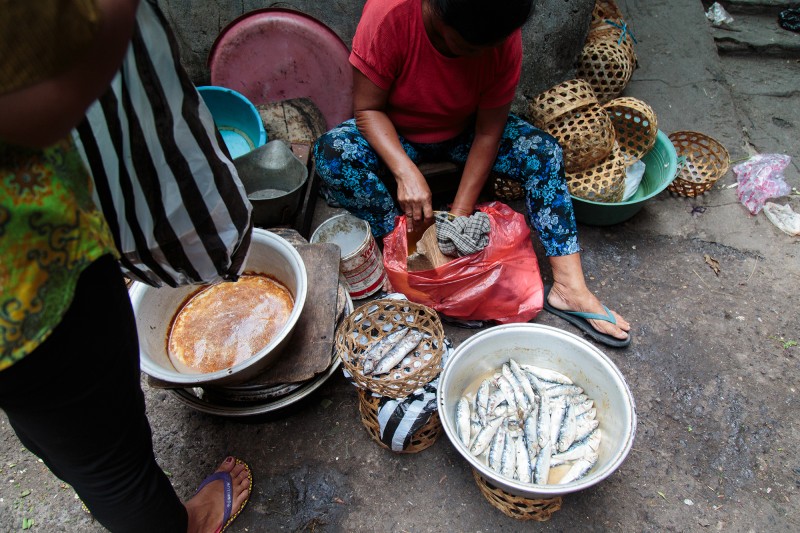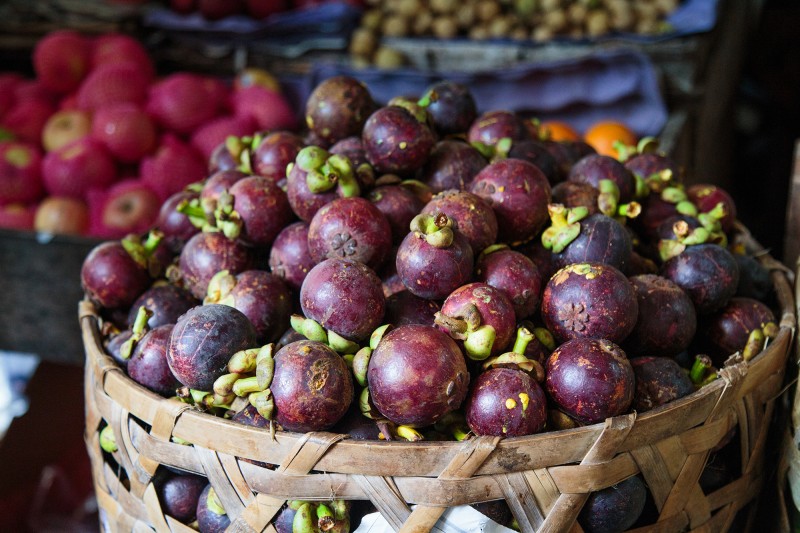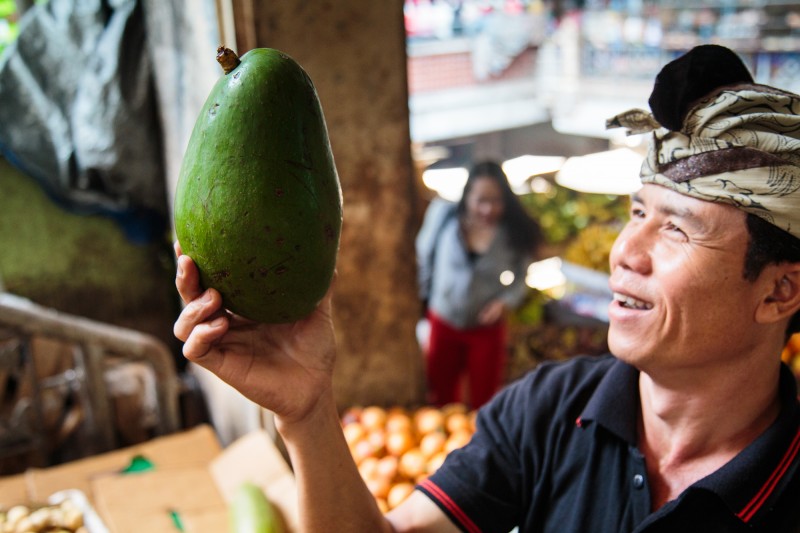 Afterwards, we were driven to a large rice field owned by the family and neighbors of the chefs we'd be cooking with that day. Usually this land is inherited by the eldest son. We stood there sizzling in the sun as the guide talked, and then finally were taken to his home where the head chef, Puspa, led us through the class with her warm and amusing personality. We were welcomed with a refreshment and a brief background about the home. On the ground there is a sort of compass and the rooms and temple inside the house are placed accordingly (reminds me of feng shui). Puspa also told us that she buried her placenta in her home. Guess she decided to forgo the freezer.
There are several cooking stations, but you're usually paired with someone so you can rotate duties such as saucing a dish, stir frying, or preparing skewers. Puspa explained what each of the ingredients were and possible replacements in case we can't source them. We also learned that they put basa gede (a spicy yellow sauce) on a ton of stuff and sambal (a hot chili paste), which I've been hunting all over NYC. The food displays were almost too pretty to dismantle.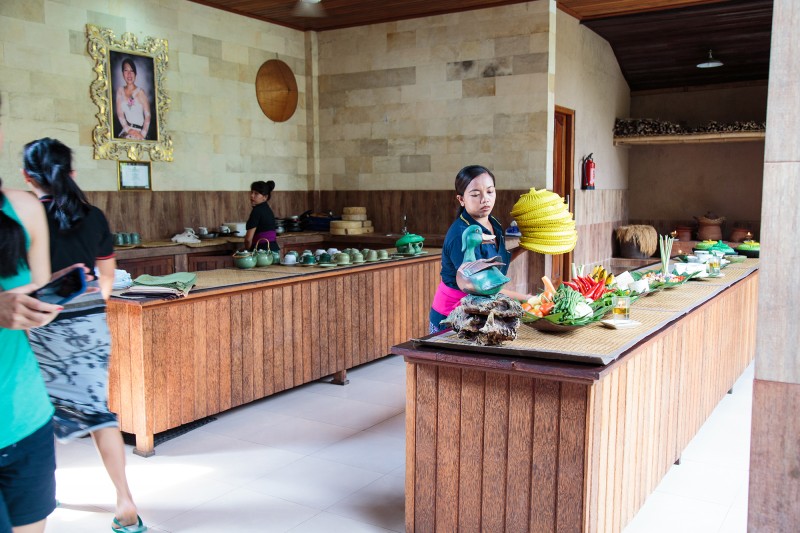 Now comes the fun part – the actual cooking! Everyone wore an apron and took turns prepping and stir frying in the open kitchen. We wrapped the skewer sticks with meat and gave them to Puspa's family members to grill. There was even a little girl student helping out her mom. We eventually switched to the phone camera so the DSLR wouldn't get in the way. The class is super basic, so even someone who has only stepped into a kitchen a handful of times would have an easy time.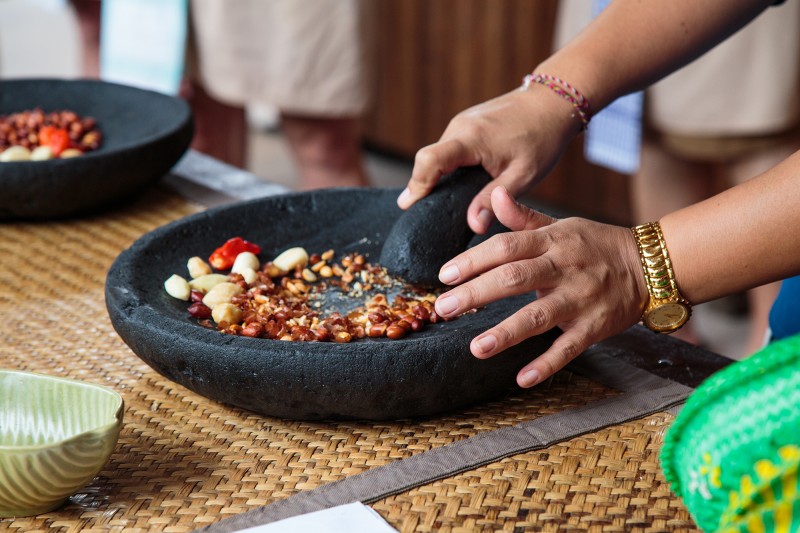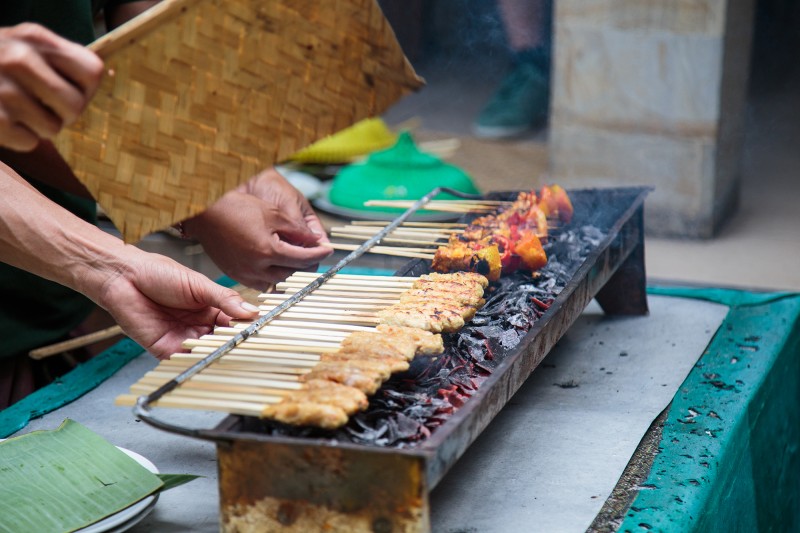 Okay, okay. Now is the best part, which is the eating! Everything was so delicious, I was honestly surprised we all made this possible with our bare hands. Tie kept the recipes, but sadly I haven't been able to locate most of the ingredients here in the states. Maybe one day I'll have the patience to remake one of these. I'm glad I don't have a peanut allergy, because many of the dishes contain nuts. By the way, food tastes SO much better and is more aromatic when grilled with banana leaves. Almost everyone got up for seconds! It was definitely one of the best meals we had in Bali, and we're not just patting ourselves in the back. The kind folks at Paon Cooking Class also whipped up a chocolate cake for one of the students because it was his birthday, and we all sang happy birthday to him. The somewhat embarrassing thing is, it was also my birthday! But I celebrated secretly to myself…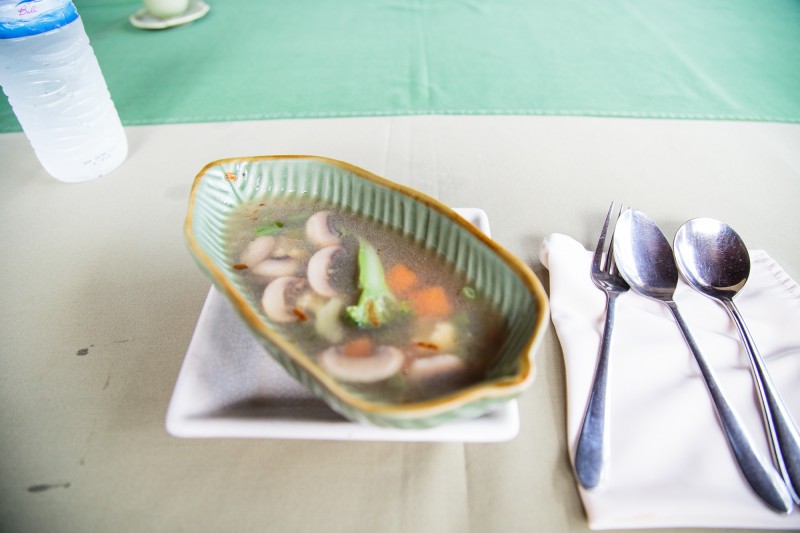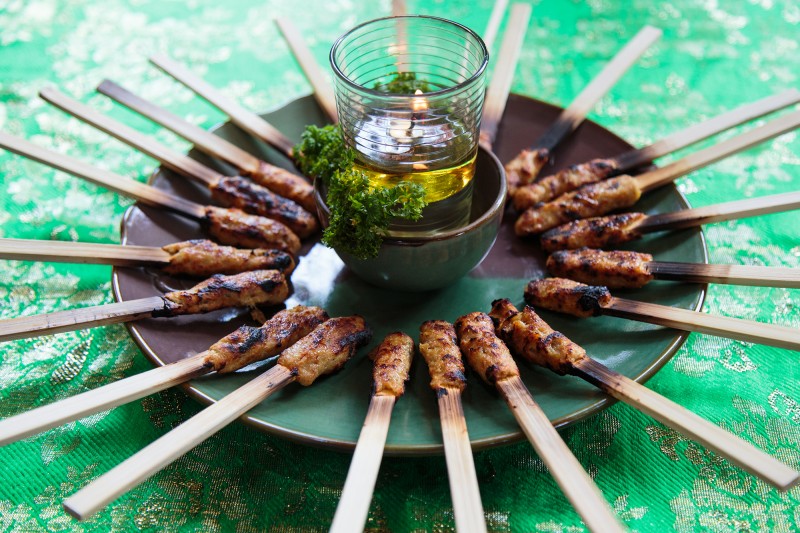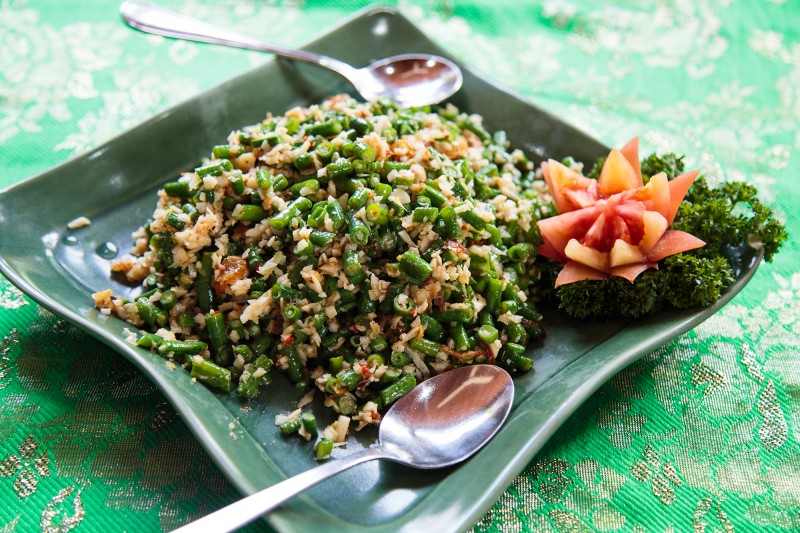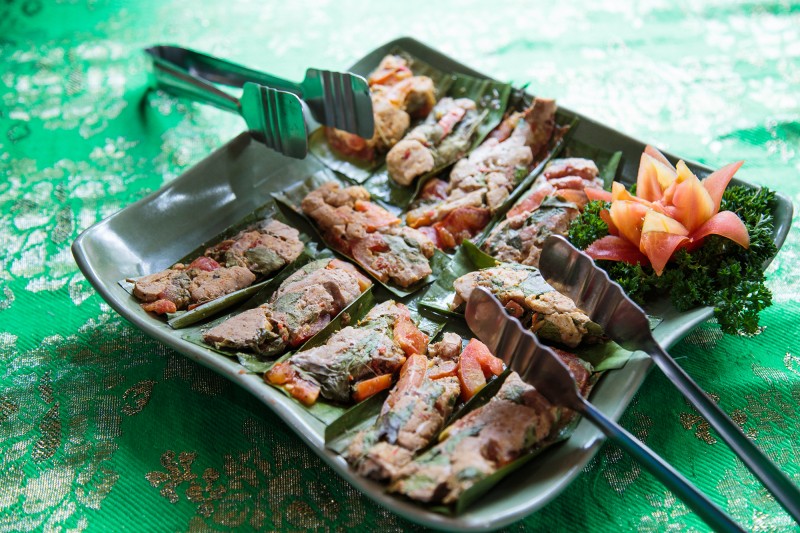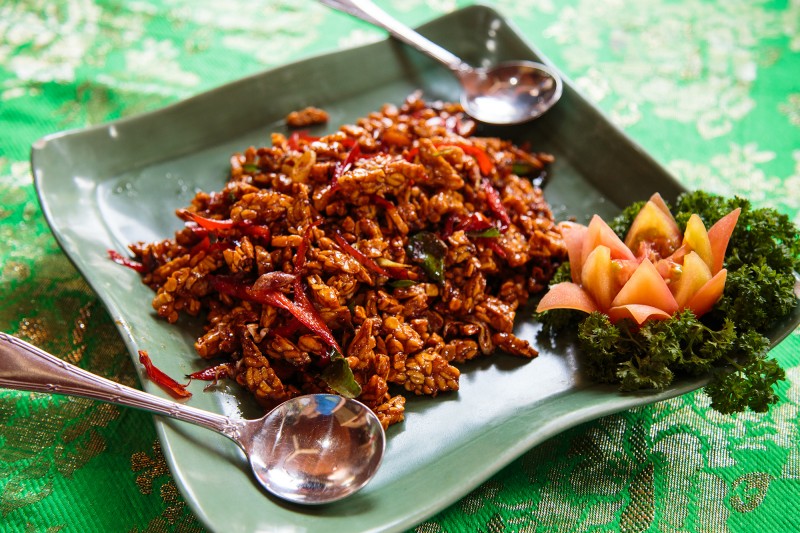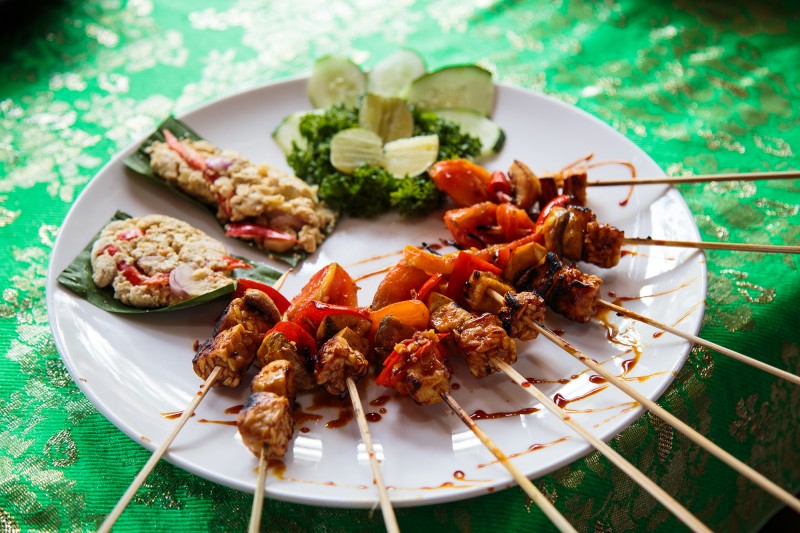 Just a note, after the class was over they dropped us off back at the market from the morning, so we had to find our way home. It concluded at approximately 1pm, though, so we still had plenty of time during the day to explore Ubud.