Tie and I decided to visit Sanya, Hainan (part of China) from of our love for Hainanese chicken. As it turns out, the best Hainanese chicken is found in Singapore, which is an adaptation of the original dish, Wenchang chicken. More on that in a later post. Nonetheless, Sanya is often regarded as the Hawaii of China. Now, having been to both, I can say that the two are totally different aside from the tropical climates. I haven't been back to the mainland in almost a decade. Like most of China, Mandarin is the common dialect in Sanya. It felt strange being regarded as foreigners since Tie and I either spoke English to each other or spoke Mandarin with a Cantonese accent. But it was easily the most memorable leg of our Asia trip, as it felt at once familiar and like unexplored territory.
We arrived in Sanya at night and quickly realized that Google and Facebook are blocked due to the firewall. I couldn't believe I had forgotten about it. All our maps and itineraries became inaccessible. Fortunately, WhatsApp still worked and our friend Albert pulled through and provided us a VPN. Next time, we'll come equipped with our own server.
Our hotel, The St. Regis Resort at Yalong Bay, was actually pretty far from downtown so we had to take a taxi to the nearby bus stop the next day. We learned, from watching the locals do it, that if you want to take a bus in the opposite direction and there isn't a physical bus stop, just stand by the sidewalk and hail it like a cab. There are two people working on the bus: the driver and the person who collects your money (and asks where you're going). Just a note: the map on the bus stop is written in Chinese, so it's good to have the Chinese name of your destination handy as well. The bus ride to downtown was only about half an hour costing a mere ¥7 (~$1). It was also clean and air-conditioned. I wish we had taken the bus more often, but taxis were just so convenient and the buses don't stop at all the places we visited. Most of all, the ones going back to Yalong Bay, where our hotel was, stops service at 6pm.
Our first destination was Dadonghai 大东海, a clean beach close to downtown Sanya. We weren't really there to get a tan or swim in the sea, but from the looks of it the beach was pretty clean and dotted with men in short shorts. Peddlers (often shady-looking dudes rocking shades) would try to sell you water sport adventures, but they leave you alone if you don't seem interested. There are many Russian tourists in Sanya, and they mostly hang around this beach and the downtown area. We were surprised to see more Russian signage than English signage throughout the city. In fact, I would say that unless you know some Chinese (especially how to communicate in Mandarin), it can be quite difficult to get around as the locals' English-speaking abilities are limited.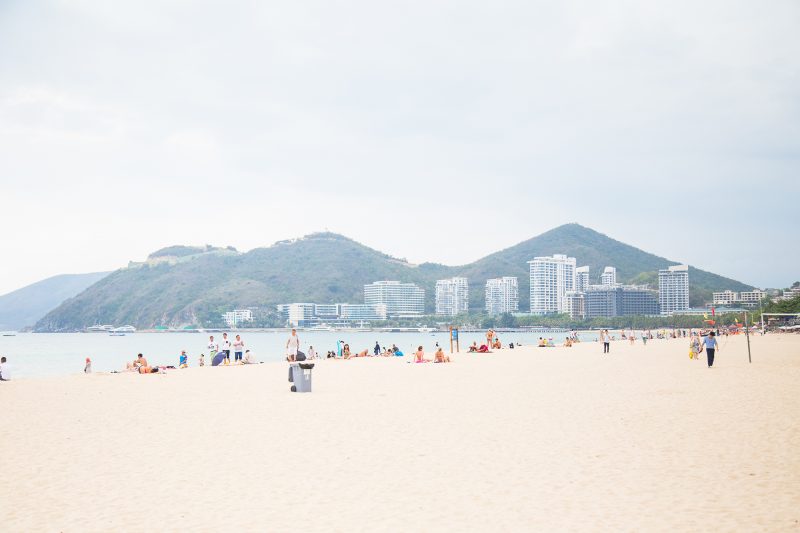 There is also a "boardwalk" by the beach with restaurants and more Russian-targeted hotels.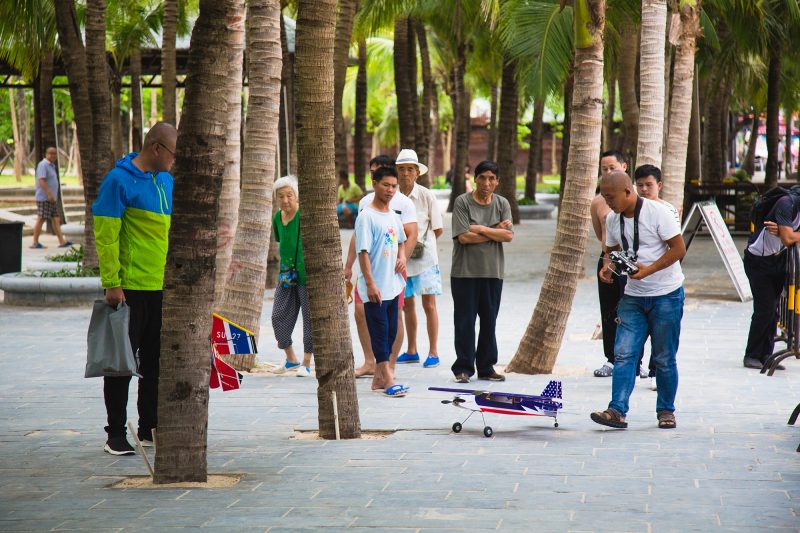 We had previously read that there's an overlook on a hill to see the whole of Dadonghai and wanted to get that aerial view. It was supposed to be about 300m to the east of the beach, but while we saw a gazebo atop a hill, it turned out to be inaccessible. Instead, we went up a nearby pineapple building for a slightly better view and then gave up. Turns out that pineapple building is actually called No.1 Harbor City and is a shopping mall that also includes a number of restaurants.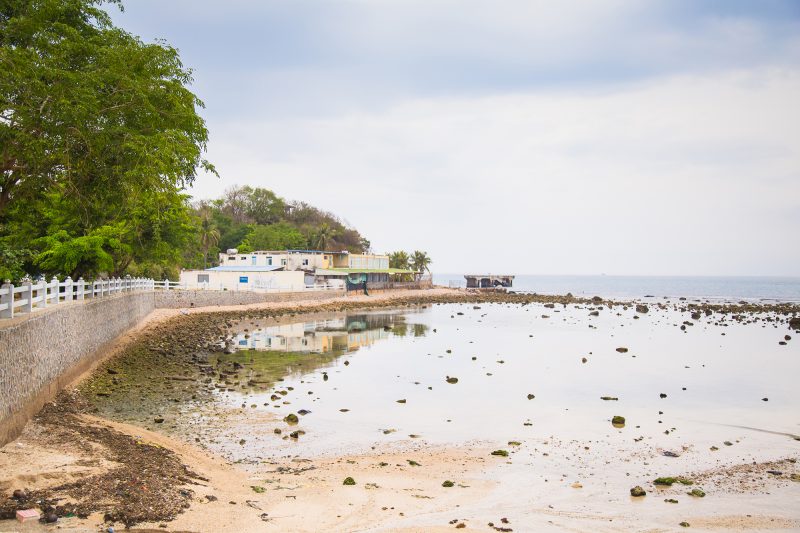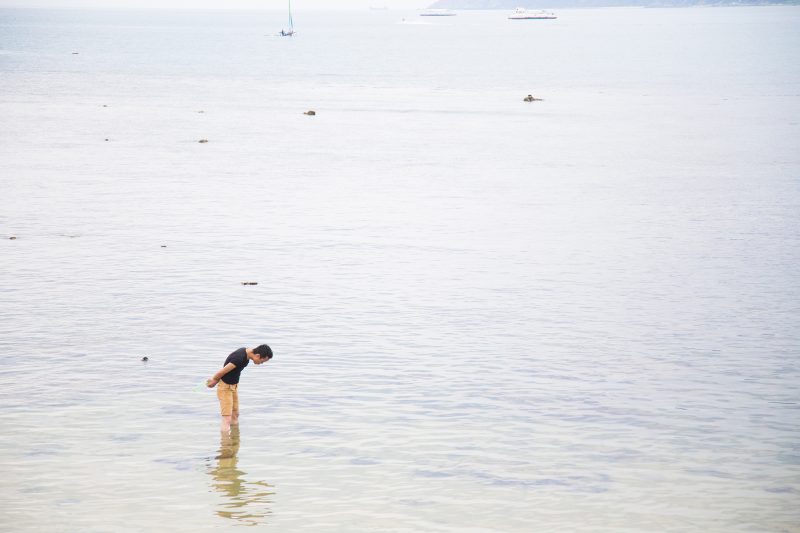 Luhuitou Park was next on our itinerary, but when we grabbed a cab to get there, our driver recommended a different attraction. She said Luhuitou Park wasn't particularly exciting and was not much more than a giant rock of a girl and a deer. So we opted for a bit of spontaneity and went to her suggested place, Phoenix Park 凤凰岭公园, instead. There is a cable car that takes you to the peak for panoramic views of Sanya Bay and Yalong Bay. Tickets were actually kind of pricey at ¥106 per person (~$15), roundtrip. But it wasn't like we had anything else to do then.
We noticed there were a lot of couples there to take wedding pictures. The females looked particularly funny, with their long gowns rolled up to expose their legs. The cable car took us to a mid point, from which it splits off into two areas of the park. When we first got there, it was super foggy and even poured for a bit as we huddled under a souvenir stand awning. Not much of a panoramic view. There was a tour guide describing what we would've seen if it had been a clear day -.- Well, he tried. Numerous love-related sculptures and inscriptions dotted the park, such as depictions of dragons and phoenixes, which represent the male and female. So I can see why lovers would want to take their photos here.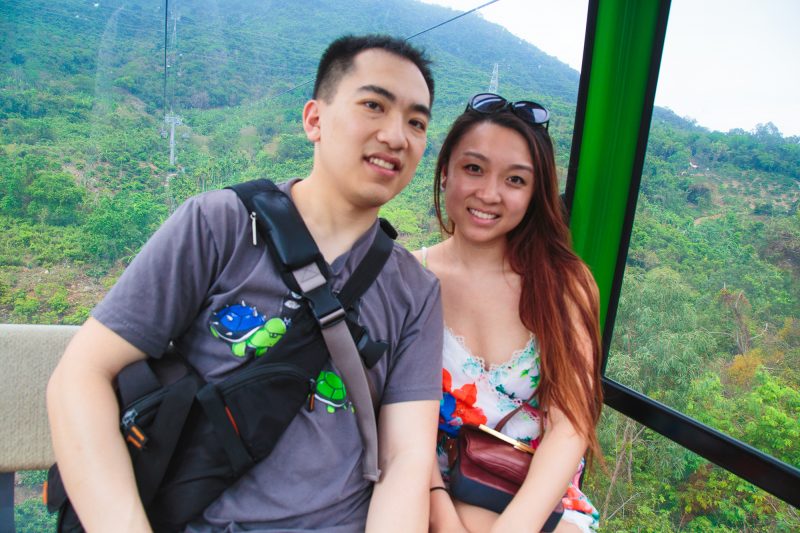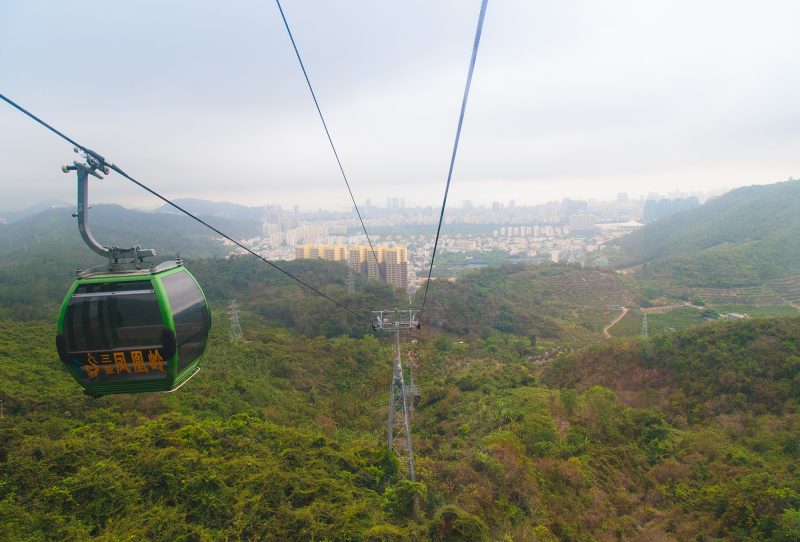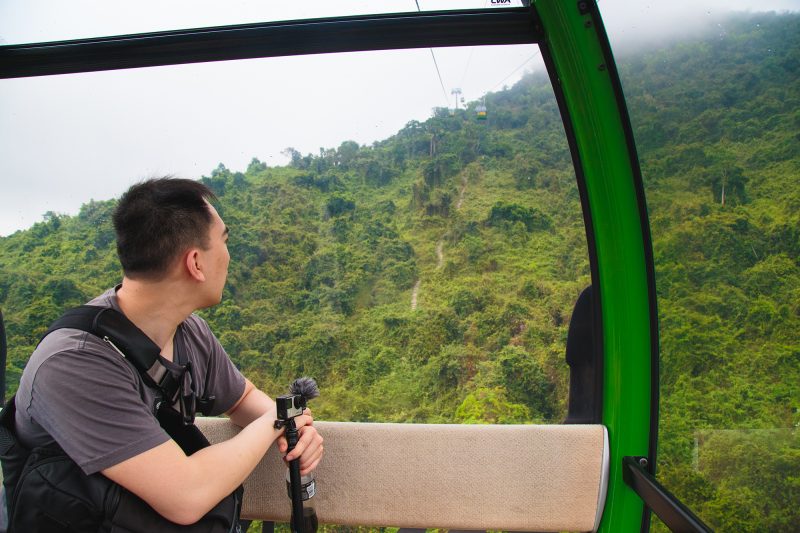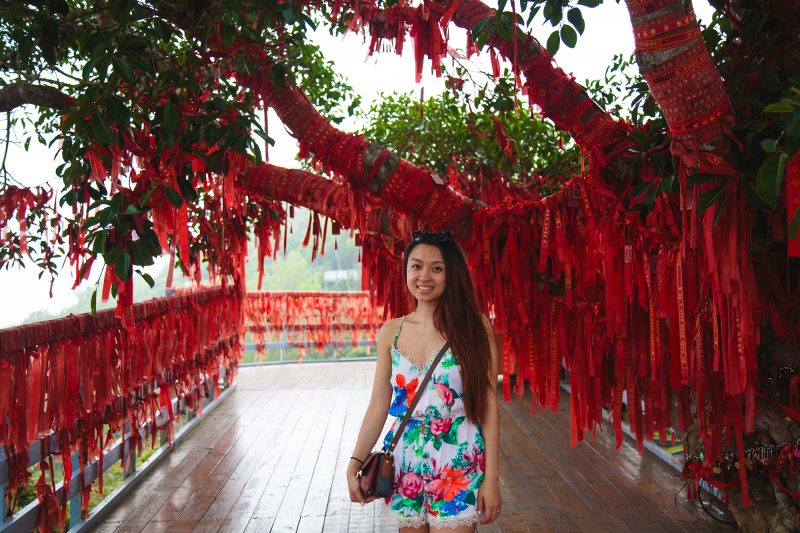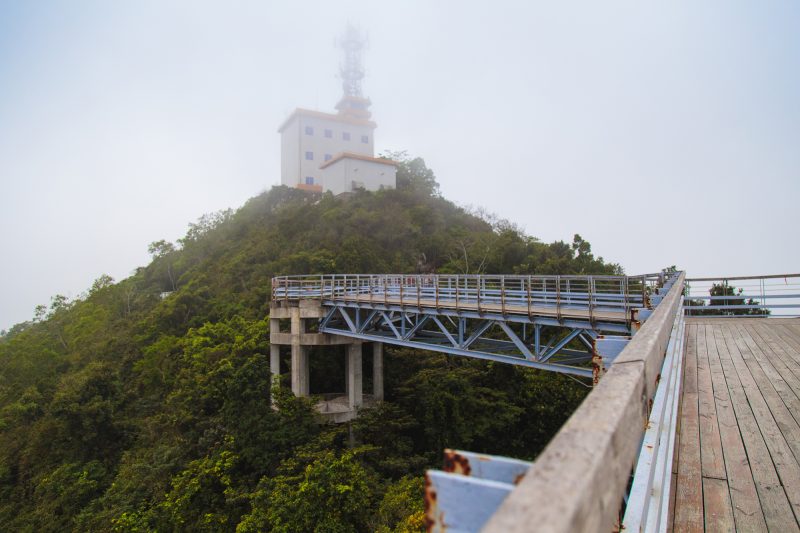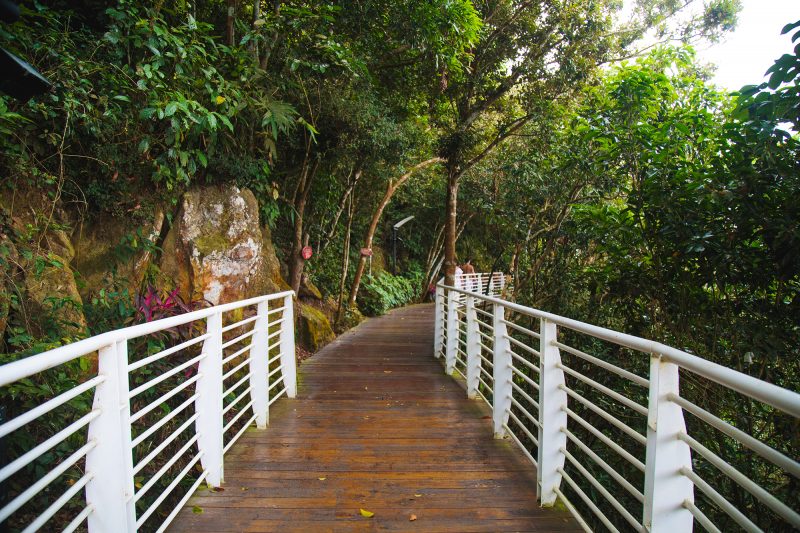 Luckily, the sky cleared up midway through and we got a glimpse of those panoramic views. There was also a glass chapel at the peak, where you can guess is where most of the wedding couples gathered. I don't know how they were able to get clear shots without another group getting in the way. It was amusing just watching the photographers direct the couples and seeing all the different types of poses. Tie and I are actually getting our photos taken at the end of the year, so this was an insightful sneak preview.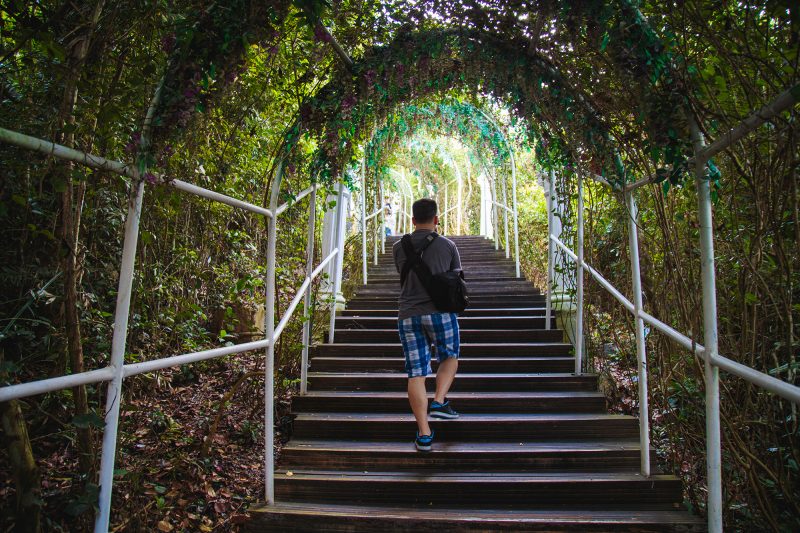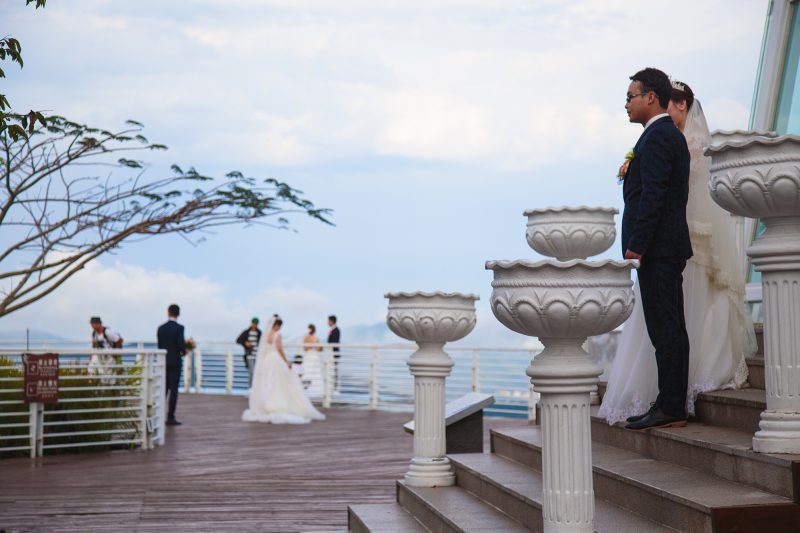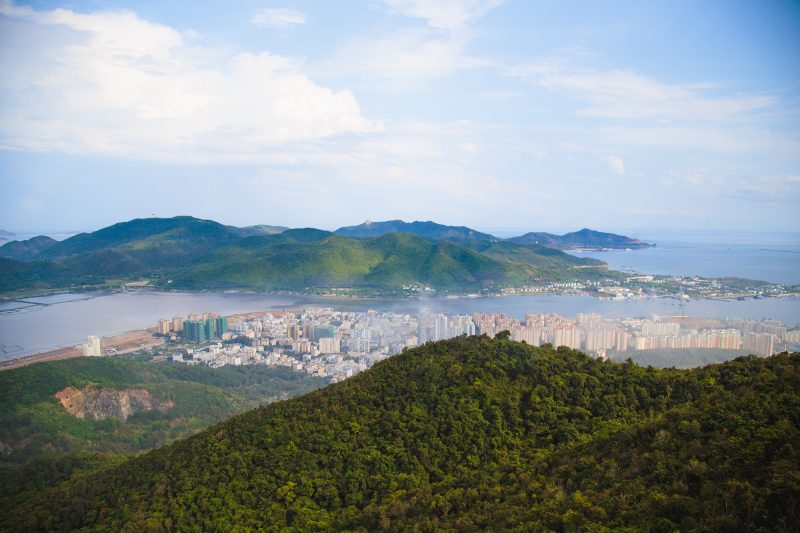 We headed back down the mountain, where the car service stand helped us get a ride. We haggled down the price (never pay face value) and the driver took us to the No.1 Agricultural Market. I love how chaotic Chinese fish and produce markets are, and this one was just that. It's really crowded and fast-paced inside, so we had to watch our bags carefully. At the entrance there were a lot of ladies handing out "jiagong 加工" business cards. Jiagong is when you purchase the groceries yourself and take it to a restaurant and pay them to cook it for you on the spot. One of the women followed us around the market, showing us how to tell if the seafood is fresh and lively. It was a tad annoying being tailed by someone the whole time, but I suppose having her company was useful since we got to talk down the prices. We got to see so many types of sea life in their original pre-cooked form, which was fascinating. I wish our stomachs were larger so we could've accommodate more variety. If only we had friends with us on this trip!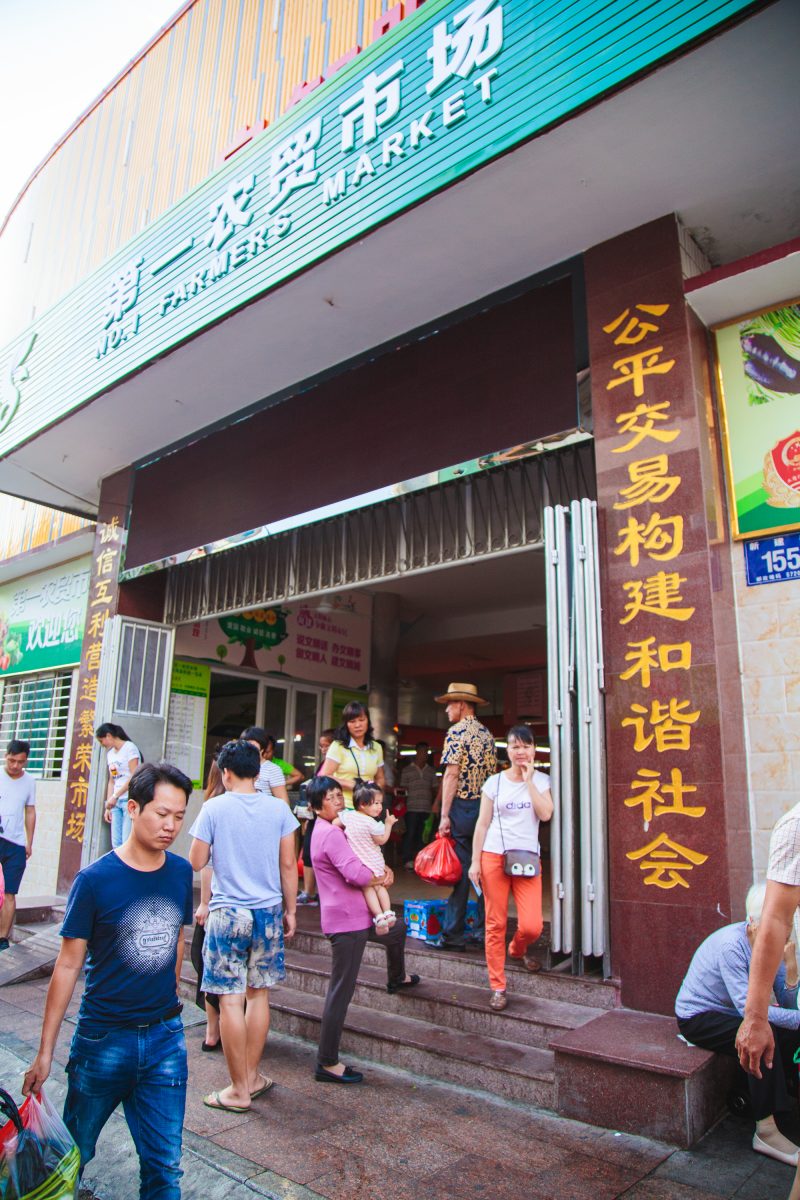 After we had purchased our seafood, the lady took us to a side street by the market. She asked us what style we preferred the food to be cooked – spicy or not? It determined which restaurant we ended up at. Didn't know the name of the jiagong place, but they're all pretty similar. Not sure how sanitary it really is, with a lady chopping up the stuff in a back "room," but we didn't get sick and the food was well cooked. It was fresh, garlicky, and one of the best meals we had in Sanya.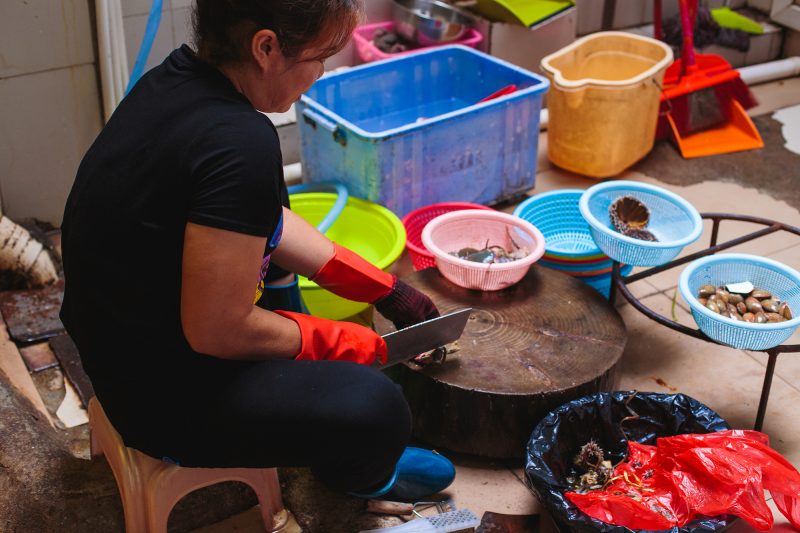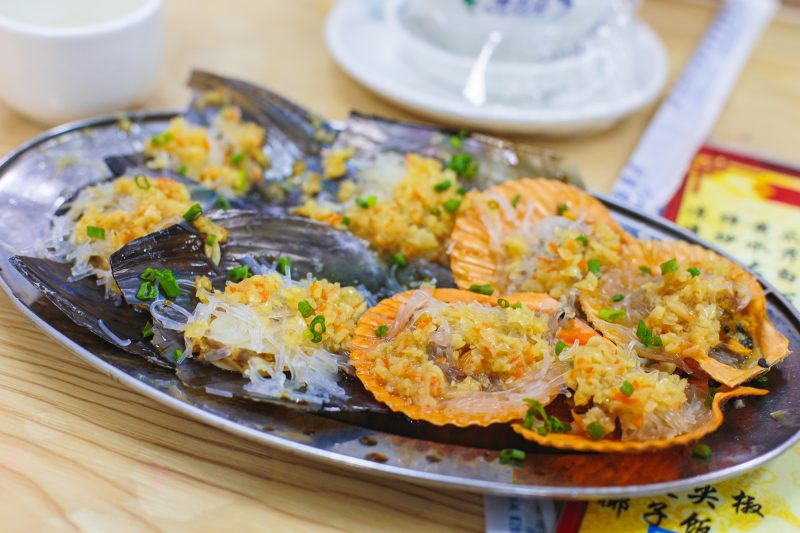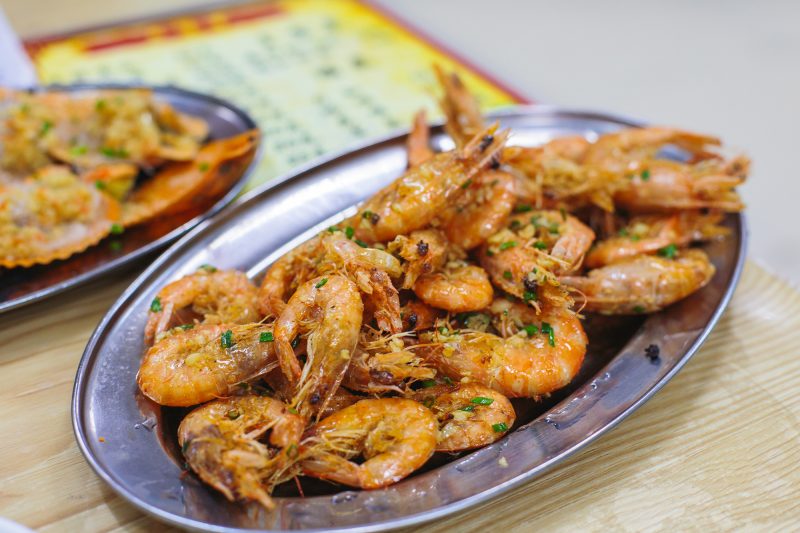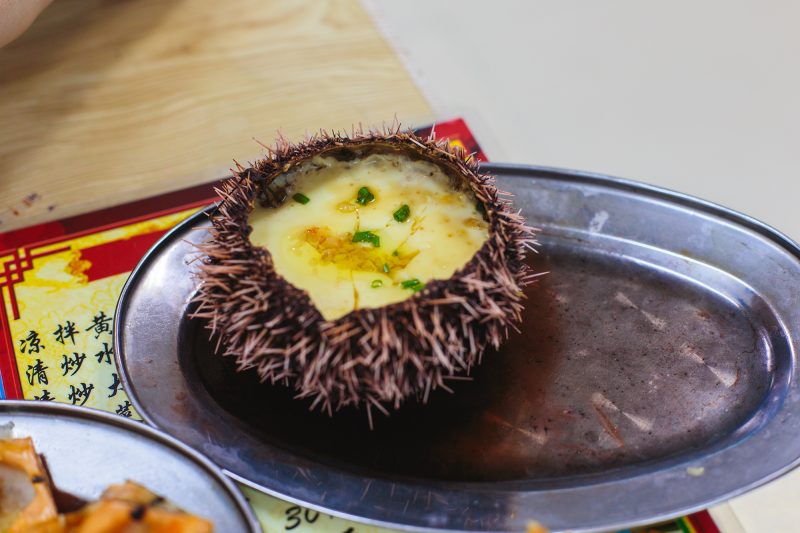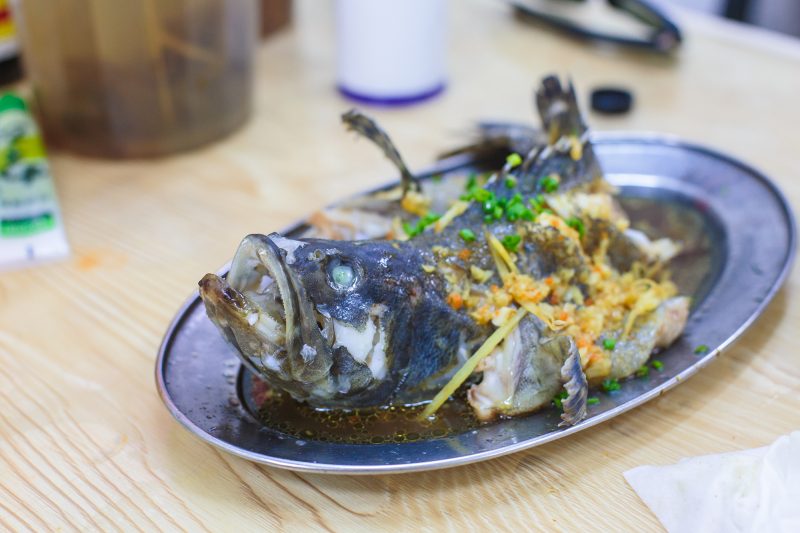 Once we've stuffed our faces, we walked it off at the nearby night market. If you want some cheap souvenirs, this is one place to get it. We just window-shopped a bit and then chilled by the river before calling a cab back to the hotel.