When I was looking for a place to stay in Sanya, I checked American Express Fine Hotel and Resorts (FHR) and decided on the St. Regis Sanya Yalong Bay Resort. I decided to use FHR for our booking due to the many benefits that were provided: fourth night free, complimentary room upgrade, daily breakfast for two, and the additional benefit this property provided was a free private one-way airport transfer. We decided to use the private airport transfer for when we arrived. It feels great not having to figure out transportation to your hotel after getting off from a long flight. When we landed, after going past immigration to the arrival area, our driver was waiting there holding a sign with my name on it.
Before the trip, I had notified that resort that it was going to be Margaret's birthday. We tend to travel around the time of her birthday because it's the beginning of May and it's always just a great time to travel. When we arrived, we saw that they had laid out rose petals all over the room. There were petals on the bed that spelled out "HAPPY BIRTHDAY". There were also petals on the table, tub, and sinks. The rose petals looked good, but we soon realized it was kinda annoying having to pick up and throw away all the rose petals so that we can actually use the table, sinks and bed. We were placed in a Lagoon room, which was a room with a private deck that leads to an outdoor pool.
Be careful when opening the doors to the deck as moquitoes may fly in to your room if you leave it open for too long. On the first night, after I opened up my slippers and placed them on the floor, a small crab had apparently crawled into one of them. I didn't realize until I tried to put my foot in later and realized there was something inside of it. It startled me when it started moving as I was trying to remove it. I opened the doors and placed the crab outside. Maybe it didn't survive the heat, but it was still there the next morning and no longer moving.
The room was spacious and the bathroom was very big. There was plenty of space to put our luggage without it getting in the way. There is a door at the back of the room that opens up to a deck with access to a pool area. The deck has some lounge chairs and a small table for you to enjoy some food and/or drinks while lounging by the pool. The room had a mini fridge that was stocked with non-alcoholic drinks. The drinks were complimentary and were restocked every day. The selection included some soft drinks and a coconut flavored drink. On the 2nd night, they brought up a cake and bottle of sparking wine for us to celebrate her birthday.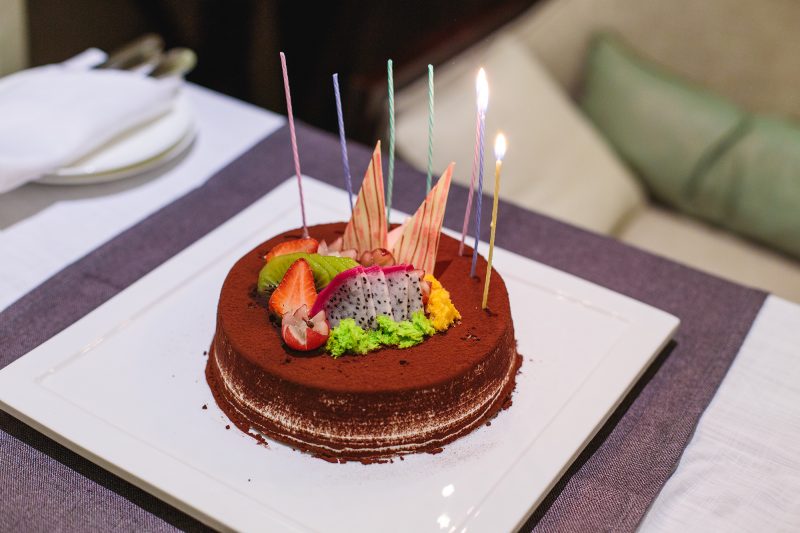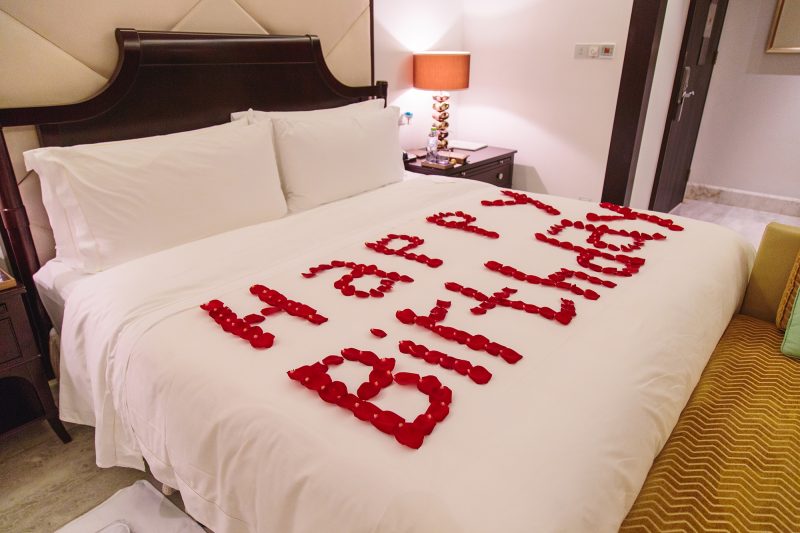 The daily breakfast included in the booking was served at their seafood restaurant named Driftwood. You can choose between indoor and outdoor seating. We sat outdoor for one of the days, but opted to sit indoors for the other days since it felt more comfortable away from the heat. There was a decent selection of hot foods and a noodle and congee bar where you can choose which ingredients and toppings you want on it. They also had eggs made to order as well as a menu with items that seemed to change each day. They served sashimi on the first day we were there, but it was not available on the other days. There was also a large selection of cold foods, such as cured meats, cereal, yogurt, salad, fruits, as well as an assortment of pastries and breads. Overall, there was a large selection of food to choose from and the food and service was very good.
Right next to the Driftwood restaurant, across the lawn, there was a peacock pen where there was a male peacock that seemed desperate to attract a female. His feathers were spread out the entire time.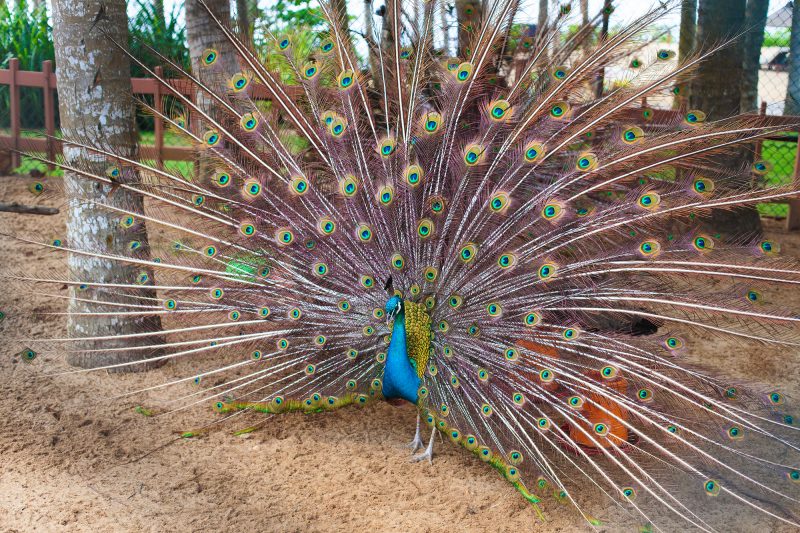 This resort is located in Yalong Bay, which is a secluded area with many other luxury resorts. It is far from downtown Sanya and requires a 40-50 minute taxi ride. It's great if you are looking to spend much of your time relaxing at the resort and doing some shopping in the Yalong Bay area. But if you want to spend more of your time downtown and experience the local cuisine and seafood markets, you may want to stay in a hotel closer to the city.
There is a large open lawn in the center where you can lounge around and soak in the sun. The walkways are lined with palm trees and the area around the field has a bunch of hibiscus trees. There is also a private beach and yacht club for those of you that want some luxury sailing.
And last but not least. I would like to give a shout out to Mr. Rick Pang. Thank you for making our stay enjoyable and accommodating our needs.