Back in September of 2014, we took a trip to Hawaii and visited Honolulu and Maui. This trip was actually a continuation of a previous trip we took to Europe in November of 2013.  At the time, American Airlines allowed one stopover at a North American gateway city for international AAdvantage awards provided that itinerary be completed within one year of the first flight. Living in an American Airlines gateway city, this policy essentially gave us a free one-way to anywhere in the United States, including Hawaii, within one year of the original flight. So the return flight itinerary was basically Europe -> NYC (stopover for 10 months) -> Hawaii. In April 2014, American Airlines changed their policy and no longer allowed any free stopovers, killing the free one-ways. So luckily, we got to take advantage of it before it was gone. In this post, I will be reviewing the resort we stayed at in Maui, the Andaz Maui At Wailea.
The Andaz is part of the Hyatt brand chain of hotels and this was hotel where we started our loyalty to the Hyatt brand. At the time, Hyatt offered a Diamond challenge, where they give you 60 days of Diamond status in the Gold Passport loyalty program, and if you stay 12 nights at any Hyatt property within those 60 days, you get to keep the status for a full year. For us, it was until February of 2016. You were eligible for the challenge if you can show that you have top tier status at a competing hotel loyalty program. As part of the Diamond status, I received 4 suite upgrades that allowed us to upgrade our room to a suite. Hyatt has since changed the name of the of their loyalty program to World of Hyatt and their highest tier is now called Globalist.

When we first arrived at the resort, we were greeted with leis placed around our necks. They had different ones for males and females. The one for males were made out of large wooden beads and the one for females were made out of flowers. They also provided us with water and a cold towel to cool off as we waited to get checked in. There was also a sort of sandbox area in the lobby where you can sit down and place your feet in the sand. The property looked very new and modern. All the computers used by the hotel staff and in the business center were Macs. It opened in September of 2013, so it was only a year old when we visited. Since it opened, it has been a very popular resort to do the diamond challenge at. Unfortunately, due to that, they had restricted the diamond breakfast benefit to only include the cold buffet and a few side dishes from the menu rather than the full buffet. This was implemented shortly before we arrived. But even without the full buffet, we enjoyed the breakfast very much each day we had it. There was a selection of restaurants available on the resort. The most notable one was Morimoto.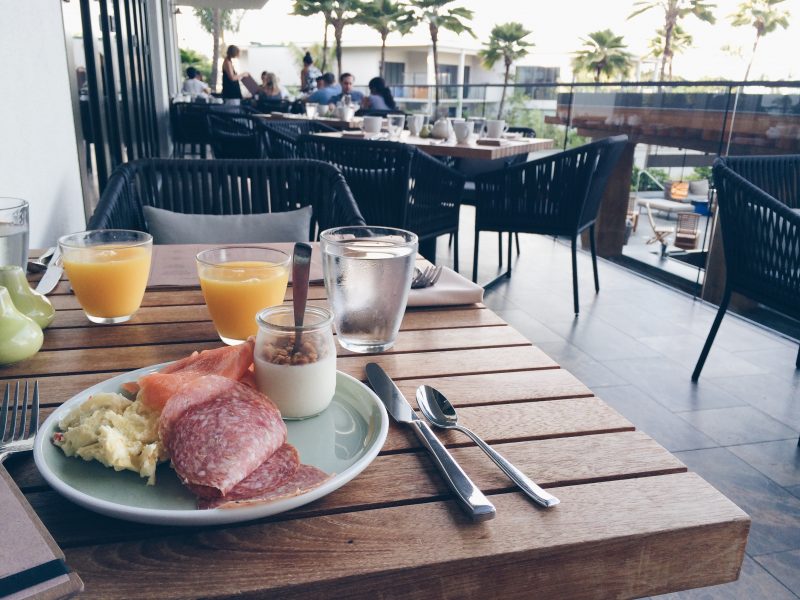 We had rented a car to travel to different destinations around the island. For parking, the only thing available was the valet parking service provided by the resort. There was also a complimentary car service that can take you to and pick you up from locations close to the property. We had used this service at least twice to take us to a nearby restaurant and a nearby spa. The car was very clean and comfortable. Because we had wanted to see the sunrise at Mt. Haleakala, we asked them to have our car ready at 2am and for some blankets stay warm. They got our car ready promptly at the desired time with the blankets inside.
Our room was a suite with a partial ocean view. The suite consisted of a large living room area and a sizable bedroom. There was a large bathroom that included a walk-in shower area and a tub. There were also 2 sinks so we didn't have to fight for the sink in the morning. An iPad mini was provided for us to use in the room and there were speakers in the living room area so that we can play music. There was a mini fridge that was restocked every day with some complimentary snacks and non-alcoholic drinks. The shower amenities provided were from Malie Organics. They actually smelled like Hawaii. In fact, we liked them so much that we decided to buy some to use at home.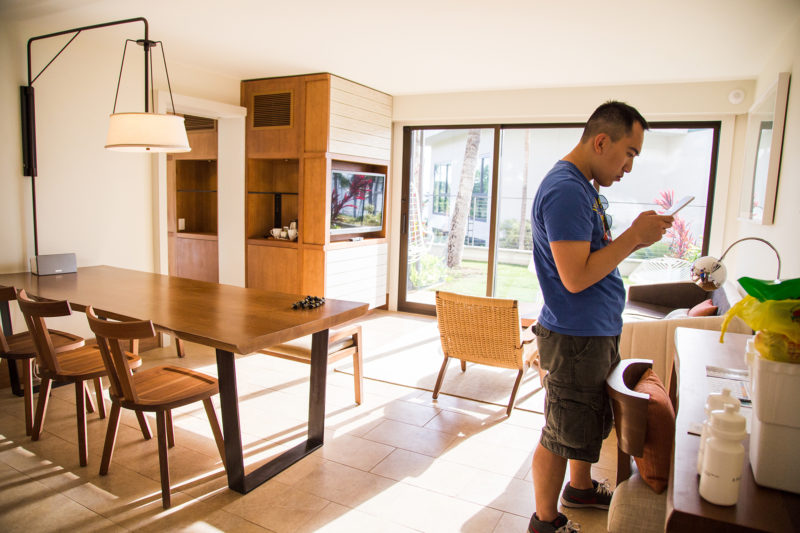 On the resort grounds, there were 3 cascading infinity pools. The bottom one technically isn't an infinity pool, but it's where the first 2 cascades into. There were towel shacks by the pools, so you don't need to bring your own from the rooms. There was a private beach for you to lounge at, tan, or watch the sunset. They also provided snorkeling equipment if you wanted to snorkel at the beach. We decided not to snorkel since the waves were a little choppy at the time.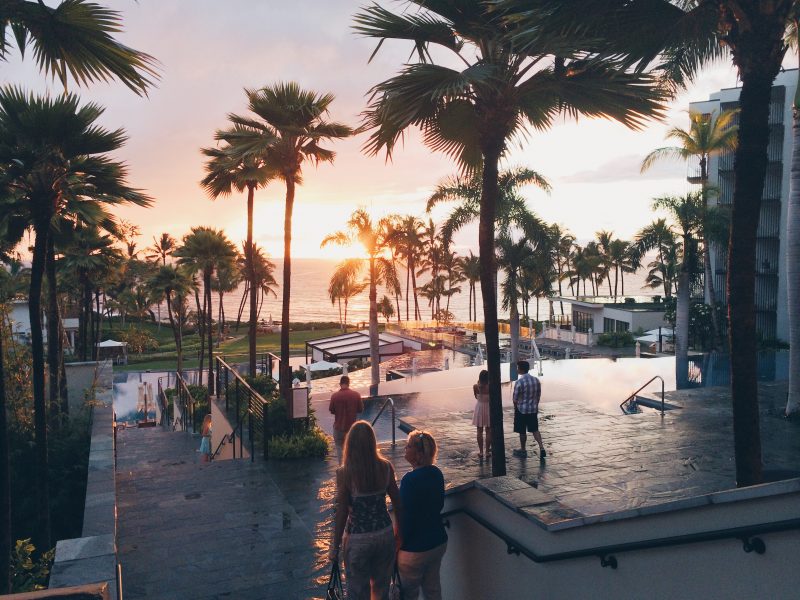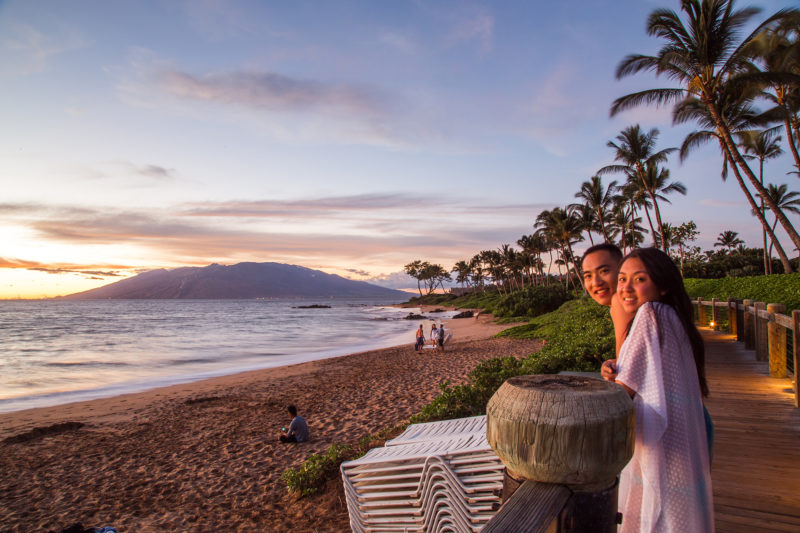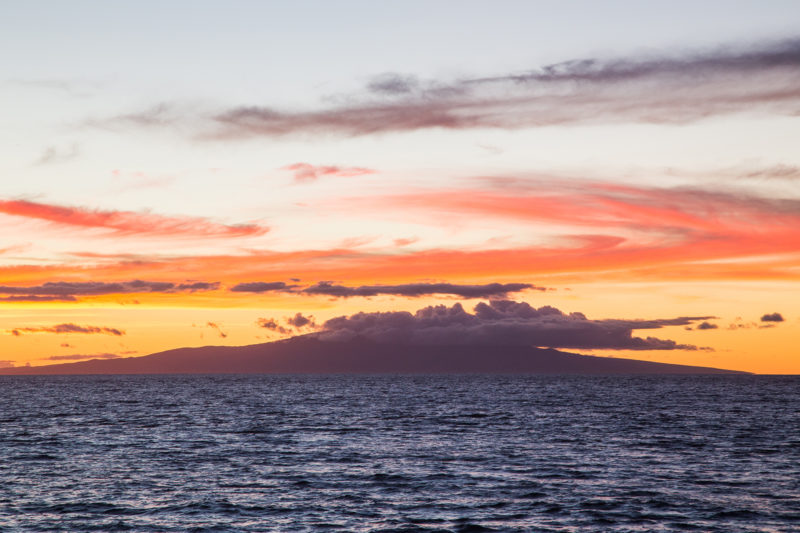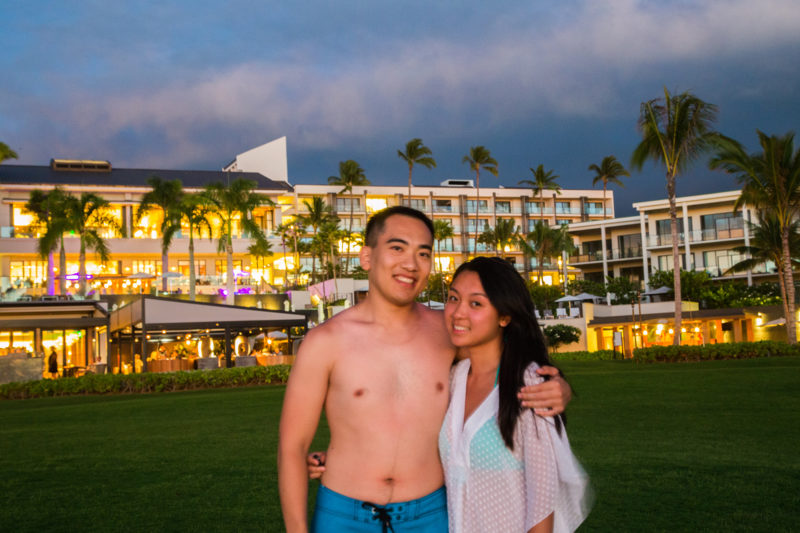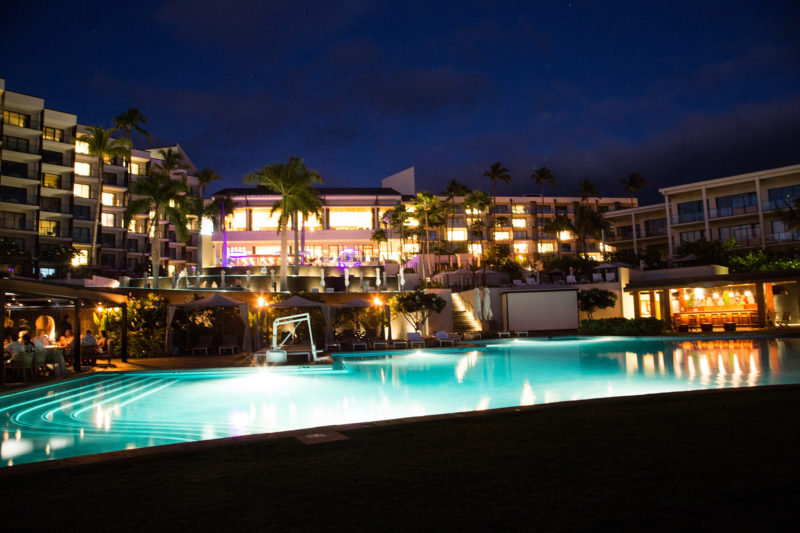 This was one of our favorite places that we had stayed at and would have loved to come back if we are ever in Maui again. Unfortunately, as of the time of writing this post, I had read some reviews of the property and have heard about how the quality and service had declined due to the large amount of guests that stayed there. If we ever come back to Maui, I will check more recent reviews and see how the place is doing and will still consider staying here again.