On our second day in Sanya we went to Yalong Bay Tropical Paradise Forest Park (what a mouthful). It was only 11 minutes by car from our resort so we took a cab. At the park, our taxi driver purchased a group ticket for us and two other strangers who hopped in for a carpool to the entrance. Cabbies would always offer to buy tickets because they get a kickback (price is the same for us), but what we should've done is held onto the physical ticket instead of letting the two strangers hang on to it. More on that snaffu later. It was just the beginning of what would become a long, long morning.
One of the park's claim to fames is being the site of popular Chinese actress Shu Qi's film, If You Are the One 2. There are photos of it all over the first shuttle bus stop. From there, the shuttle took us to the first checkpoint in the park: the orchid garden. While there are many beautiful orchids behind a waterfall, my favorite part was the gazebo overlooking a pond full of lotuses. So picturesque! As we finished wandering around the first part of this park, we made yet another bad decision.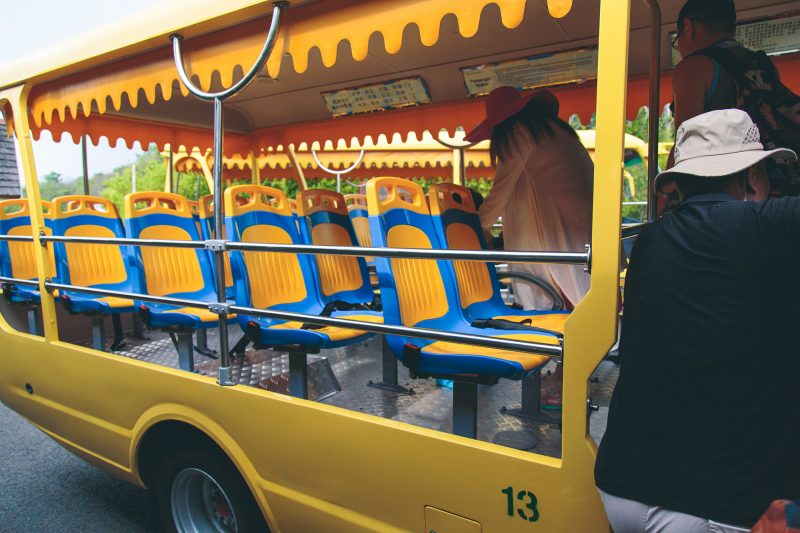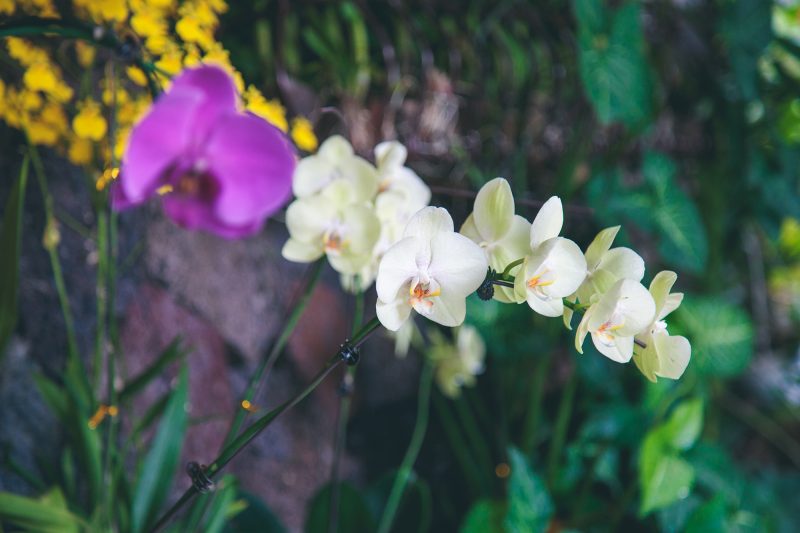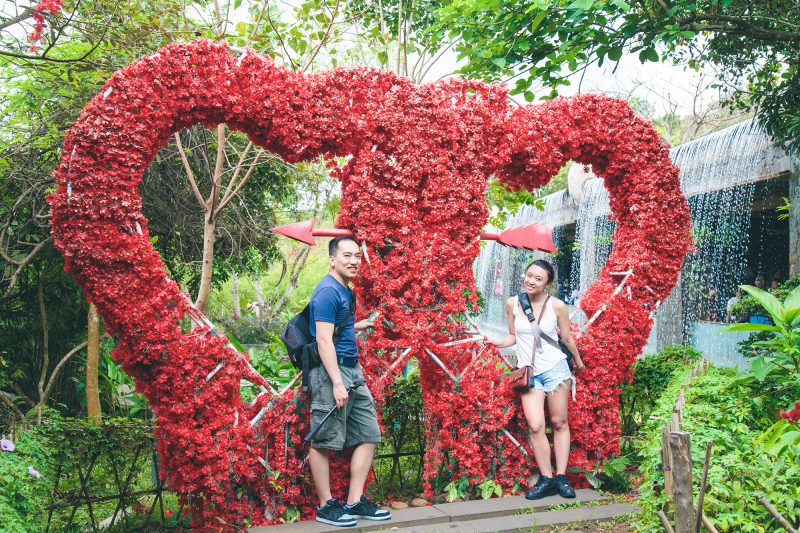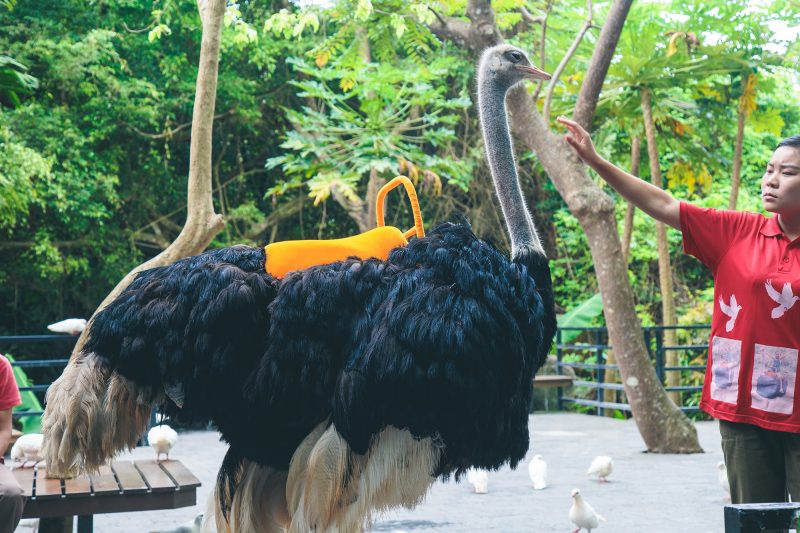 I've never seen an ostrich ride in a theme park, but this was an option for an additional fee. The seat looked pretty comfy, but it was only for children.
Should we go back to shuttle bus stop and head to the next area? Nah, why not hike uphill? Seriously, I don't know what compelled us to do the latter without checking how long the distance was (2000+ meters). But for the next few hours we were huffing and puffing our way up the mountain in 90°F+ weather with 95% humidity. And one bottle of water. Once we reached the mid point, it was too late to turn back. The only way was up. Fortunately, we wore comfortable shoes, but regrets were had for sure. We were sweating through our clothes. And from up top, we could see the yellow shuttle bus breezing up the mountain with no way to reach it! There is also a zipline through the park, but even they have to hike down for about 300m to the next zipline station.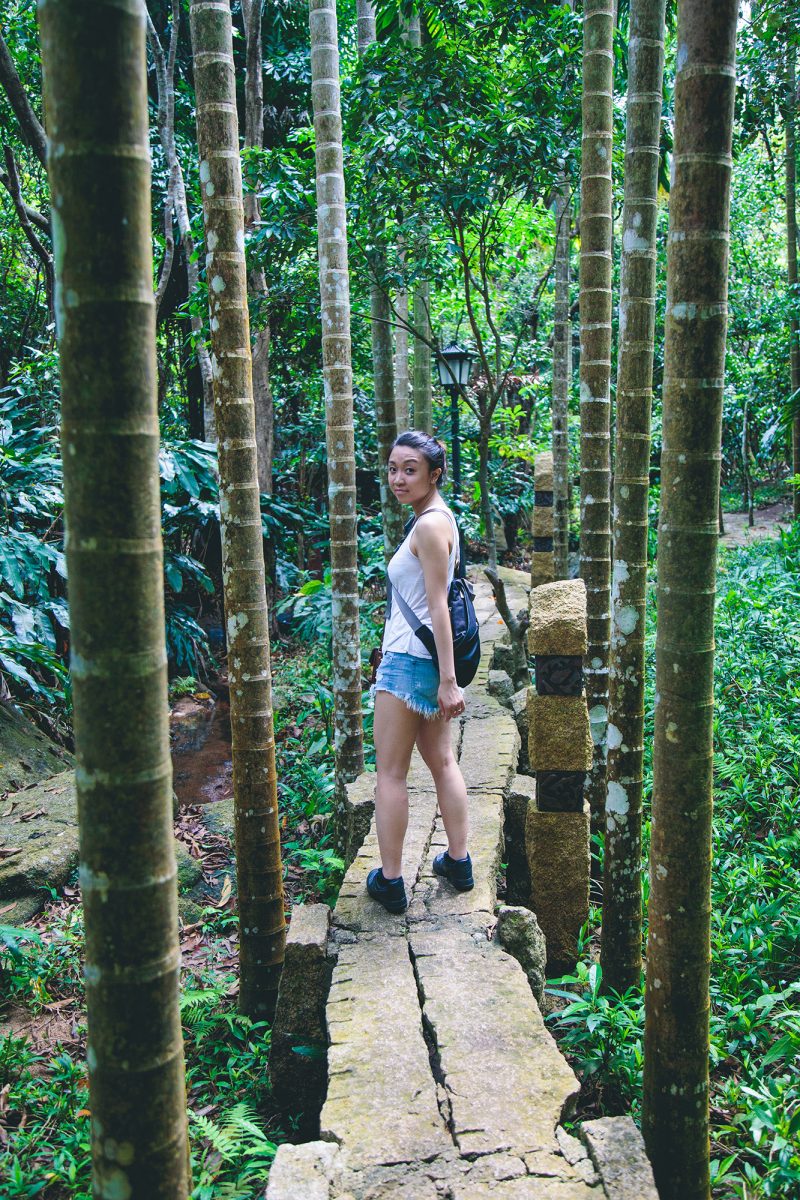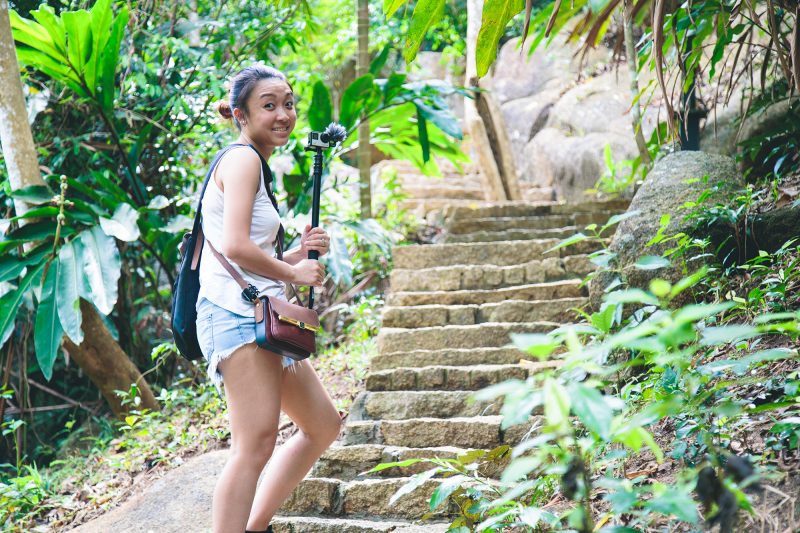 Well, after cursing ourselves for the nth time, we finally completed the grueling hike and rewarded ourselves with a refreshing cold coconut. From up here, we could see the entirety of the park. There were several attractions that included a 5D experience, shops, restaurants, and a small chapel. Then we made the next bad decision by hopping on a shuttle bus downhill, thinking it would take us to the next area.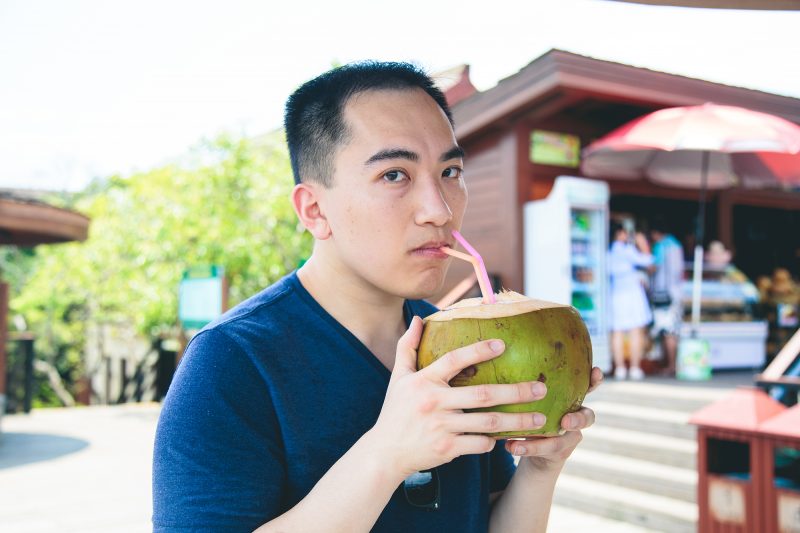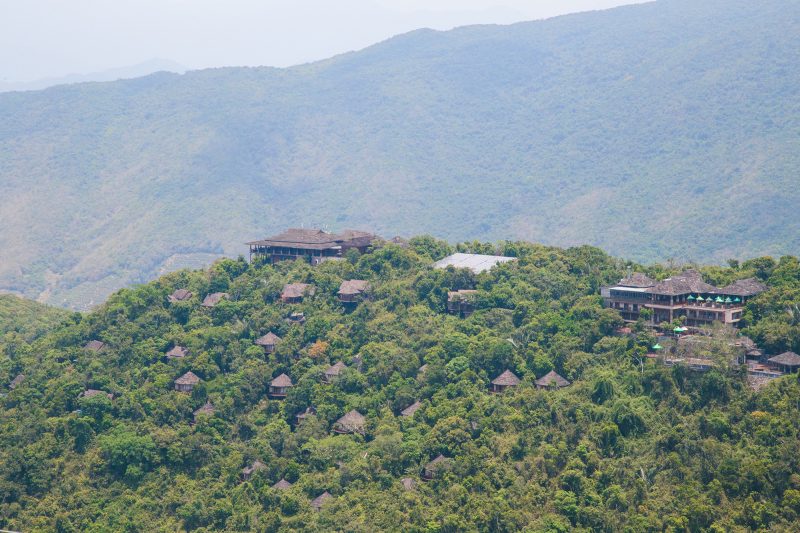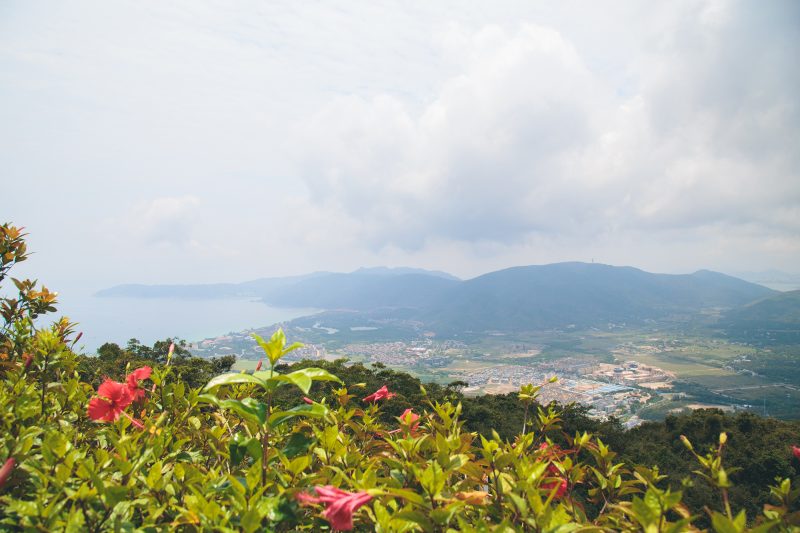 Nope. It took us straight through the park exit. And now, without a physical ticket, it was seemingly impossible to get back in. I was adamant on reentering, though. We already paid for the entrance fee and haven't finished exploring. Not like we were trying to sneak in! After a long while of trying to explain the situation by mashing together whatever Mandarin I knew and showing pictures of us actually inside the park, they finally let us back in! My parents would be proud.
Now for the highlight of our exhausting park visit: The Suspension Bridge! It requires a separate ¥20 ticket, but there were incredible views throughout. I have never been on such a long, wobbly suspension bridge so the experience was pretty thrilling. It did get kind of scary when crowded and we're stuck in the middle as the wind swayed it back and forth. Otherwise, it's selfies galore.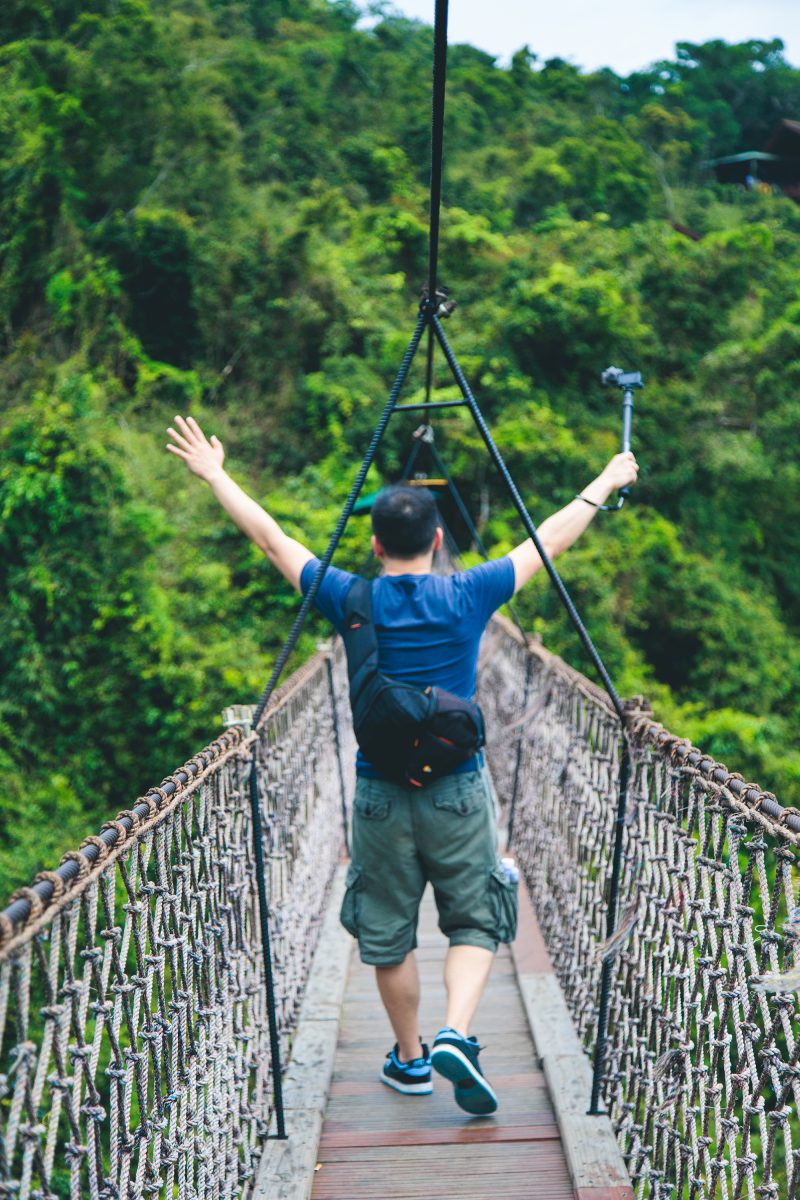 This time, we were really ready to leave the park. After negotiating with a driver, we took a car to the next stop: The Nanshan Temple Park. It's basically a massive Buddhism themed park with all sorts of religious symbols and none of the rides. Admission wasn't cheap either, at ¥150 (~$22). But we were adamant on seeing the giant Guanyin statue up close as her image is used in many of Sanya's tourism materials. It was super hot with little to no shade in the park, but we walked the long pathway to get closer. The Guanyin has three faces so we walked around the base to see each of them in the sweltering heat. Fortunately, the inside of the base was air-conditioned and here you can take an elevator up to a lookout point directly underneath the Guanyin's feet. We decided we didn't want to get any closer to the sun and instead checked out the mini memorial gold Guanyin statues donors paid to get their names on inside the base. As these sort of serve as tombstones for the donors, photography was not allowed.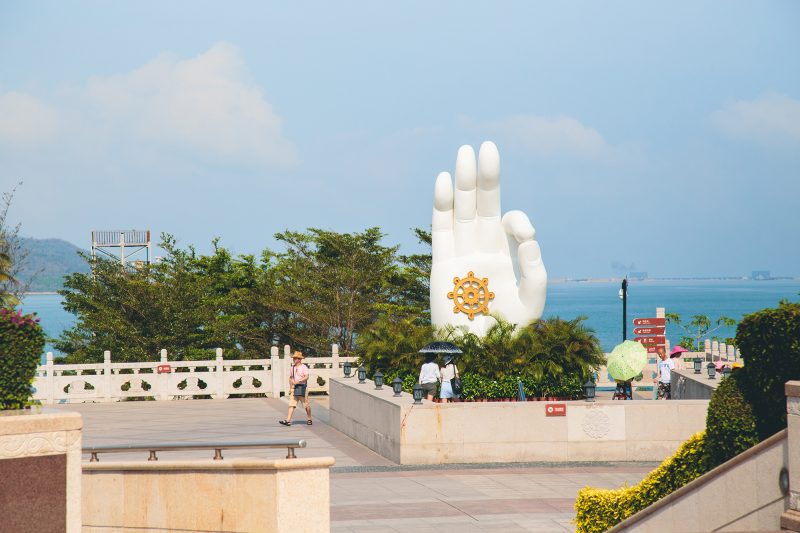 Outside the park, we bought a ¥10 bag of pineapples from a vendor and headed off to dinner. The tropical fruits in Sanya are absolutely delicious, and I highly recommend them to anyone visiting. Try the mango, dragonfruit, and pineapples!
For dinner we went to 海亚餐厅 Haiya Restaurant, where our driver waited in the parking lot. Oftentimes, the same driver will be willing to wait for you to exit attractions and restaurants to take you around throughout the day. It's more convenient for them than repeatedly finding new customers, and we were able to get a lower rate overall.
We ordered wenchang chicken and jiaji duck, two of Hainan's most well-known dishes. Remember I had previously mentioned we came to Sanya under the false perception that their chicken would taste like Hainanese chicken? Actually, wenchang chicken, on which Hainanese chicken is based, is tougher and more chewy. Not my preference, but it was still good with the ginger dipping sauce. Tie liked the jiaji duck, which is duck force fed cereal and bean curd three times a day. It actually tasted less fatty than the duck we usually eat at Chinese restaurants in America.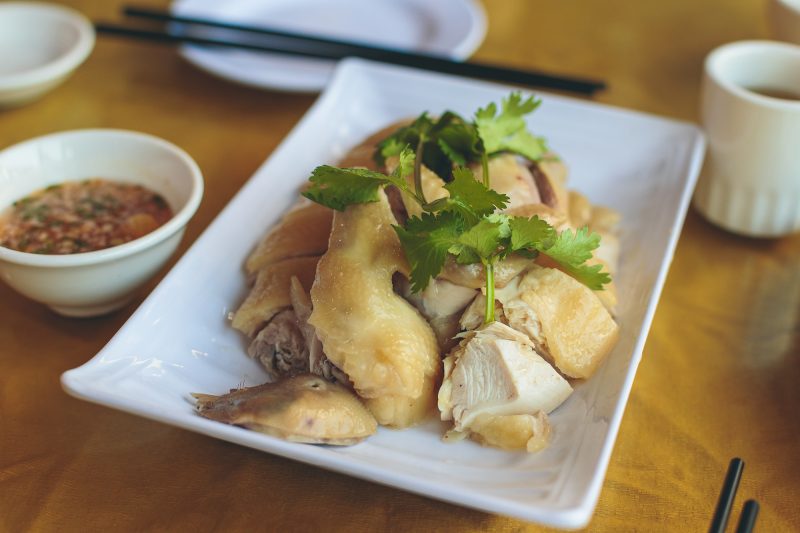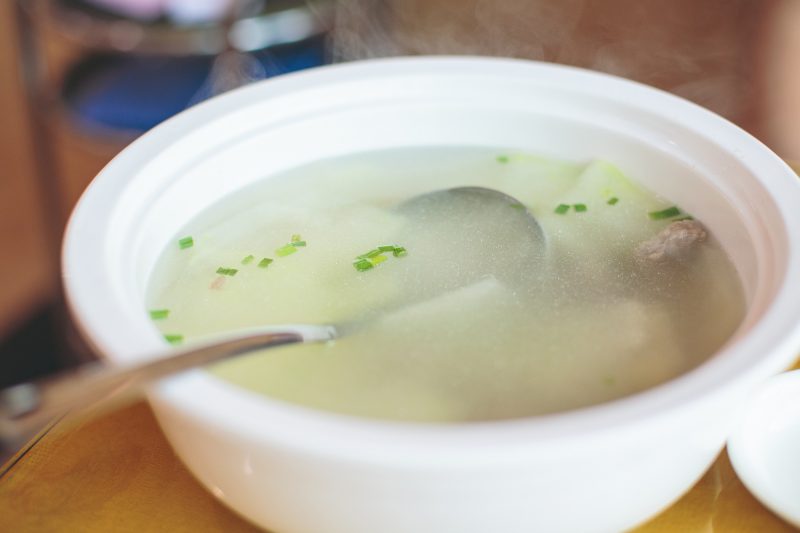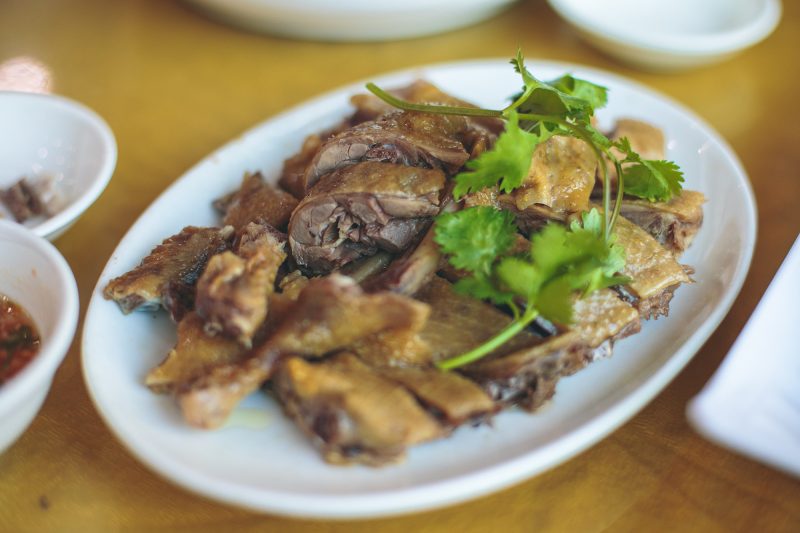 Finally we returned to the resort in anticipation for tomorrow's adventure in Haikou. Or so we thought. To be continued…