After watching an online video about nagashi somen, Tie and I knew we had to try it on our most recent trip to Japan. It's a dining experience where somen noodles flow down a bamboo shoot for you to catch with your chopsticks and dip into a savory sauce to eat. Because the noodles are cold, it's usually only available during the summer months of May – September, where diners sit on a deck overlooking a waterfall for a refreshing meal. We just made it at the beginning of May, even though the weather was still slightly brisk.
Our restaurant of choice was Hirobun ひろ文 and it was located in the mountains of Kibune, an area in northern Kyoto. Coming all the way from Osaka, we transferred through several trains for about 2 hours to finally reach Kibuneguchi Station. No matter what route you choose, the last train should be along the Eizan Line, where some seats are turned towards the windows so you can admire the beautiful scenery outside. Right outside Kibuneguchi Station, there is line for the bus heading up the mountain. You can either wait or do the short hike up. Hirobun didn't do reservations for nagashi somen, so we took the speedy route and hopped on the bus to make the 11AM opening time.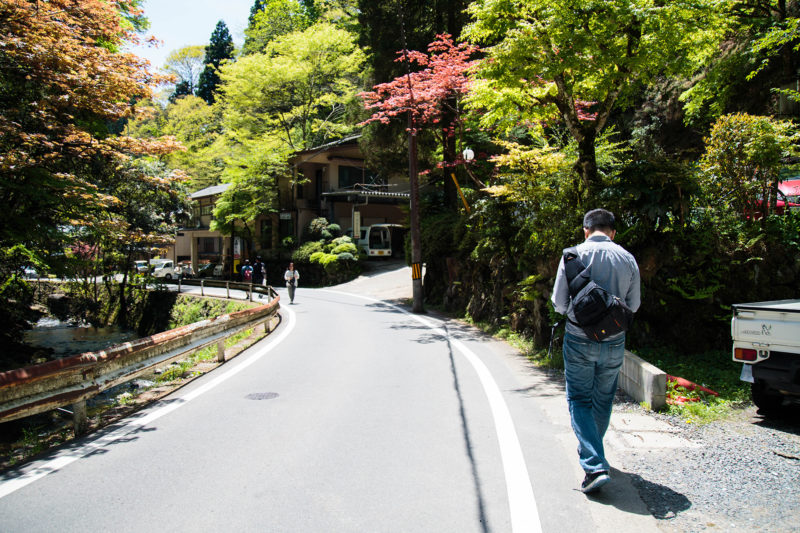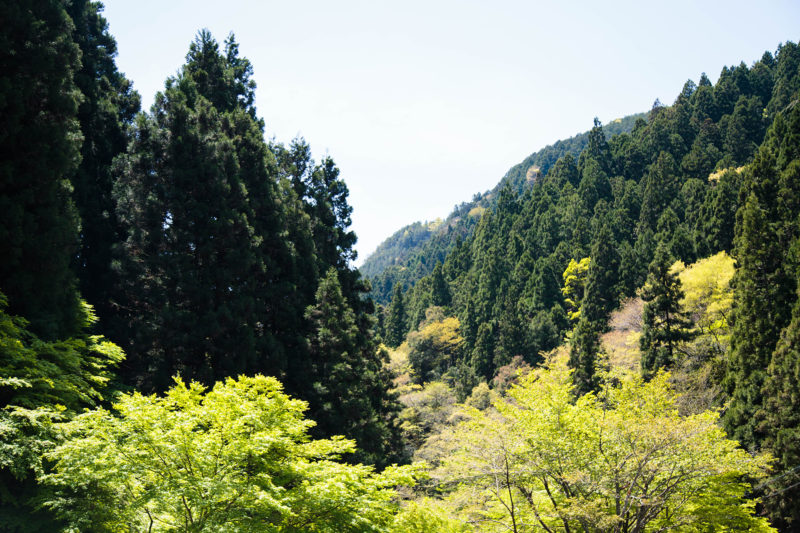 Kibune is named for the Kifune shrine around which the town is built. Along the way to the restaurant, there were little shops and eateries. When we got to Hirobun, we paid for our meal first (1300yen per person) and got a little paper fan indicating our number in line. There are only 8 positions open along the bamboo shoot at a time, so the next round of diners waited on the side of the deck. Since it was still early in the season, the wait was very brief (5-10 minutes). The entire experience takes no longer than 20 minutes, and it certainly isn't filling by any standards. But when in Japan, eh?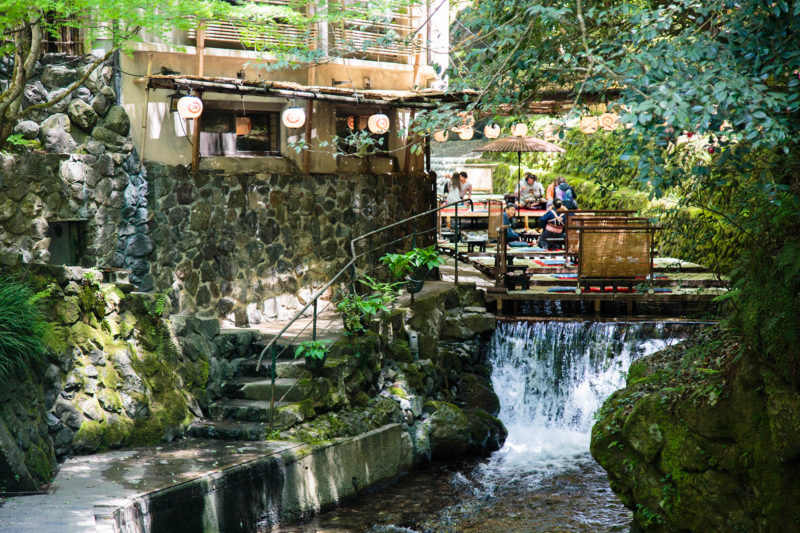 Finally it was our turn as we positioned ourselves in our designated spots. We were closer towards the end, which might actually have been a good thing because we saw the noodles coming down from afar and they sure move quickly. I think positioning my chopsticks a little further apart from each other helped with catching the whole blob of noodles. There were only 3 lanes, so we had to alternate between who gets to grab at the noodles each time. All that catching sure worked up an appetite. The meal came with some matcha mochi cubes, which I could've devoured an entire box of. Before we knew it, pink noodles shot down the bamboo, indicating that this was the last of it, and our meal was over.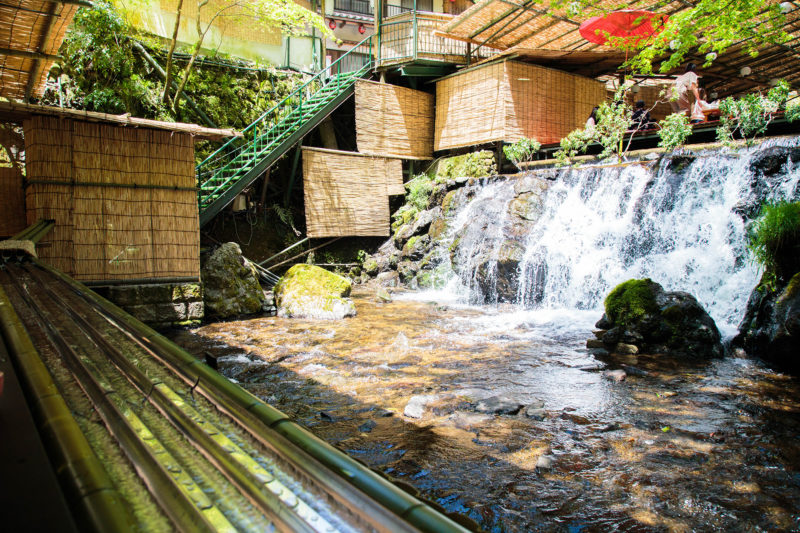 Overall, I definitely think that this is worth the trip up the mountain to try at least once. Not sure if I'll be coming back since the trek is long and the meal is short. Maybe if we can find a place closer to the city next time 🙂