The main reason we visited Kumamoto was for its proximity to Takachiho Gorge. There's no way to get there via public transportation, so we rented a car and drove along the scenic Mount Aso route. Tie got his International Driver's Permit back in New York and booked the car through Budget Japan so picking up our vehicle was a breeze. Even more conveniently, we got an automatic instead of a manual transmission. The only hurdles were getting used to driving on the left side of the road with the steering wheel on the right, and learning some new traffic signs (ex. the "Stop" sign is a triangle and not octagonal). I'll admit, there were a few instances where we veered to the wrong side, but Tie always impresses me with how quickly he is able to adapt while I tried to navigate him on my phone.
It was a picturesque drive along the countryside with rice fields scattered about and meandering rivers. Some two-way roads would narrow down to a single lane so we had to proceed with caution and let some cars pass first. In the distance we could see Mount Aso, an active volcano. Driving down to Takachiho Gorge involved hairpin turns. We arrived around 10:30AM and fortunately found a spot at one of the three parking lots below (they fill up fast). Prices range from 300-500yen depending on your proximity to the gorge. We parked furthest away, but the path was well-paved and not far from the main attraction.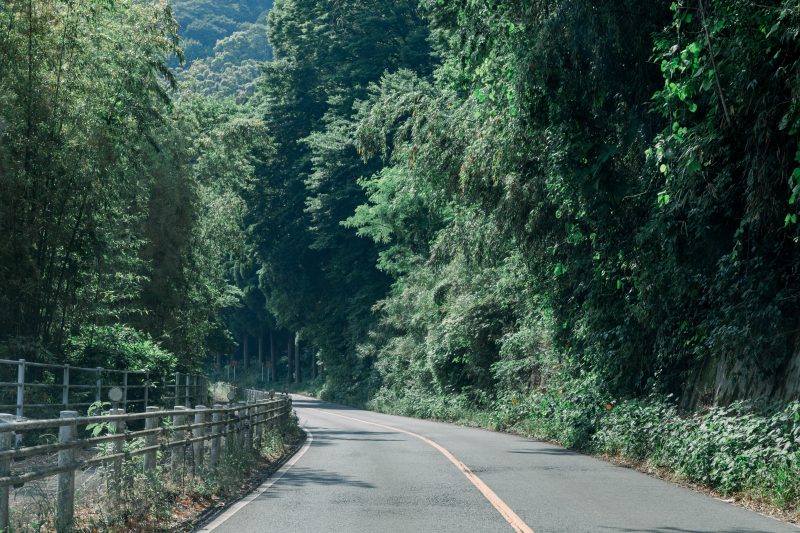 Our first mission was to secure a rowboat rental reservation. These also fill up quick because a number of tour groups stop here. And here we were thinking we uncovered some secret-ish spot! It's 2000 yen per boat for half an hour and you are given a time and number. With about two hours to spare, we just walked around the area to take in the views and eat some delicious soft serve, which I consumed almost daily and from which I must've gained a couple pounds during the length of our stay in Japan.
The gorge-ous gorge (sorry, had to) was formed by lava carving into the landscape, and definitely one of the most stunning places we've been to in Japan. It felt impossible to take a bad picture, but you be the judge.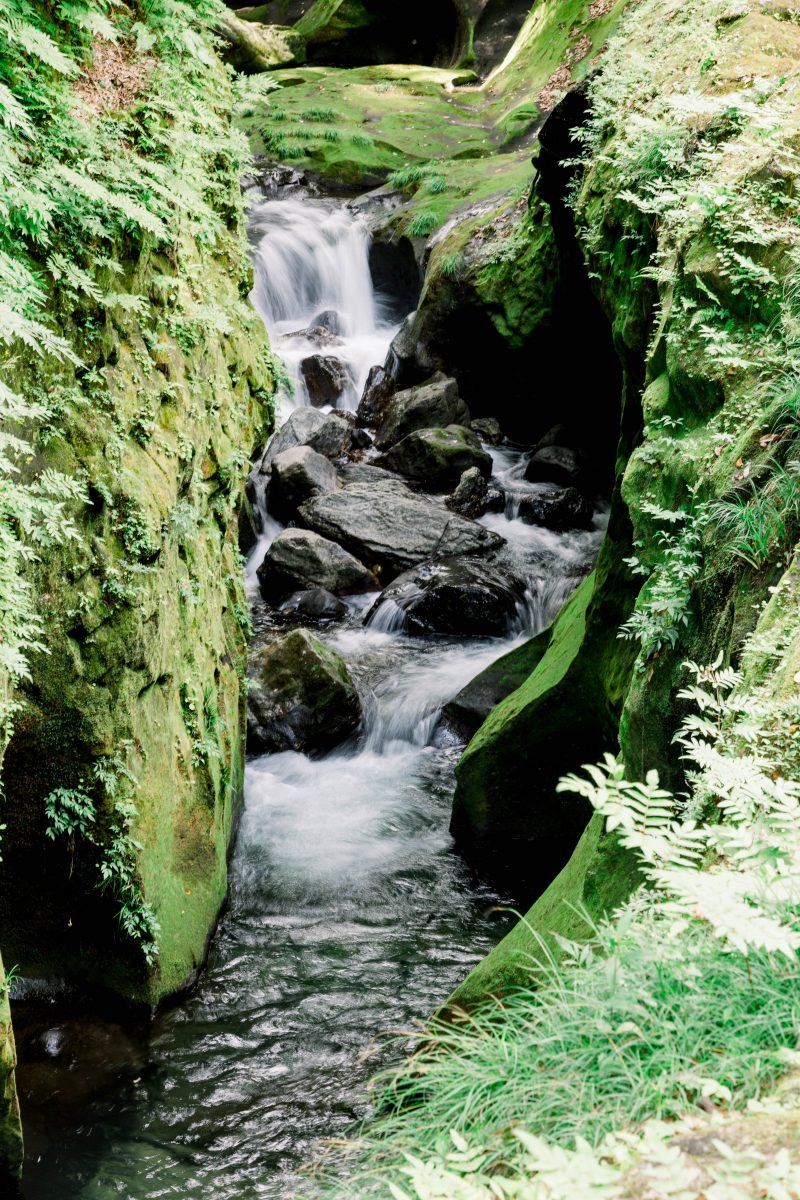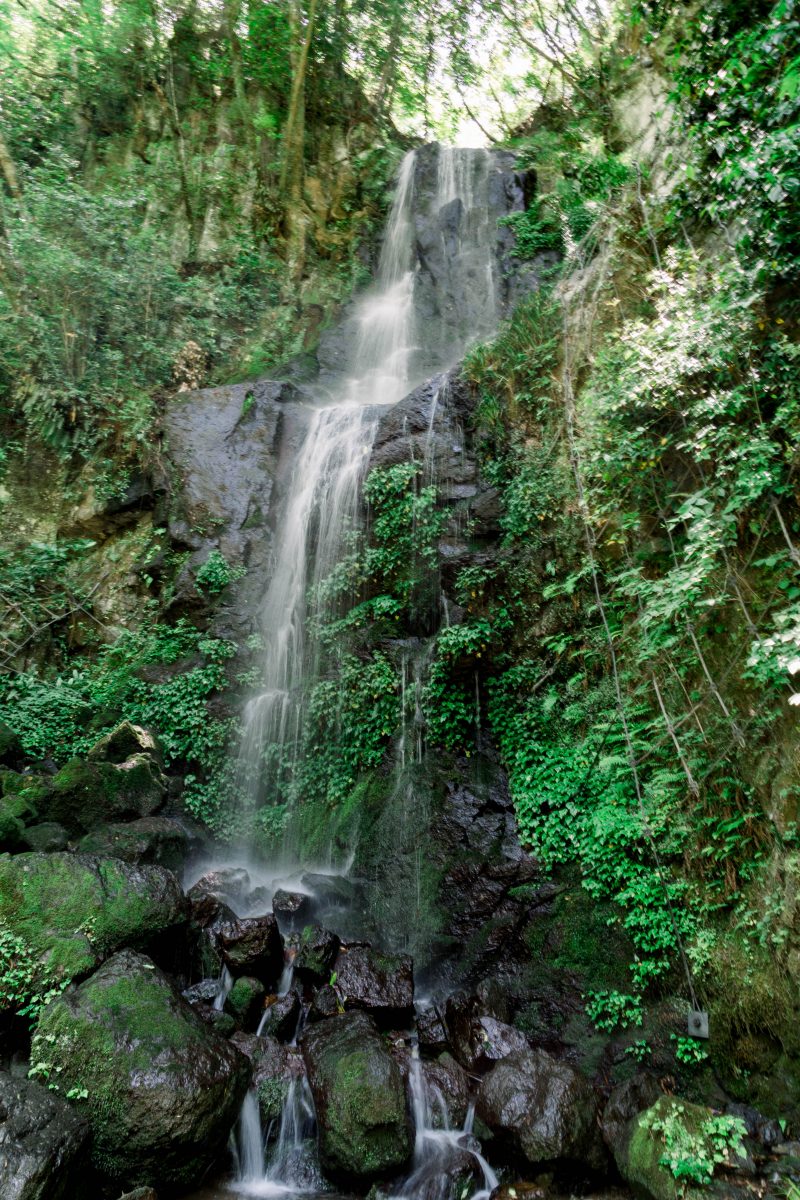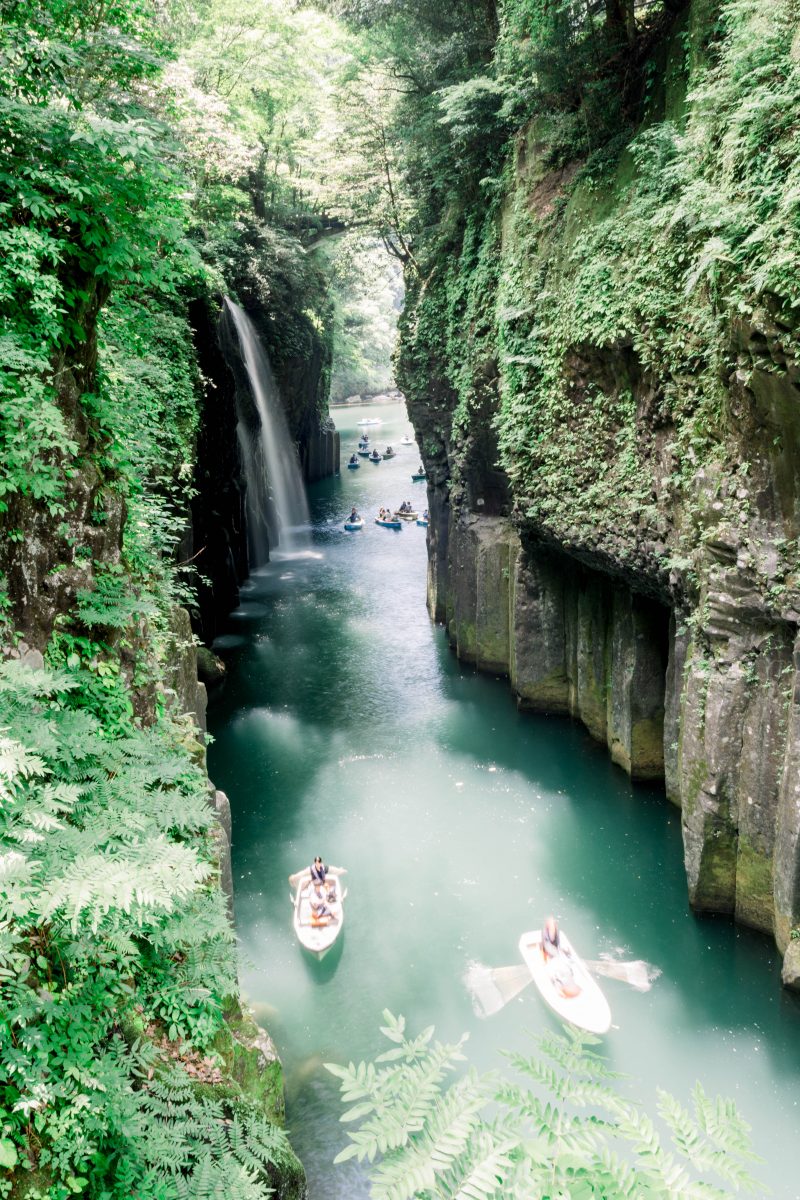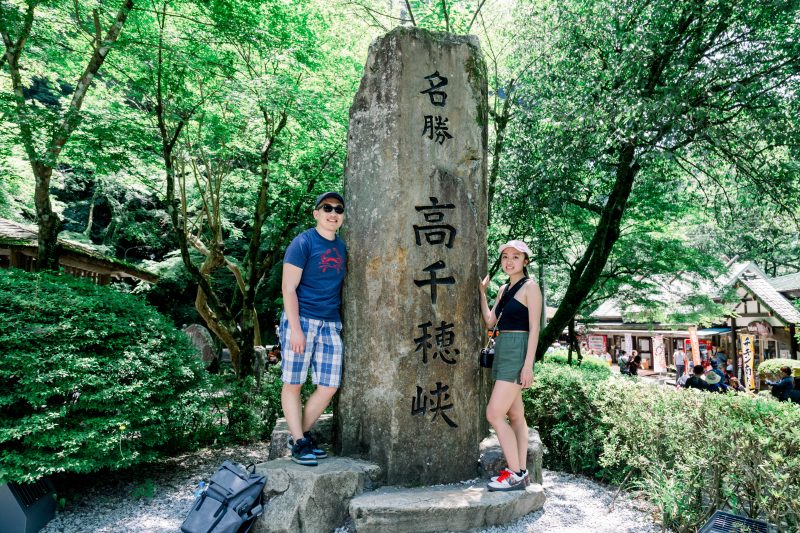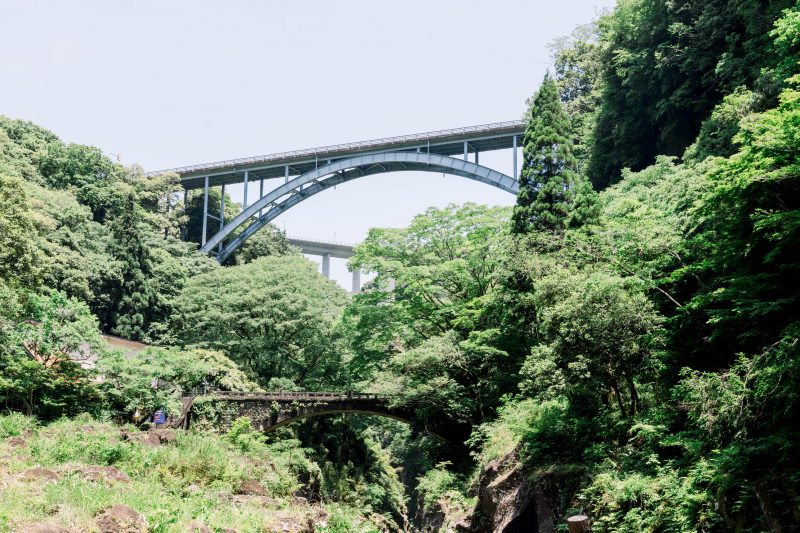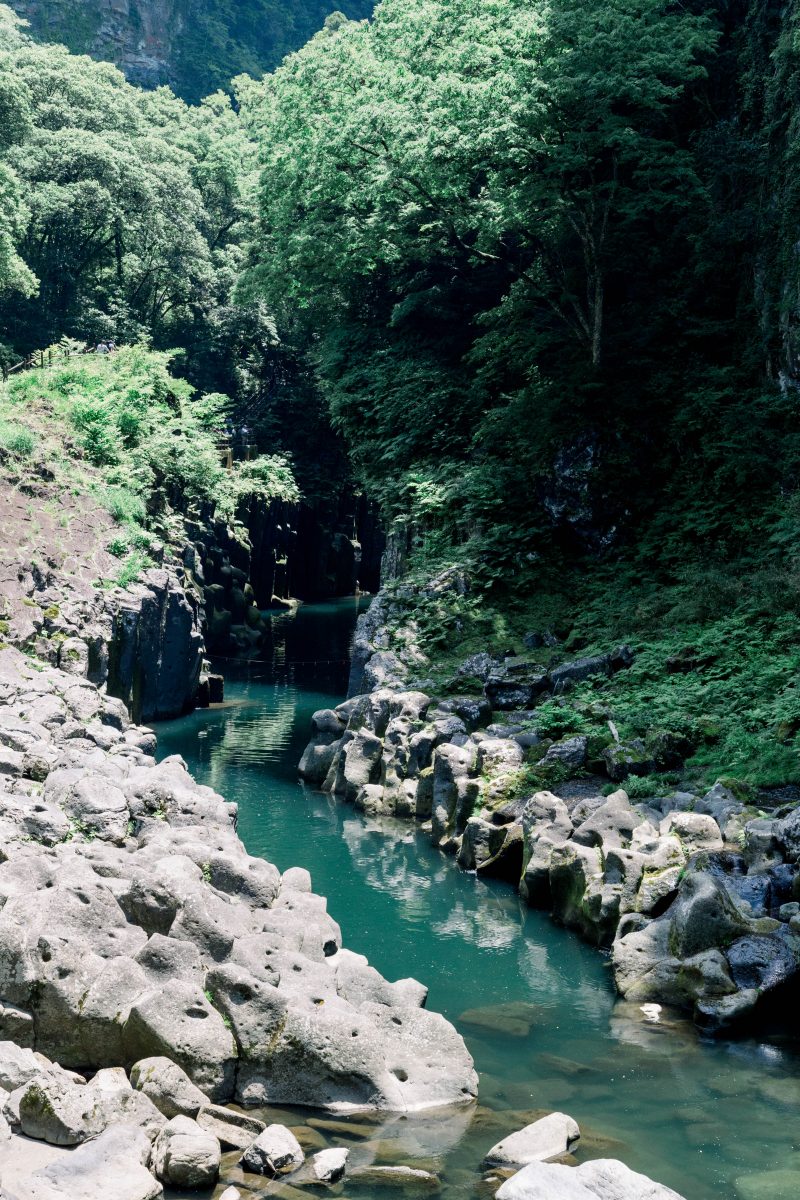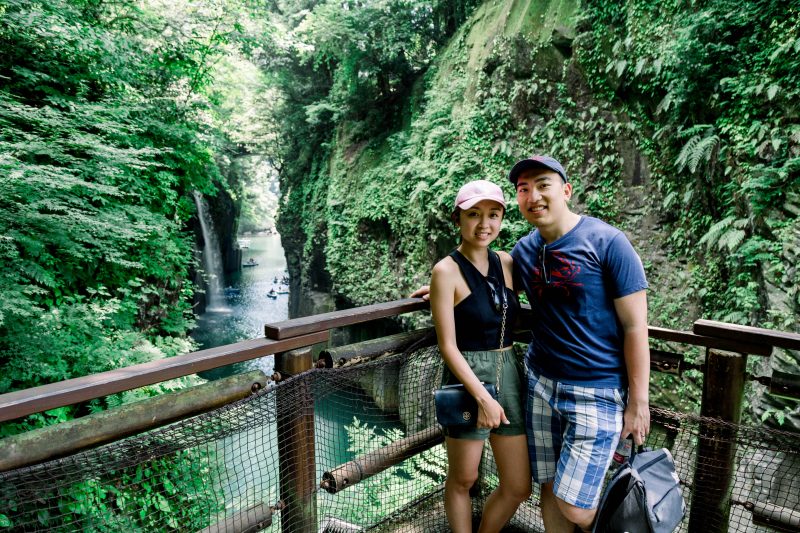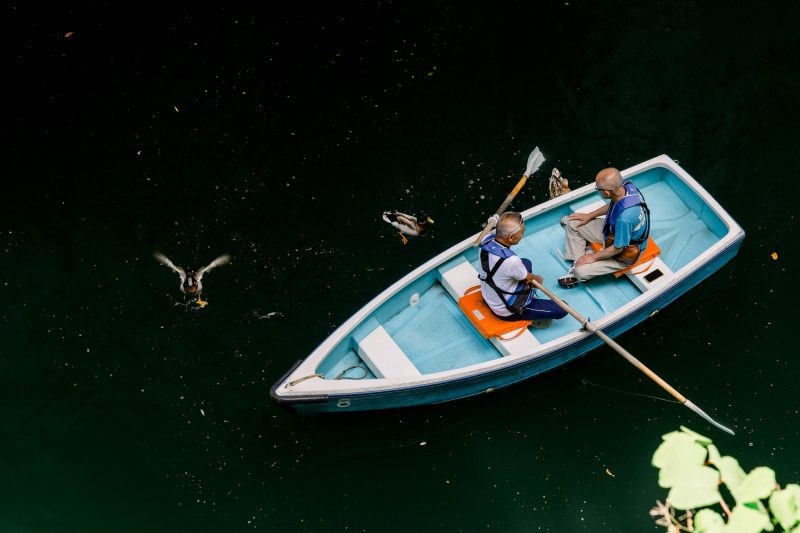 It was a hot day with the sun scorching down, but when we got to our rowboat, it was nice and cool in the gorge, especially near the waterfall. Tie had picked up some duck food for 100yen and started to feed some hungry mallards swimming around the boats. It did get pretty crowded after a while as boats began colliding into one another – had to be careful not to get our fingers crushed! It was a smooth ride, however, so no need to worry about getting equipment wet as I most definitely did not waterproof the DSLR.
And then it was time for lunch. Lucky for us, Takachiho Gorge is also the supposed birthplace of nagashi somen, which are cold noodles shot down a bamboo that you scoop up with your chopsticks. We previously tried it in Hirobun by Kyoto. You usually eat it during the summer and it's rare to find a place that serves it in the city. We ordered the set meal, which was mediocre at best, but the nagashi somen was plentiful and they even collect all the noodles you missed so you don't waste any.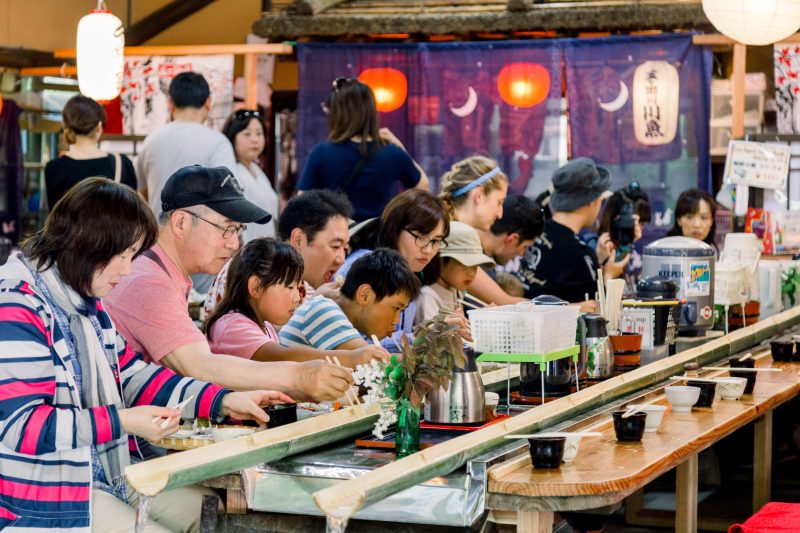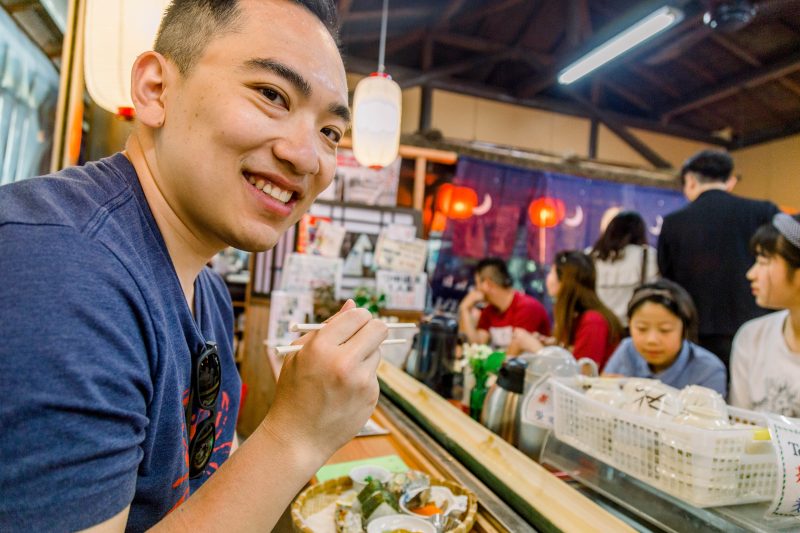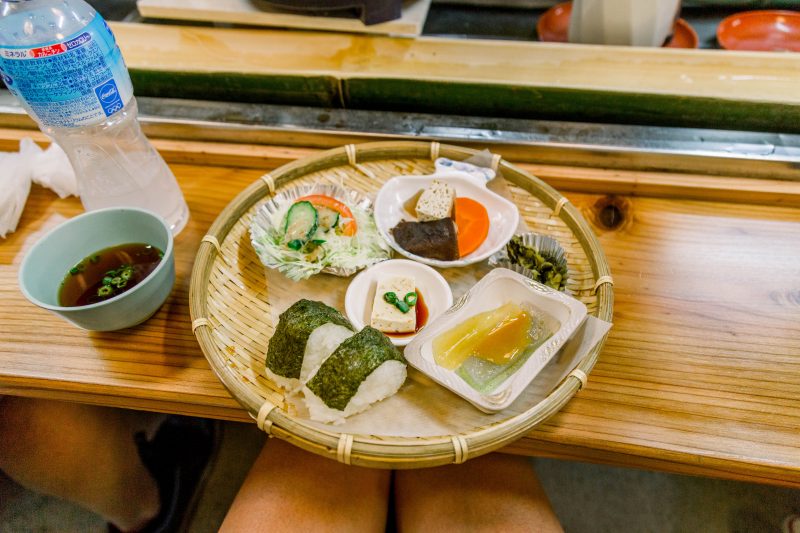 We left Takachiho Gorge around 2PM to drive back to Kumamoto and stop by Mount Aso. The volcanic activity was too high that day so the ropeway to the Nakadake Crater was closed, but we were able to view it from afar in Kusasenri, a huge stretch of pastures where you can ride horses during the day. Around 4PM, when we arrived, the breeders just let their horses graze and run free without locking them up in a stable. You can walk right up to them and watch them eat grass, drink water, or attempt to scratch an itch as we witnessed from a horse writhing on the ground. The pastures are right next to the Aso Volcano Museum, which closed at 5PM. We walked around the plains, dodging petrified horse manure and taking in the views. It reminded me of the Calm Lands in Final Fantasy X.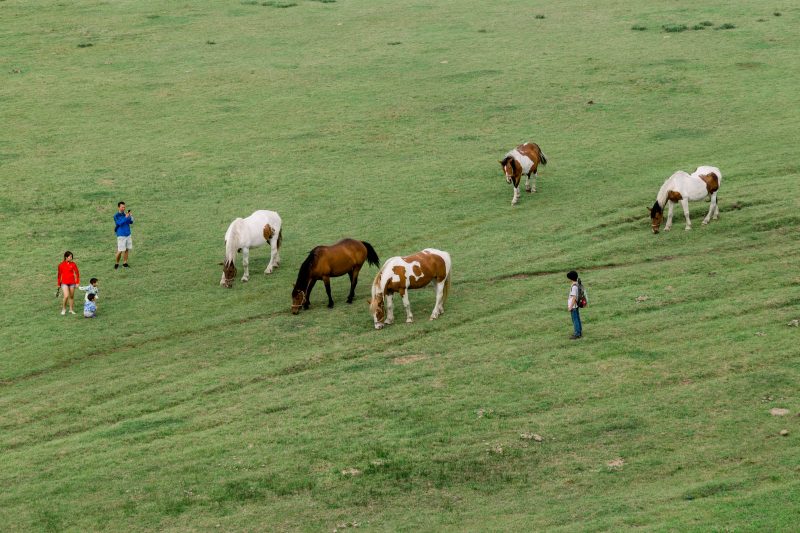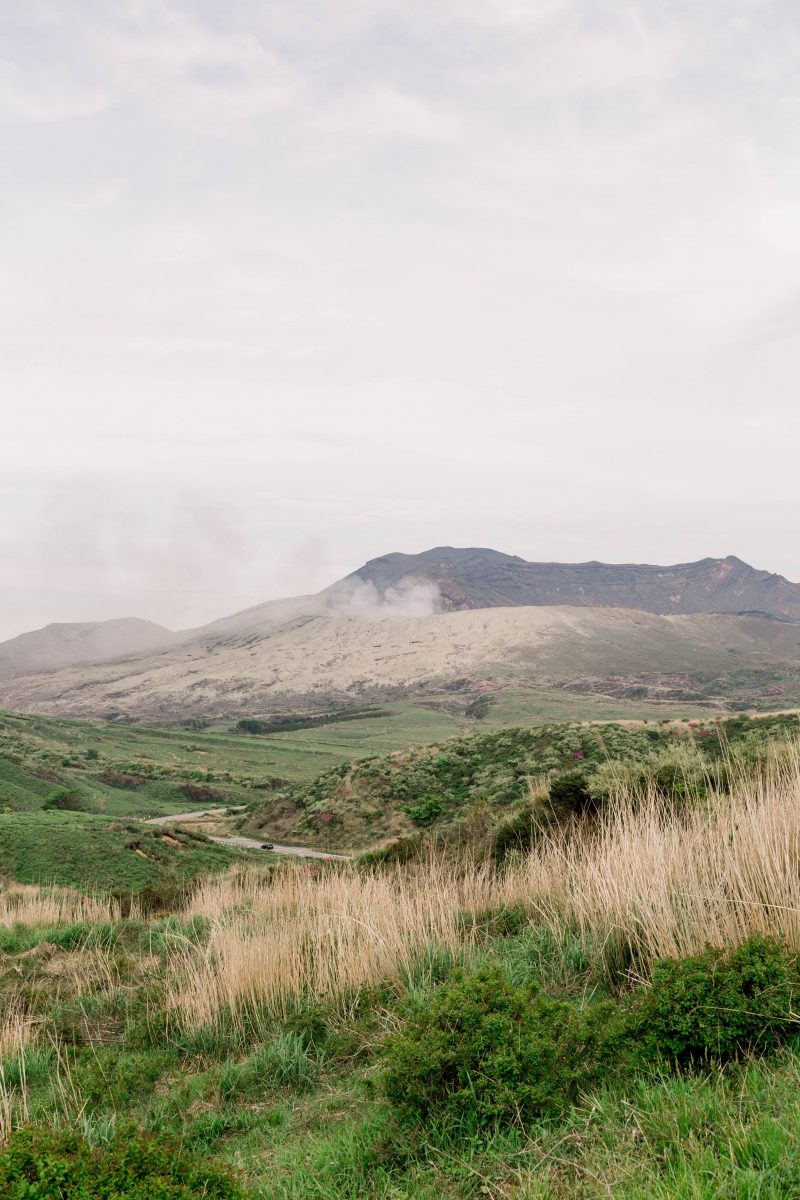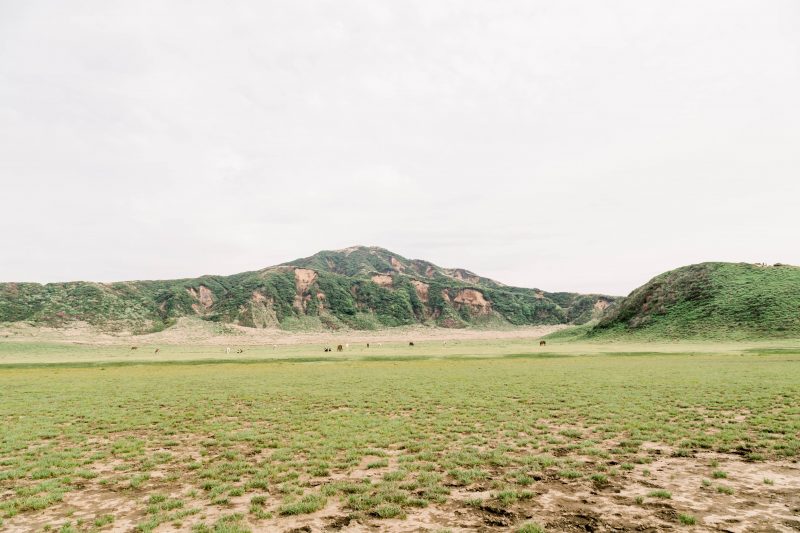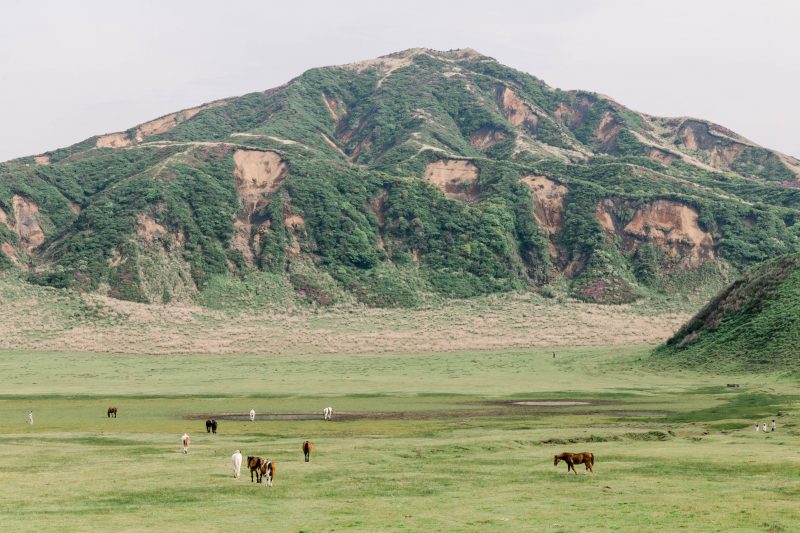 We loved traveling to the Japanese countryside so much, we're thinking about renting a car again in future visits. It felt great not having to be bound to a tour schedule and seeing sights the shinkansen does not reach. Most of all, getting out of the city and embracing the sights and smells of nature is always a rewarding and zen experience.