I didn't realize it then, but I had wanted to visit Iceland ever since working with Floto + Warner (photography team) years ago on another project and saw their landscape portfolio. Since then, it feels like everyone and their mothers have been to the country. Maybe most recently tourism died down a bit following the folding of Wow Air, but I was still determined to see with my own eyes the beautiful places our friends captured with just their phone cameras. Turns out, it was just as amazing as we'd hoped it would be. As Tie and I would describe Iceland, it's like a cold Hawaii.
For this vacation, we went with our friends Kacey and Daniel. I am forever grateful to Tie and Daniel for driving us around. Sitting in a car all day is enough to drive anyone mad, and when planning our itinerary, I tried to cluster things together so any one driving trip would not last longer than three hours one way. With that in mind, I booked two AirBNBs – one in Reykjavik and one in Vik. We primarily hugged the south of the island. If our trip was longer, we might've checked out the far east and north as well. But you know, limited PTO and all.
Day 1
Icelandair only had one flight in from New York each day, and it arrives around dawn. It was a great chance to watch the sun rise. Most places close to Reykjavik was still closed at the time, though many people head straight for the Blue Lagoon in the morning. We got a later reservation on their web site, which you can book through here. First stop was the car rental. We got a compact car, which perfectly fit our four carry-ons, but I would actually recommend a 4×4 if you also plan on driving. Most places are perfectly fine for a smaller car when we went in late September – early October, but there are a few locations that require a 4×4, especially if the weather makes a turn for the worse.
We drove to Hallgrimskirkja, a gorgeous Parish church in the middle of town. It opens at 9AM so we had some time to kill. It's quite known for its unique exterior, and we saw a Chinese couple taking wedding photos out front (just as we do in about every country we've been to so far). Luckily we got there before all the tour buses pulled up. Later on, there were even cars parked right in front of the church. When the doors opened, we got to go inside and check out the stunning organ pipes in pristine condition. The interior wasn't actually that large, but it felt very comfortable and I longed to hear a song from an organist.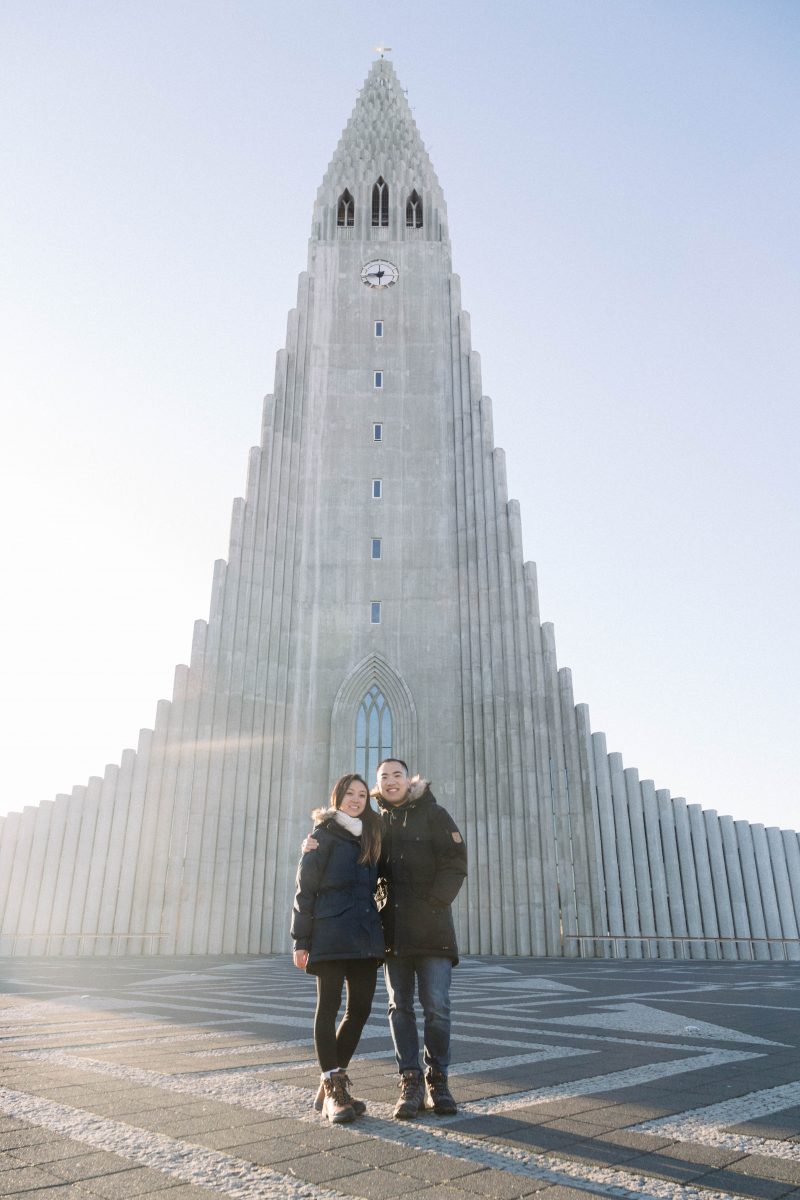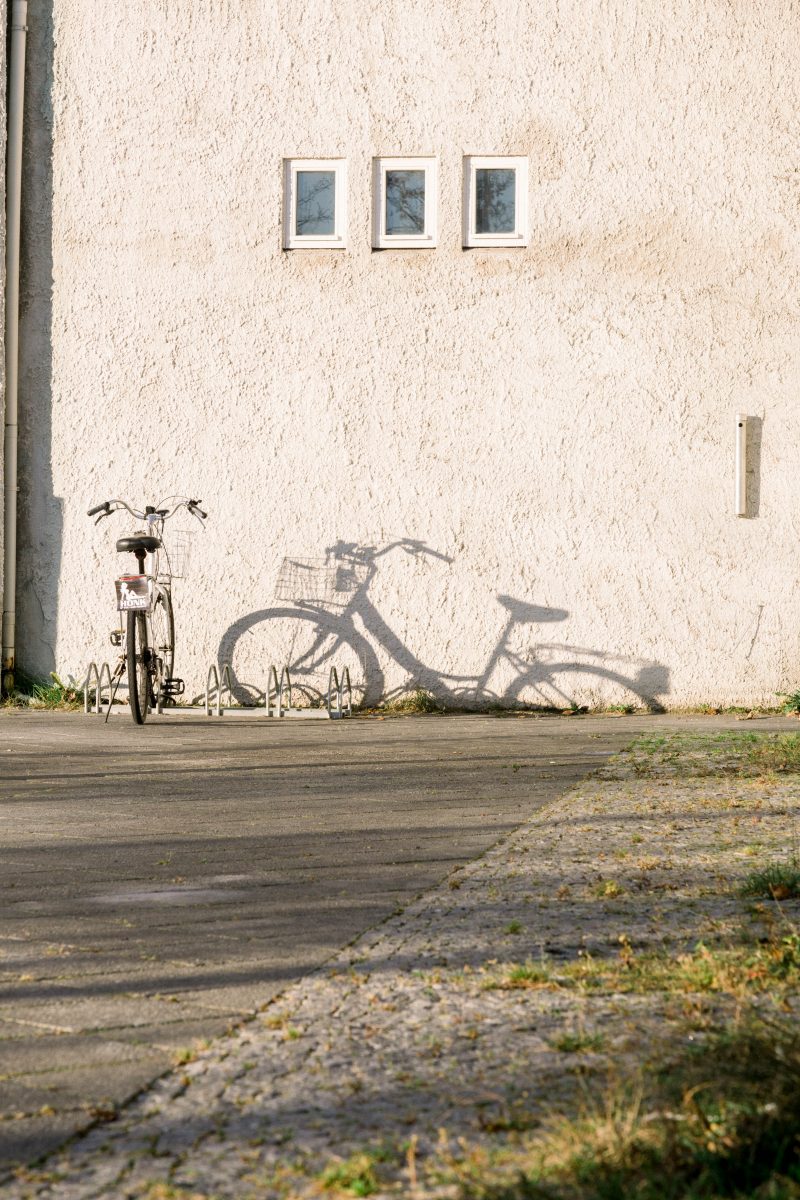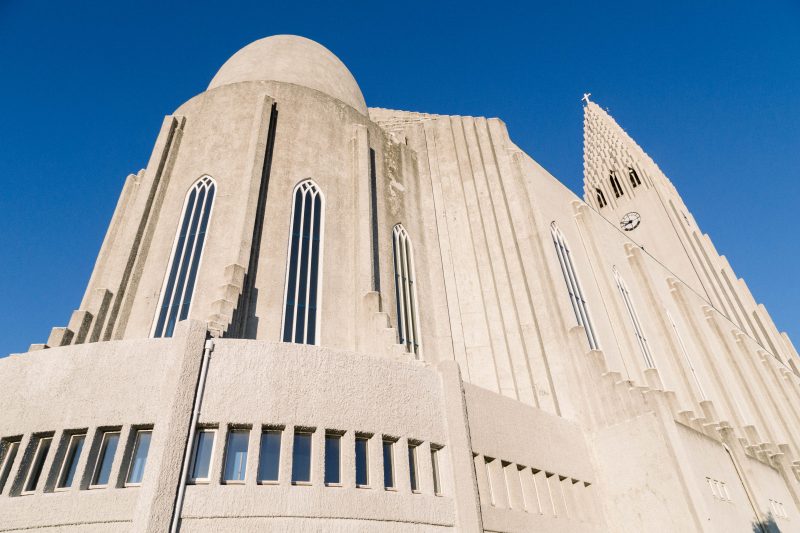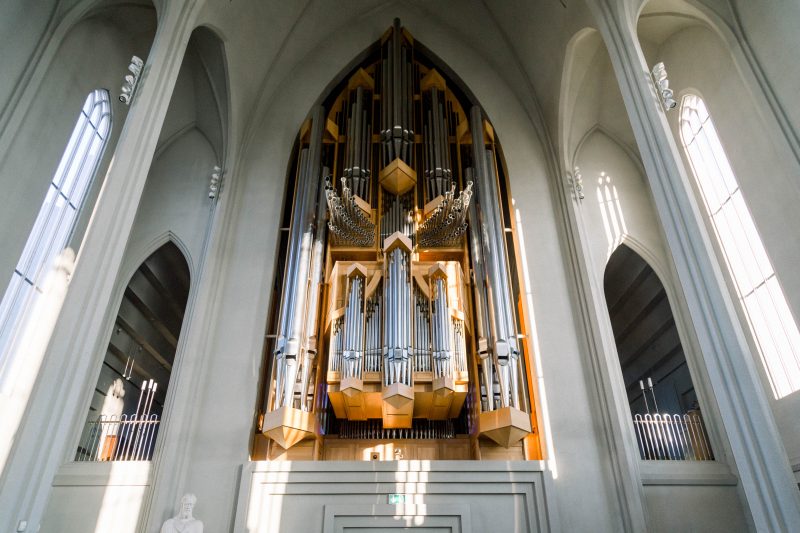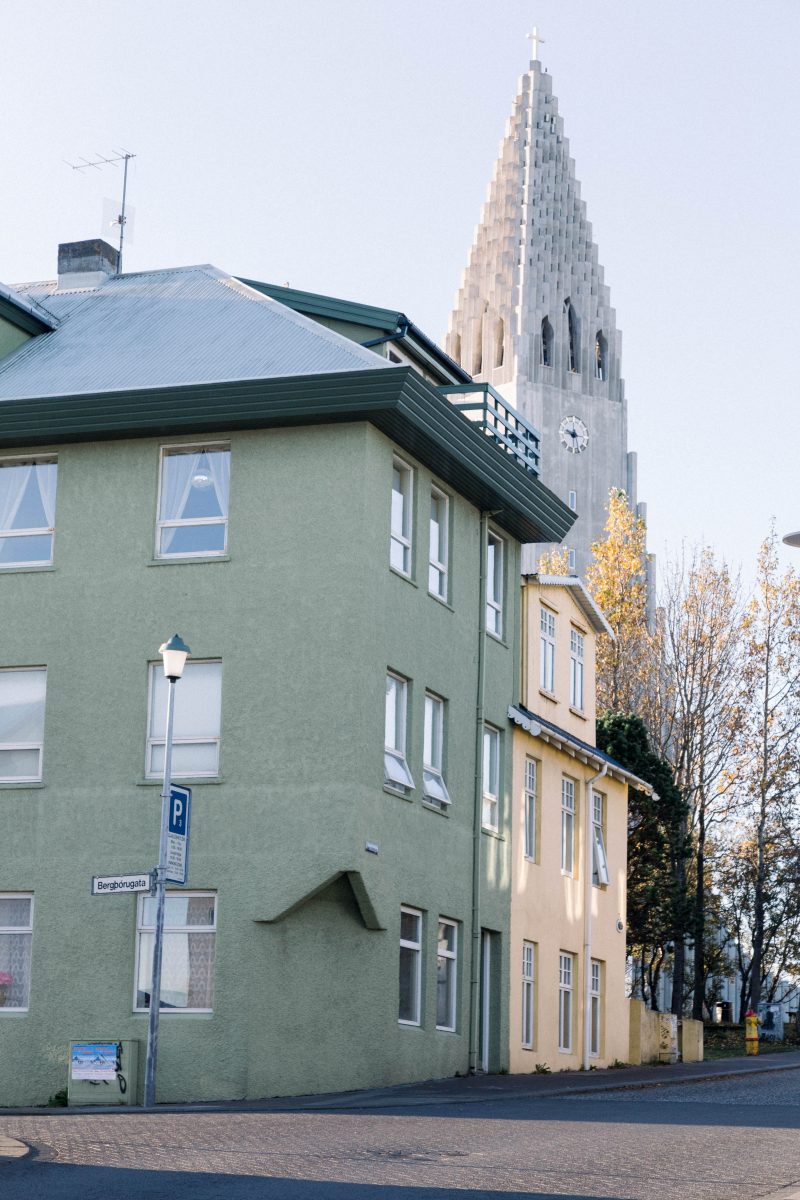 The area around the church was dotted with cafes and small shops, so it's a good place to spend a few hours in. We ended up going back to the neighborhood a few more times whenever we sought to grab a bite. For breakfast, I recommend stopping by Reykjavik Roasters or Brauð & Co. Just a short distance away, we walked down to the Sun Voyager, a steel sculpture resembling a boat. It was super serene gazing out into the sea and seeing other islands floating out there.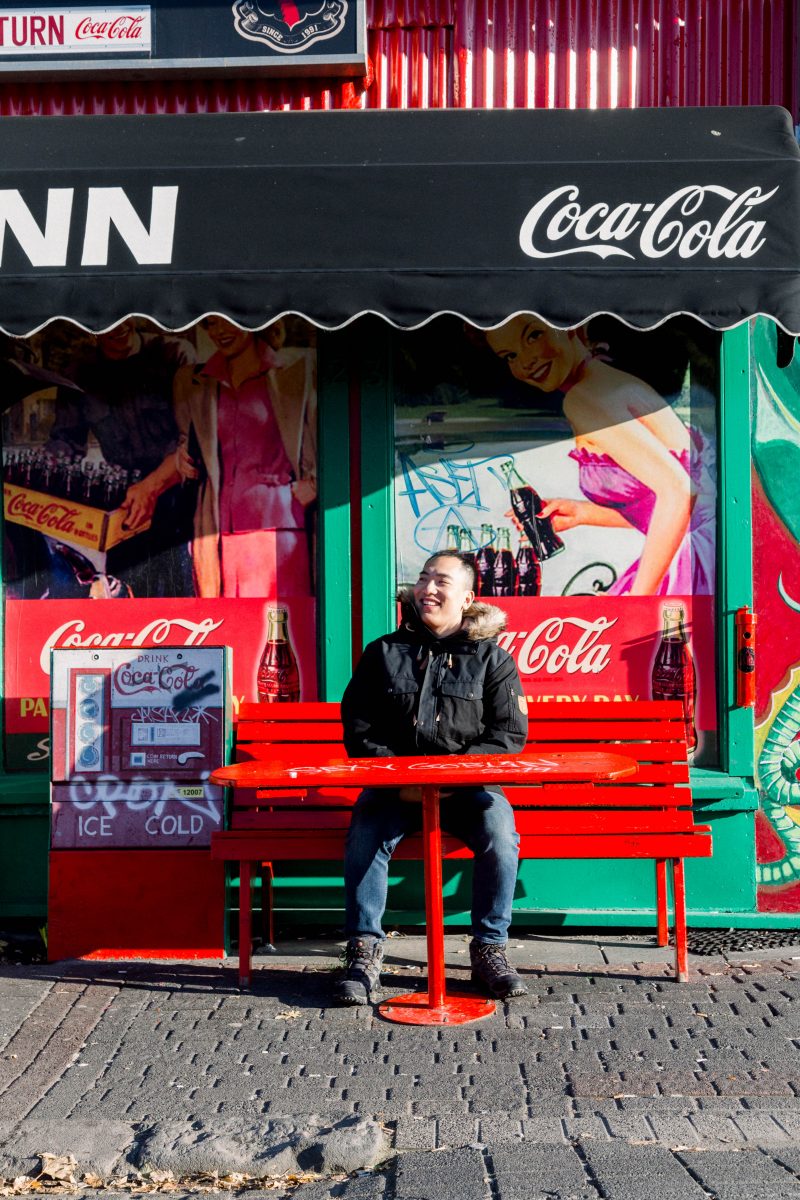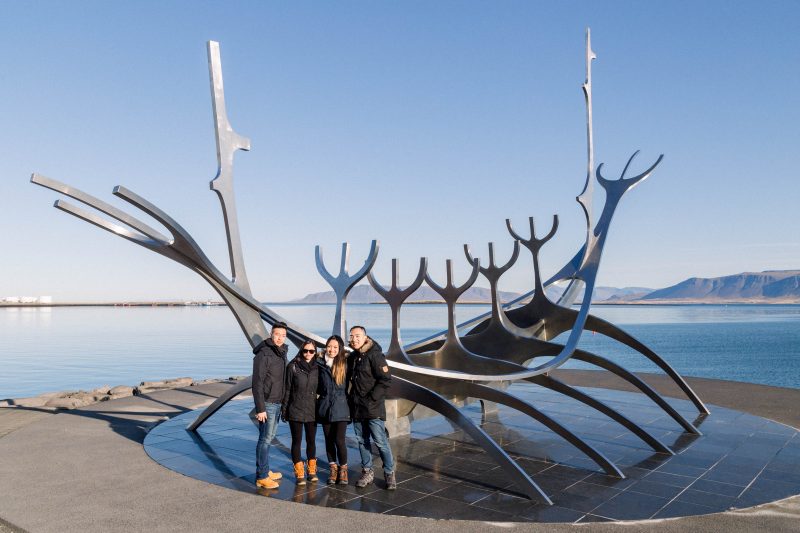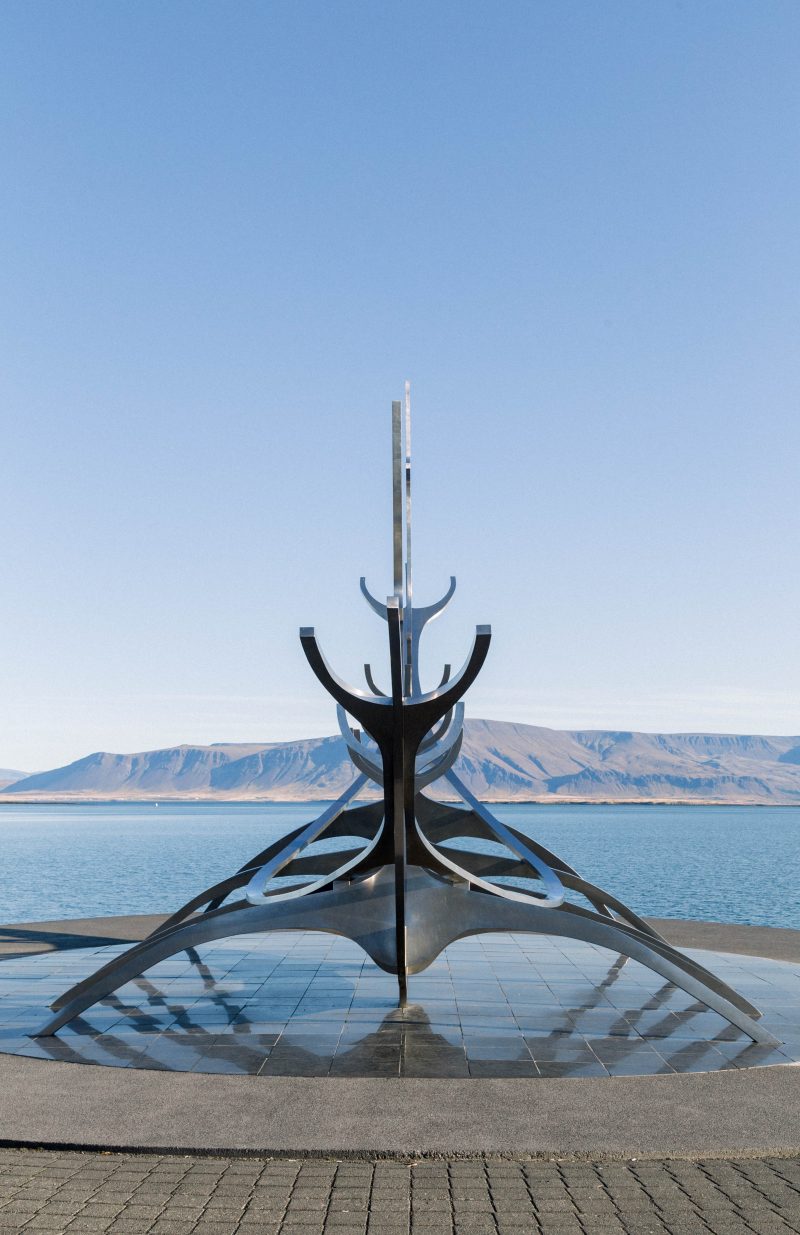 Okay, now for some serious eats. We drove to The Coocoo's Nest for a delicious brunch inside a charming plant-filled restaurant located inside of what looked like a large storage unit. The green eggs & ham and The Coocoo's Omelette in particular stood out. I can honestly say this is one of the best brunches I've had – wish it was here in New York. Those heritage viking chicken eggs were something else.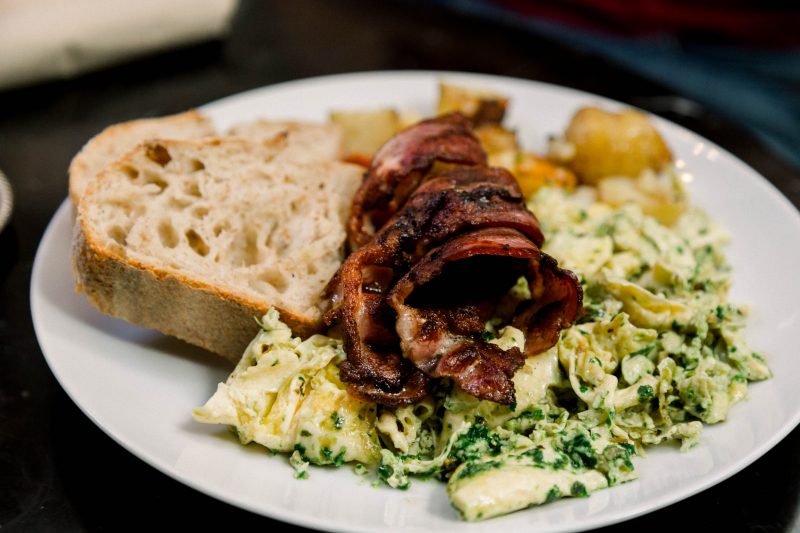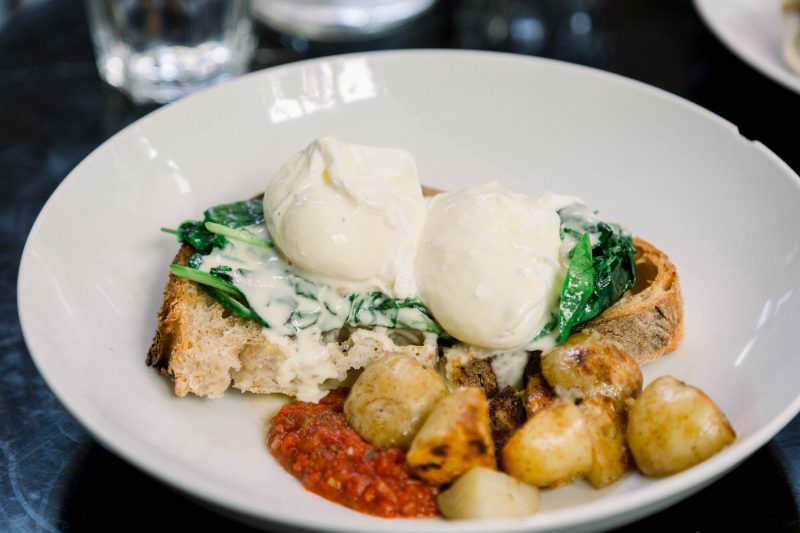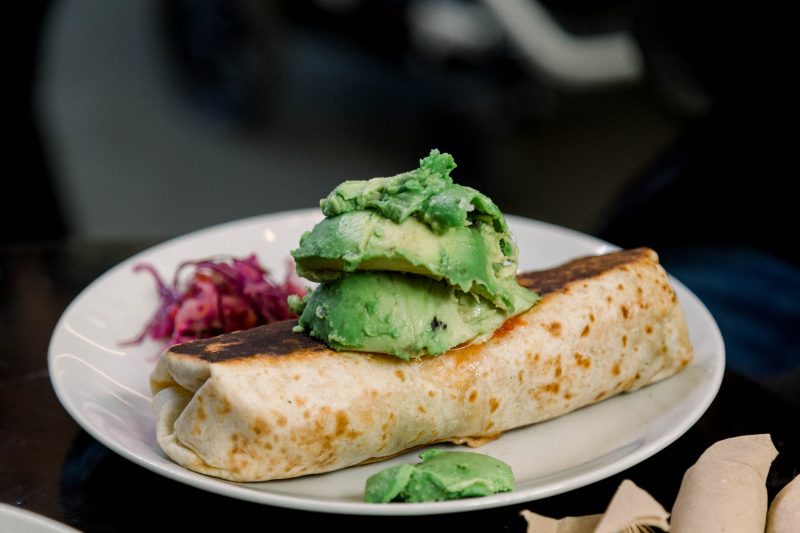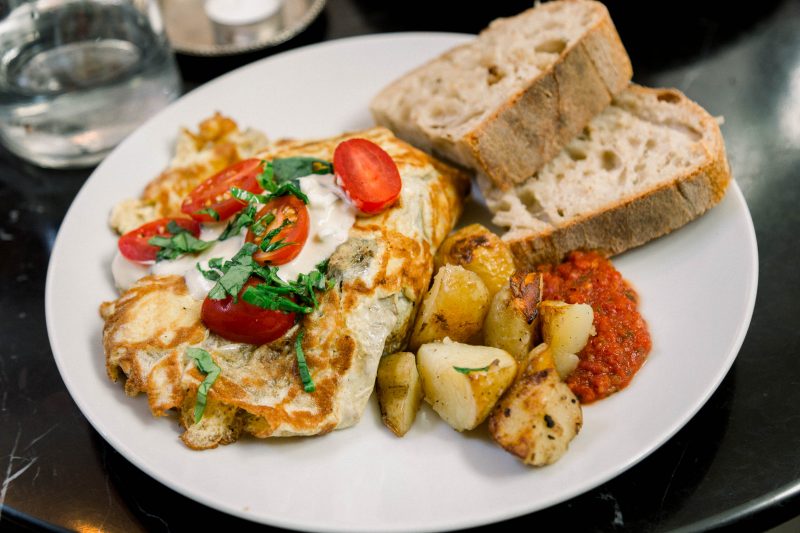 After brunch, we made a quick grocery run so we'd have breakfast in the morning and snacks for the car. I would recommend shopping at either Bonus or Kronan supermarkets (I prefer Kronan). Decent selection, but for the love of God stay away from the Kabuto Noodles. Most flavorless thing we have ever tasted.
During our 3 nights in Reykjavik, we stayed at Sif Apartments through AirBNB. Super clean, modern, comfortable and close to everything. I would highly recommend. We crashed there and napped for a few hours before heading out to the Blue Lagoon.
I've heard mixed reviews about the Blue Lagoon, but personally I really enjoyed our time there. We went for the Premium Package, which also included flip flops (yours to keep), a robe to borrow, an additional face mask, a drink at the Blue Lagoon bar with wine at dinner, and a reservation at Lava (didn't look like the restaurant was booked out anyway). Like a resort, they slap a plastic color-coded bracelet on you so employees know which service you ordered. You can also use it to secure your lockers. There are a few changing rooms, but it's probably best to just get into your swimsuit in front of your locker. After rinsing in the showers (they have individual stalls), we were ready to jump into the lagoon. It's not like a hot spring, so the water is actually warm and not searing. My friend lent me her waterproof phone bag so we can take pictures inside the lagoon. You can buy a case there for $30 (not worth it) or order one online before going. Also, I've heard horror stories about how the masks they sell in their shop has caused chemical burns, so maybe don't get it as a souvenir? The lagoon has two bars – a mask bar and a drink bar. I liked the smoothie options at the latter. It started feeling like we were wading in a Vegas pool, everyone with drinks in hand. All packages include the standard white silica mask, which they scoop onto your hand. It felt like dried frosting on your face after a while. We also got the algae mask, which was a creamier texture.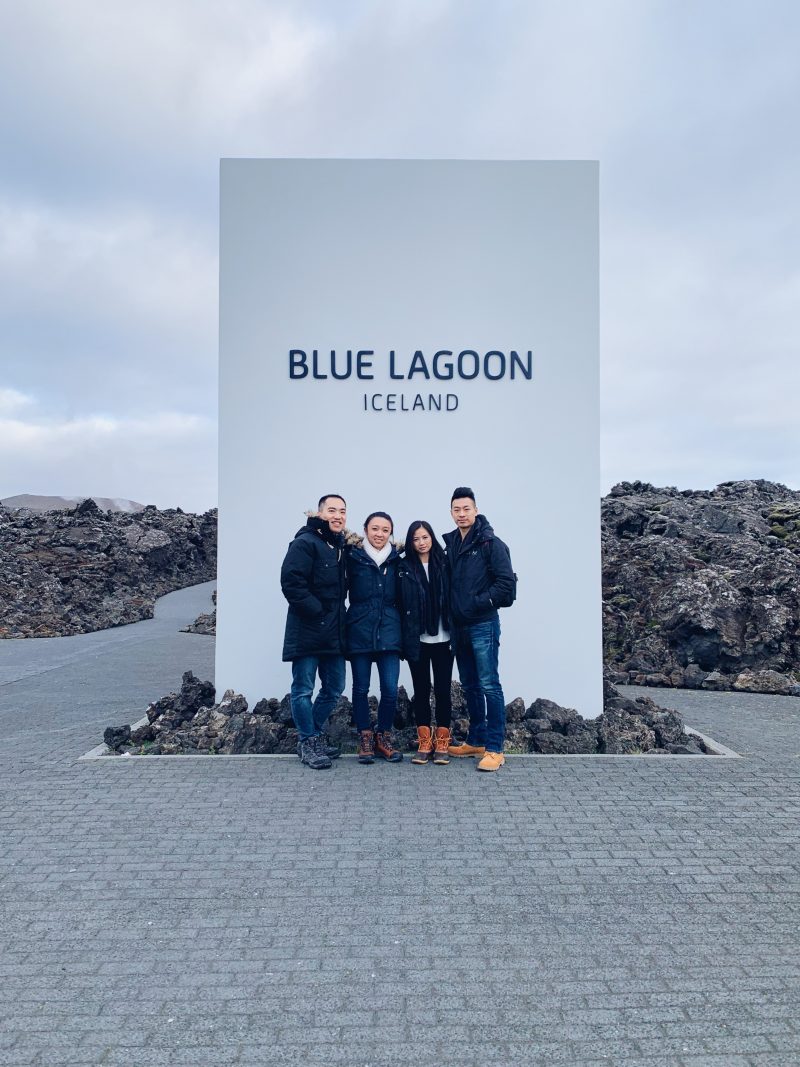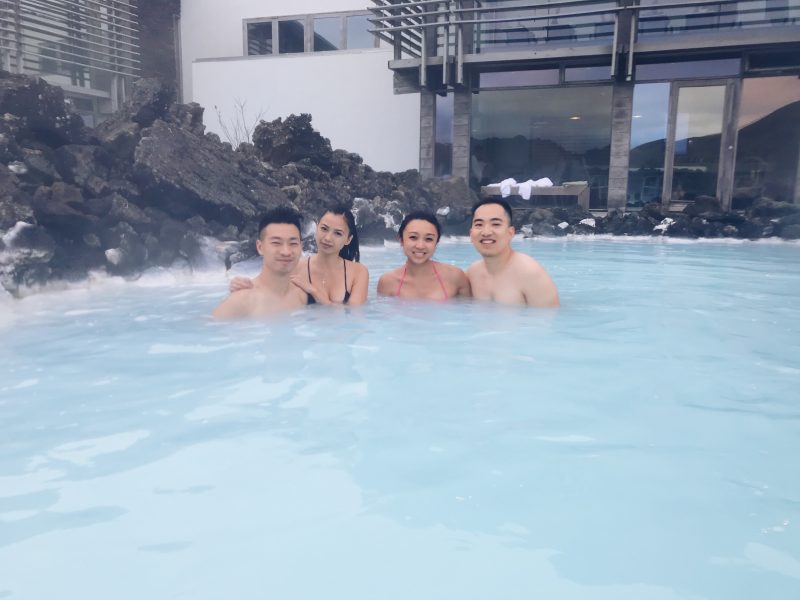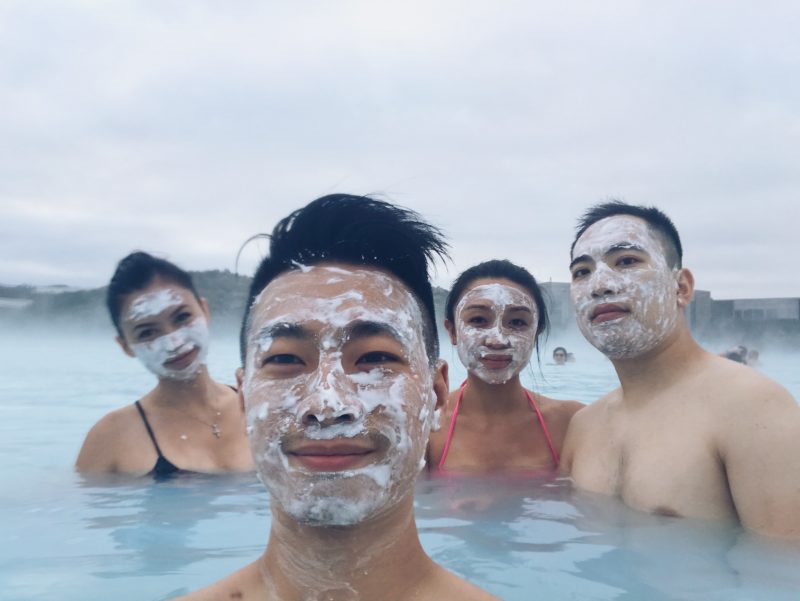 After showering and getting back into our regular clothes, we had dinner at Lava, the onsite restaurant. Yes, food in Iceland can be pretty pricey. But we were fans of the food here. Standouts include the langoustine soup, cod, and fillet of lamb. The sauce on the beef tenderloin was quite good as well. We were definitely not paying 5900 ISK for cauliflower.
Had we come to Iceland in the summer, we never would've been able to see the Aurora Borealis (Northern Lights). As luck would have it, the night was clear of clouds, there was solar activity, and the lights were spectacular. We went to view them at Grotta in Reykjavik, which had a parking lot by the lighthouse. But still there were a ton of cars and people out with their tripods. And you will definitely need a tripod to properly capture the lights in all their glory. To the naked eye, they were not as bright and saturated as I imagined they'd be (photos can be deceiving!). Not only that, but they go in and out. Some moments they'd be ablaze and others they would fade out. I loved watching them change shapes and appear in different parts of the night sky. I definitely considered us very fortunate to have seen them then, because they either didn't appear much or at all throughout the rest of our trip. Pro tip: if you have a UV filter on your lens, remove it. Don't be a fool like I was or you too will get annoying circular rings in your photos.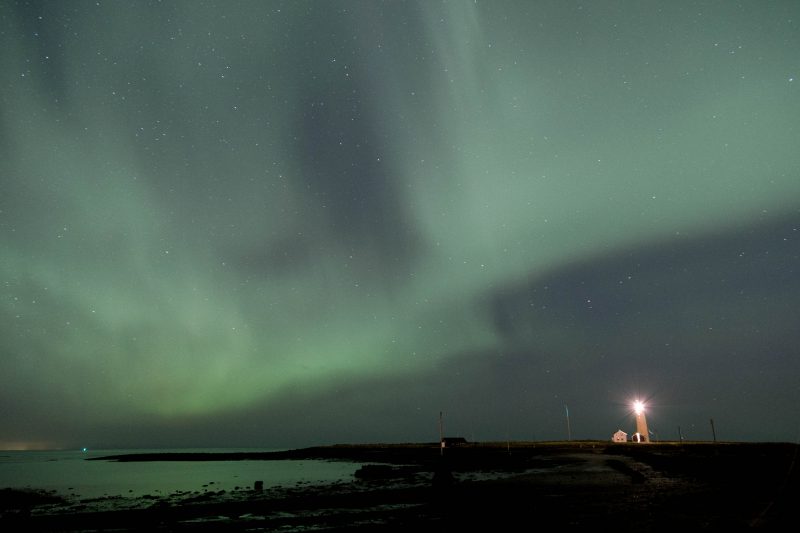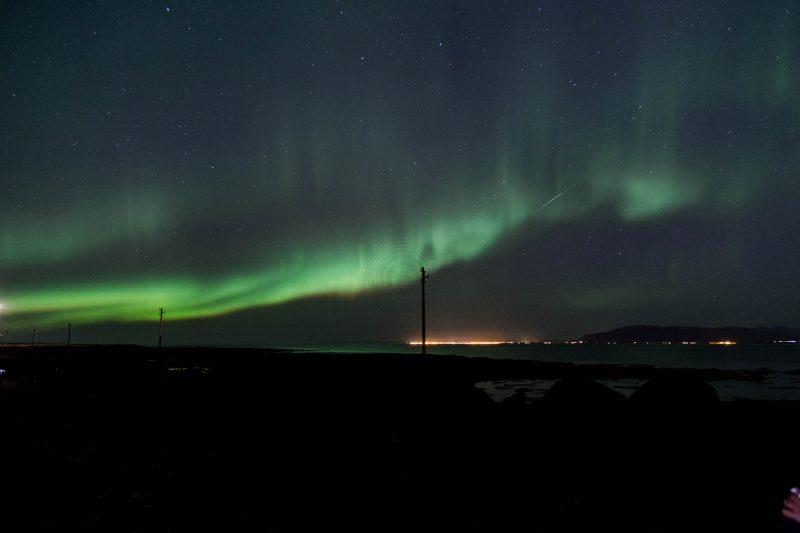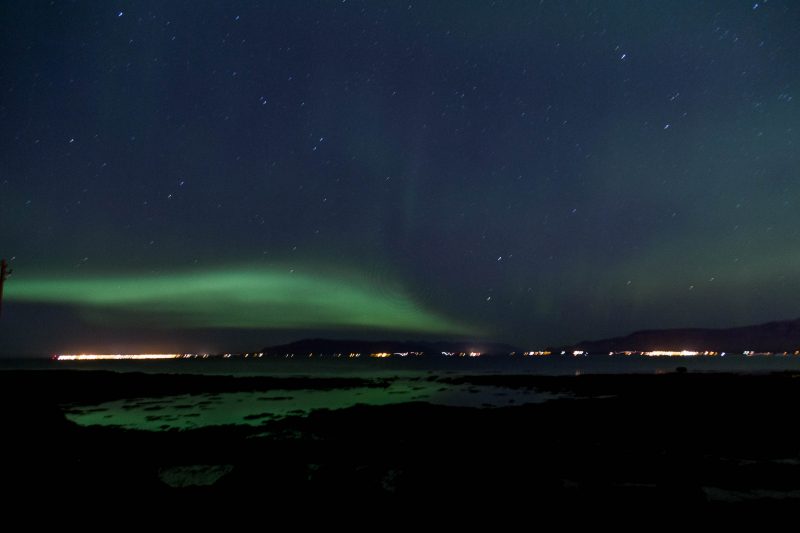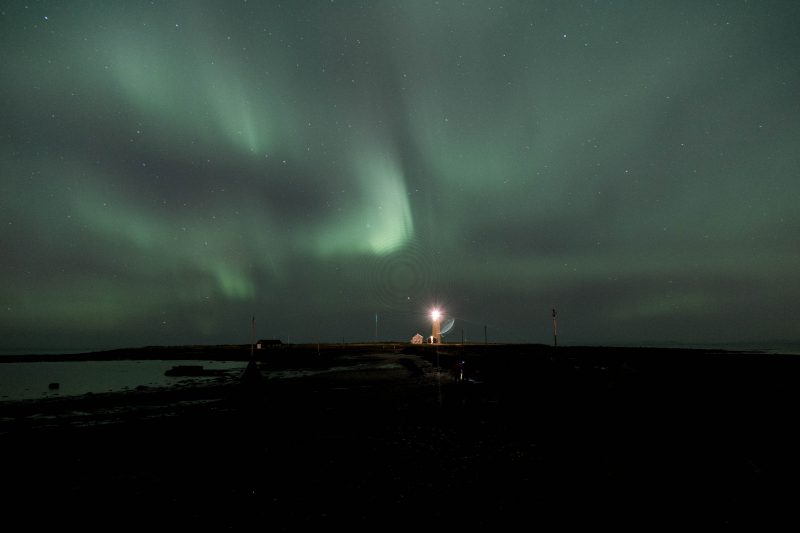 Day 2
One of Iceland's supposed iconic foods is the hot dog, and Bæjarins Beztu Pylsur is the famous stand that sells them for about 450 ISK each in the city center. I'm biased towards Chicago hot dogs, so I wasn't very impressed. It's essentially two sauces on top and some chopped onions beneath the frank. Not bad, but it didn't feel like anything special either.
We were supposed to visit the Seltun Geothermal Area the day before, but due to fatigue, opted for an afternoon nap instead. On this day we headed back to the airport area and through a rough road that was still under construction to get to Seltun. The drive was well worth it, though. Amazing landscape overlooking the sea on our way there. Now this is a pool you definitely don't want to jump into. The sulfuric fumes would be a real turn-off. In fact, you can catch whiffs of sulfur throughout many parts of Reykjavik. But there was still something very picturesque about the area. It was almost an interplanetary experience.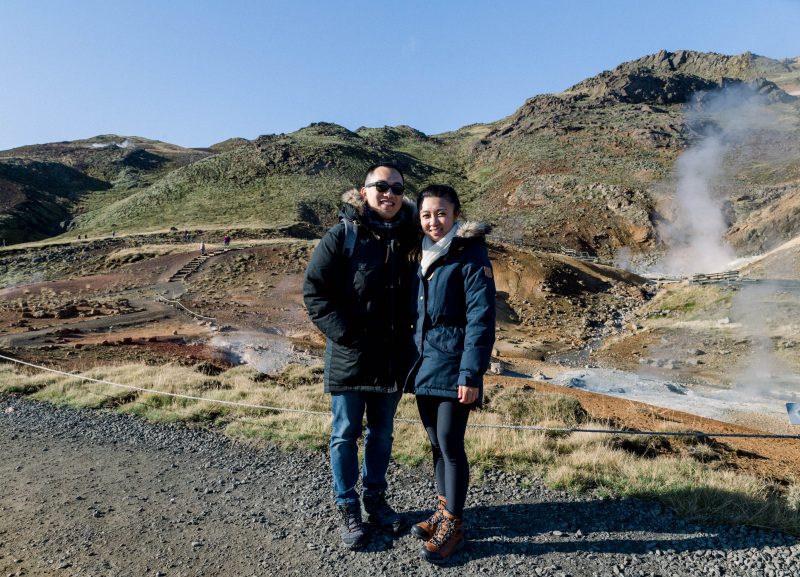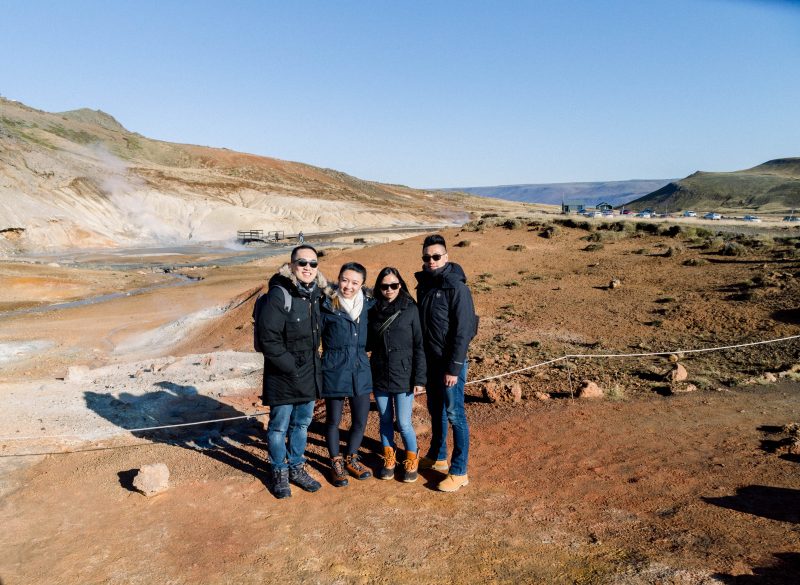 On our way out, we took some additional photos at the scenic overlooks by the sea.
Hungry for some lunch, we went back to Reykjavik to pick up some fish & chips, separately, to go. If you love fries and want a variety of sauces (who doesn't?), stop by Reykjavik Chips. They already get bonus points in my book for naming their garlic sauce "Buffy."
Next stop was Kirkjufellsfoss, AKA the iconic arrowhead mountain area featured in Game of Thrones. Now, having been there, I'm not sure if it was totally worth the three-hour drive. For goodness sakes, the sun set on the other side and I should've known it's better to go for the sunrise instead of the sunset. The waterfalls were also quite small, but at least you can get both the falls and the mountain together in one shot. There are no facilities on site and not much else around the area. We had to hop on someone else's tour bus to use the restroom. Yup… This landscape is featured in many advertisements for Iceland, but if your schedule is looking kind of cramped, I'd say just skip it.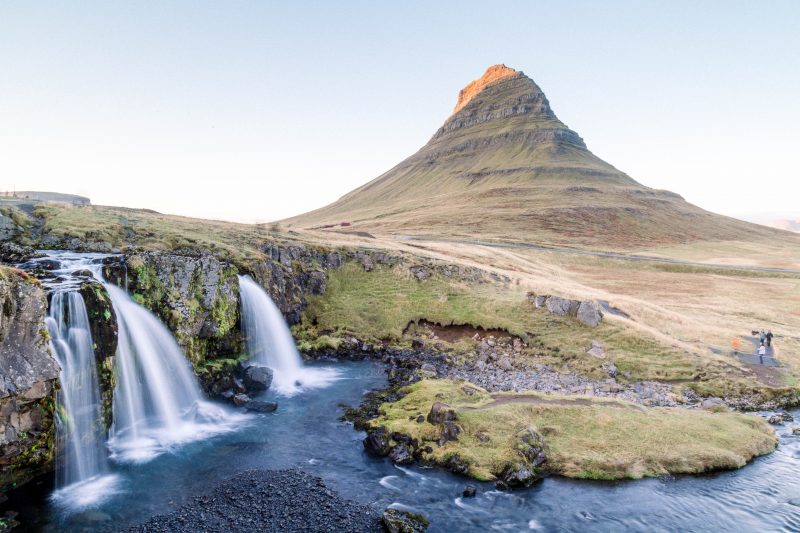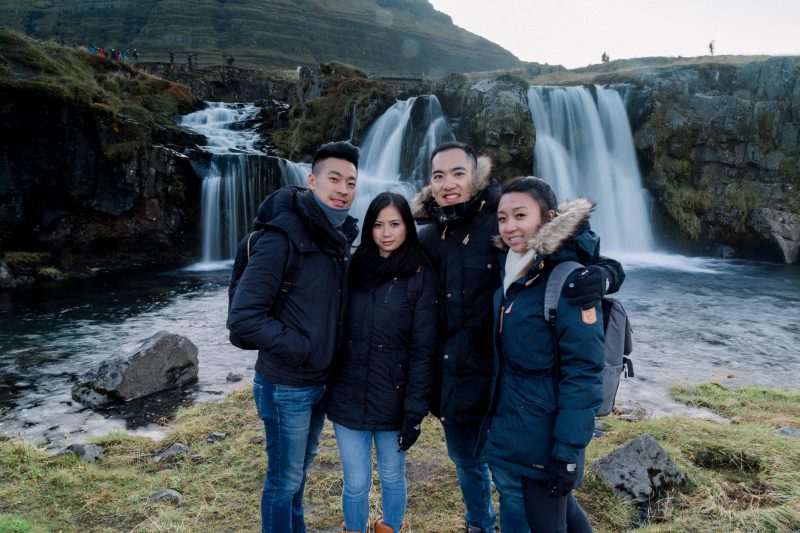 We got back to the city kind of late, so we had Aktu Taktu for dinner. It's fast food with a retro Americana vibe, and the Bernaise burger was actually really tasty. So glad we didn't decide to order Dominos instead. It seems they're a big fan of pizza in Iceland. One chain they do not have, though, is McDonald's.
Day 3
All right, now for the renowned Golden Circle! Typically this route includes Thingviller National Park, Geysir, and Gullfoss.
Thingviller National Park is pretty large and has a few parking lots in different parts of the park. You can easily spend a good 3-4 hours here. It contains many unique rock formations created by the shifting North American and Eurasian tectonic plates. You can even snorkel the Silfra Fissure. Get good hiking shoes, as there's a lot of walking involved. Some areas were especially rocky and wet (we had to dodge a lot of poop). You might recognize a portion of the park as the path where Arya and the Hound traveled to the Vale in Game of Thrones. Öxarárfoss is a also a beautiful waterfall worth checking out. We got to catch some fall foliage, which provided a nice contrast to the rocks.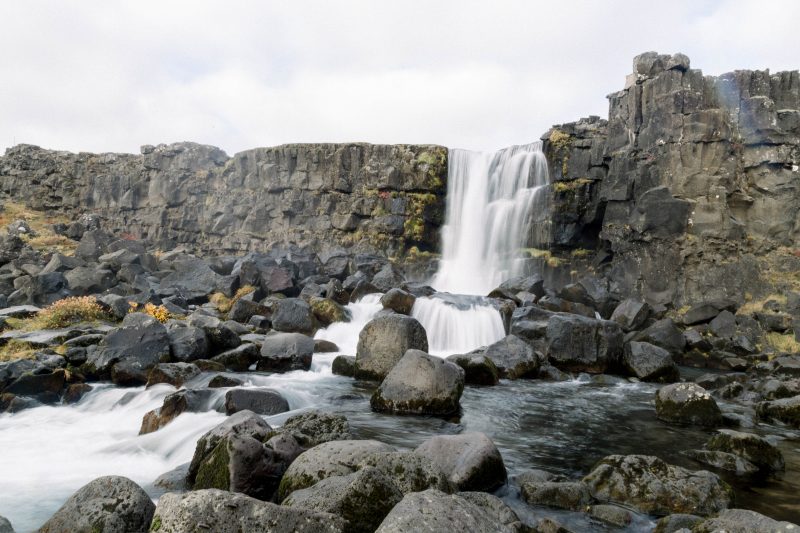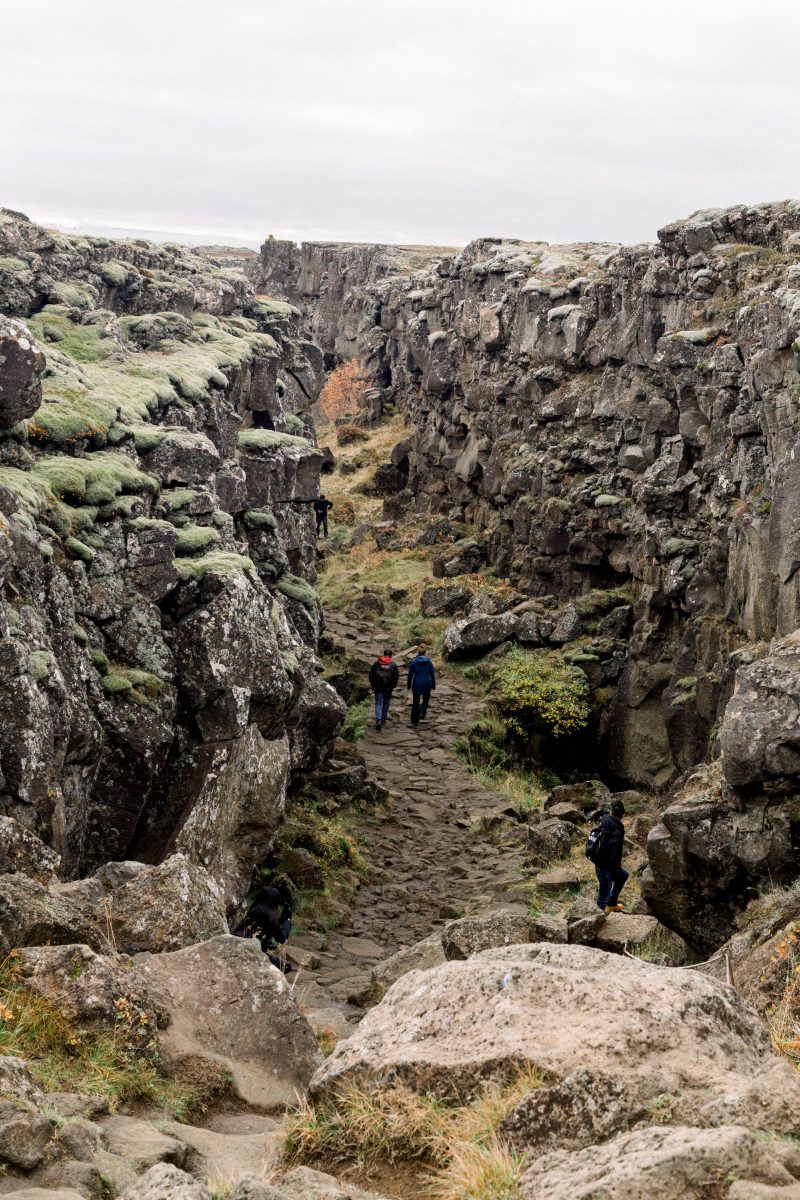 We made a lunch reservation at Friðheimar, quite a special restaurant about an hour away. It also acts as a greenhouse that utilizes the hot springs in the area to run their water pipes. They produce a whole ton of tomatoes every day, so you can be sure all the food is super fresh. There's also a team of bees that pollinate the flowers outside and produce their own honey. We were welcome to walk around and check out the tomato plants (there are even horse shows on the property). The tomato soup buffet is a must-have on the menu, which includes unlimited fresh tomato soup and bread. Mm-mm. So good. They also had fresh basil on the table that we could cut ourselves with herb scissors. Cute.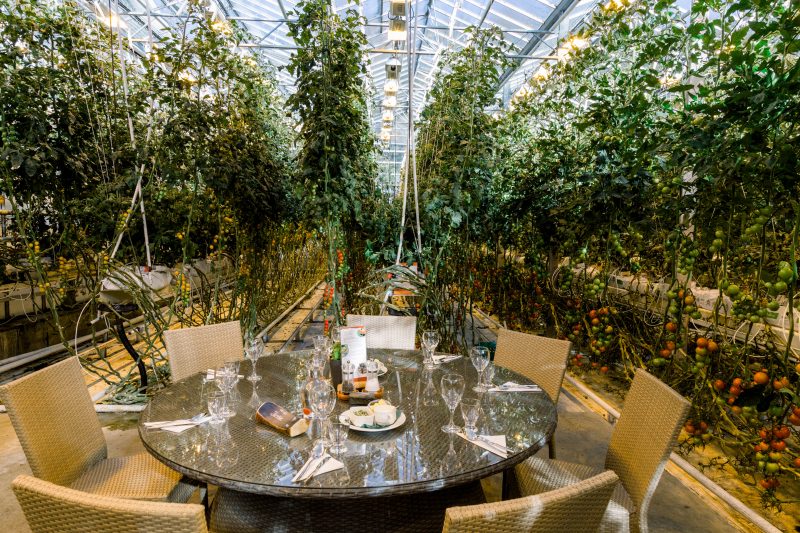 Stuffed from tomatoes, we made our way to Geysir. Turns out the only major active geyser was Strokkur, which erupted every 8 minutes or so. Again, there was a strong sulfuric smell, but it was exciting to witness the geyser shoot up from the ground. Geysir, for which the park was named, only seemed to erupt during earthquakes. Well, we weren't going to wish for a natural disaster just to see that.
Near sunset, we went to see Gullfoss. But we got intercepted by some cute Icelandic horses. Seeing a row of cars parked along the side of the road, we also got out and pet the horses up close. Look how sexy their manes are!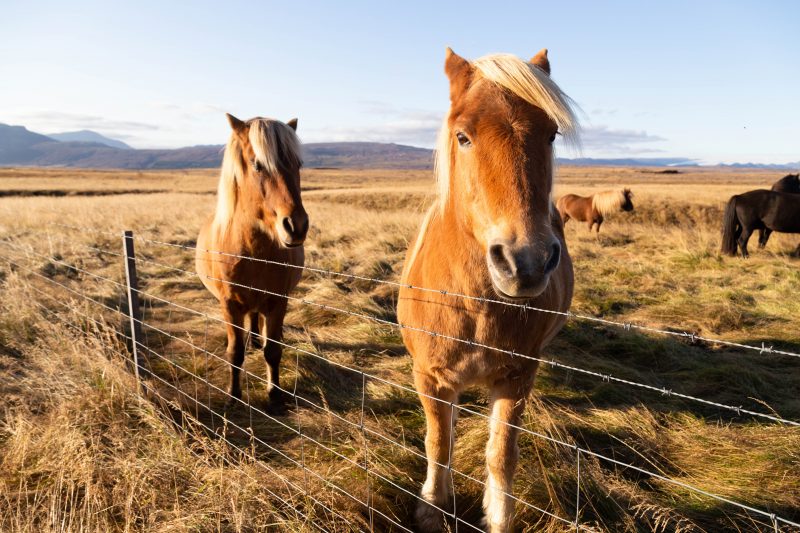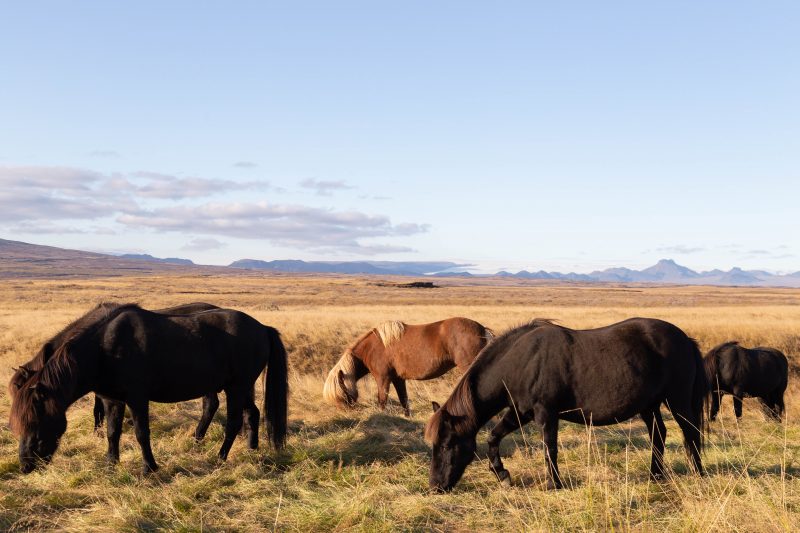 Gullfoss is said to rival the Niagara Falls but surpassing in wildness and shaped like a slice of pizza. I'm surprised they haven't used it to generate electricity yet. We checked it out from a few vantage points – the parking lot level, up close and personal, and from over a cliff. It was wild, all right, but I think I'm still partial the Niagara Falls. I did like the multiple cascades here.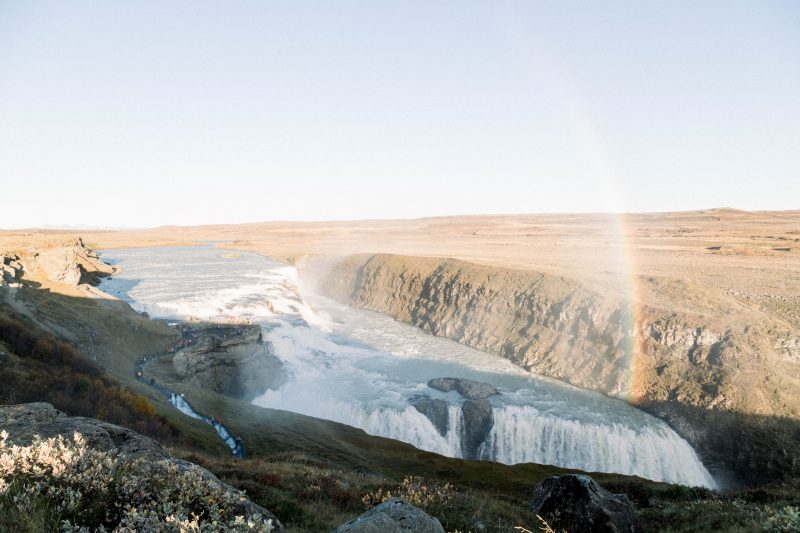 For dinner, we went to Restaurant Mika nearby for some comfort Italian food. They totally made the wrong size pizza and charged us for it, though… At least there were homemade chocolates as a consolation prize.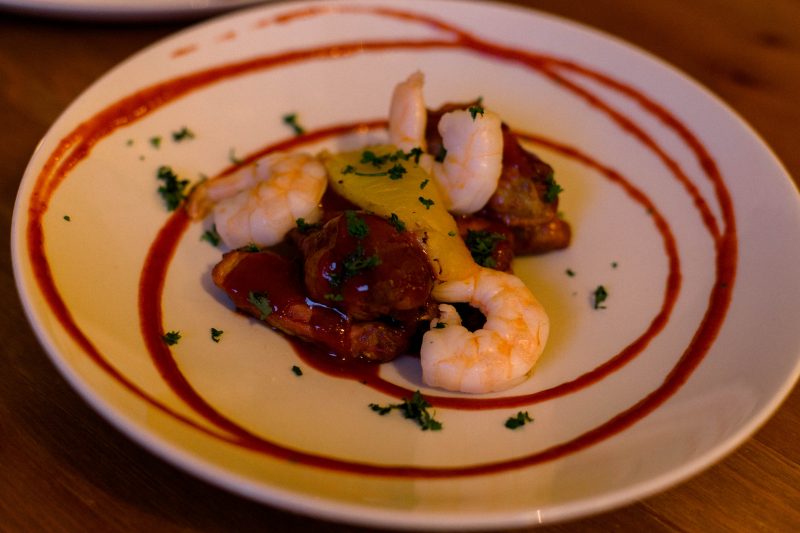 Day 4
In the morning, we made a pit stop by Harpa Concert Hall in the middle of the city to marvel at the interior architecture. Loved the geometric windows and ceilings. I think I found my new LinkedIn profile picture.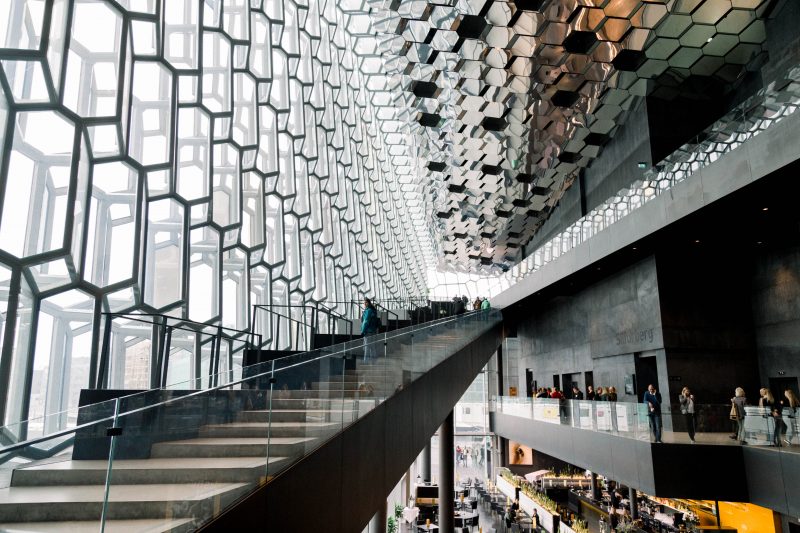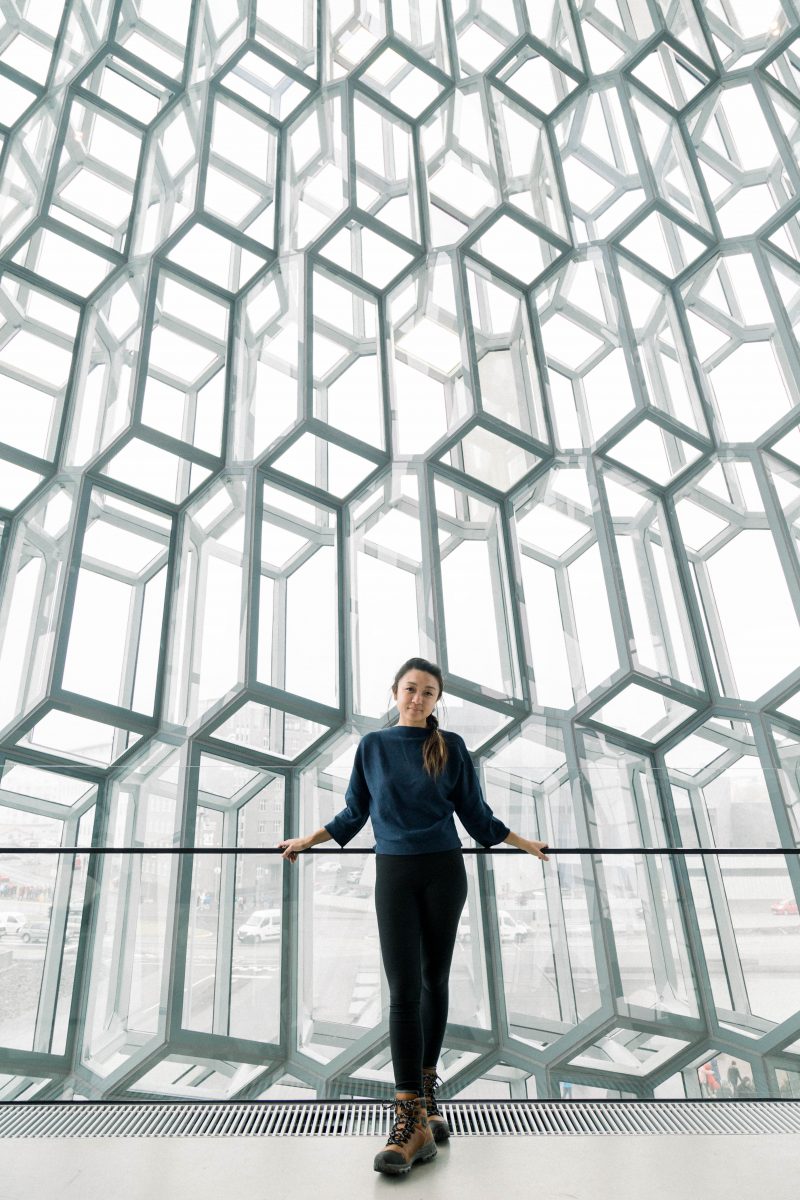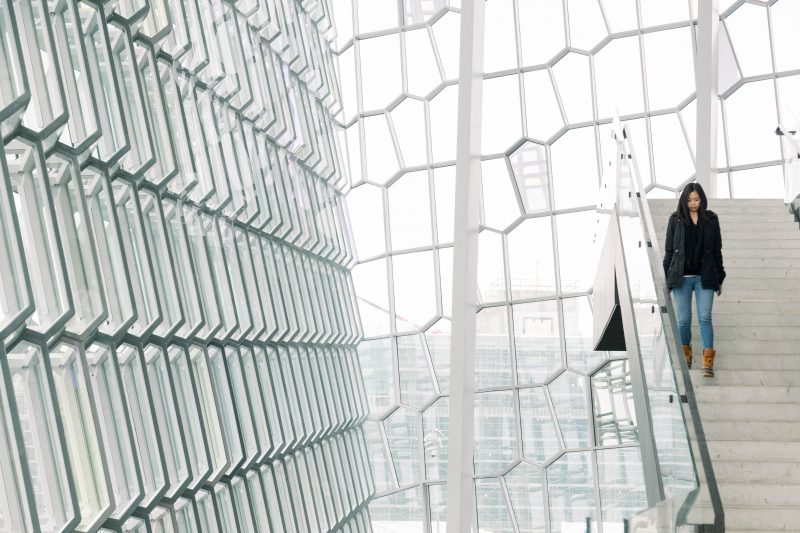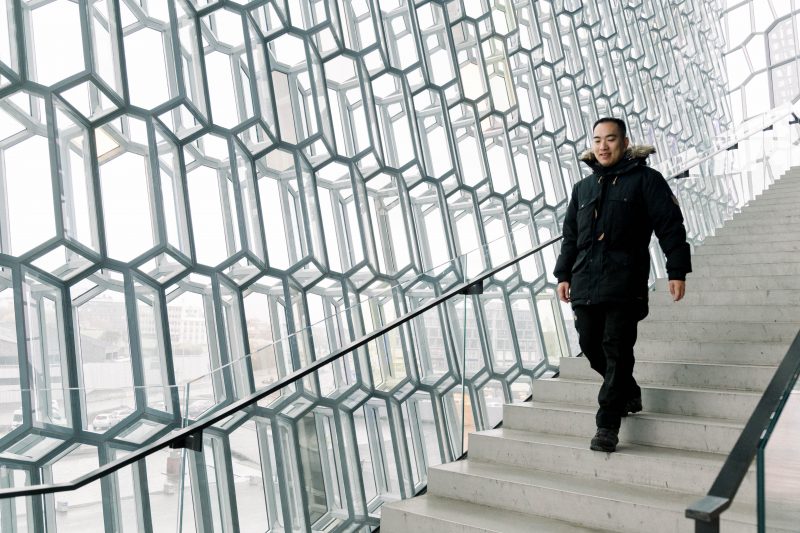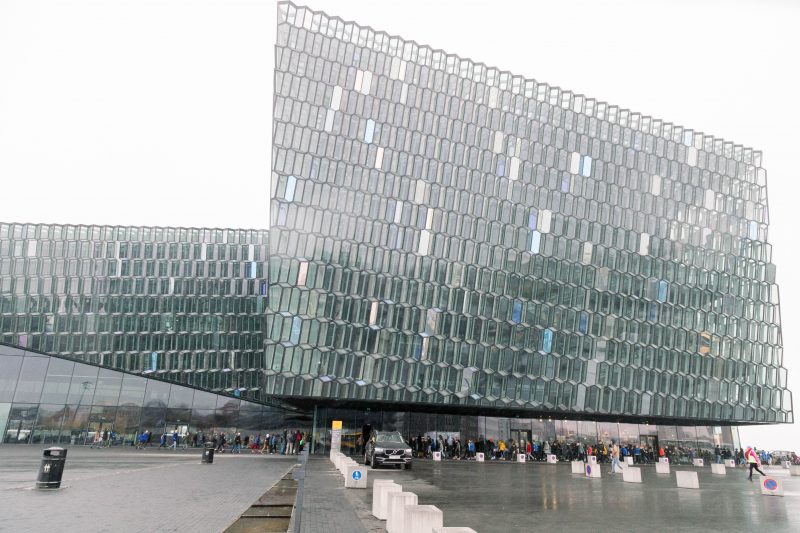 With our time in Reykjavik coming to an end, we started driving towards Vik. This was also the beginning of daily rain during our trip. It was drizzling on-and-off for the most part, but so long for consistent sunny skies. We stayed on Highway 1, which is part of the Ring Road that can take you in a loop around the whole country.
Seljalandsfoss is the largest by volume of its surrounding waterfalls. While it's pretty misty standing in front of it, you can actually stay dry by hiking behind it. It reminded me a bit of Hamilton Pool Preserve in Austin back there. Thank goodness for our hiking boots so we didn't slip and fall from those slippery rocks. Too bad we weren't here for sunset.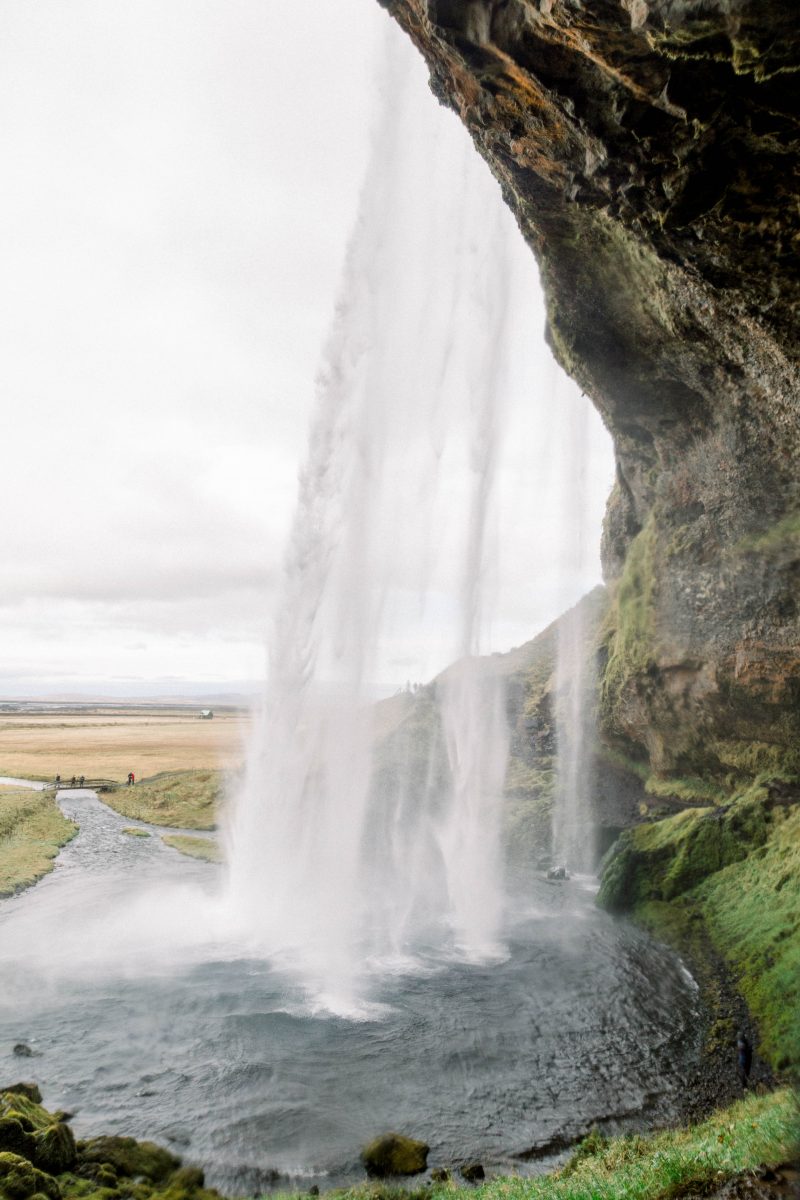 Close to the Skogafoss parking lot, you will pass by a red and white polka dot food truck. Stop by Mia's Country Van for the best fish & chips ever. Seriously, it was so good we went twice. The batter was perfectly crispy and the fries fantastic. Drooling now just thinking about it. We ate in the car as it was raining outside.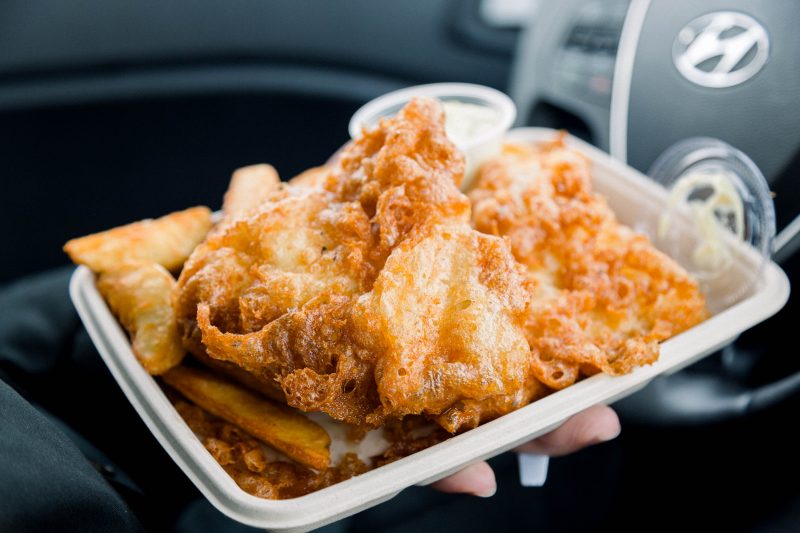 Ah, but the skies finally cleared out a bit when we drove in Skogafoss. This is the waterfall that they unnecessarily doubled up in Game of Thrones (where Drogon watches as Jon and Dany make out amongst, erm, other things). But unlike that wintery scene, we instead saw sheep roaming in the adjacent pastures and a rainbow forming in the front. I would say the best view is from the ground, but you can also climb up the stairs on the side of the waterfall.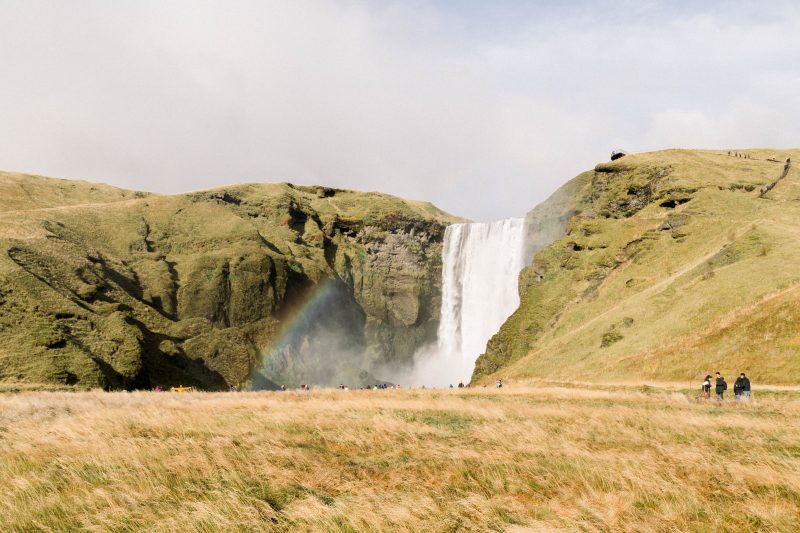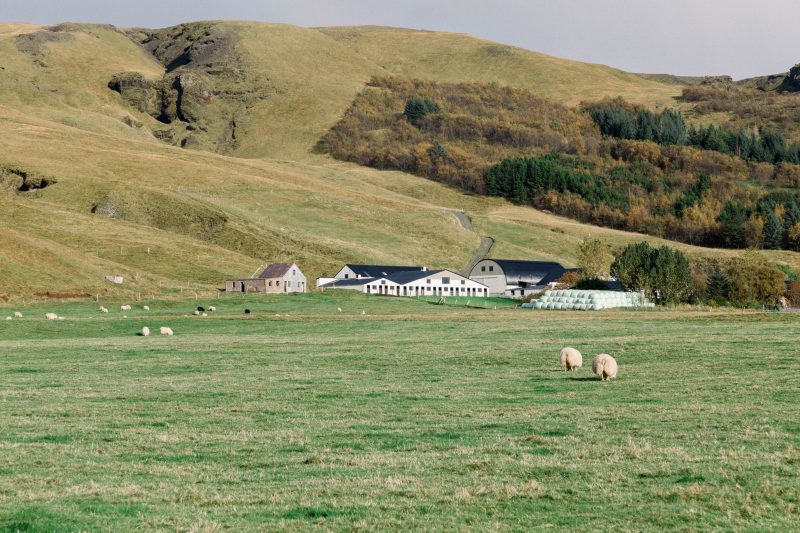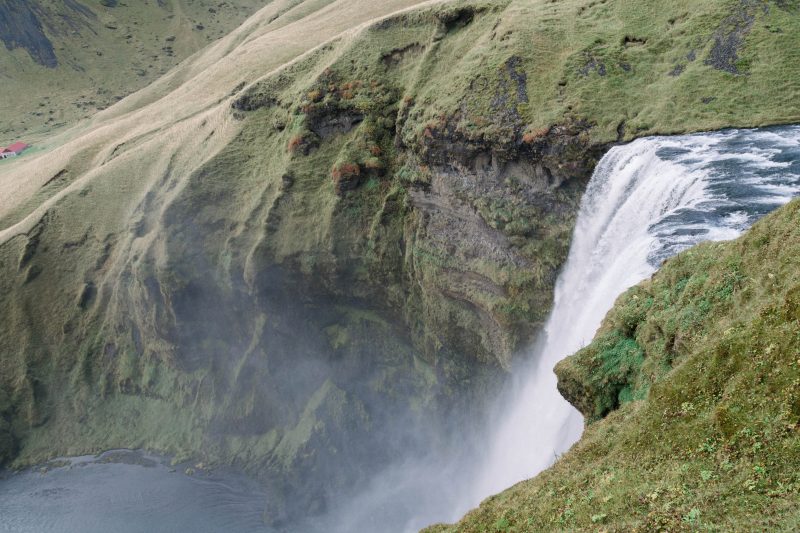 Skogafoss is actually pretty close to Vik. We stopped by town for groceries and dinner. Kronan was packed with tourists. We picked up some eggs, smoked salmon, cured meats, yogurt, croissants and chocolate. I quite like the Icelandic Skyr yogurt. If you stop by after 6PM, baked goods are half off.
Halldorskaffi is a cozy restaurant with decently-priced food. The mushroom soup was super mushroomy without the cream. I liked it. We also tried the Arctic char, which basically tasted like salmon but with more bones. Not a fan. Then of course we also had lamb and cod, as we do in most places.
Our second AirBNB was Giljaland, about 43km away from Vik towards the east. I forgot to take pictures of the cabin, but you can find them here. It was snug and comfortable in the middle of nowhere. The road leading to the property is pretty rocky, so maybe driving a 4×4 would be better in the winter. At night, it's pitch black, but we did see some sheep crossing.
Day 5
With all the carbs we've been intaking the past couple of days, the hike in Skaftafell was very much welcomed. It's actually part of Vatnajökull National Park now, which includes the glaciers Skaftafellsjökull and Svínafellsjökull (we saw them while driving to the lot). There are glaciers hikes available for booking, and camping onsite. The park is huge and divided into four regions. Sadly our time was limited and we didn't get to see much outside of Svartifoss. The 45-minute one-way hike to the waterfall was a wonderful chance to admire the fall foliage while getting in some quality cardio. The path is pretty straightforward without large boulders to maneuver around. Svartifoss is characterized by the basalt columns that flank it on both sides. Possibly my favorite waterfall for this reason.
For lunch we had some (more) lobster soup and (more) fish & chips at a food truck, Glacier Goodies, parked in the lot. Yum yum.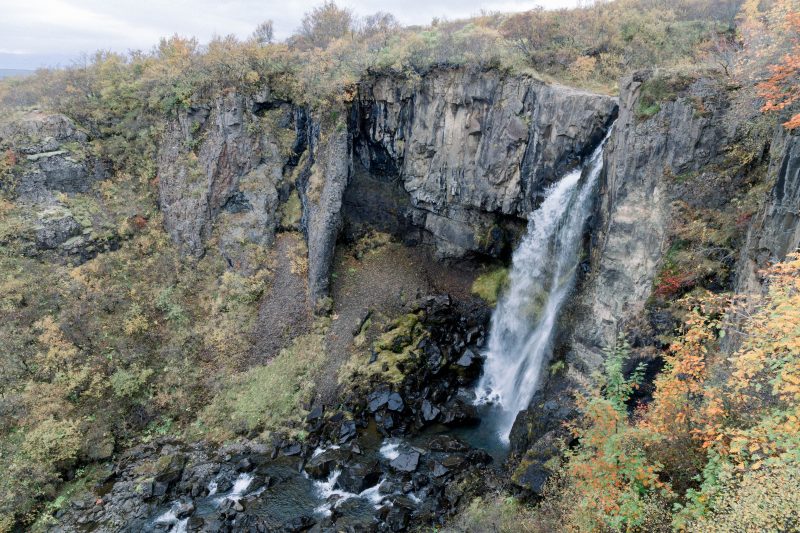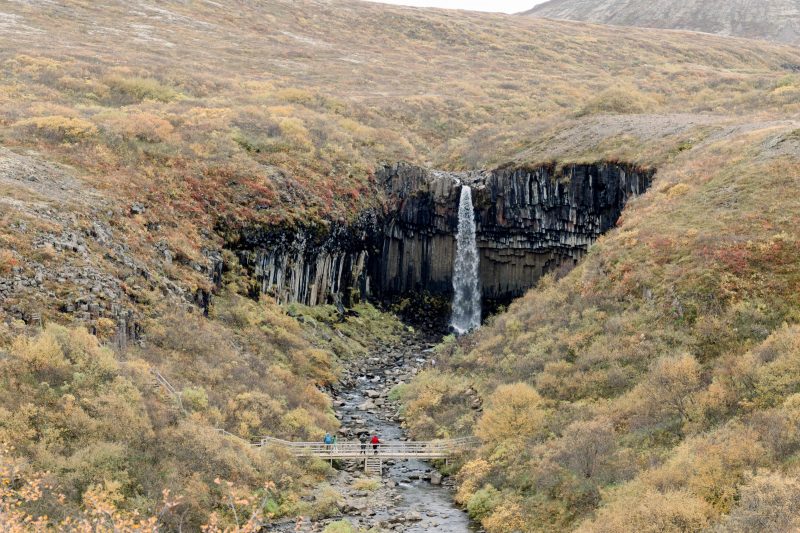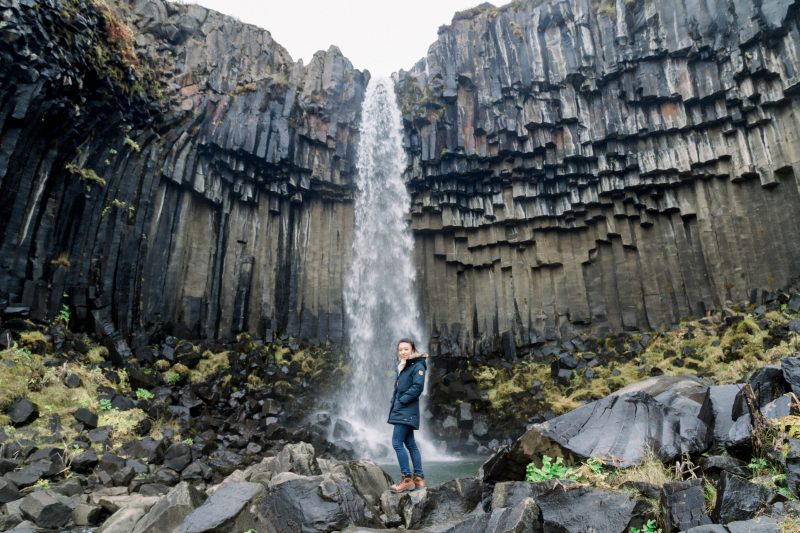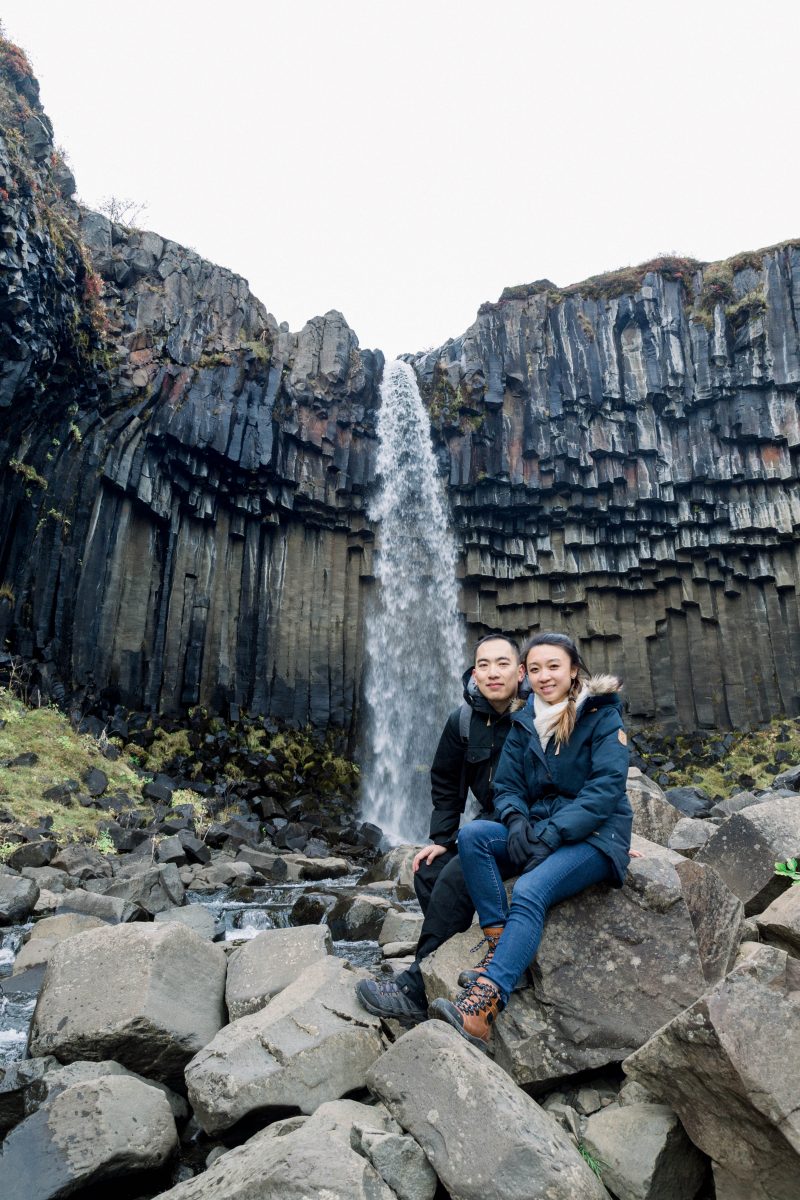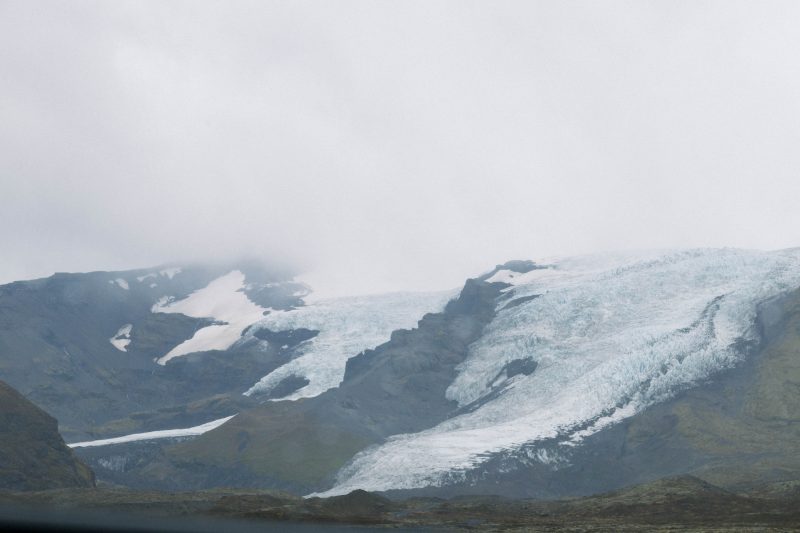 Looking back forlornly at the beautiful massive glaciers in the park, we bid adieu and moved further east to Diamond Beach. It gets its name from the massive glacier pieces that dot the black sand beach. Some were rocking along with the waves. With better weather, we probably could've seen some seals as well. These chunks of ice might've been broken away from a larger glacier, but apparently they were still quite heavy!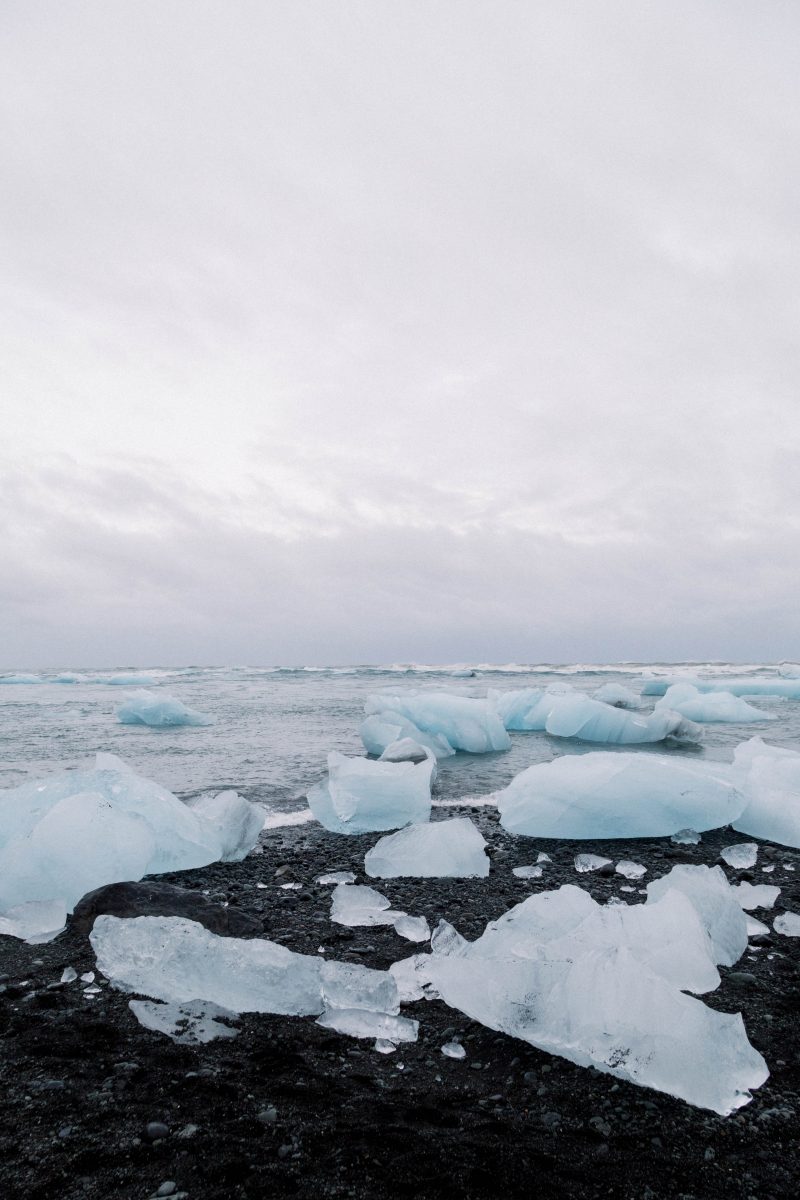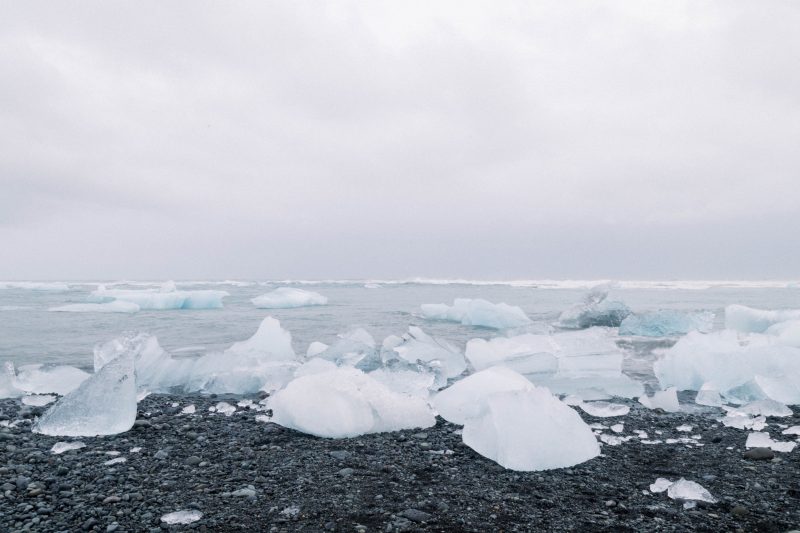 Just over the bridge you can book a boat tour to see the Jökulsárlón Glacier Lagoon up close. We opted to view it from afar. They were huge, but I imagine they were even larger just decades ago. I rather lamented thinking about how much more they will shrivel in the years to come.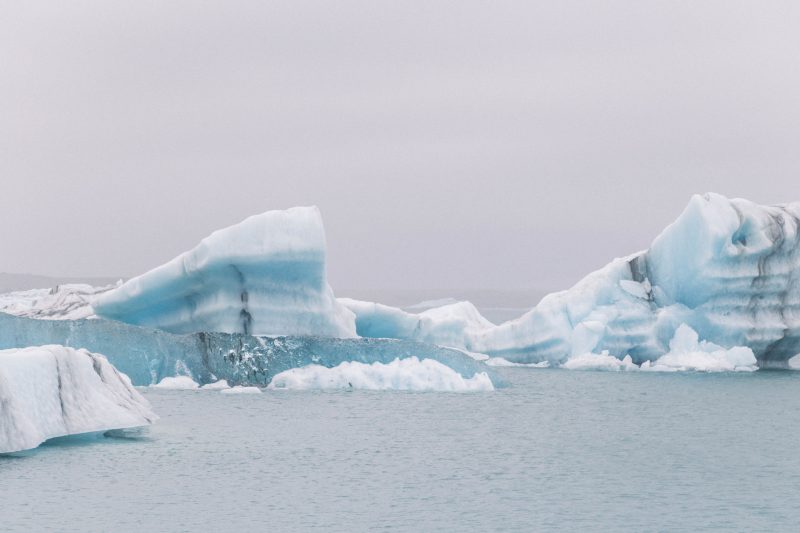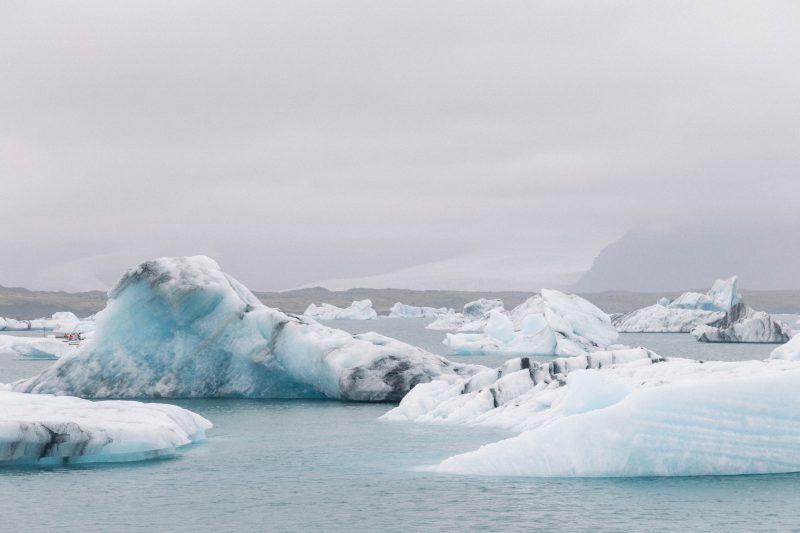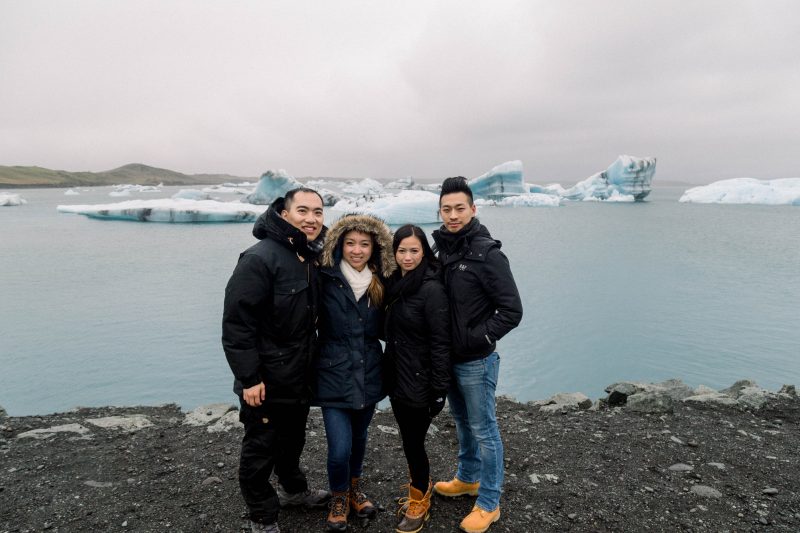 For dinner, we drove to the restaurant at Hotel Geirland. Whatever you do, get the lamp chops (if you're not vegetarian). They were freakin' delicious and not gamey. The stuffed hasselback potatoes were really good, too. As for the meat soup, I'd skip it.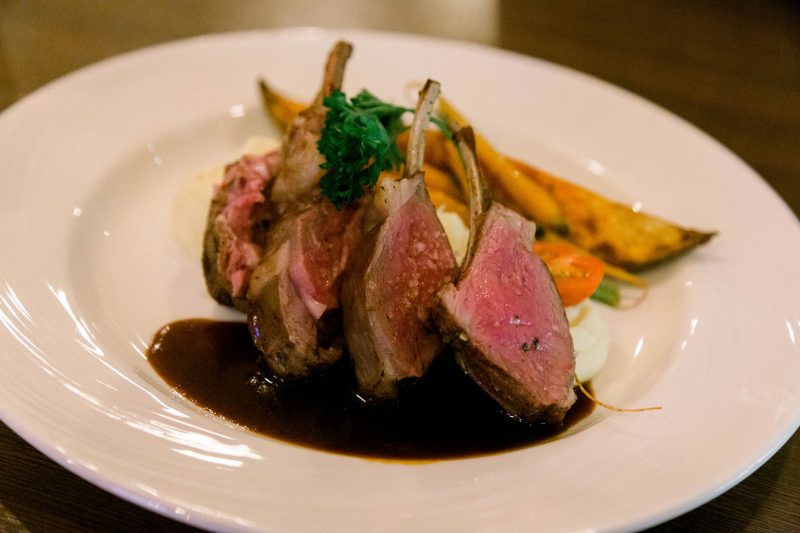 Day 6
When you envision Iceland, you probably think about the famous black sand beach and its basalt columns, Reynisfjara. In spite of the insane winds that day, we had to go see it. It was very foggy, so we couldn't see too much beyond the coast line but did witness a lot of tourists recklessly get soaked by the oncoming waves. The tide was so strong, someone could've easily gotten pulled into the ocean. Due to weather conditions, the area east of the cave was inaccessible. Even so, we saw a few couples taking wedding pictures out there.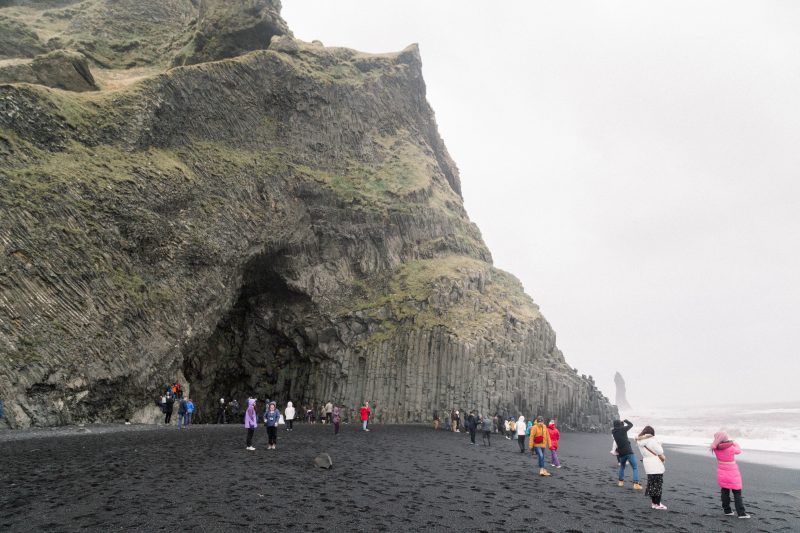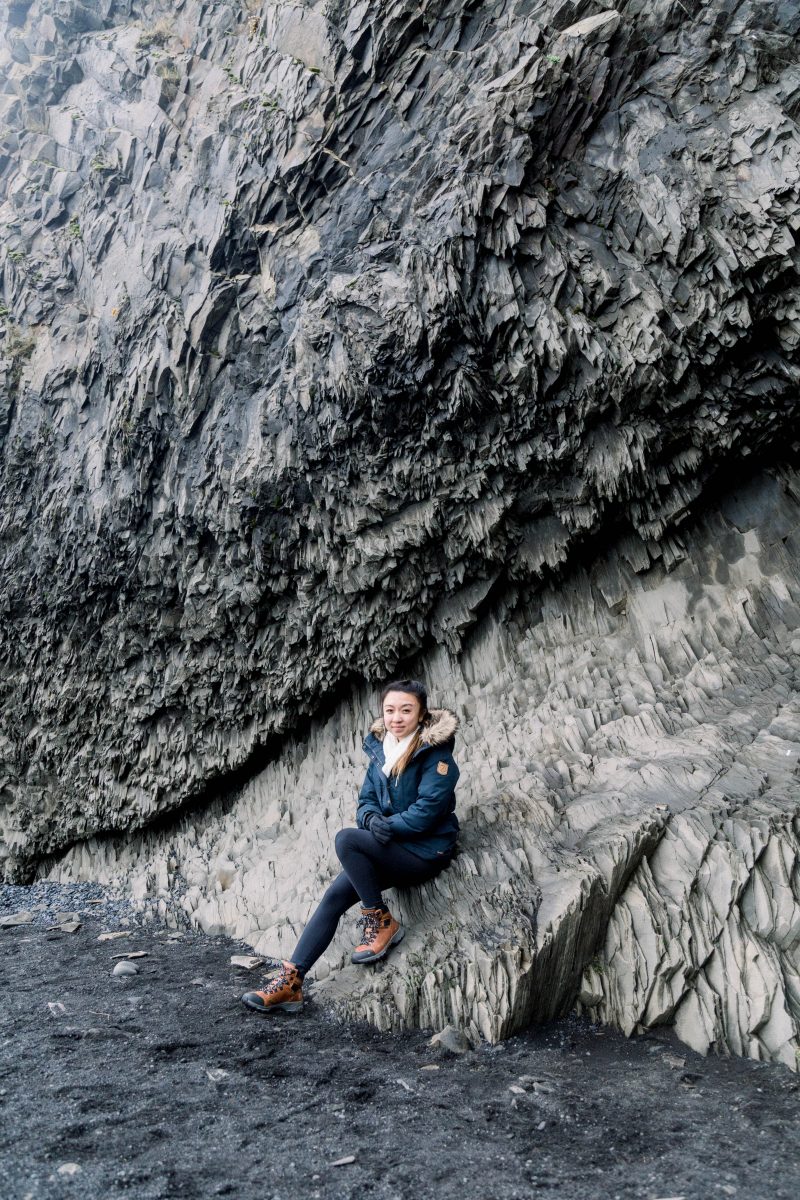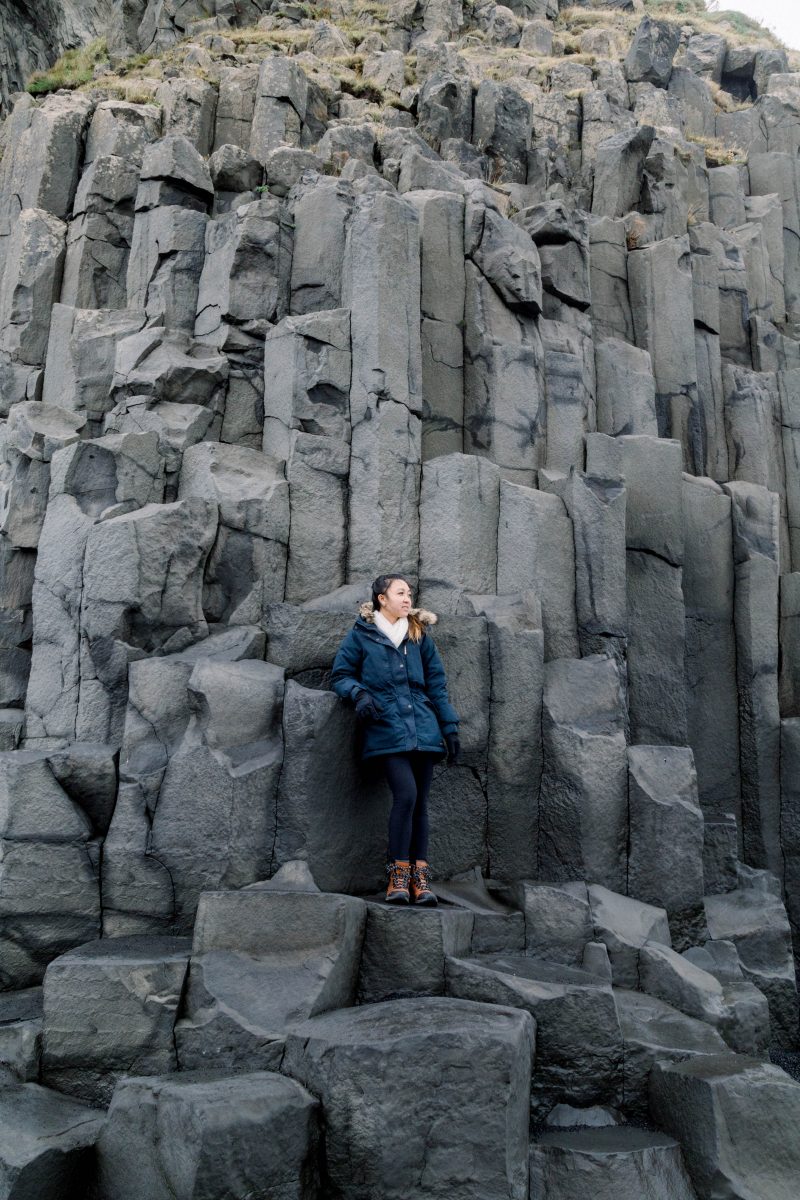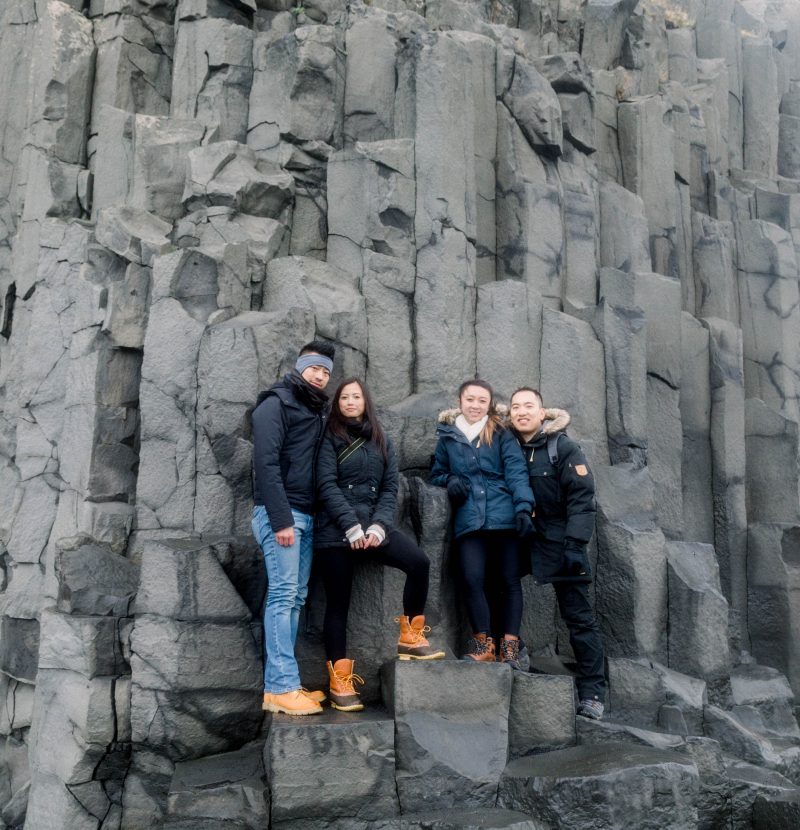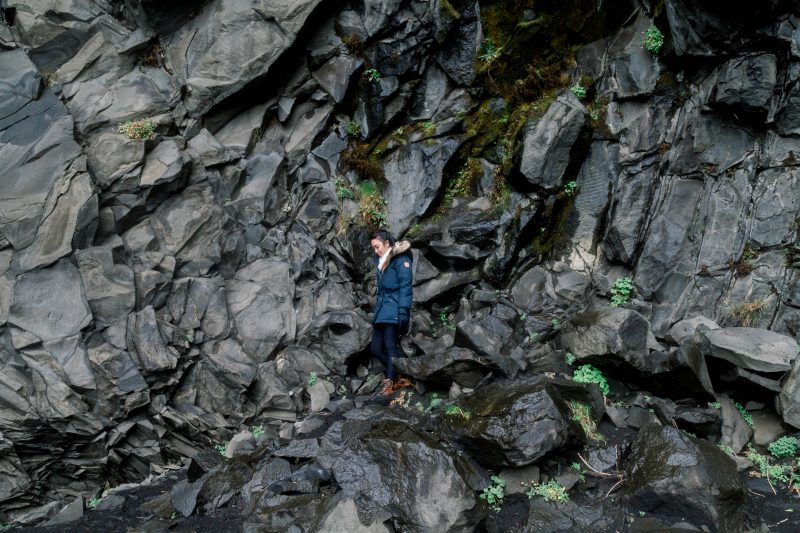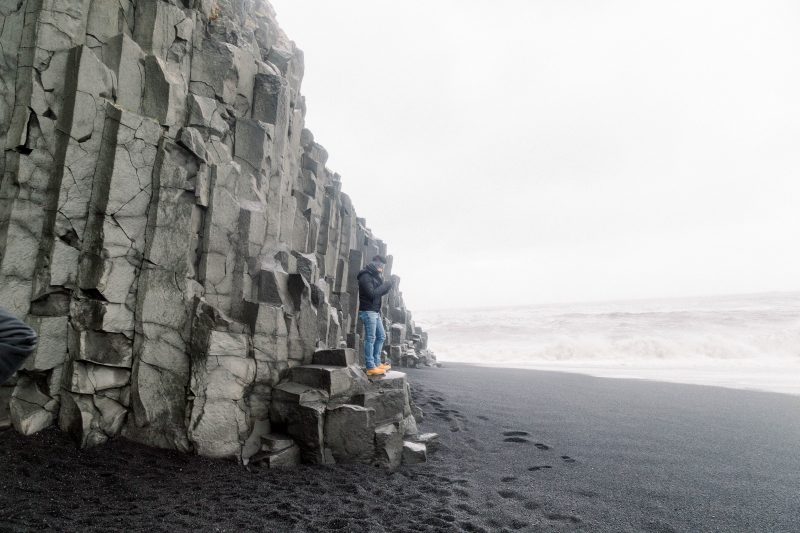 The winds only got progressively worse that day. Usually it might take around 45 minutes one way to walk to the Sólheimasandur DC-3 plane crash site. But we weren't even going to attempt it. Luckily, there's a shuttle service for 2000 ISK round trip. They must've been making a killing that day. When we got to the crash site, the winds got even stronger since there was nothing blocking it in the open field. We were being pelted by sand and rocks left and right and blown backwards, barely able to open our eyes. After spending some time walking around the plane, on which hanging parts surprisingly did not fly right off, we took the shuttle back.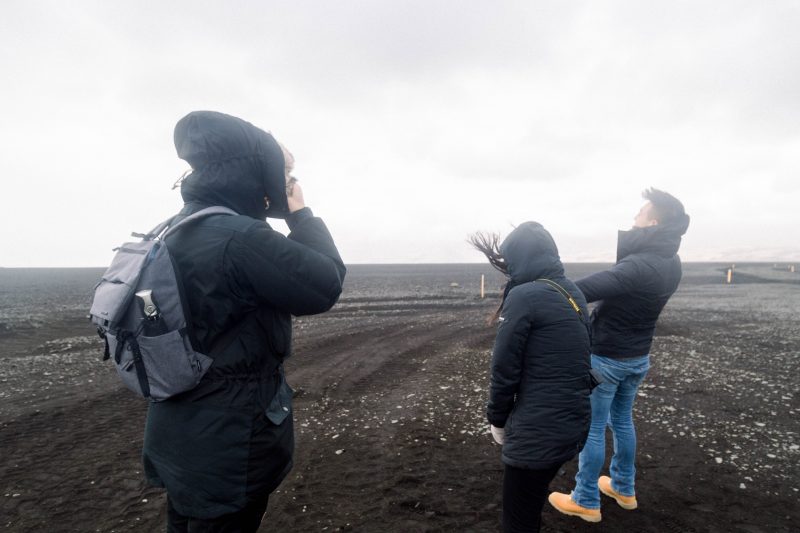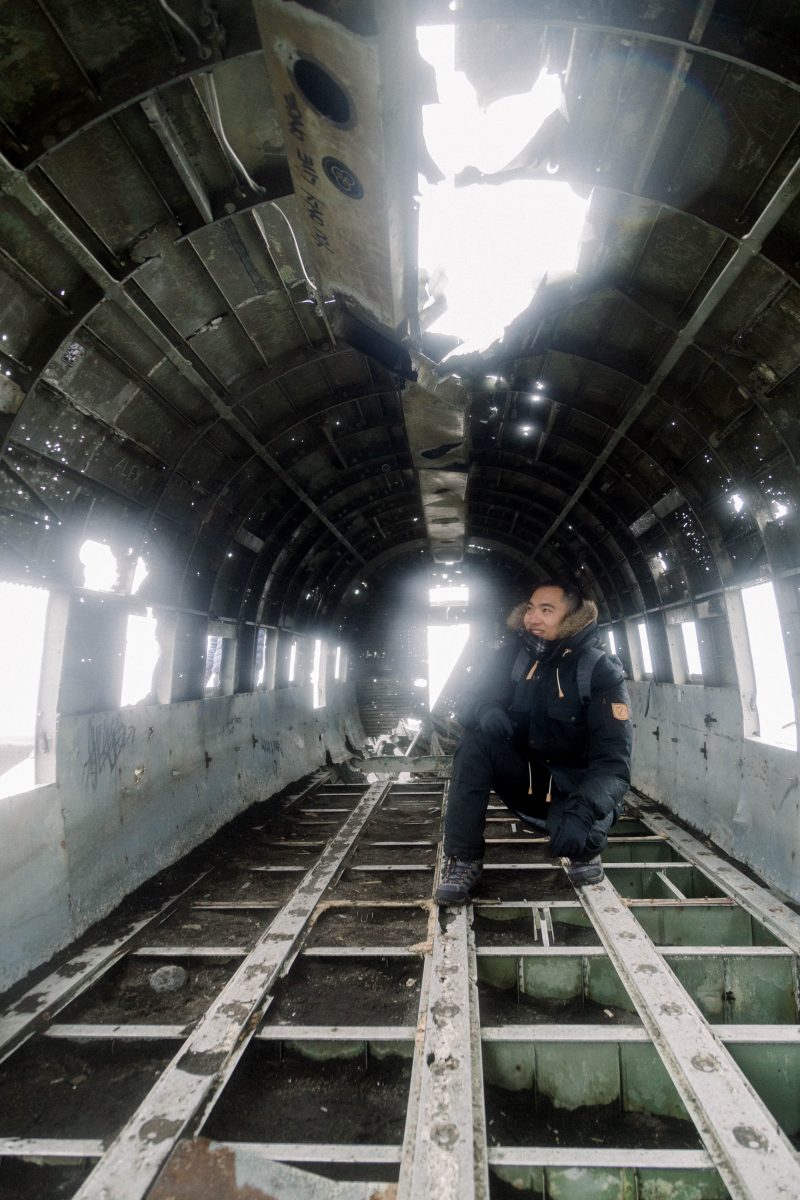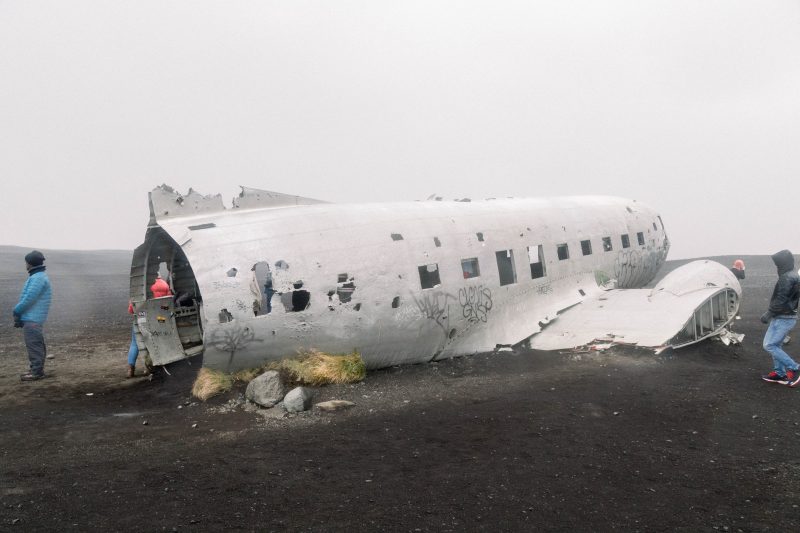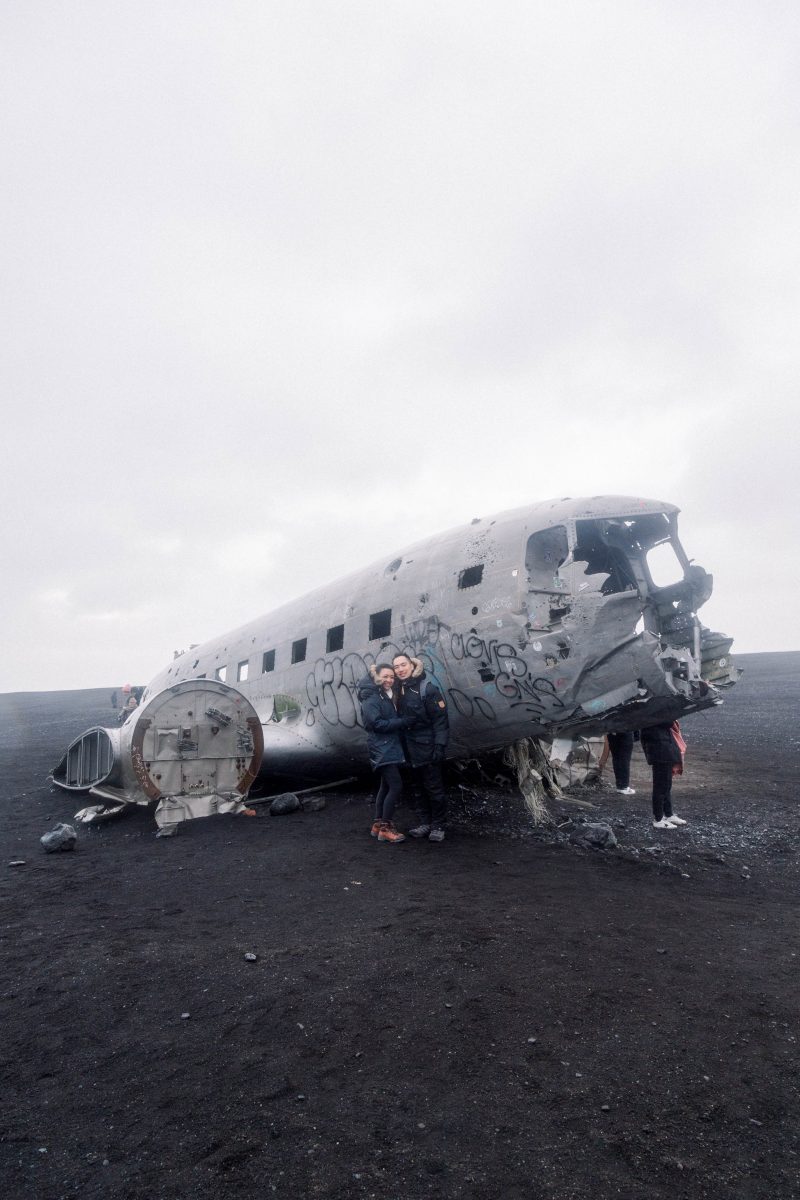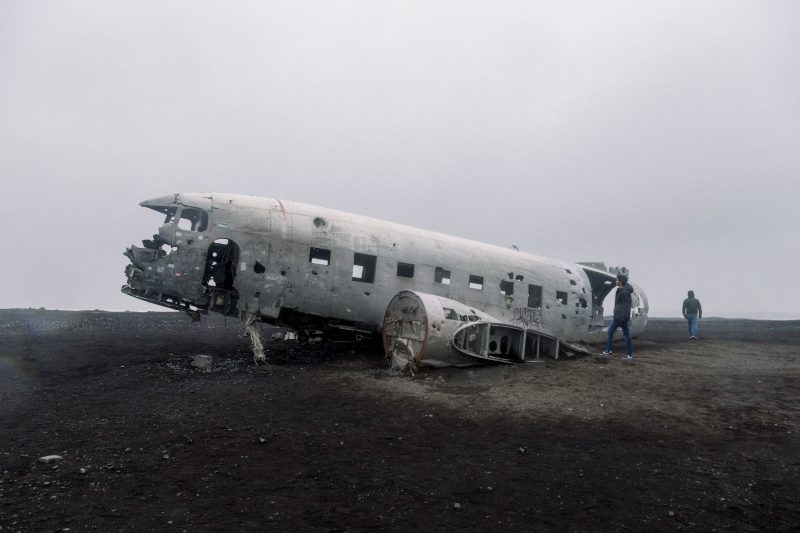 On a clear day, we would've visited Dyrhólaey. The lighthouse is only accessible by a 4×4. Smaller cars can park at the lower lot by the beach and then you can hike up. But we weren't about to attempt a hike after we could barely stand on level ground. It's supposed to be very beautiful, where you can see the coastline from high up, a giant lava rock that forms a hole jutting out into the ocean, and some more beautiful rock formations in Reynisdrangar. During the summer, it's also a good place to spot puffins. Alas, we got none of that.
Well, better get some dinner in the meantime then. We went back to Vik to dine at Suður-Vík. I was hoping to try the panang curry, but they ran out of chicken at 5pm?? Oh well. Most memorable of all was the delicious warm apple pie with homemade ice cream. Ugh. Melt-in-your-mouth goodness. It'd be a crime not to get it. And the truffle bernaise sauce that came with the ribeye steak was top-notch. I have to learn how to make it at home.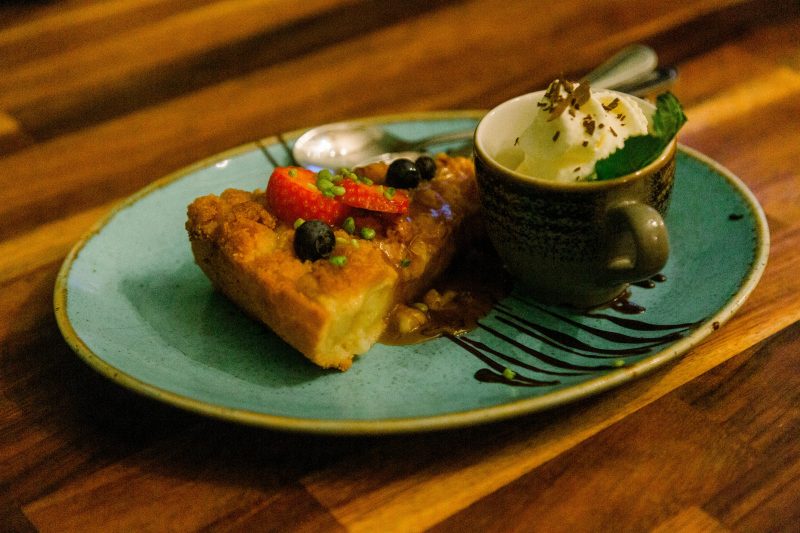 Day 7
Okay, day 7 was pretty much just non-stop driving back to the airport (you can gaze out the window to see moss-covered lava fields en route). We did stop by Hi Noodle in Reykjavik for a ramen lunch. It was decent if you're craving something warm and soupy. Our flight home was delayed, but overall I'd say we got pretty lucky with the weather during our stay. On the weekend we left, it definitely took a turn for the worse and flights were canceled altogether. There were some places I wanted to check out that we didn't get to, including the Fontana Geothermal Bath around the Golden Circle, Svinafellsjökull Glacier, and the river canyon of Fjaðrárgljúfur. If you have more time, stop by those areas, too! I think I'm ready for a trip to warmer climates now.