While our primary focus on the most recent trip to southern California was to take care of wedding stuff, we also decided to spend a few days in Arizona with our friends since we were nearby. Many thanks to Winnie, who helped plan our itinerary before the trip! We made stops at Phoenix, Grand Canyon, Page, and Sedona. I would say that photos don't do these places justice, but when is it ever better to look at an image than to physically immerse yourself at the actual location? That being said, I hope seeing these images encourage you to visit Arizona in person, too!
We first landed in Phoenix to pick up our rental 8-passenger SUV. Originally it was supposed to be a minivan for our group of 6, but for only $100 extra at Alamo we got the bigger vehicle for additional comfort and space to pack our luggage and provisions. Since we were going to be spending much of our time driving around (shoutout to Tie and Daniel), it wasn't a bad idea to invest a little more in our second-home-on-wheels. We also picked up Winnie and the M (nickname affectionally given to her mom) at their hotel since they arrived the night before. Due to a last minute change in plans, we decided to stay in Phoenix during the day and drive to Grand Canyon (~3.5 hours away) at night so we make the most of our limited daylight outdoors. After a quick and delicious brunch at Vovomeena, we drove to the nearby Desert Botanical Gardens.
Desert Botanical Gardens
One of my absolute favorite plants are cacti, so I was super thrilled to visit a place full of them (you don't see much of it in New York). There was a huge variety in this well-maintained botanical garden, including a special butterfly exhibit and some large-scale artwork by Jun Kaneko. The sun was blazing (it was ~90°F) with little to no shade (hats + sunblock are a must), but if there's a stereotype our group fulfills it is definitely the one of Asians who love to take pictures. With us, every moment is an opportunity for a photoshoot. Great place to spend a few hours.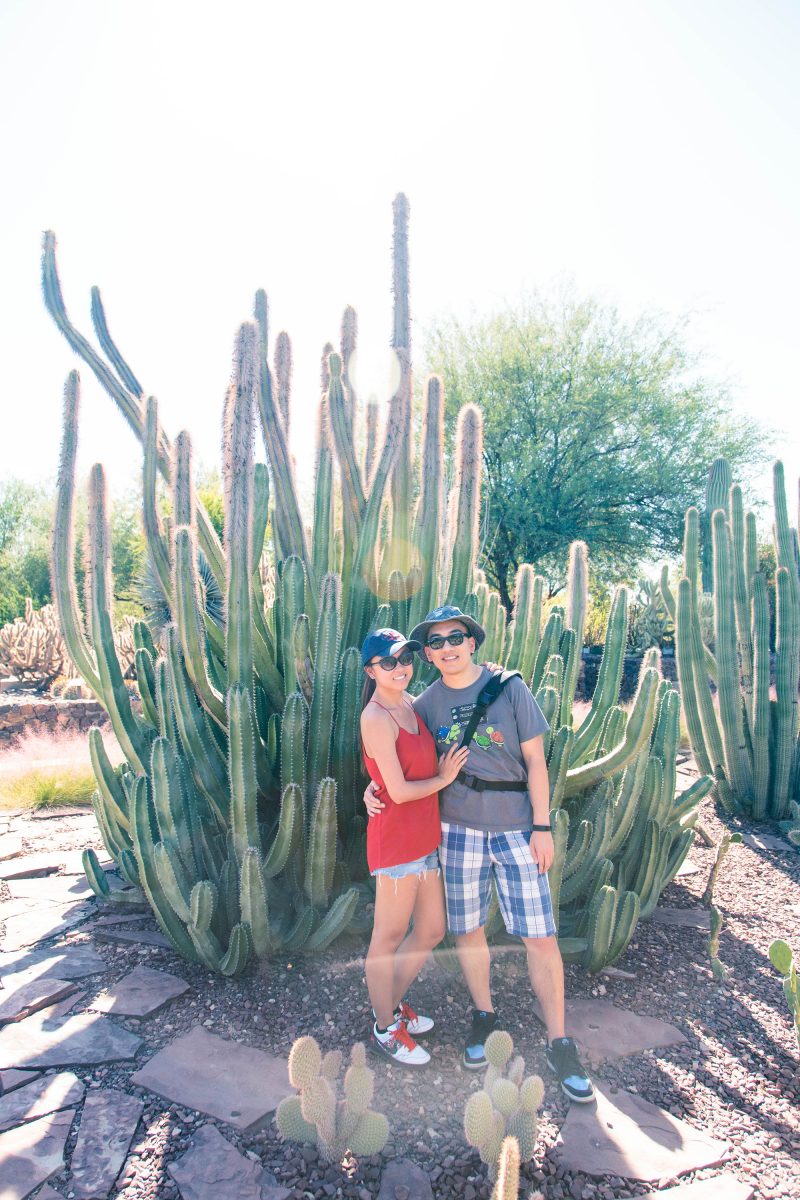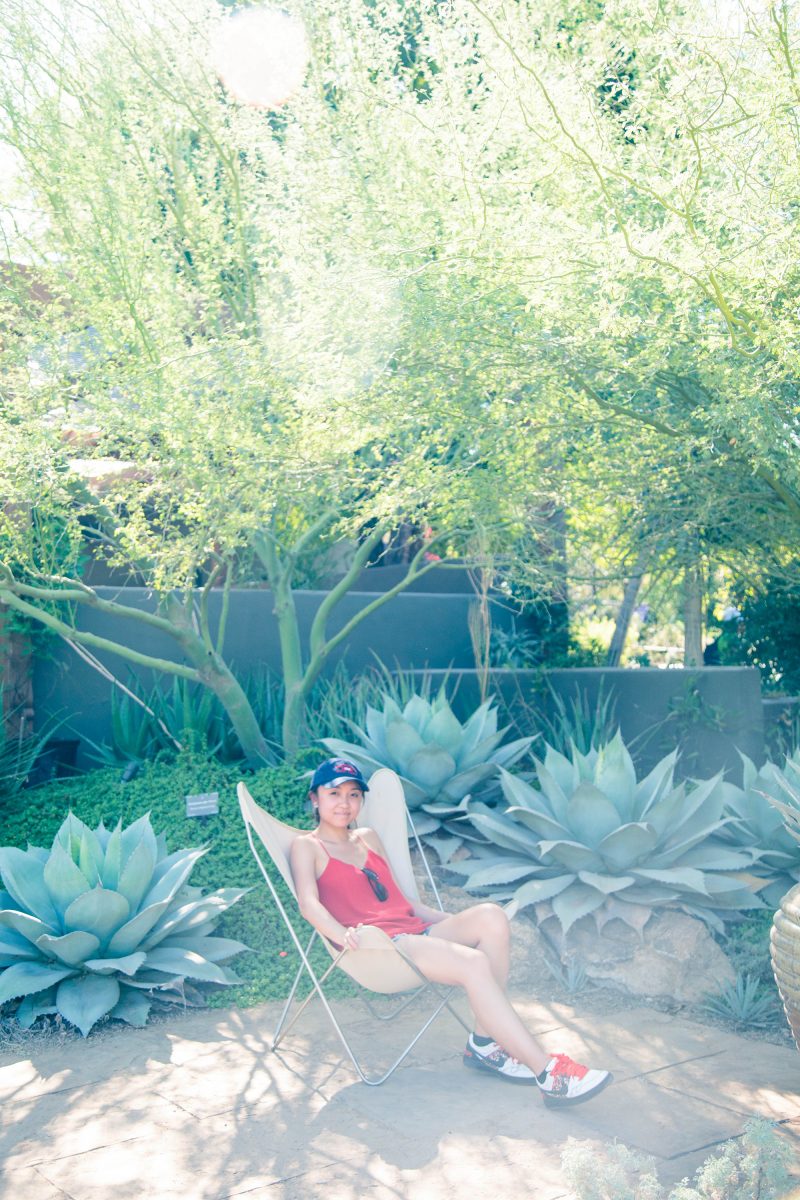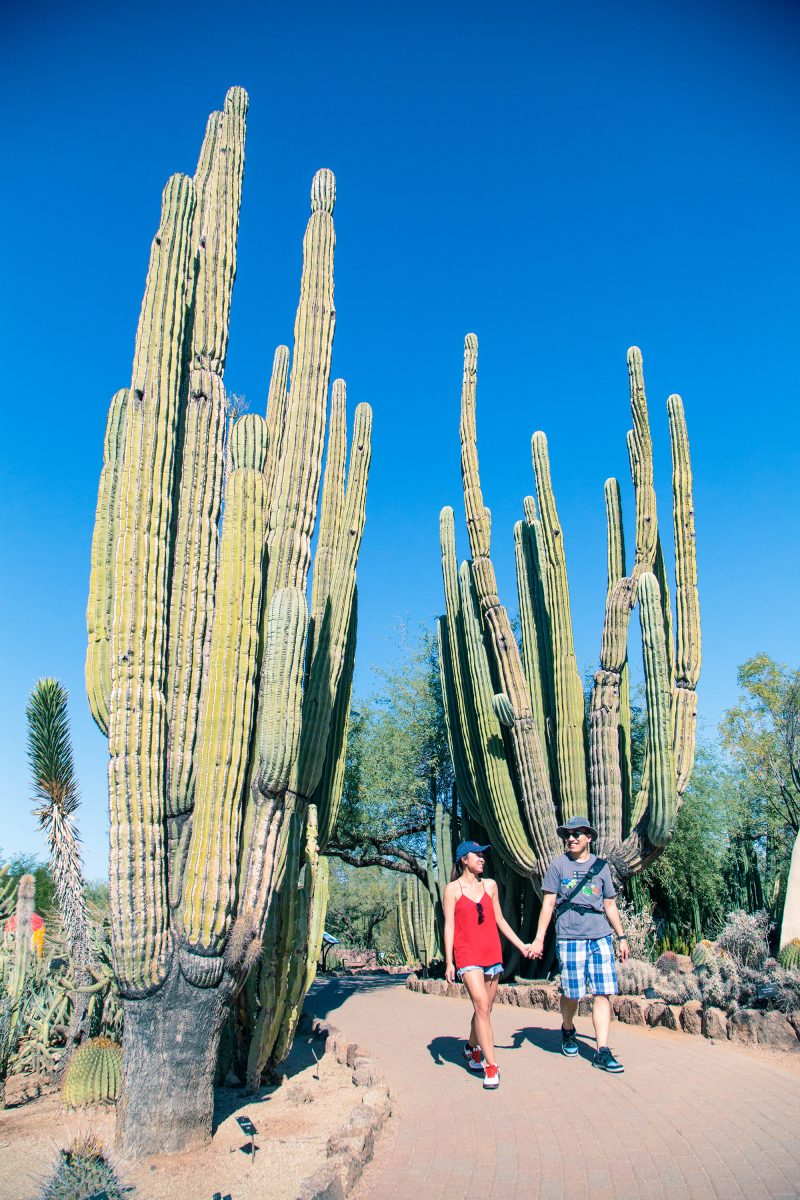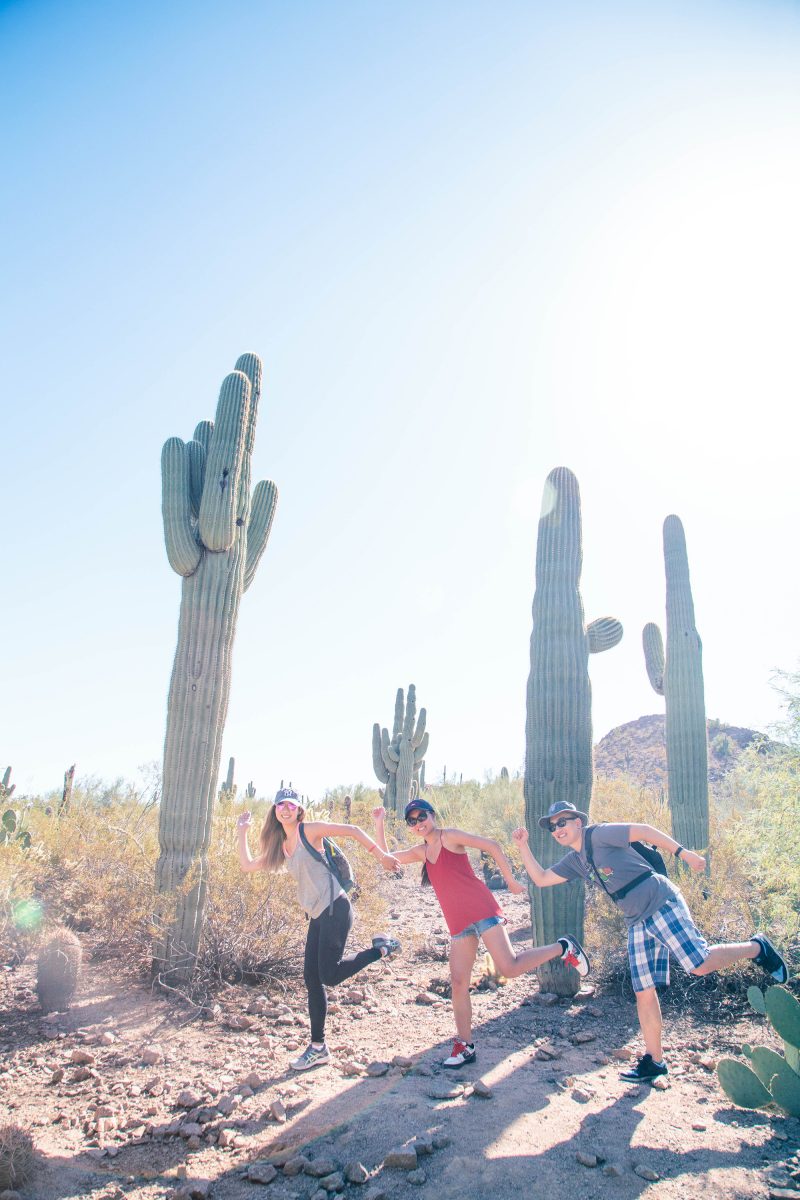 We traversed to Walmart to pick up some provisions for the road (drinks, snacks, etc). We didn't pass by too many non-fast food restaurants that opened late outside of major cities in Arizona, so we had to rely on cup noodles, yogurts and a whole lot of McDonald's french fries. My body was definitely not used to this unconventional diet, nor was my dry, cracking skin adapted to the arid climate. Should've brought more lotion and face masks.
Anywhos, skincare tips aside, when we arrived in the Grand Canyon area at night (we stayed at the local Holiday Inn Express & Suites) we realized another thing we were poorly prepared for. It was freakin' freezing once the sun went down, dropping to almost 35°F. Totally forgot that in the desert, days are hot and nights are cold. I mean, we had brought light jackets and cardigans but definitely made it a point to get the heck back in the car shortly after the sun goes down, moving forward. Pro tip: layer up!
Grand Canyon
The Grand Canyon is one of those places I have always dreamed of visiting. My heart was pumping with excitement when we drove into the park the next morning. During peak season, there is a purple shuttle bus that runs along a path lined with hotels and into the park, so you don't have to worry about not finding a parking space. We went around 9:30AM and was able to secure a spot by the Visitor Center, which was very convenient as that's the transfer station for the Red, Blue, and Orange shuttle buses inside Grand Canyon. We paid $30 for our one behemoth vehicle, which grants you 7-day access to the park. Very useful for people who intend on hiking. The general rule of thumb is for every one hour it takes you to hike down, it takes 2 hours to hike back up, so plan accordingly! A list of all the trails are available on their site here. With our limited time at Grand Canyon, we took the leisurely option of hopping on and off the shuttle bus, which actually came pretty frequently (~10-15 minutes).
Having heard that the Red Route (the longest route at approximately 80 minutes round trip) is the most picturesque, we started there and made our way around the south rim of the Grand Canyon. The railings that keep you from falling to your death are pretty minimal, but they get the job done without looking horrible in pictures. There are also areas with no barriers at all and it was super windy at times (what do you expect from a giant hole in the ground) so we took caution not to stand too far out. It wasn't a particularly cloudy day, so the views were fantastic. It absolutely boggles my mind that this entire landscape was carved out by the Colorado River over the course of 5 million years. And that we happen to be here in this moment of time to revel in this masterpiece. It really puts history in perspective and teases the imagination to envision that this was all covered by a large body of water at one point. One day I would like to look upwards from the bottom of the canyon.
By the way, I'm so glad we went during the off-season (late October) because it did not feel crowded at all and the temperature was comfortable enough during the day that we were able to continue walking around without stopping much or feeling dehydrated.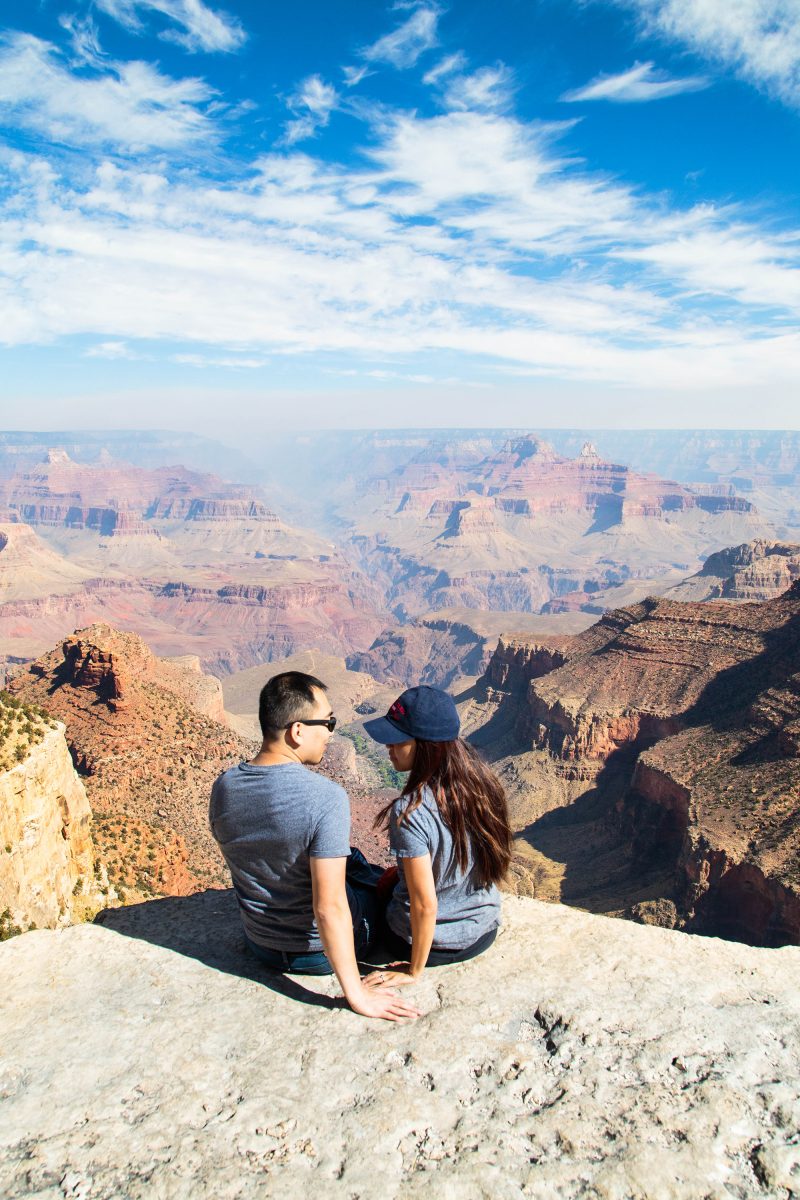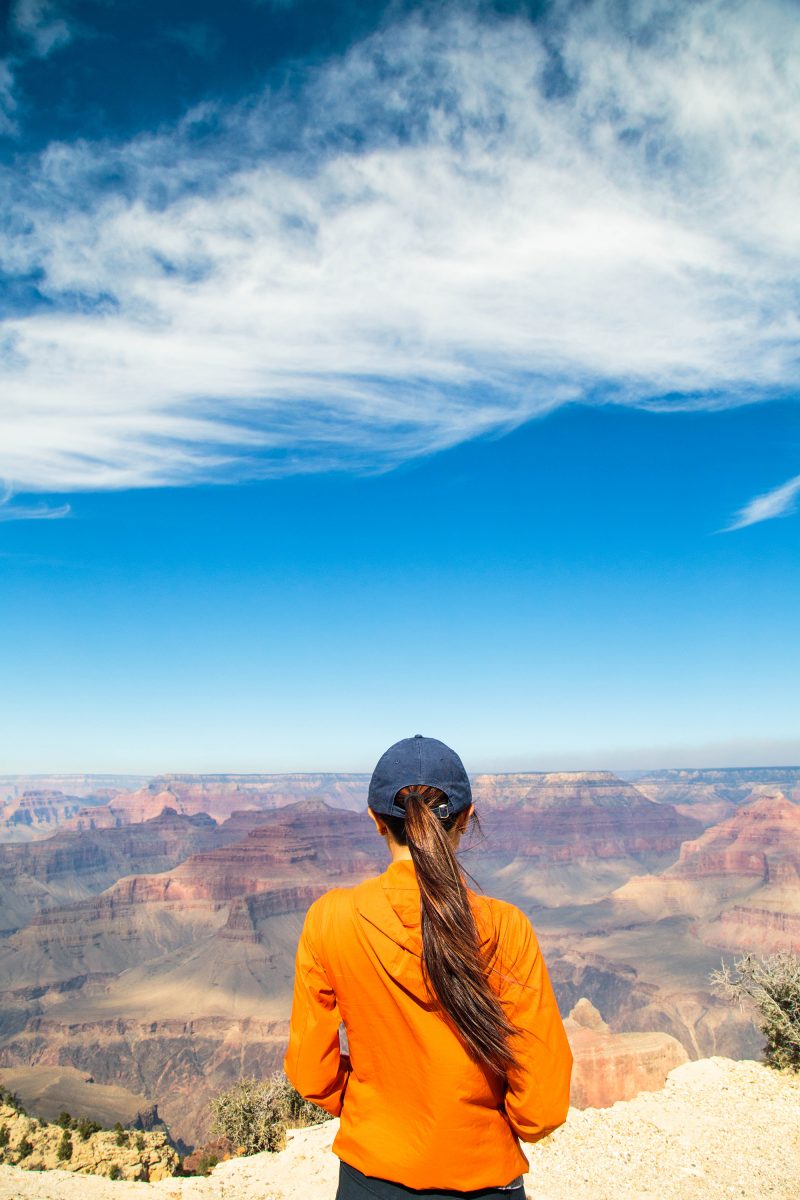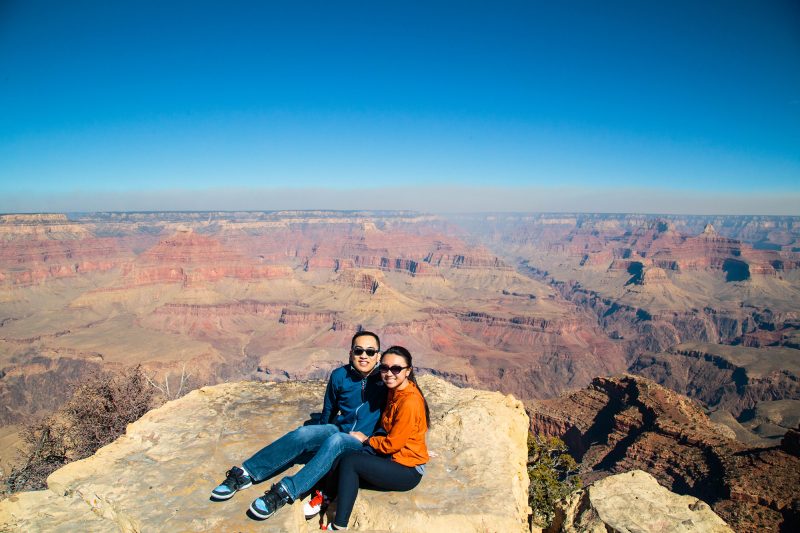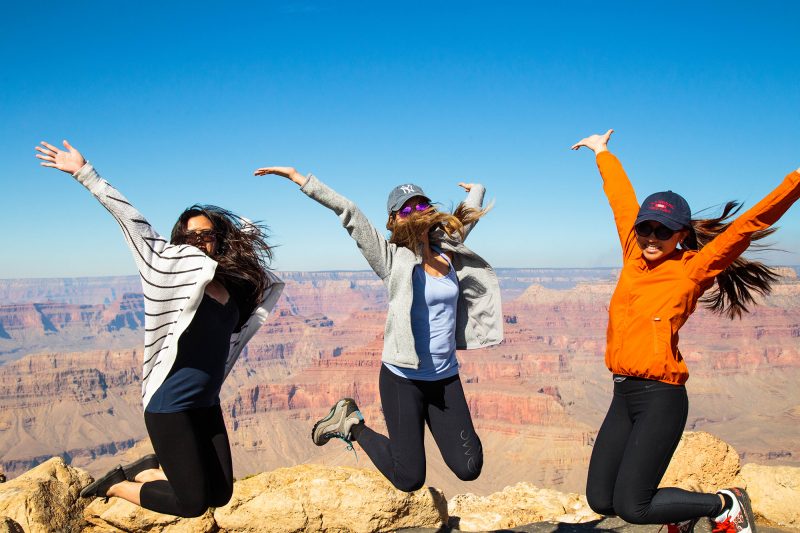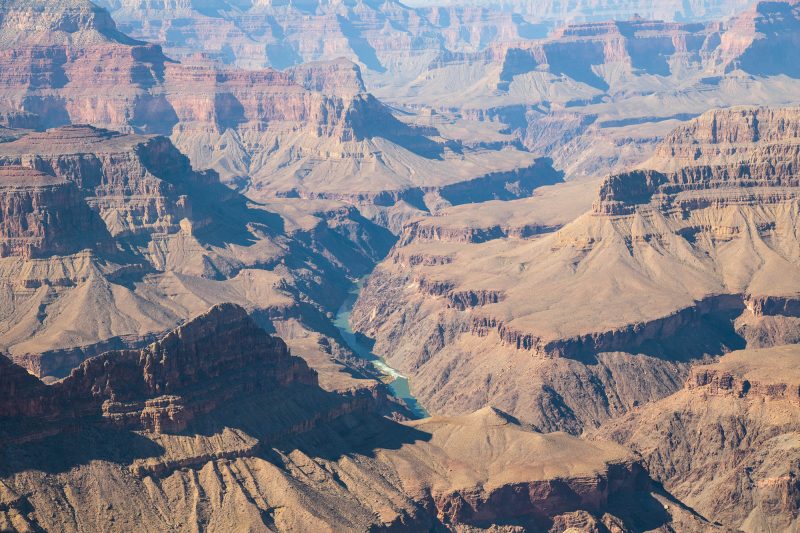 Admittedly, after a while it's hard to distinguish one part of the canyon from another spot several meters away, and we were getting hungry. There are not too many food options within the park (we should've brought more than a single bag of chips), so we took the bus to the blue route and ate at Bright Angel Restaurant. Huge portions, mediocre food, but at least it wasn't expensive ($9 for a giant bread bowl of chili). It was getting late so we had to take the bus back to Visitor Center and transfer to the orange line for a good sunset view. That ride from the blue route to the orange one took forever and the sun was practically completely set by then. Disappointed! When we got off at the transfer stop, I just ran to the nearest rim view to catch the last of the sun. Managed to get one good pic at least. And so concludes our day at the Grand Canyon.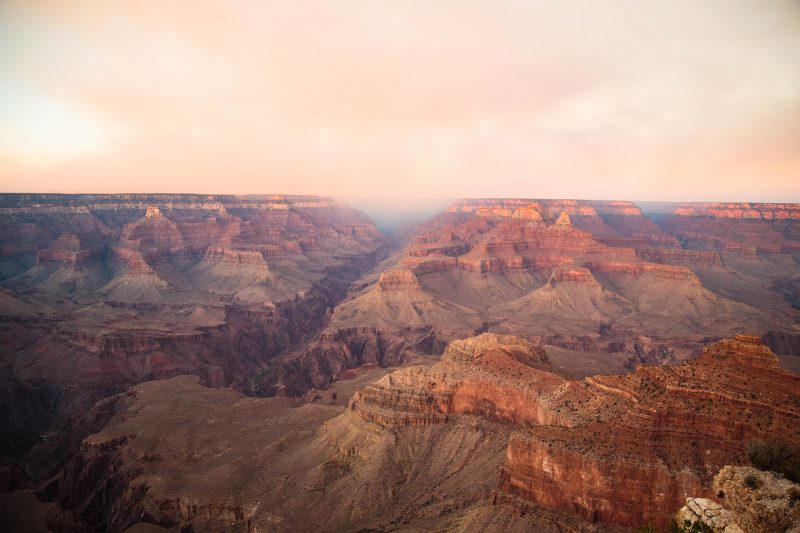 That night, we drove 2 hours to Page, the next city on our itinerary. If you've ever seen images of Antelope Canyon and Horseshoe Bend, that's where they are located. We stayed at the Courtyard Marriott, which had an exceptional lodge-y feel and clean, spacious rooms.
Antelope Canyon
Antelope Canyon has both an upper and lower section, and Winnie had helped us get tickets to the lower canyon prior to the trip. You must book a tour to gain access inside, and we went with Ken's Tours for $25 a person with an $8 Navajo fee on top (it's on Native American land). Our time slot was at 10AM (had to get there half an hour early to check in). Generally Lower Antelope Canyon is slightly less crowded, but it doesn't get as much natural light as Upper Antelope Canyon. In the middle of the day, you can see light beams shining into the canyon like some divine intervention (they throw sand in the upper portion so the light is more visible…could get dusty). In the lower section, we had descend some stairs and ladders. Had to carefully watch our step, especially because it's very narrow inside certain sections. Do note that Go Pros and videos in general were not allowed.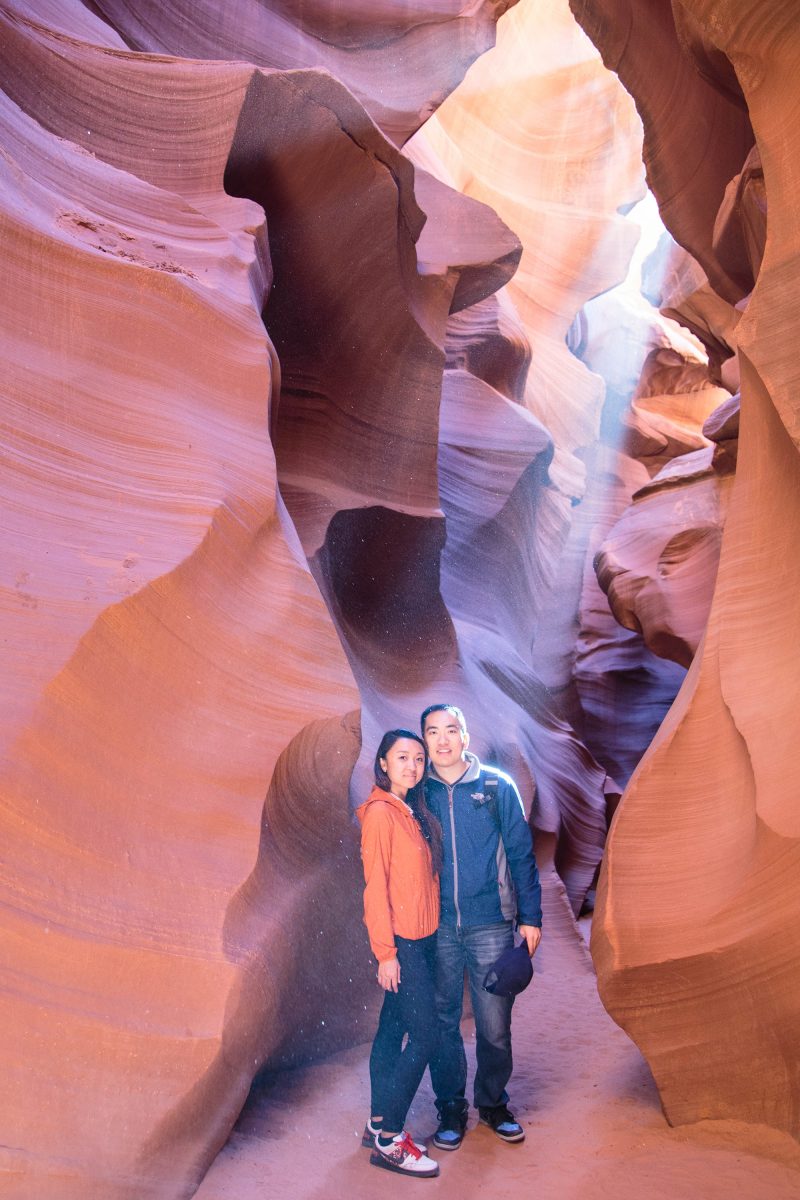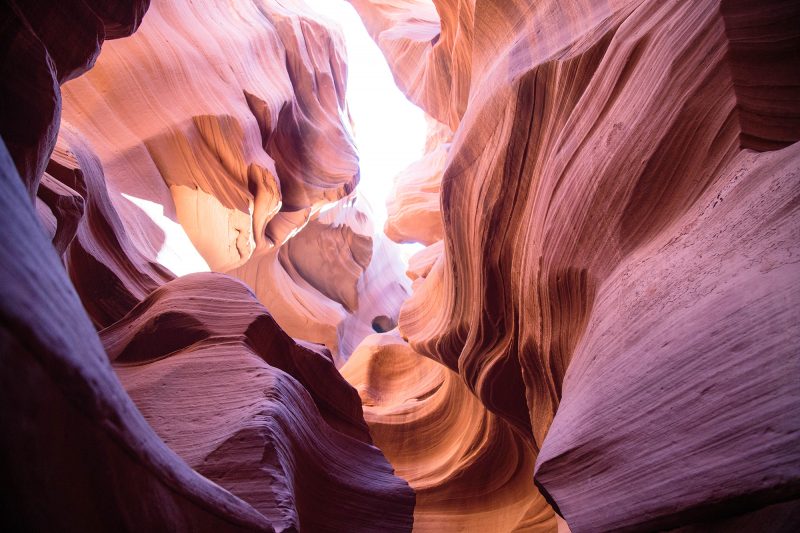 Overall, yes, Antelope Canyon does look as good as your Windows 7 wallpaper would have you believe. It just wasn't very fun being quickly herded around like sheep. We were only walking around for an hour and were constantly pressured to keep moving instead of leisurely spending time to take some nice pictures because there were so many tour groups. Probably would not be returning to check out the Upper Antelope Canyon, as I suspect the experience might be similar.
Horseshoe Bend
Another location you may see often on Instagram is the Horseshoe Bend. There's no admission fee required here. We just parked our car in the lot and walked on the short trail leading down to it. Not really much of a hike, but it does get pretty sandy. From a steep cliff with no barriers, you can look down at the Horseshoe Bend, also formed by the Colorado River in an especially meander-y section of it. It was way deeper than I thought, at a 1,000 drop. Whip out those iPhone panos and wide lenses because it's tough to cover the entire bend otherwise. We saw some people rest on a piece of rock jutting outwards, but being a very risk-averse person myself, I opted to stay a safe distance away from the edge. Not much else to do here. Just snap some pics and bounce.
Monument Valley
With some time left before sunset, we made a detour to Monument Valley / Oljato Monument (~2-3 hour drive). By the way, on Google Maps you should direct it to Monument Valley Visitor Center instead of just Monument Valley or it will take you to the wrong side of the highway. Monument Valley runs across both Arizona and Utah, so you can actually enter it from either state. For those of you who watch Westworld on HBO, this may look very familiar. But actually the show's landscapes were shot in Castle Valley, Utah, which bears similar rock formations. The Visitor Center provided some information about the history and residents of this area and includes a nice little gift shop where I bought a beautiful Navajo vase. They have tours into the valley and a scenic drive, both of which require admission fees. But it was getting close to sunset already and to be honest, the panoramic view from the Visitor Center was hard to beat. So we just stuck around there to admire the scenery, free of charge.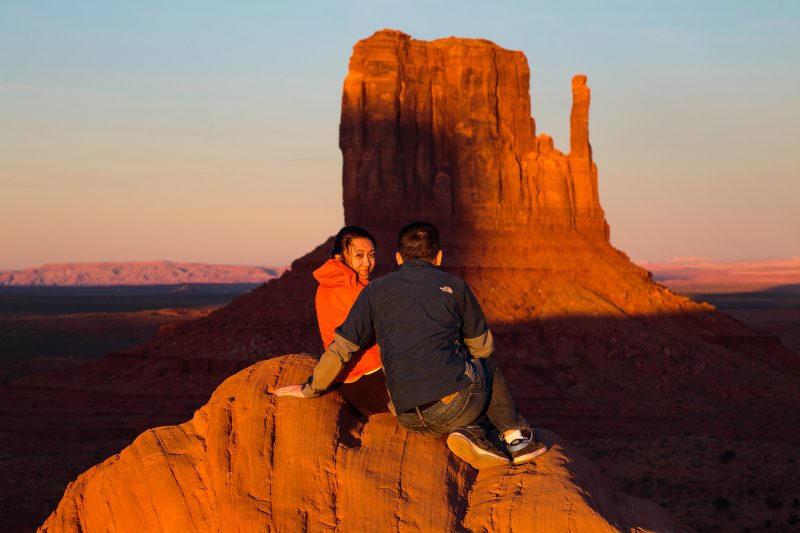 Sedona
Our last day was spent at Sedona, another city in Arizona. Driving there the night before was a little scary, as the windy road down the mountain was poorly lit and narrow. Unlike the other places we've been to thus far, however, Sedona was filled with shops and restaurants. During the day we got a very charming western town vibe walking around the city (we stayed at the nearby Hyatt Residence) with the beautiful Sedona red rocks as the backdrop. But first, Winnie booked us a two-hour pink jeep tour in the morning. Our guide made a bunch of wonderfully lame puns and drove along the rocky trails as we bounced up and down on the bumpy ride (hint: it's less bumpy if you sit towards the front). We stopped by several scenic spots for photo ops. Make sure to wear shoes with decent grip for walking up the steeper rocks. The views were fantastic – it's no wonder why so many old westerns were filmed here. We saw some bikers riding along the edge of the mountains…a little too adventurous for my taste. The tour was $120 per person, which was kind of pricey, but worth it to see the red rocks up close. You could also rent an ATV, but this was the safest option.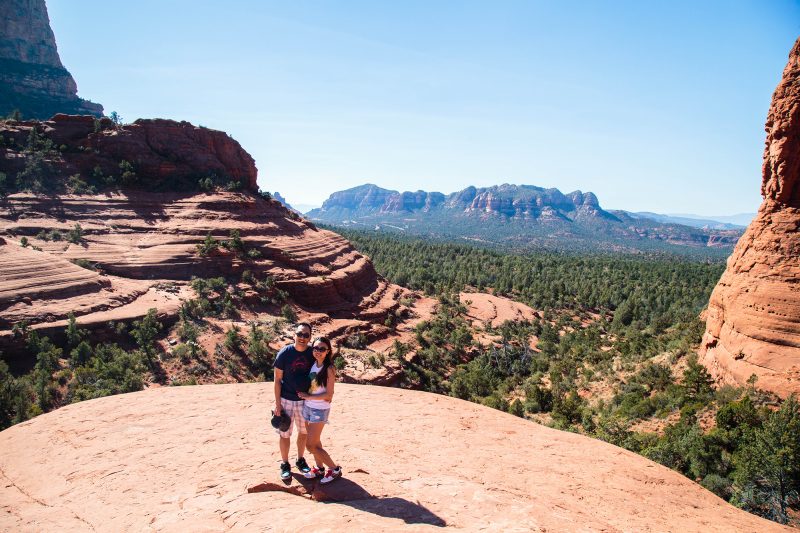 After the tour, our group split up and Tie and I went window shopping around town. There were healing crystals and other meditative goods being sold everywhere. I imagine it'd be a good place for a hippie-ish retreat? Was definitely tempted to get a Himalayan salt lamp for its cleansing properties. There were also a bunch of art galleries around town.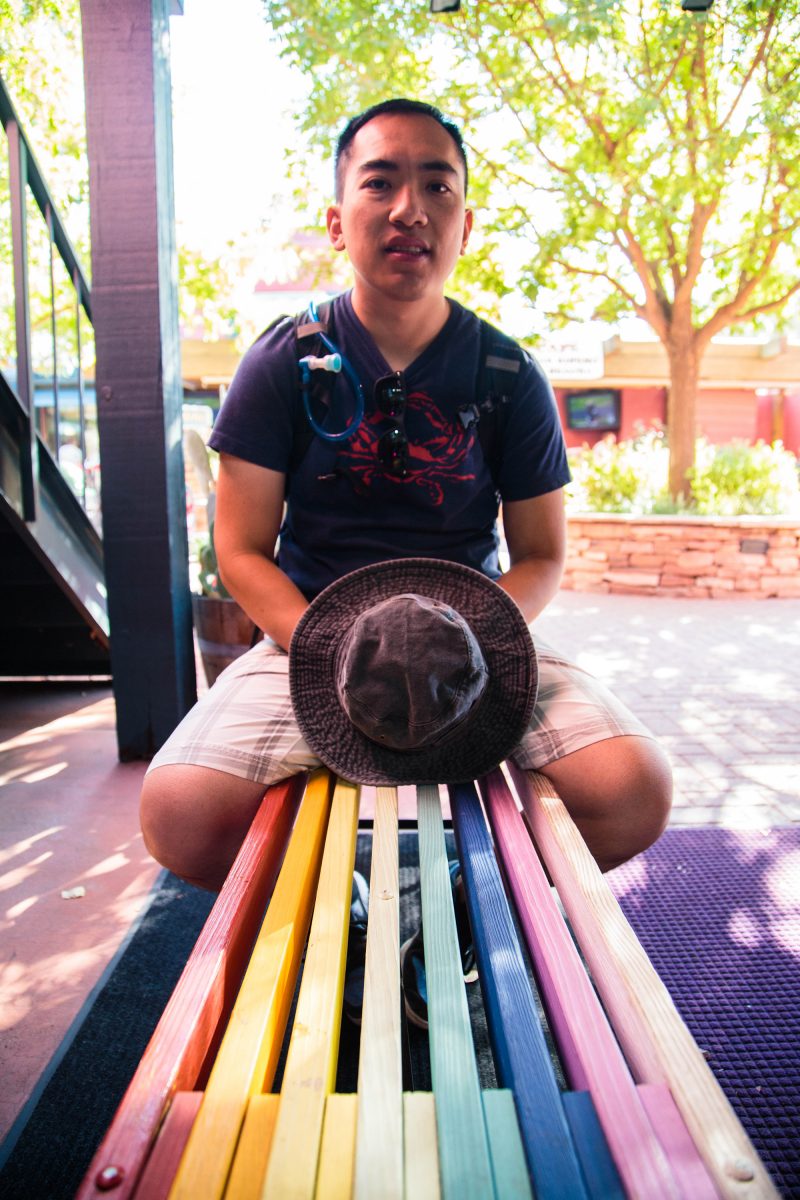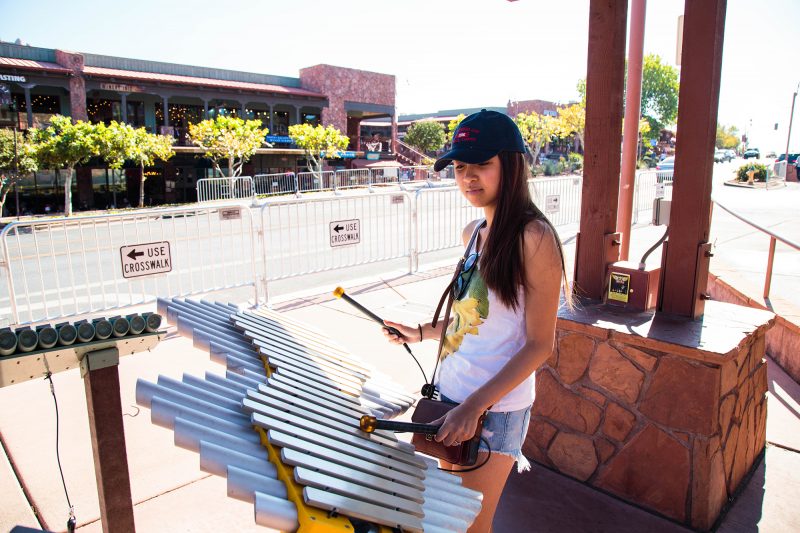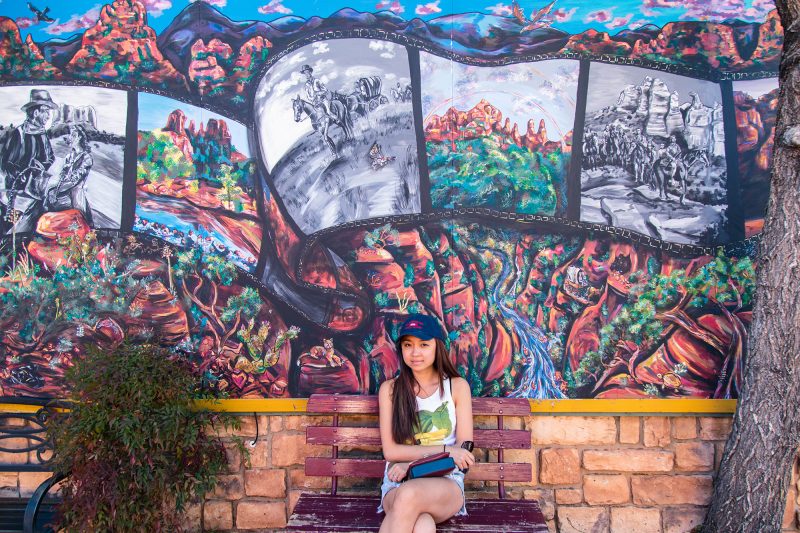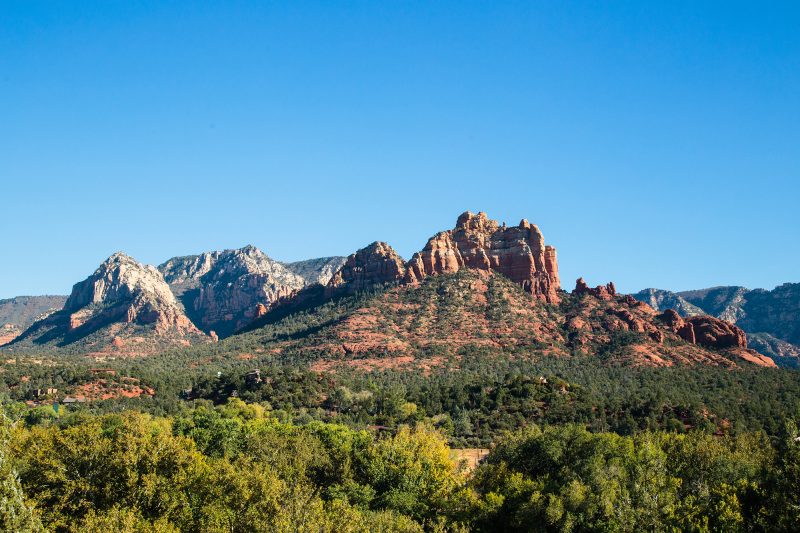 We stopped by the Tlaquepaque Arts & Crafts Village, where they happened to be celebrating Dia de los Muertos (Day of the Dead). There were performances, free face makeup tents, food and gift vendors, and skeleton decor throughout. Wish we could've stayed longer to enjoy all the festivities, but we were in a hurry to make it to dinner on time.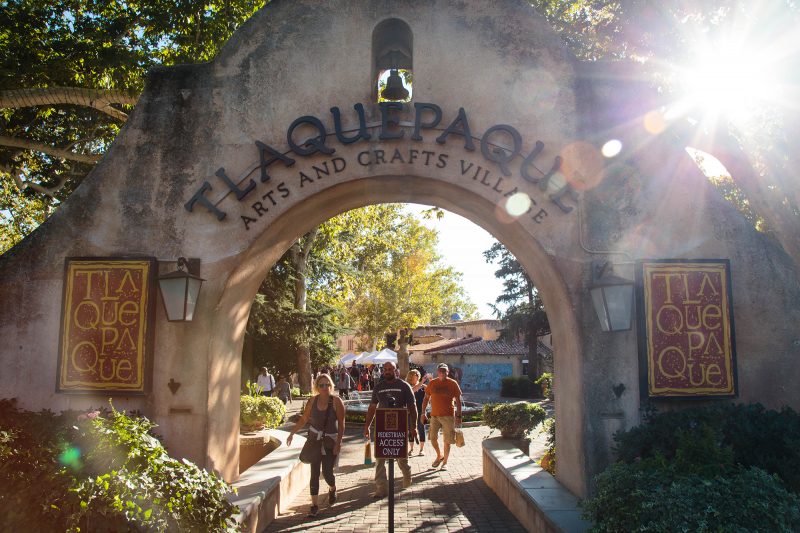 Elote Cafe is one of the most popular dinner spots in Sedona, with lines forming from 4pm onwards. Luckily, we made the cutoff to be one of the first groups let into the restaurant right after it opened and got a table outside so we could watch the sunset. They served Mexican fare and had beautiful blankets draped over the chairs in case it got cold. As the name suggests, this restaurant was known for its corn (off the cob) so we had to try some. It was decent, though a little too sweet for my liking. The rest of dinner was above average, but I can't say it was too memorable. Still, we were all just happy that we didn't have to eat fast food anymore after being starved for options while on the road for the past few days.
Finally, it was time for us to fly back to New York to cold weather. I'm glad us city folk got a chance to explore the great outdoors, if only for a while 🙂