When we went to Kyoto, it was during cherry blossom season so we were hoping to get some beautiful sakura in our photos. But as we quickly learned, even though it was in full bloom in Tokyo, that was not necessarily the case in Kyoto. It's pretty tough to plan a trip right around that season because the sakura are only really up for about two weeks before the leaves come out and they all drop to the ground. So whenever I see them, I always try to get them in the frame!
We were only in Kyoto for about two days, but the bus is very accessible so you can quickly move from one place to the next. There are a ton of temples and shrines, but since we were only there for a short time, we limited ourselves to the most popular ones.
First stop is Fushimi Inari-taisha, the site of one of my favorite scenes in Memoirs of a Geisha. I love the rows and rows of orange torii gates, donated by businesses in hopes of prosperity, leading up to the shrine. It was really crowded that morning and unfortunately we did not have a whole lot of time. I suggest going even earlier, like around 8am, so you can have enough time to get all the way to the end. I figured it was more of the same, so we only walked through a part of it. Towards the end there will be fewer people and a higher chance you can take some unobstructed selfies. It seemed like it would be a perfect spot for wedding photos, too. And indeed, there were people taking wedding pics.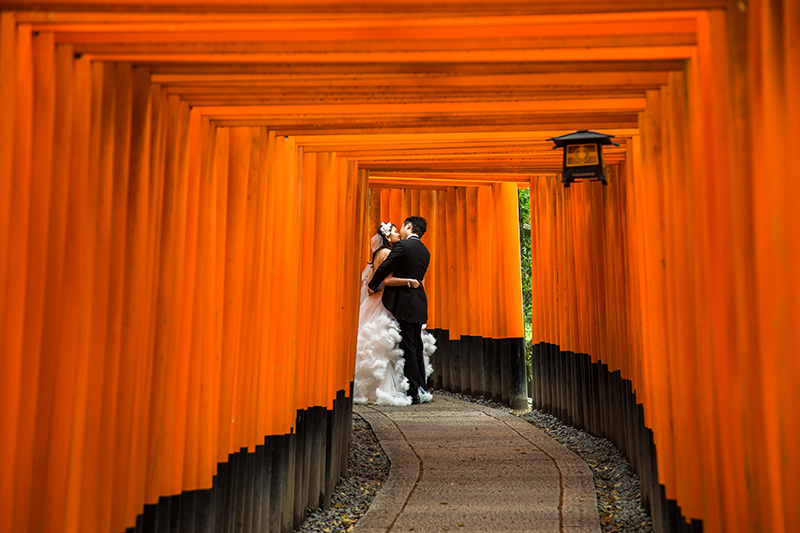 Fushimi Inari-taisha is a shrine honoring Inari, the god of rice, and usually paired with fox motifs. The fox is a messenger and often seen with a key in its mouth that opens the rice granary. In most shrines you can purchase a wooden wishing plaque on which to write your hopes and dreams. In this particular shrine, they're shaped like foxes 🙂
Next up, we headed over to Kiyomizu-dera, which is a temple named for the pure water of the Otowa Waterfall. This is by far one of the most popular tourist attractions in Kyoto. Admission was only about 300yen, and you get a pretty pink bookmark as your entrance ticket. There are a lot of tourists in Kyoto who rent yukatas and get all dolled up when they visit shrines and templates. We saw a lot of them here; sometimes it's tough to get a photo with sakura and without a yukata-clad girl getting in the way.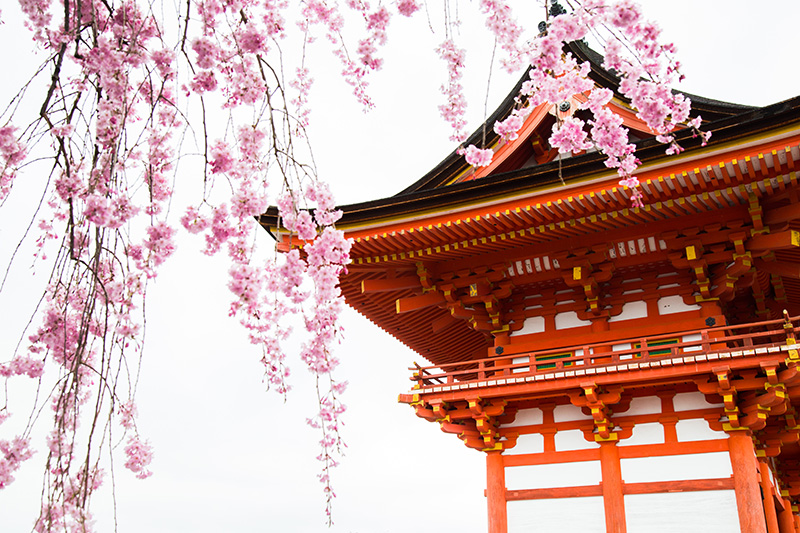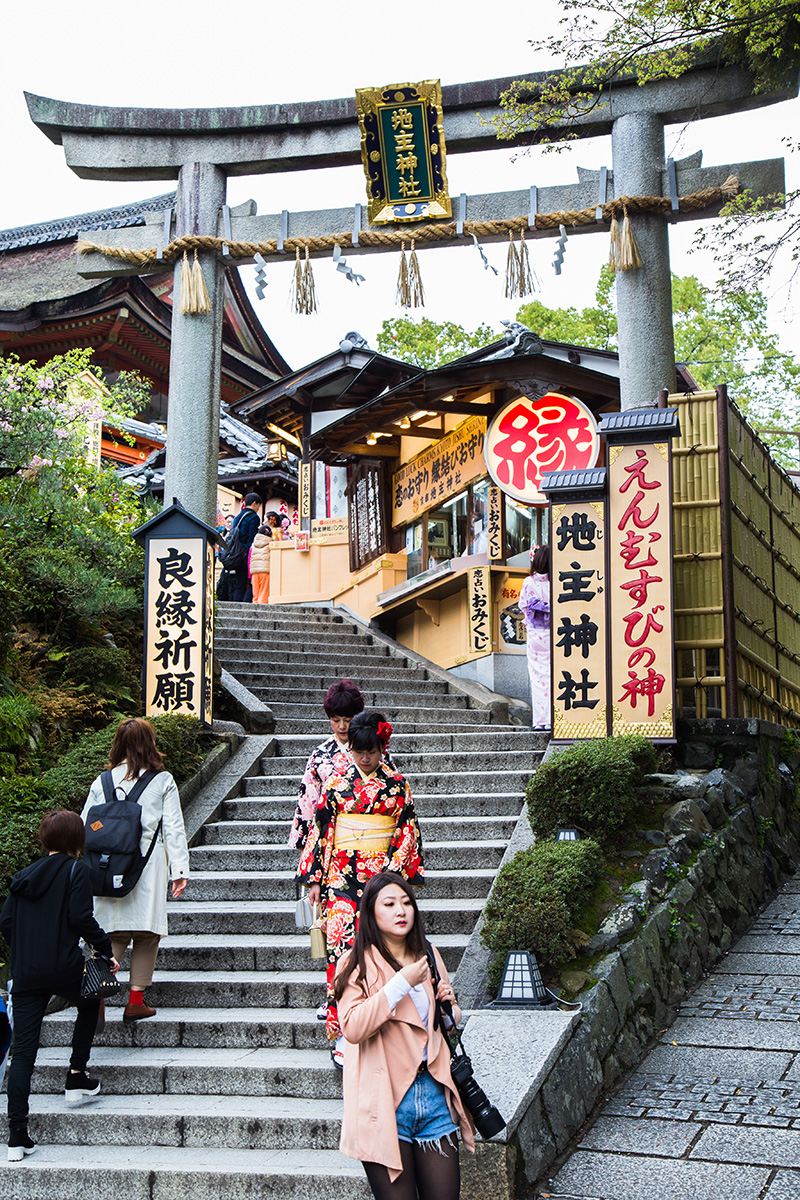 The wooden stage is perhaps the most Instagrammed part of the temple. Below, you may see either beautiful sakura or fall foliage. But like I said, it's tough to get the timing exactly right and the cherry blossoms were kind of sparse. Still beautiful, though!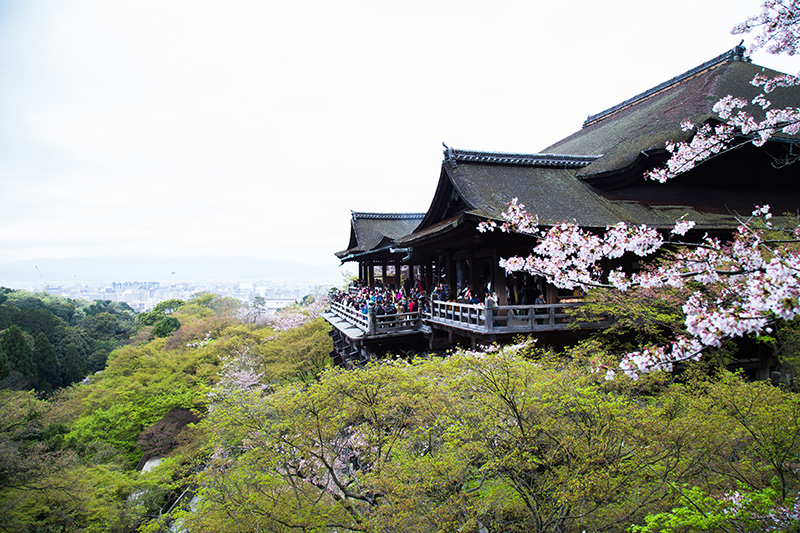 If you're looking for a slightly quieter and tranquil change of scenery, visit the Arashiyama Bamboo Forest. To tell you the truth, I thought the forest would be a lot bigger. But nope…we finished walking it within half an hour-ish. Even so, it was unreal standing under so many massive bamboo stalks. Kinda reminded me of the game Bushido Blade, just way cooler.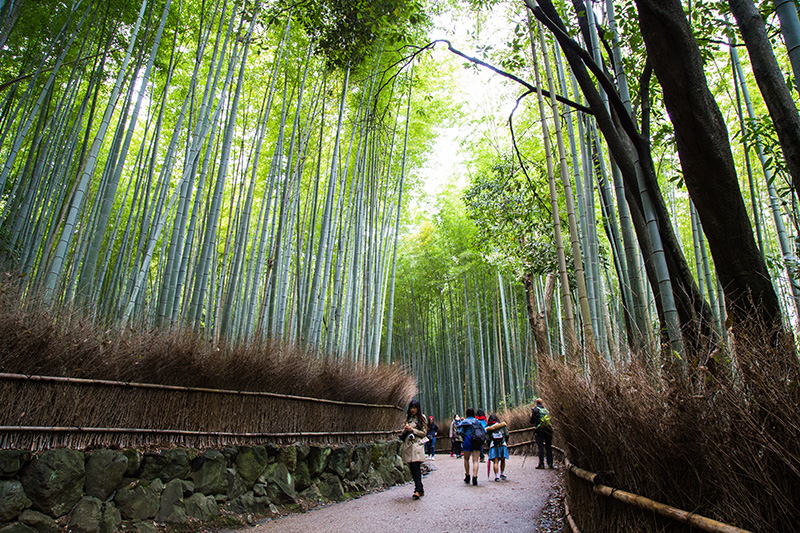 Too bad it was very cold and damp that day. We wanted to check out the monkey park in the area as well, but it was a hike away and super windy. So instead we exited the forest and ate some meat buns and matcha ice cream. Couldn't resist the ice cream, despite the weather. Our friend claims the meat buns are the best she ever had – you'll see a small shack with a ton of people sitting around it. For more food, we had some duck udon and spoke to some nice old ladies we shared a table with in broken Japanese. Isn't language fun? There are a bunch of eateries around the forest, so you won't go hungry.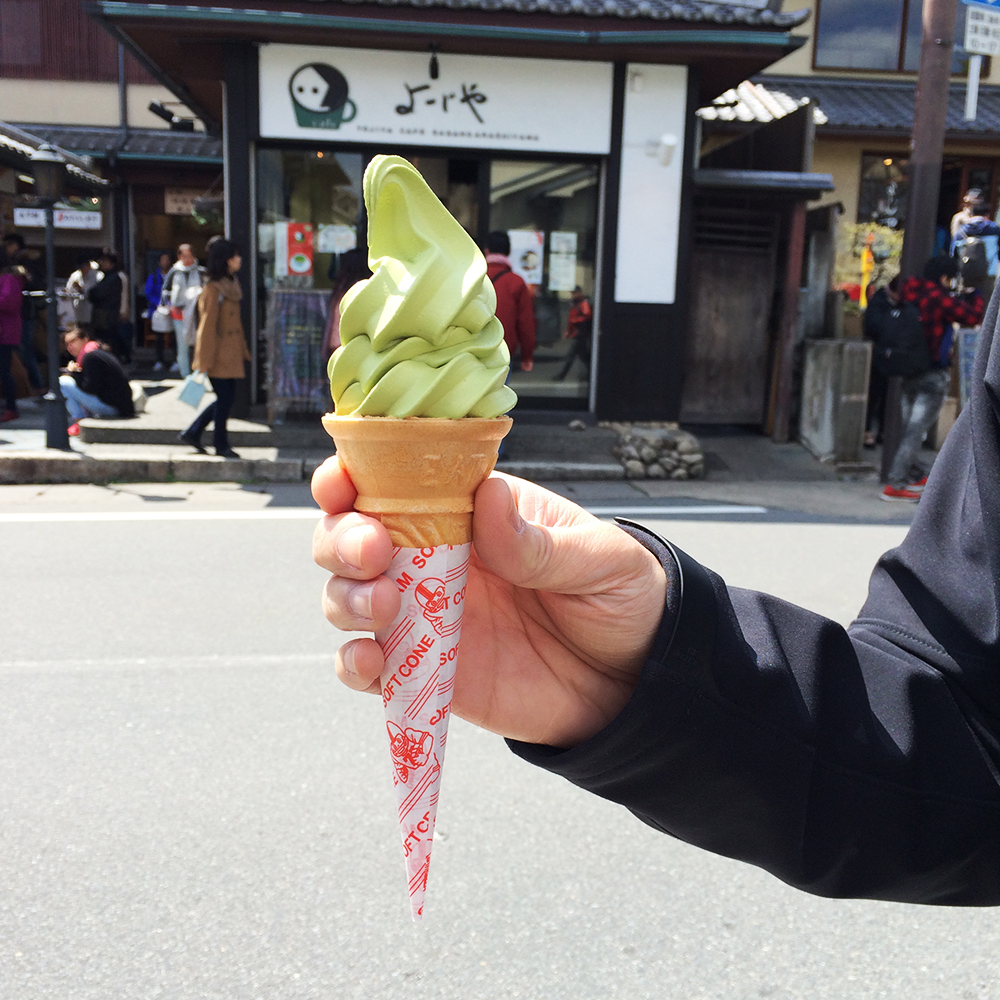 Finally, our fail moment of the day. We wanted to visit Kinkakuji, the Golden Pavilion literally made of gold leaf. But instead we made our way to Ginkakuji, the Silver Pavilion that actually was not made of silver. You can imagine our disappointment and confusion until the realization hit us. Nonetheless, the moss garden and zen sand garden were very beautiful.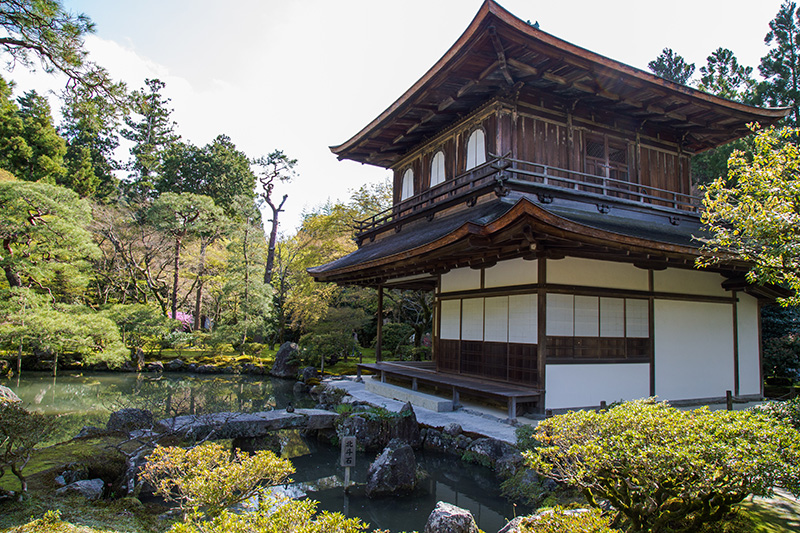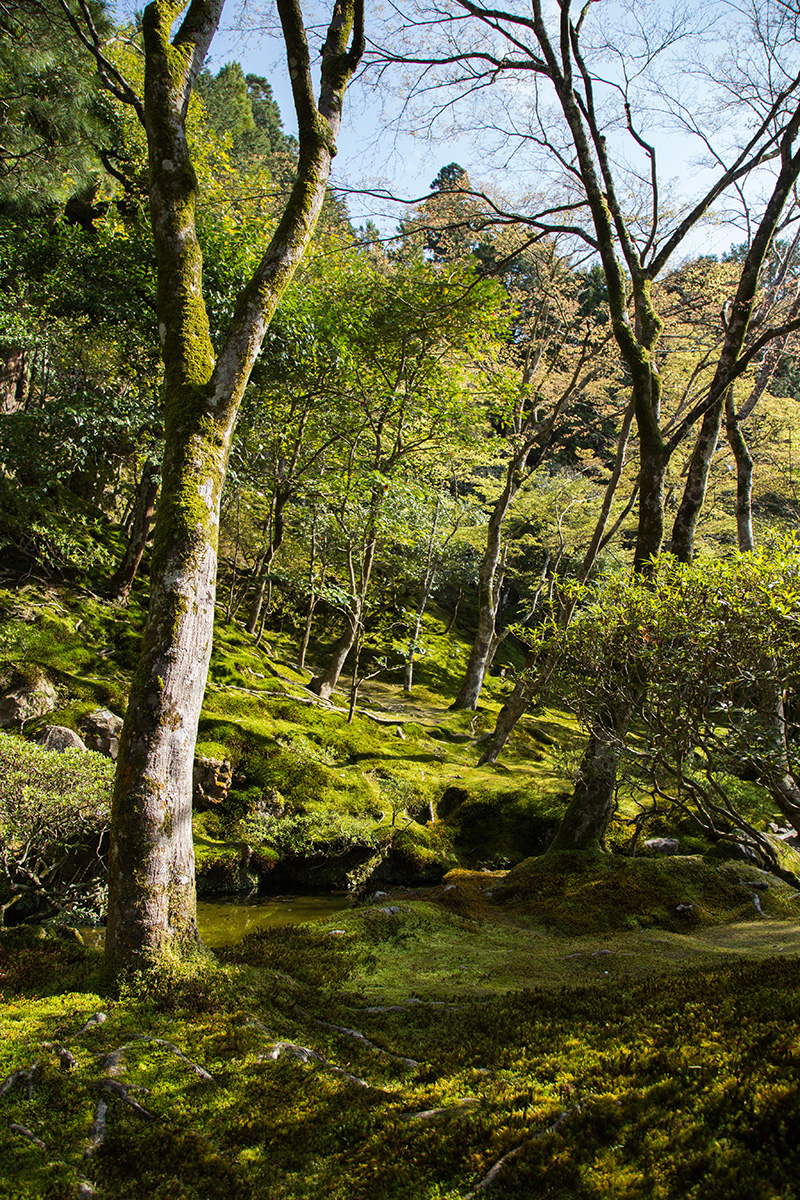 It was towards the end of the day when temples start closing up at 5pm. We hurried to take the bus to Kinkakuji and managed to make it before the doors slammed on us. And yes, Kinkakuji was very beautiful in all its golden glory with a lush garden around the pond. But don't get too hyped up. Because it's basically a bunch of tourists lining the pond trying to get a good picture of the temple. Turns out we went at just the right time, though. The sun was starting to set a little, so the gold leaf actually shone brighter with a warmer glow. Wish I could say we planned this all along.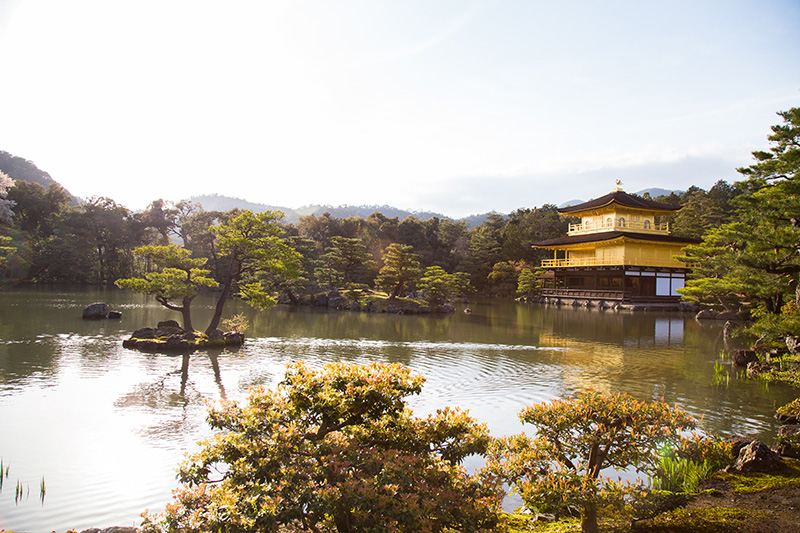 As we went back to Osaka, we bid farewell to the Kyoto Tower, which stood outside Kyoto Station. Until next time!