Yokohama is a port city only about 1.5 hours away from Tokyo by train, and has shopping, sightseeing, amusement parks, and museums. One of our favorite attractions was the Cup Noodle Museum. On a weekend, there were a bunch of tourists – Japanese and foreigners alike. Whether you're a kid, a kid at heart, or just a plain ol' adult, you'll enjoy it.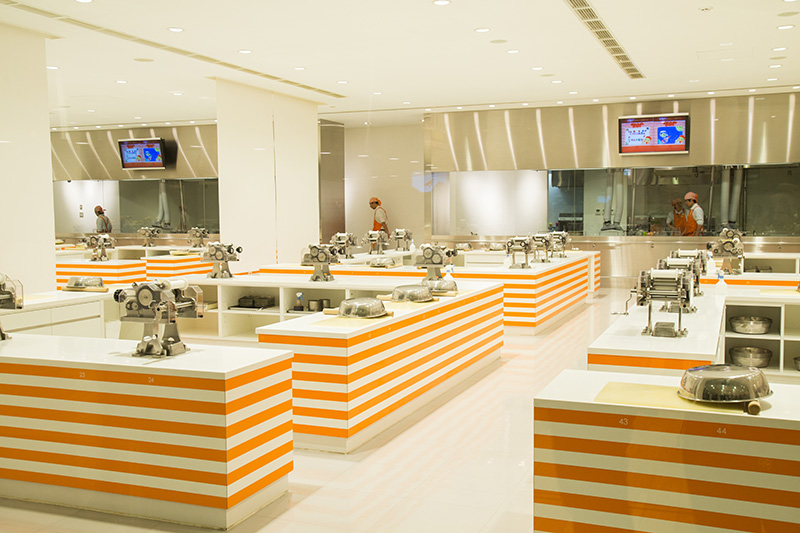 The museum is open 10AM – 6PM and closed on Tuesdays. Base admission is only 500yen. If you want to hand-make your own ramen, you can reserve a spot in the museum's Chicken Ramen Factory for an additional 500yen. If you don't feel like getting your hands dirty and just want to customize your own cup noodle, it is 300yen for the My CUPNOODLES Factory (which you deposit into a vending machine to receive your cup). These are first-come, first-serve so I suggest getting to the museum early in the morning before all the spots are filled!
The museum exhibitions follow the history of the cup noodle, invented by Momofuku Ando. There is a room where you can see a visual timeline of all the cup noodles / ramen from the past. Very cool, especially if you love looking at packaging like I do. From there, you move into a small theatre where you watch a cute film about Momofuku Ando. I loved the animations and you really come out thinking, "Wow. That guy was a genius." They even had a replica of the old shed he concocted his noodles in outside the theatre. Another great thing about this museum – almost everything is translated into English, so you will have no problems with accessibility. The film even has an English audioguide.
All right, now let's head upstairs for the fun part – where we design our own cup noodles. After you put 300yen into a vending machine, you'll get a blank cup. Sit down on one of the round tables to draw on the surface of the cup with a marker.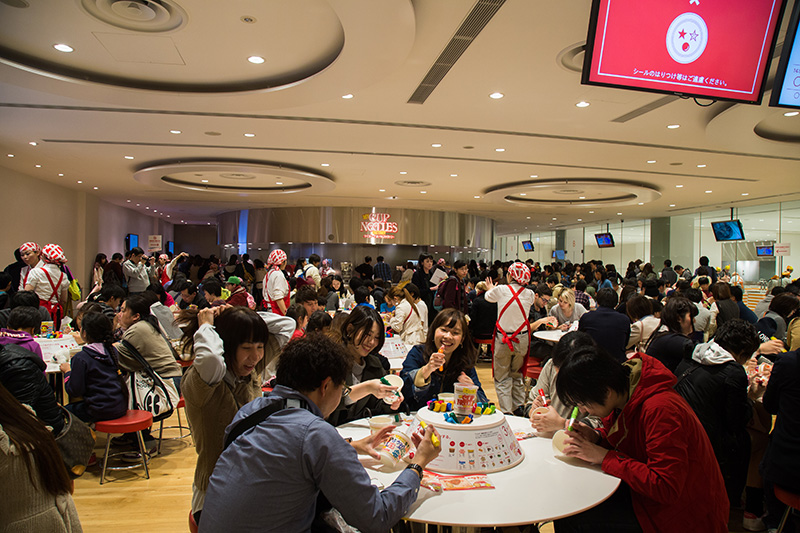 Once you're done, it's time to add the contents! Give the employees in the "kitchen" your cup and rotate a handle to insert the noodles upside-down into the cup. This was also an invention by Momofuku Ando to ensure the noodles do not shift in the cup. Did I mention this guy was a genius?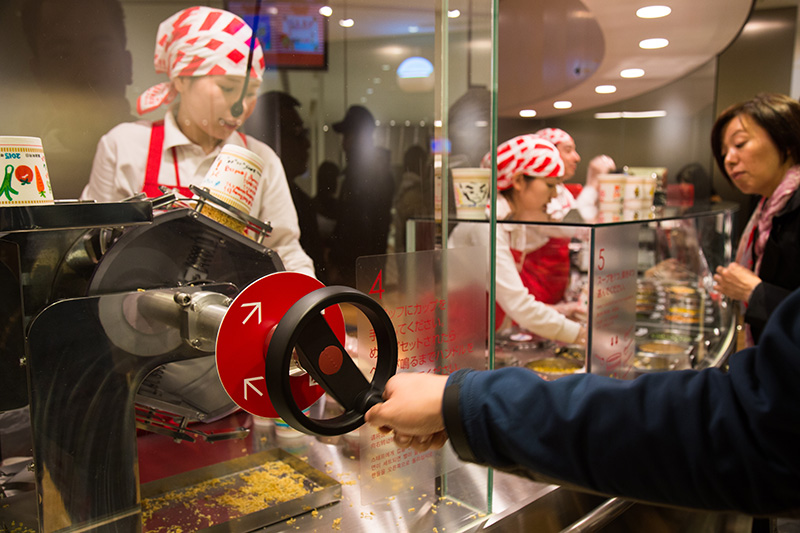 You'll receive a card that tells you the soup bases and ingredients you can choose from. The chili tomato soup base was frickin' amazing. I know cup noodles are not the most nutritious meal…but I would slurp that down all day. Tell the person behind the counter which ingredients and base you want and they'll put it in for you. He was even kind enough to be my hand model and hold up the cups so I could take a picture 🙂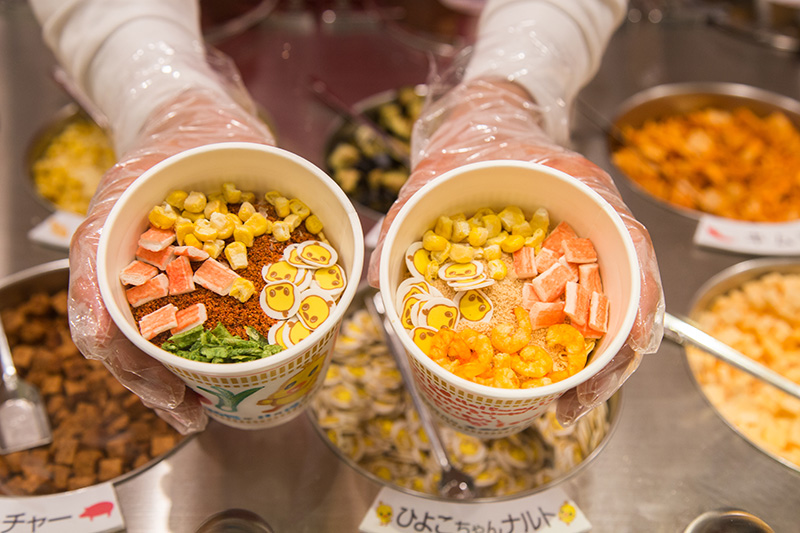 After that, it's the sealing process where they shrink wrap your cup to prepare it for its journey overseas. I've never seen a shrink wrap machine before, so this was pretty cool.
The last step is pretty amusing. You put your cup inside a bag and then pump air into it to inflate the bag and protect the cup from being crushed. Then tie a red string around it so you can carry it around like an awesome new shoulder bag.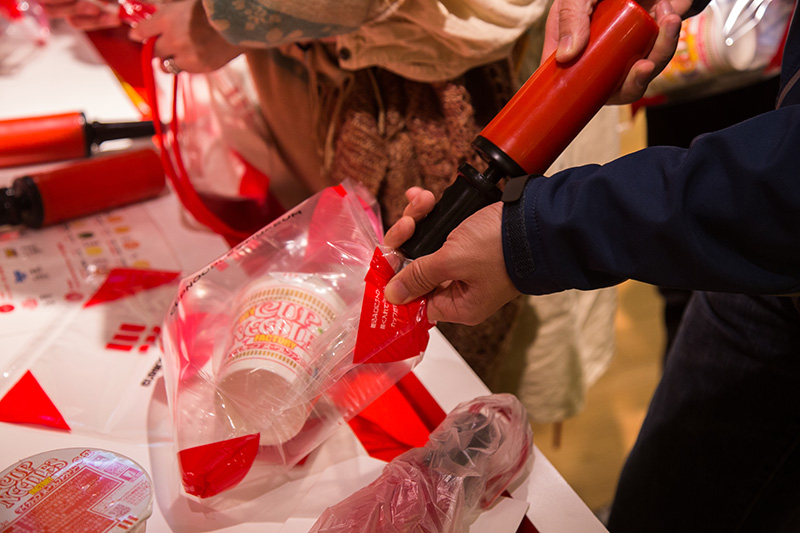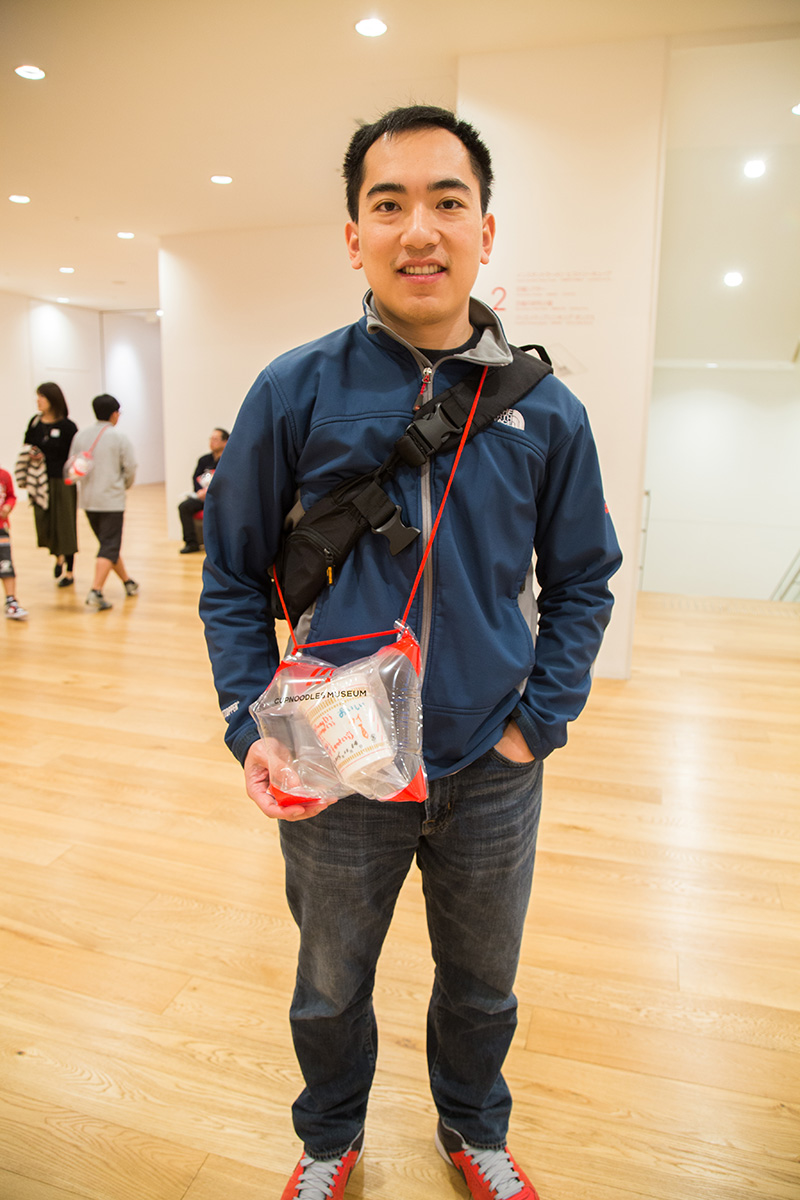 For kids, there is also an indoor playground area. I kinda wished I was still a kid because it looked really cool inside. More obstacle course, less McDonald's play pen.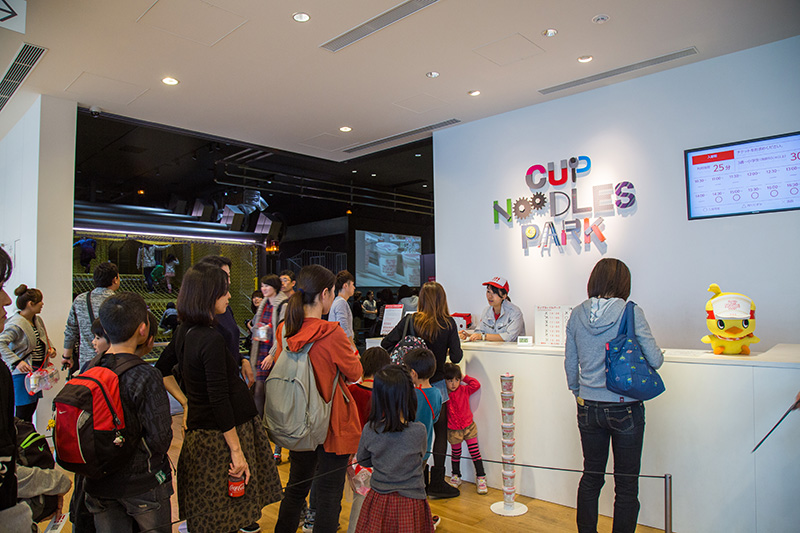 If you're feeling hungry, there is also a noodle bazaar inside the museum. You can choose noodles prepared in a variety of ways, based on nationality. For example, you can order Italian spaghetti or Viet pho. The portions are small, but they're also around 300yen each. Good for tasting.
You can easily spend 2-3 hours in the museum, not including the souvenir shop downstairs. Definitely lots of fun, not to mention the museum is beautifully minimalistic. A work of art in itself. I think it really gave cup noodles some well-deserved integrity.