The next day, we did a bit of window-shopping around the Galleria. Milan is known as a shopping hub, but you can actually find the same stores around the Duomo in other parts of Italy, like Venice. Being the non-fashionista that I am, my favorite store was the bookstore. For the stylish folks, they do have a good collection of fashion publications, as well as pop up and adult coloring books. Anyhow, we didn't end up buying anything because there was nothing we needed (and we're not made of money).
We walked over to the nearby San Bernardino alle Ossa. It's a church with an ossuary in the back made of human bones. When in Europe, we often look for morbid stuff like this. There was a guy blocking the entrance and not letting us get into the church. So we paid him a paltry amount instead of having an outright confrontation so he'd get out of the way. It's supposed to be free (He later moved aside when approached by a whole class of high school students. Strength in numbers?). The ossuary is pretty small with only two other people in the room, but it was hauntingly beautiful, if that's the word.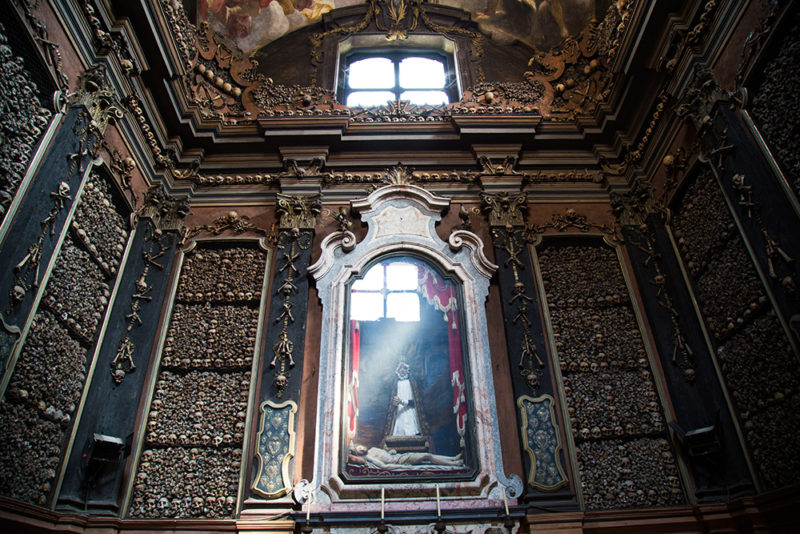 We took the train to Santa Maria delle Grazie to view The Last Supper. Tickets were purchased online beforehand for about 28€, which includes The Last Supper and the Codice Atlantico. You will get a scheduled time because they can only fit so many people into the viewing room at once. We first went to check out the Codice Atlantico, an exhibit showcasing pages from Leonardi DaVinci's book by the same name. Interesting if you're into seeing technical drawings of his many inventions.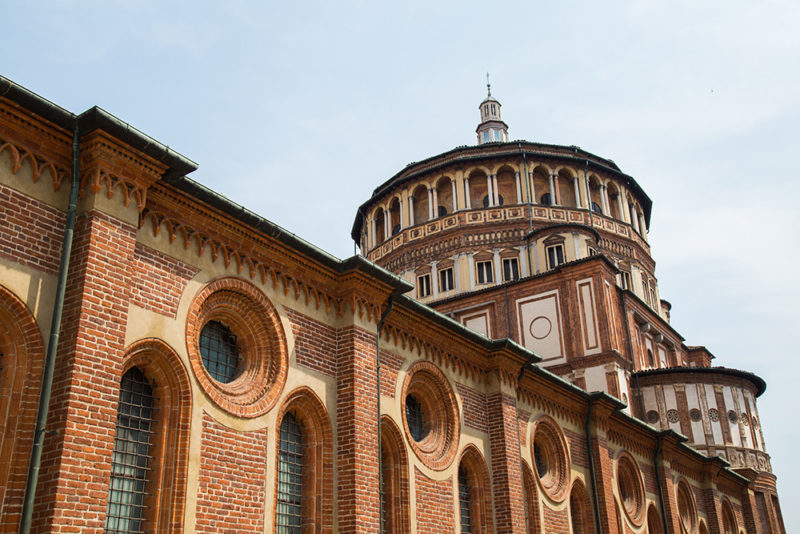 When it was finally 2pm, we went over to the Santa Maria delle Grazie to check out The Last Supper. There was a stand outside of "volunteers" taking donations for a rehab center. It's another common scam – not sure if this was legit or not, but better to just ignore it. To get to the viewing room, they first usher you into a glass-enclosed dehumidifying room. The Last Supper isn't a true fresco because it was painted on dry wall as opposed to wet plaster, so it is very sensitive to humidity. A bit of background from art history class and Wiki – the reason why DaVinci used this method was so he can work slowly and for a more vibrant painting. Unfortunately, this means the mural had deteriorated significantly over the years and can never really be restored to the same luminosity it once had. The viewing is 15 minutes long (plenty of time actually) and no photography is allowed. The scale of the mural was impressive – it took up the entire side of the wall and was pretty high up. Quite unexpected since I've only ever seen it as a thumbnail in textbooks. The exact opposite of how I reacted after seeing the Mona Lisa. I can't explain how amazing it feels seeing these paintings in person. Art history was one of my favorite classes back in college, despite having to memorize dates and artist names for every painting.
On the other side of the room was Giovanni Donato's Crucifixion, which is a true fresco. Few people went over to see it because they were busy fawning over The Last Supper, but I liked how you can clearly see the differences between the two based on the medium and technique. Crucifixion retained its colors well and did not crack and corrode like The Last Supper. Still, poor Giovanni. To share a room with DaVinci's masterpiece and be overshadowed.
Returning to our morbid tendencies, we hopped back on the train and went to check out the Cimitero Monumentale (Monumental Cemetery). I thought it'd be some creepy graveyard, but the entrance building is beautiful and bright with a very distinct stripe pattern (designed by Carlo Maciachini). There are amazing sculptures throughout and mausoleums that look like mini churches on which the architects spared no detail. Granted, it's not like these tombs are for your average Joe – they house notable figures or really rich people. Hence, the level of grandeur. The cemetery was so massive, one could spend an entire day there admiring all the monuments. But alas, hunger calls.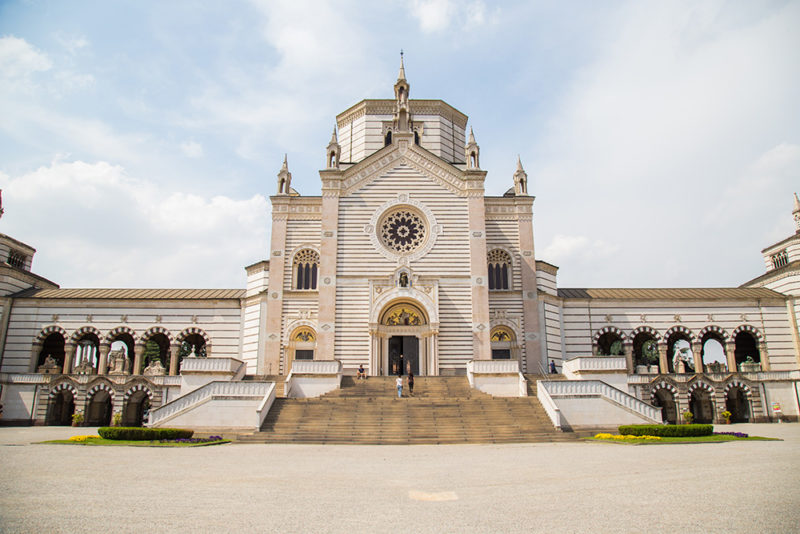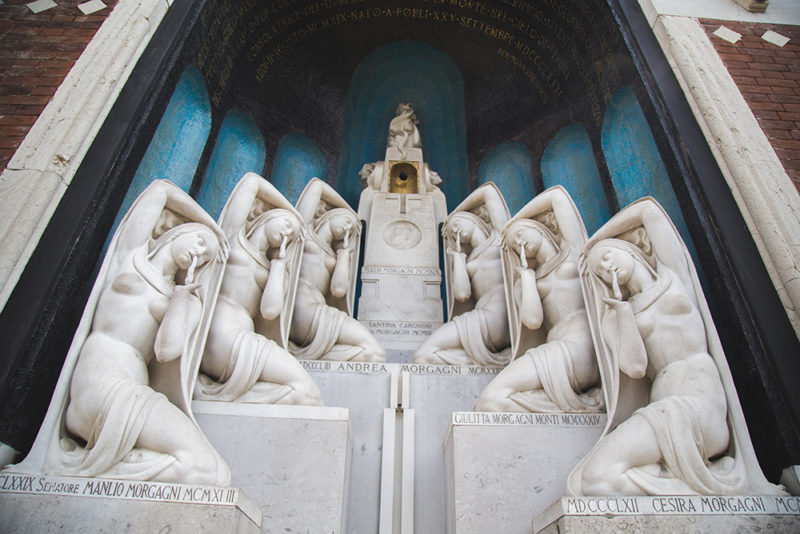 We stopped by the nearby Eataly Smeraldo (hey, might as well if we're in the country) for a quick bite and then returned to the hotel to rest a bit before dinnertime. I guess one of the "downsides" of staying at a 5-star hotel is concierge expects you to visit fine dining establishments. We asked him to make a reservation for us at Ristorante Da Oscar and he kept saying, "I do not recommend. It is very casual." Yeah, that's kinda the point. He eventually made the call anyway and we were off.
Many tourists visit Ristorante Da Oscar, but that does not necessarily make it a bad place (although it does contain a strange plethora of Mussolini photos as wall decoration). The portions were huge and the special Oscar pasta sauce was delicious, with a kick. Just a laid back atmosphere to enjoy a good meal and a bottle of wine. We were sitting next to two Asian guys and upon seeing each other, reached the conclusion that we all bought the Emirates flight deal. Turns out they were also from the East Coast. We chatted about our vacation plans and clinked our wine glasses together. Sometimes traveling as a couple can be pretty lonely. We mostly keep to ourselves because we're not the young and outgoing backpacker types. So it's a pleasant break from the norm when we can make a connection, however brief, with other travelers.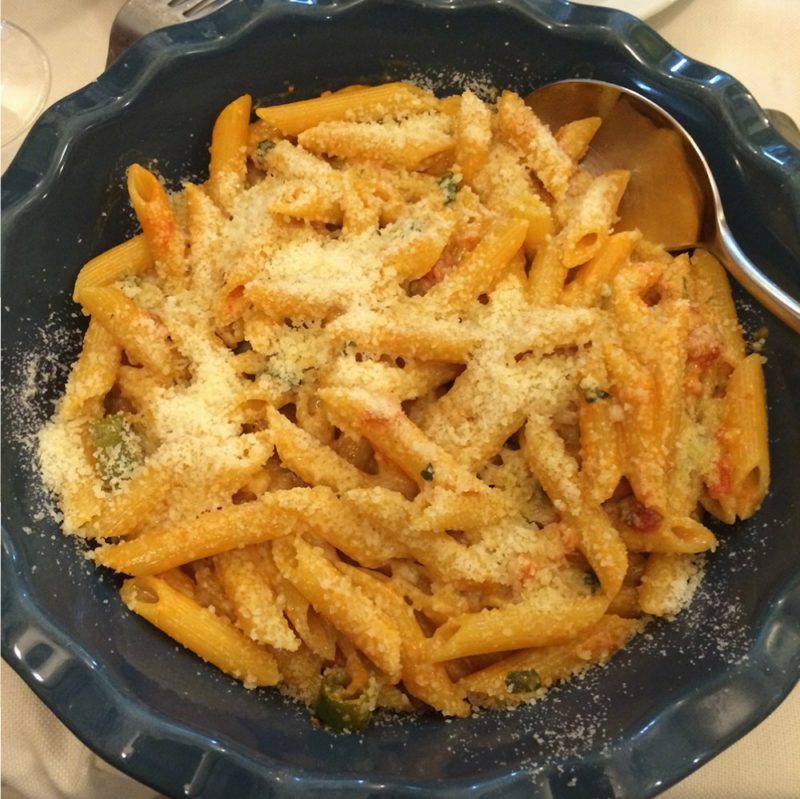 A little buzzed, we went back to the hotel and prepared for tomorrow's train ride to the next stop: Venice. Ciao, Milan!