Our most recent trip to Italy landed around Margaret's birthday. Emirates had a special offer in 2015 where 2 people can fly to Milan and back from New York for $800 total. We immediately booked the flights on my phone once we found out about it. After the flights were booked, it was time to figure out accommodations.
I had recently applied for the Hyatt credit card from Chase before booking the trip. The signup bonus for the credit card was 2 free nights at any Hyatt hotel. The Park Hyatt was the Hyatt brand's luxury line of hotels and the Park Hyatt Milan was part of Hyatt's top category hotels. So I decided to use the 2 free nights at that hotel during this trip.
Location-wise, this hotel is hard to beat. The hotel is conveniently located in the center of Milan and right next to the Duomo (the iconic church in Milan). It is also right next to a shopping center with luxury brands. We didn't do any shopping there, but we did have dinner in that area the first night.
When we checked in, we were told our room wasn't ready yet and needed about 20 minutes to finish preparing the room. We were offered bottles of water and some snacks while we waited. We were also given a voucher for a drink at the hotel bar. We decided we were going to use that later in the evening. After the room was ready, someone escorted us to our room and made sure we were satisfied with the room and any questions we had were answered before leaving.
Here are some pictures of the bathroom. Note: The pictures were actually taken later on and not right when we got to our room. There weren't actually towels everywhere when we got there.
I had informed the hotel beforehand that we were there to celebrate Margaret's birthday. They were  gracious enough to offer me a room upgrade to the Junior Suite as well as a bottle of sparking wine and a small birthday cake. I think being a diamond member of their loyalty program helped with that.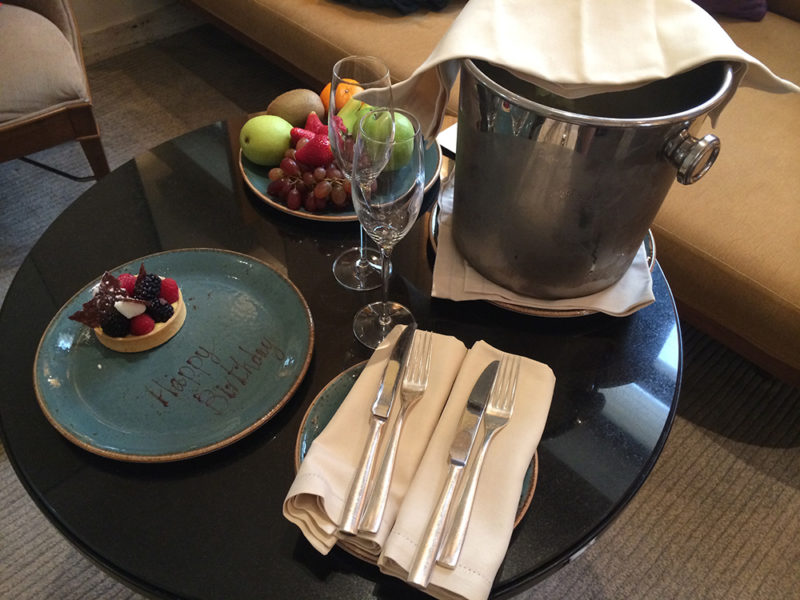 We asked the concierge to help us make a dinner reservation at a restaurant we planned to eat at. Upon hearing the name of the restaurant, the concierge responded by saying that it's a very casual restaurant and he doesn't recommend it. We insisted that it was fine and said that he'll take care of it. I'm guessing that most of the patrons for this hotel prefer higher end dining. We, on the other hand, enjoyed the casual dining atmosphere.
Later that evening, we went down to the hotel bar to use the voucher we got when we checked in. We chose the aperitif, which include a drink for each of us as well as some small bites to go along with it.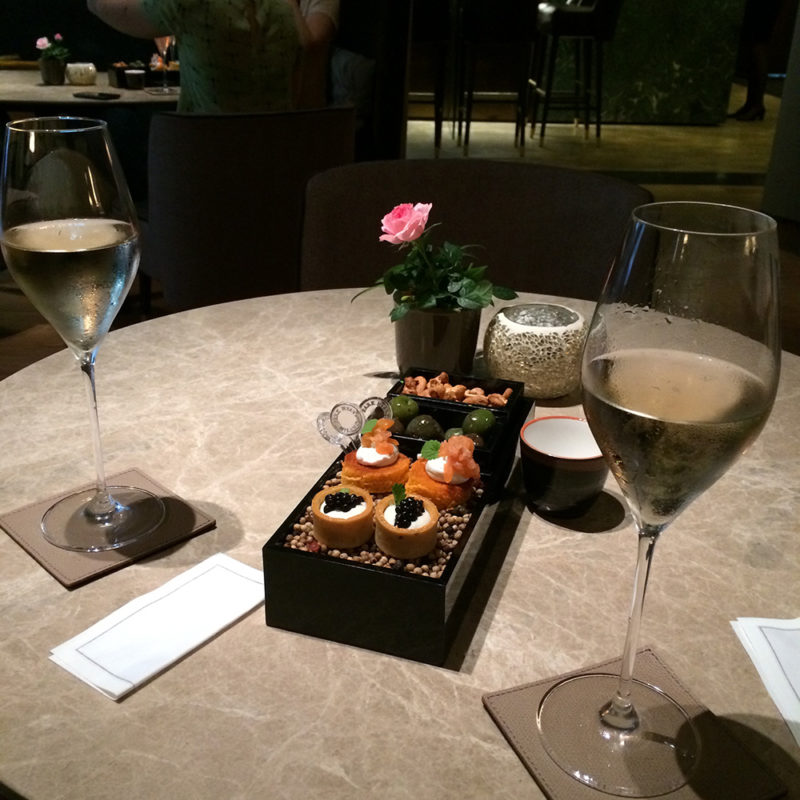 One of the best perks of being a diamond member of their loyalty program (Hyatt Gold Passport) is free breakfast. This hotel offers a choice of breakfast at their restaurant or in-room breakfast as part of the perk. Since we were there for 2 nights, we decided to get breakfast at their restaurant the first day and in-room breakfast the next. The food at the restaurant was good, but nothing beats the comfort of having breakfast delivered straight to your room. Here are some pictures below of our in-room breakfast as well as some other angles of our suite.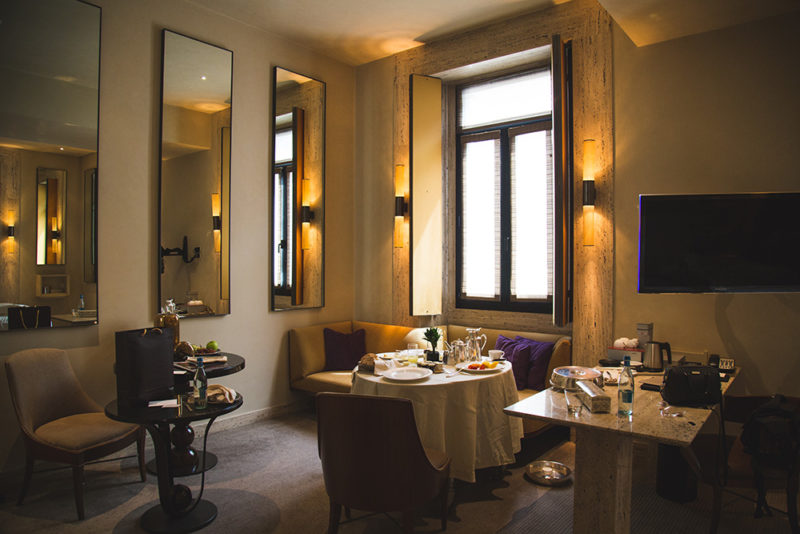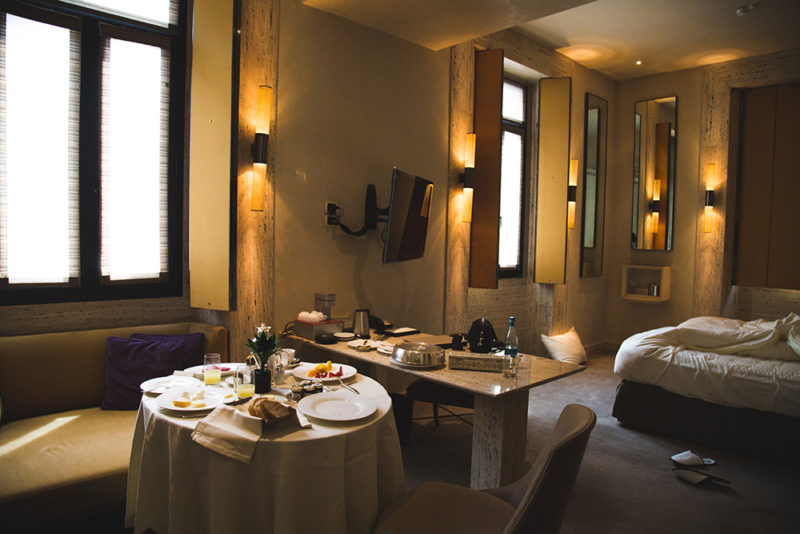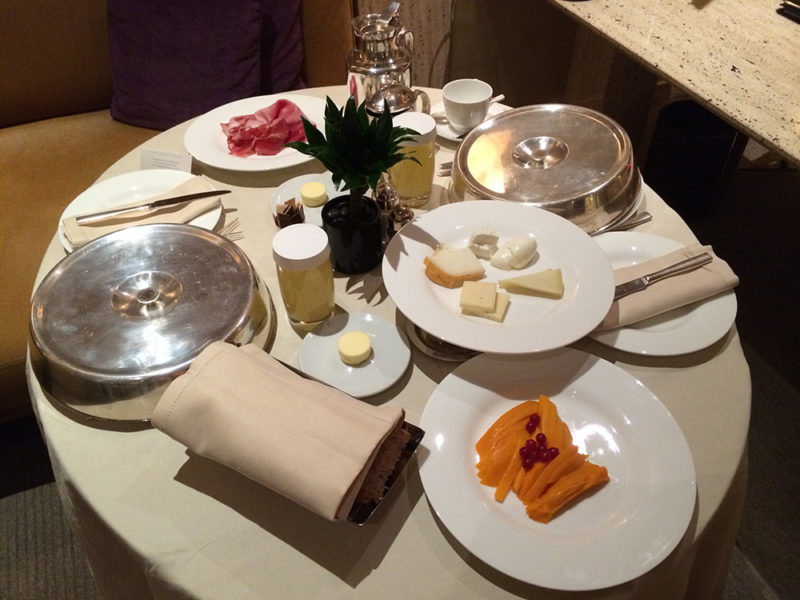 We had a great experience at this hotel. I had no complaints and thought that their service was top-notch. I am not a very demanding patron and I don't use most of the amenities the hotel has to offer, so I can't comment on those. But I will most definitely stay here again if I am ever in Milan.