Milan is one of those cities I never imagined I would visit, in part because I'm not a huge shopper and also because I don't have a lot of money (the likely causality of the former). But since Emirate's popular $800 roundtrip flight deal per couple lands in Milan, who were we to refuse? I thank my Facebook acquaintances for posting about it during the spring of 2015 – we booked our tickets shortly afterwards. Emirates still has regular promotions for this flight route, but it has definitely gotten more expensive since then ($500 and upwards). We had a different friend going to Italy almost every week at that time.
I panicked a bit upon our arrival at the train terminal (coming from the airport). It was May, prime allergy season, and there was fluff floating everywhere like snow. We would later learn that this comes from poplar trees in the region. To learn more about these abominations, click here. Outdoor seaters beware – the fluff may land in your drink/food.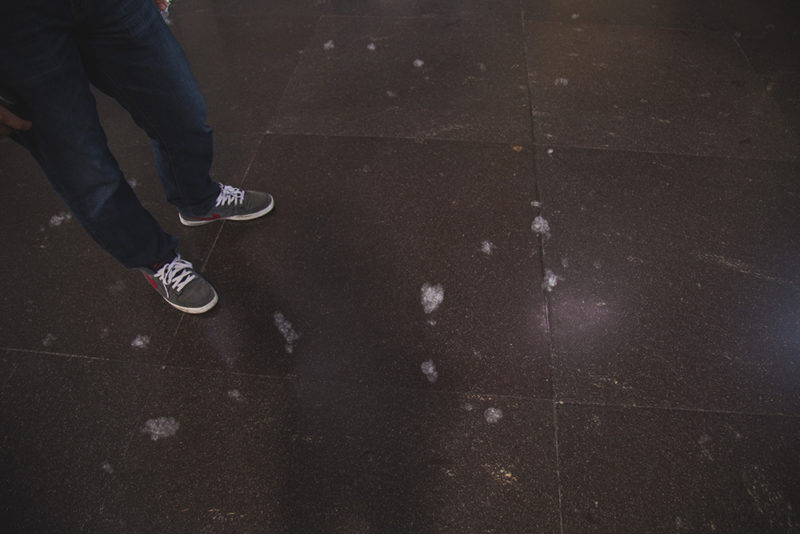 We arrived at the Park Hyatt (our second one since Paris) and dropped off our stuff. I might have dozed off a bit. It always seems more difficult getting adjusted to European time than Asian time, even though the latter is a whole 12+ hours from New York. It also happened to be my birthday, so Tie – being the sneaky guy that he is – arranged for a special surprise. In other words, he told the hotel to plan something. They brought up a bottle of champagne and a tart cake. That's five-star quality for ya.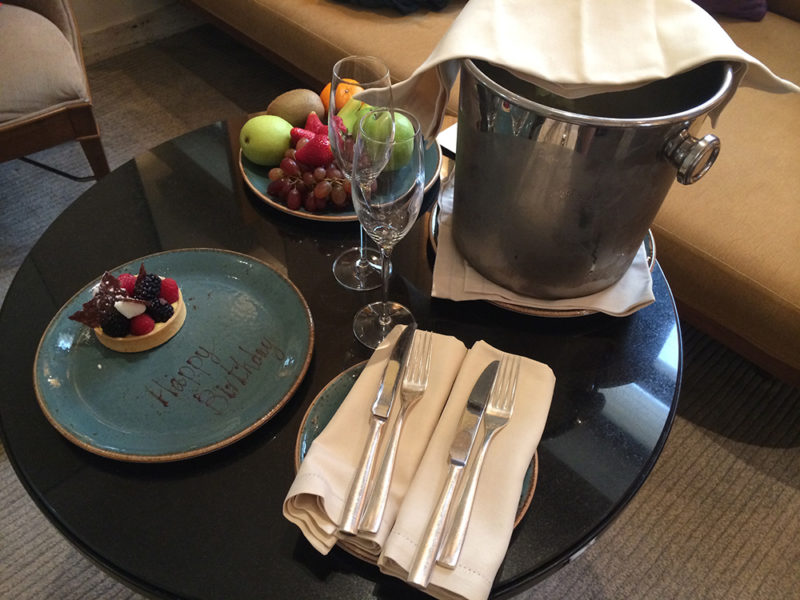 Still feeling hungry, we headed downstairs to snack on a panzerotto at Panzerotti Luini (take-out place). Similar to a calzone, it comes in sweet or savory flavors. Pretty cheap and tasty – one was enough to keep the both of us satiated for the time being. We got the tomato and cheese sauce, though it was more dough than anything. I've heard there's usually a long line, but there was no wait when we went in the late afternoon. In fact, there was a bigger crowd over at Cioccolat Italiani right across, where we also got a gelato (the first of many). I forgot to take a picture of the panzerotto as I was busy wolfing it down, but in case you are interested, click here.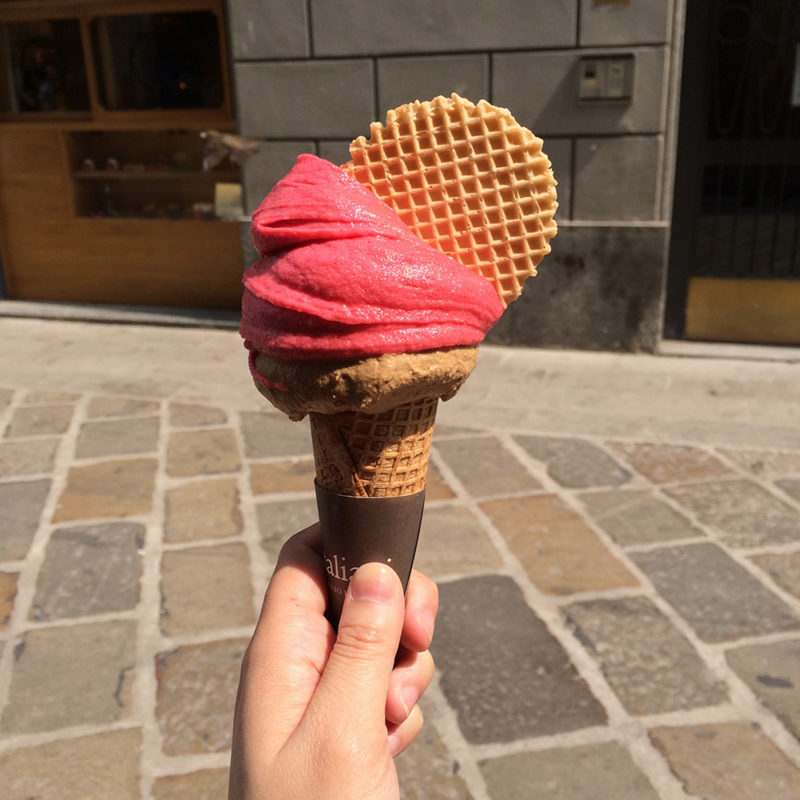 The Park Hyatt is conveniently right by the Duomo, a cathedral that also serves as the face of Milan. Here, you will find countless tourists, con artists, and pigeons. Pigeons you can feed by paying someone for bird food. Coming from New York, where the winged vermin are loathed for their tendencies to both carry disease and shit all over your car (or worse – head), I can't understand why anyone would want to come into bodily contact with them. Not to mention, it is a known scam where, as you hold onto one of the birds, someone is pick pocketing you and profiting from your lapse of good judgment. Maybe I just read up a little too much on scams prior to visiting Italy.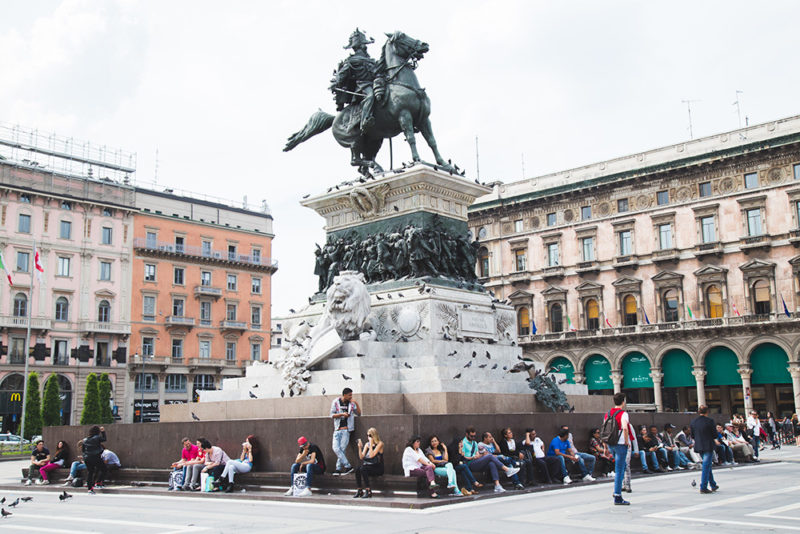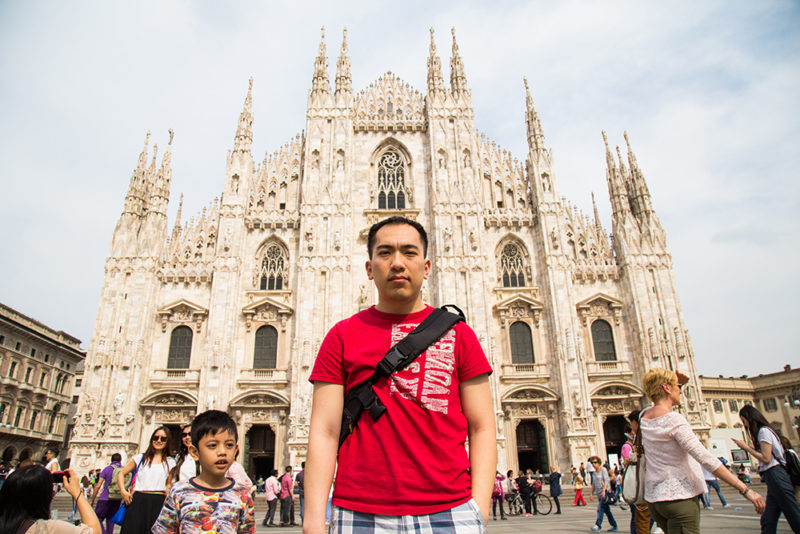 On another note, the Duomo really is quite beautiful in person. The intricacies of the exterior design reminded me of La Sagrada Familia in Barcelona. You can buy tickets to access the roof/balcony area, but we were too cheap. Plus, it was raining. Instead, we opted to buy the less expensive interior tour ticket. The inside was as gorgeous as one would guess it'd be, judging from the outside. My favorite statue is definitely the flayed man, Saint Bartholomew. Check out the detail on that flesh.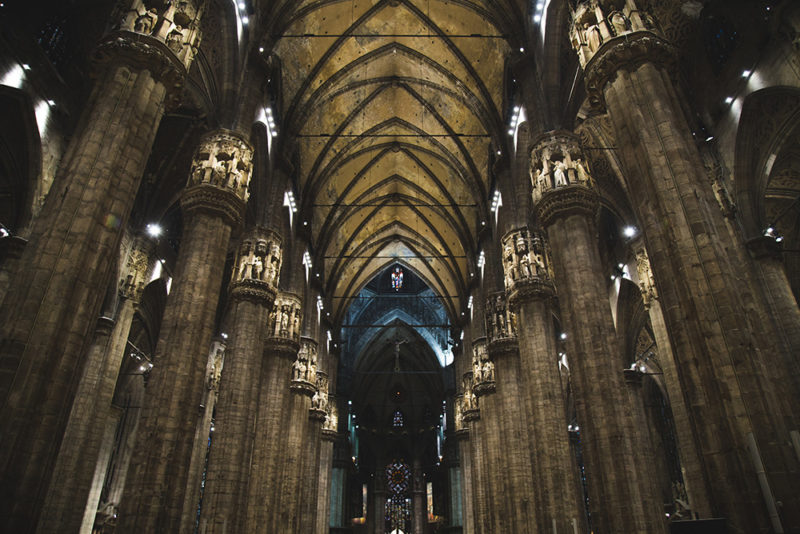 It was still a little early for dinner so we decided to get some aperitifs back at the Park Hyatt's Mio Bar. It's basically an alcoholic beverage consumed before or after a meal, usually served with light snacks (think: happy hour). Some places in Milan have really crazy aperitivos which are practically entire meals. I'd like to try that another time. Mio's aperitivo time is 6:30pm – 10:30pm. We had a free drink ticket, so they only gave us a few snacks and not the whole bar. I think you have to actually pay for that.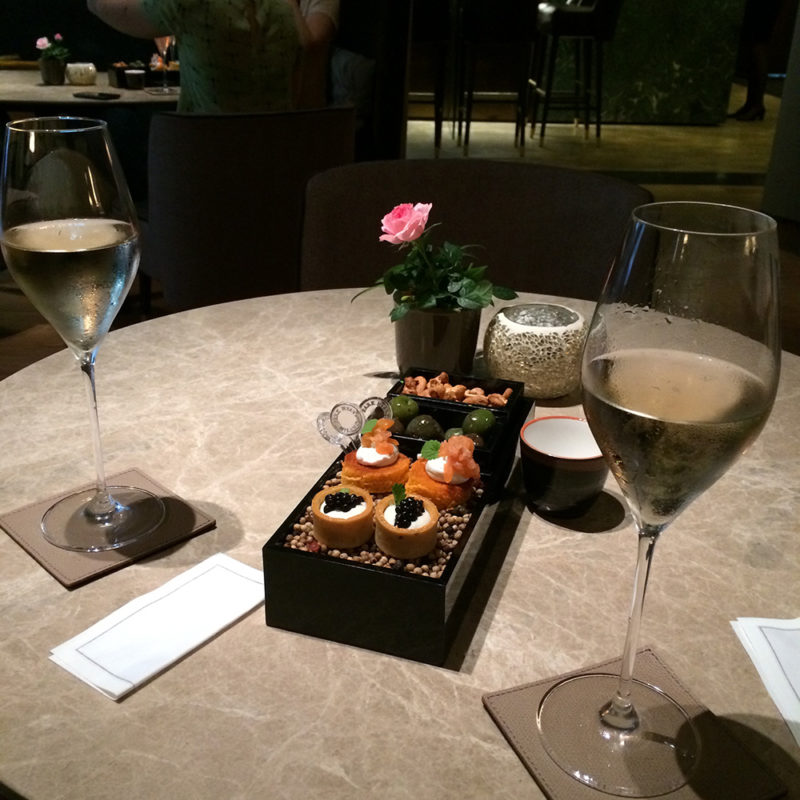 For dinner, we looked inside the Galleria Vittorio Emanuele II, an arcade of high-end shops and restaurants. During the day time, you'll see a bunch of tourists spinning around in the center, their feet pivoted on a hole in the ground. It's actually a mosaic of a bull, and they're twirling the back of their feet into its testicles to bring good luck. Huh. I suppose I've seen stranger things.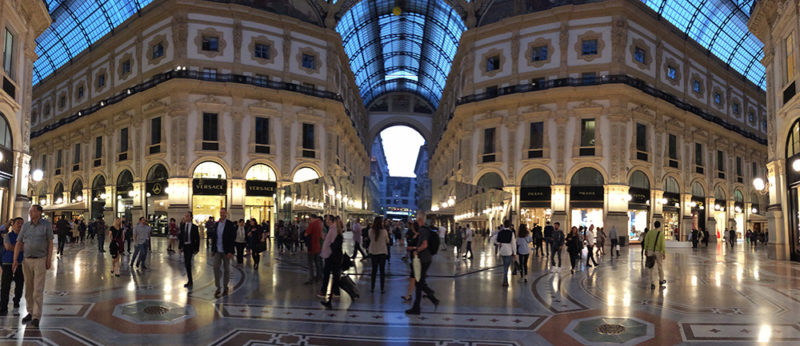 By the arcade, there were some more con artists. They will come up to you and slap some colored string on your wrist, offering to give you a friendship bracelet for free. Then they will quickly tie the knot and slap another one on your companion, charging him/her an exorbitant price for it. We have seen this happen several times to unsuspecting tourists. They attempted to scam us, too, but I snapped my hand away. It seems these con artists switch up their cons by the day, too. The next day, they were all carrying textbooks instead of bracelets.
Anyway, onto dinner. We randomly picked a place called La Locanda Del Gatto Rosso inside the arcade. As expected, it was pricey and like many places in Italy, you are charged a fee just for sitting in the restaurant. Still, it beats having tax and tip added to your bill in the end. The price you see on the menu is the price you pay. I ordered a truffle pasta that was more truffly than I had envisioned it'd be. You can smell it before it even reaches your table. While the first couple of bites were delicious, the taste eventually became so overpowering that I might've sworn off truffles forever. Lucky for me, because I can't afford to become addicted to the stuff.