Having been to Maui and Oahu back in 2014, we knew that one day we'd return to Hawaii to visit the other islands. Well, 2018 might not have been the best year to go given the volcanic eruption on Big Island and then Hurricane Lane shortly after. Somehow we lucked out and flew out the week after the hurricane. Nonetheless, it's true what they say: it's always raining somewhere in Kauai. Mount Waialeale is amongst one of the wettest places on earth, averaging about 450 inches of rain a year! We always had an umbrella in the trunk and tried not to let a little downpour put a damper on our plans.
Compared to the other islands we've visited, Kauai is one of the more laidback and sparsely populated. It definitely did not look super developed like Honolulu, which is part of its charm. Most places closed around 9-10pm and on Sundays. There weren't too many sit-down restaurants, so most of the time we'd order food to go and then eat in our car or back at the resort. We stayed at the Grand Hyatt Kauai, which I'll write more about in a later post. Most of the time we were out and about with our friends Ray and Vanessa. As I had mentioned before, traveling with a group definitely allows you to try out a greater variety of food without feeling like you're over-ordering! Plus, it was fun being each other's "Instagram husbands." Also a huge thanks for hooking us up with dinner when we arrived from the airport late at night.
Day One
As Hurricane Lane was coming to an end when we first got there, the initial few days were still raining nonstop. Not wanting to be stuck in the resort and develop cabin fever, however, we ventured out anyway. The last time we were in Hawaii we played a driving tour by GyPSy, which was informative and helpful as it recommended some places we might've never known about without it. This time we did the same thing – well worth paying the $7. Our first stop was Wailua Falls, perhaps Kauai's most famous waterfall (and they have a ton). Usually you can see two narrow streams of water plunging down, but due to the amount of rain we've gotten recently, this time it was gushing and brown. Quite an abnormal sight to behold. Wish they had cut the shrubbery a bit for a better view. There's only about 7 parking spots there, but because of the weather we had no trouble finding a space. There are some people who hike down to get a different view, but I hear it's muddy and slippery, with one of the paths involving scaling down on a rope. Probably best to stand behind the railing and view from up top.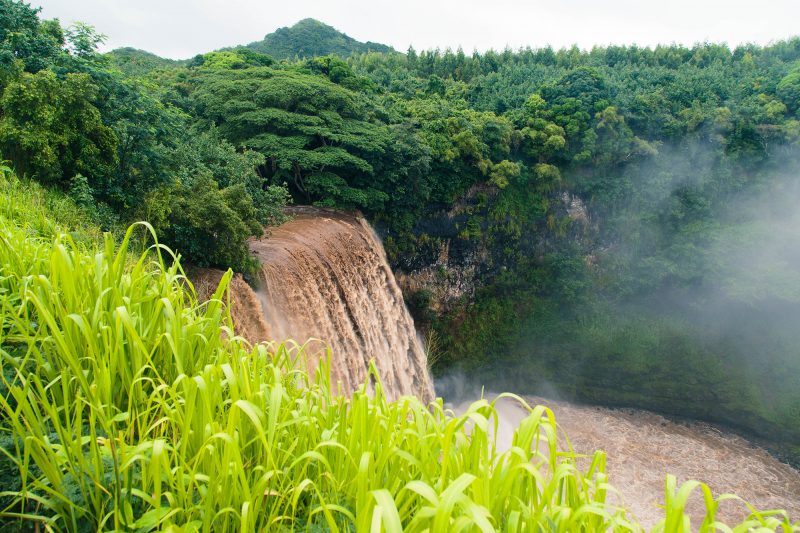 Finally, it was time to have lunch! Mark's Place came highly recommended by Ray and Vanessa, as they've been to Kauai before. It's in an unassuming blue building in Lihue, and serves mostly mixed plate lunches for around $11-$13. Tie went inside to order the food while I had a phone interview in the car. Service is really spotty on this island, so it's best to stay in one spot if you have to take a call and load up the GPS while you still have some WiFi. Anyway, back to the food! We've had loco moco before, but this one in particular was freakin' delicious. It's basically a bed of rice doused in gravy with a hamburger steak and overeasy egg on top. Everything was seasoned so perfectly, and the hamburger steak was flavorful, which is not always the case with this dish as oftentimes it can end up dry and bland. I give it a 10/10 stars. The spam musubi was great, too, but the mixed plates are definitely where they excel.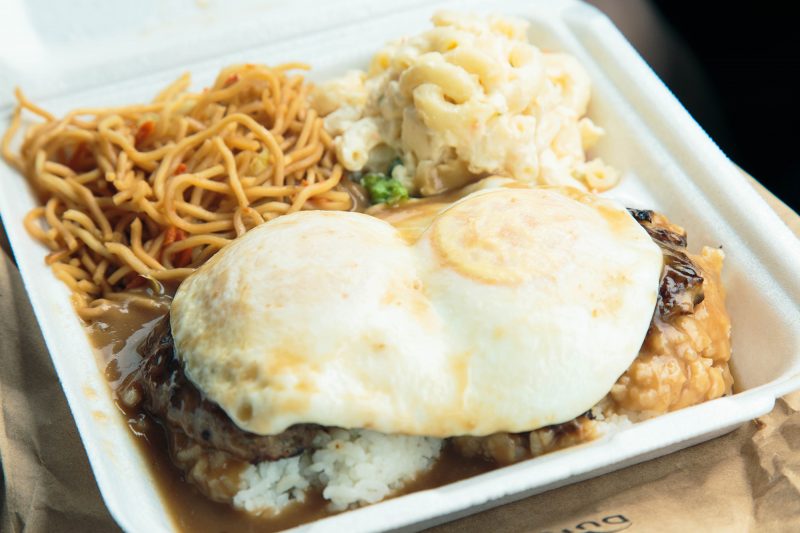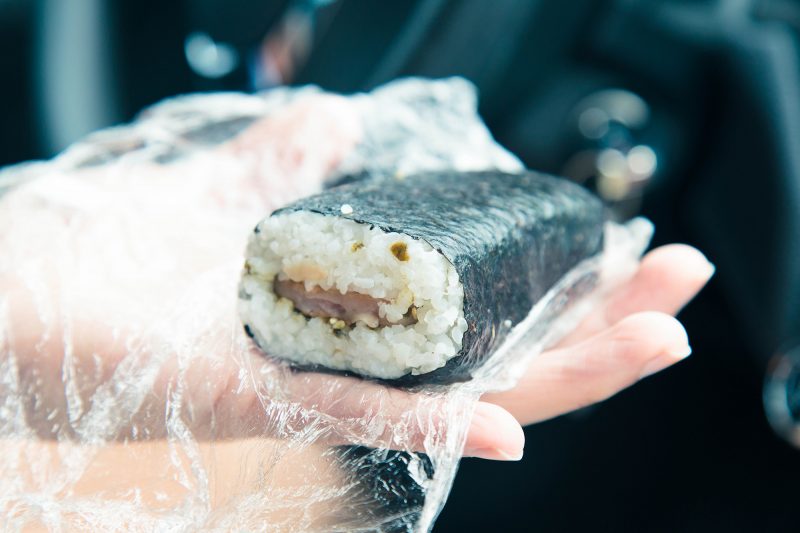 And because we simply cannot get enough Hawaiian food, why not go for a snack right after lunch? In recent years, poke bowls have become very popular back on the mainland. But if you live in New York like we do, you might find that they are overpriced and overrated. In Kauai, there were so many options for poke. One of our favorites is Konohiki Seafoods, also located in Lihue inside a shopping complex with ample parking. Their wide selection of seafood is around $16 a pound, so we ordered a quarter pound each to try some different poke. No rice, no toppings. Just good ol' fish. Go for the spicy ahi poke.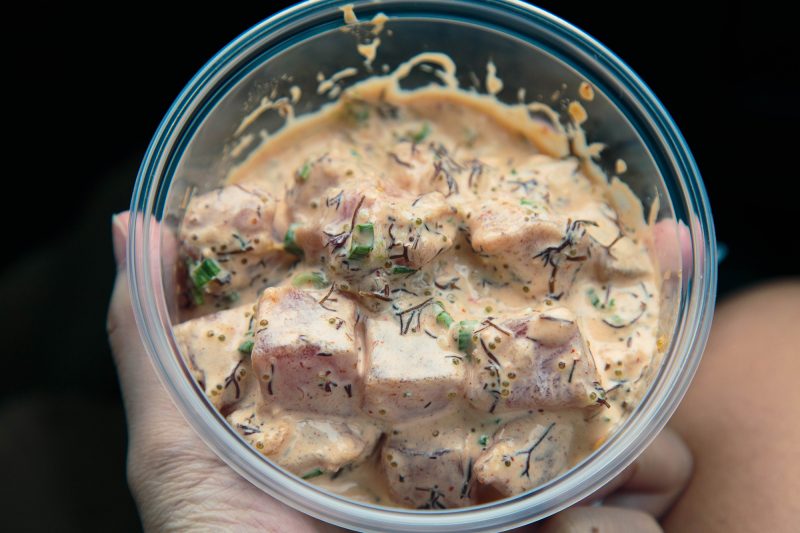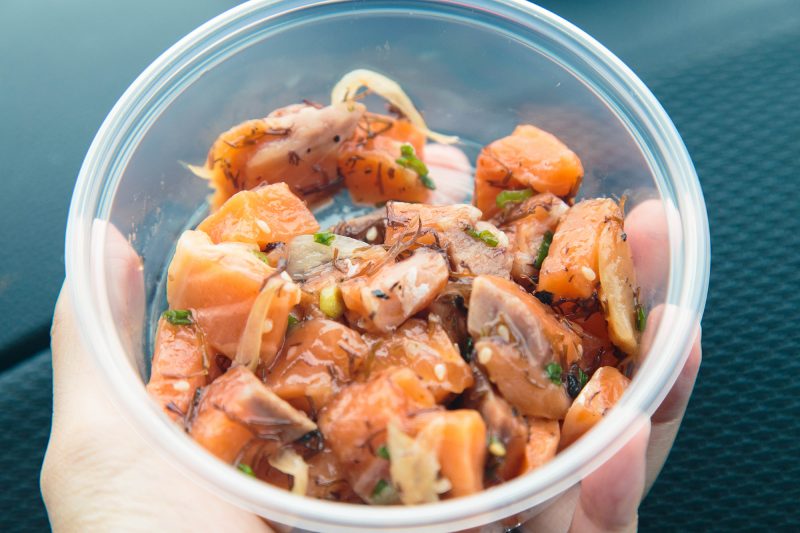 Taking advantage of the rainy weather, we also stopped by the Opaeka'a Falls and Wailua River. There's parking spots a few feet away. The waterfall was not particularly spectacular and somewhat far away from the lookout point, but still cool to see nonetheless. On the other side of the street you'll get a good view of the Wailua River, where people go on kayaking tours (probably when the weather is better).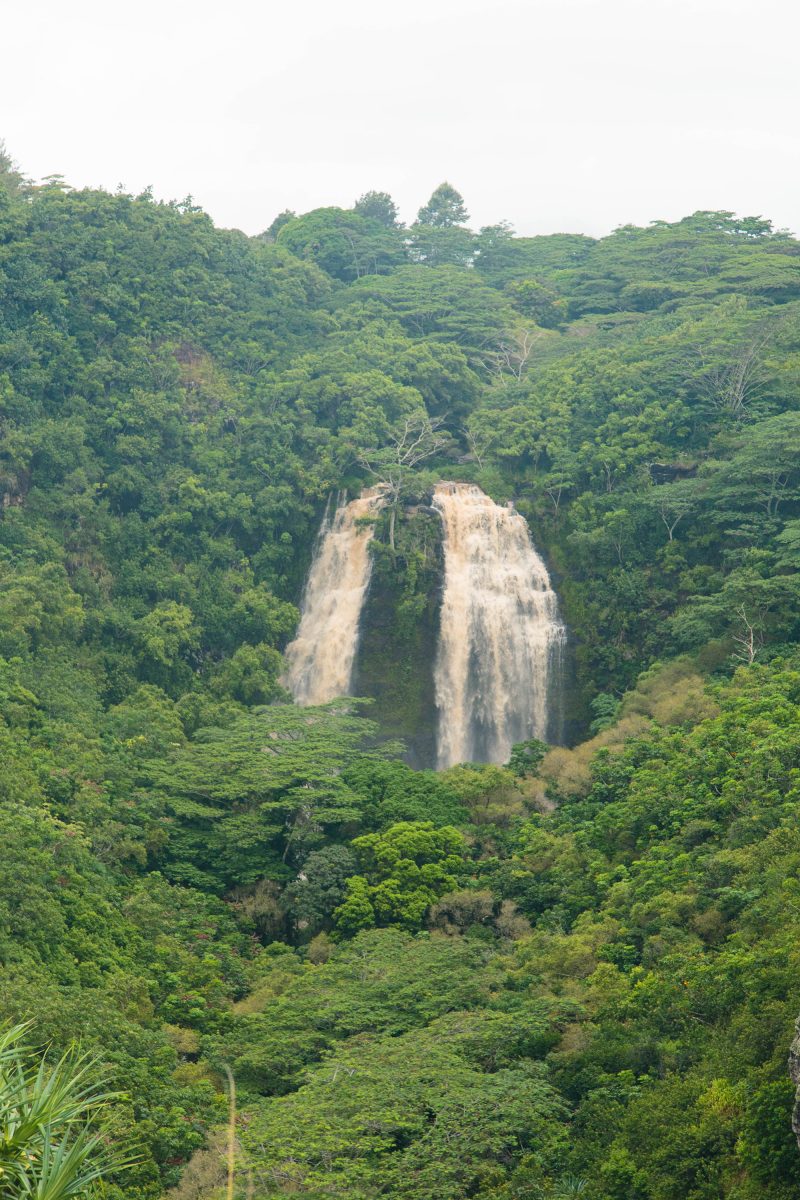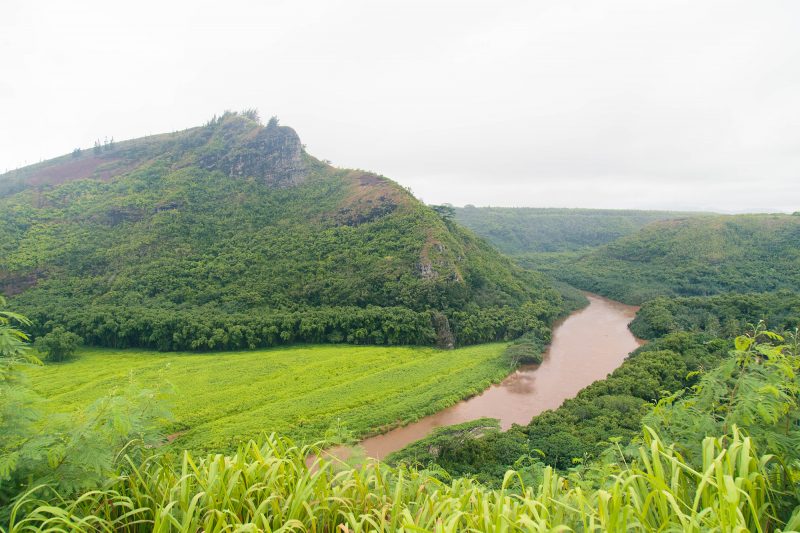 We tried venturing up north, but the roads were closed due to flooding so we had to turn around. On our way back to the resort, we stopped by the Spouting Horn blowhole in the Koloa area. I loved hearing the ocean rumble underneath before shooting out a blast of water. Only requires a few minutes of your time. Right after I took this picture, it started to pour again.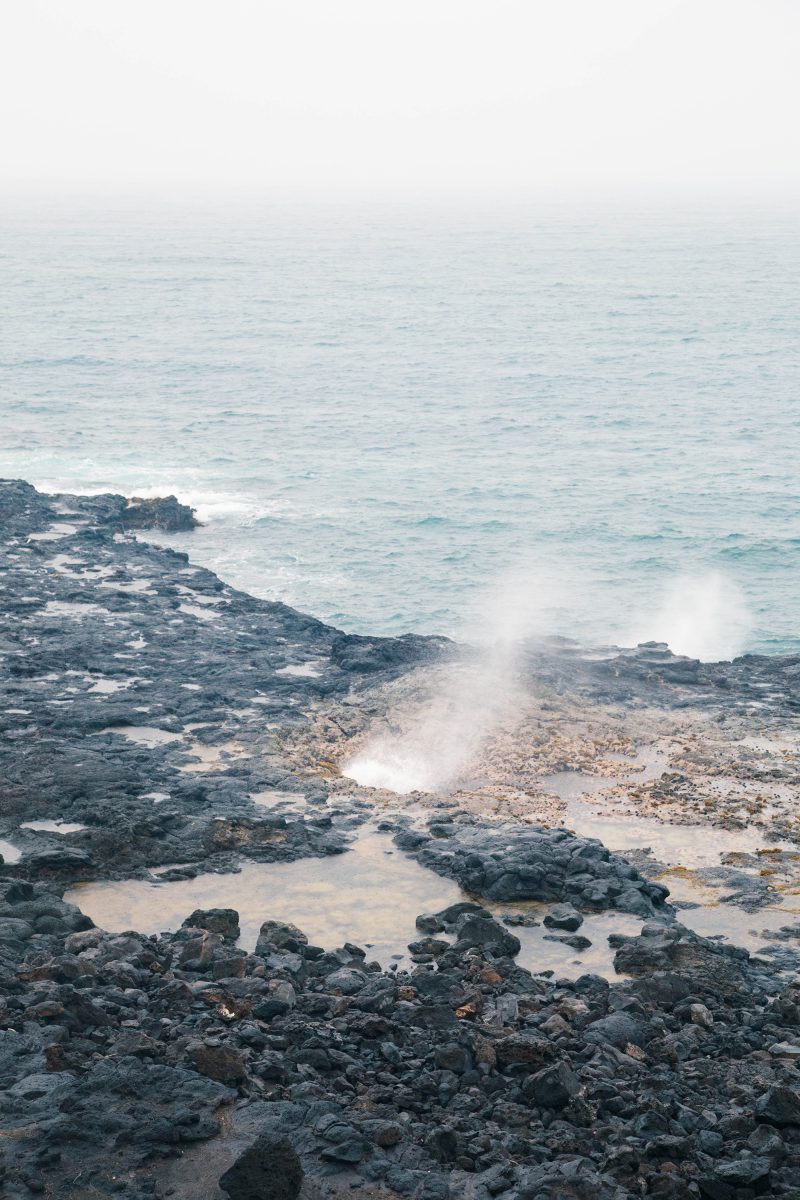 Luckily, our resort is close to the Kukui'ula Village Shopping Center, which has a handful of restaurants and shops like Malie (looove their fragrant lotions) and Tommy Bahamas. We decided to get dinner at Kiawe Roots, which serves Hawaiian and Texan barbecue fusion. Normally I'm not a huge fan of ribs, but this is fall-off-the-bone sweet and tender juicy goodness. Everything we ordered here was fantastic, even though it's located in a tourist area.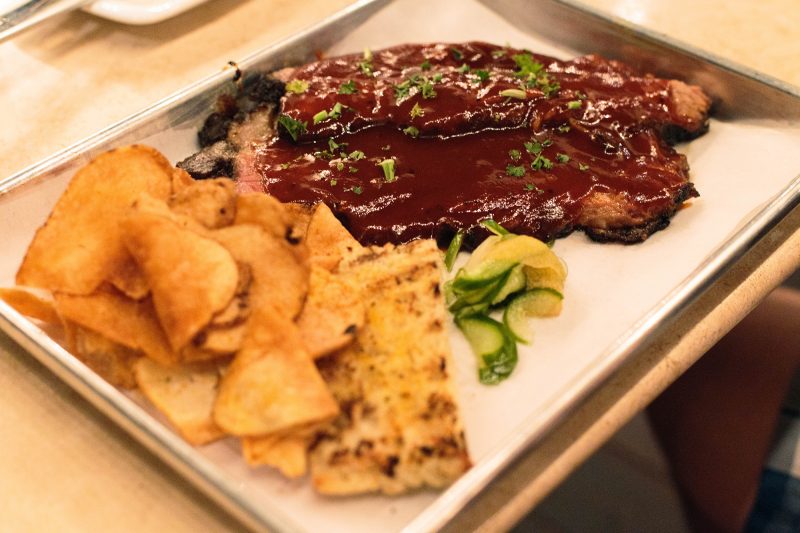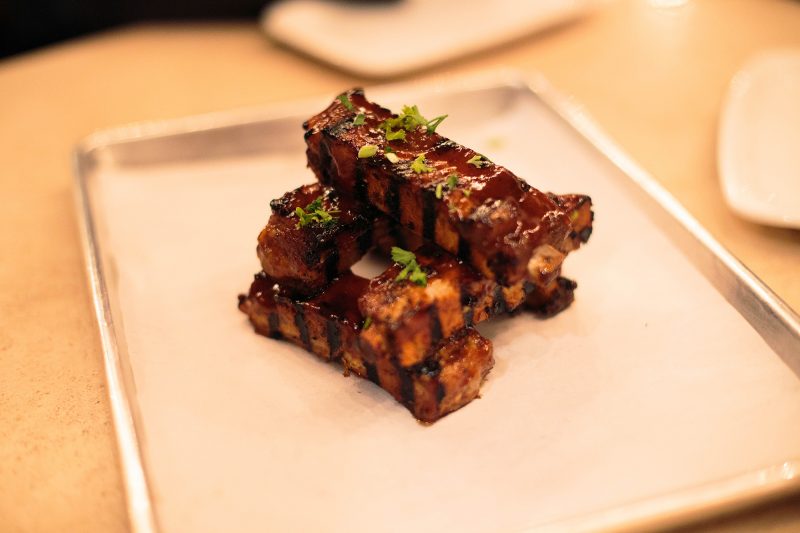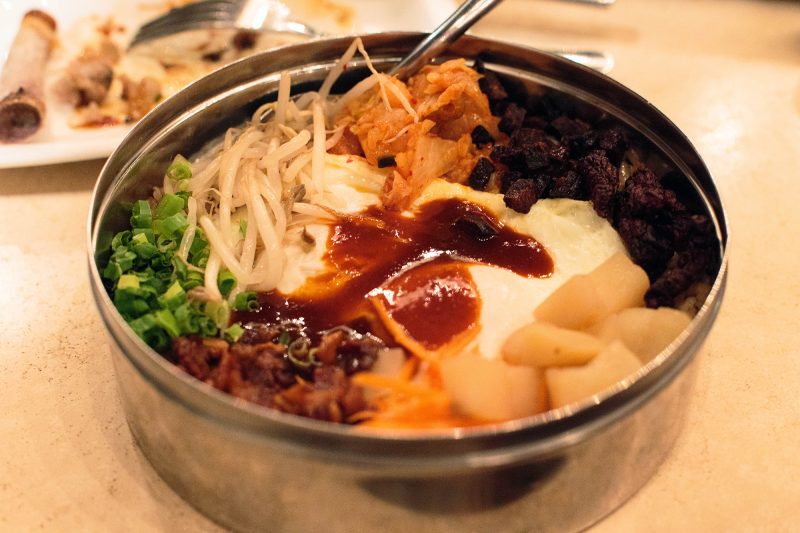 Day Two
We attempted to head up north again, this time stopping by the town of Kapaa. It has a number of boutique shops and food trucks. If you're hungry for poke, Pono Market is a good place to grab a bite. We also enjoyed some delicious shaved ice, made with real fruit. Unlike the snowcone carts we see during the summer back at home, the shaved ice here are actually soft and not flavored with syrup. It was so good, even the chickens were slurping it up. Fun fact about Kauai: you'll see a ton of free range chickens roaming about in parking lots, streets, parks, etc. Apparently there was a hurricane back in the day that freed a bunch of them from their cages and since then they've been multiplying like crazy. It's rumored that there are 44 chickens to every person in Kauai. They're closer to the fighter chickens in Asia, so the meat is actually better for soups than for eating straight up. We always had to be careful not to run them over while parking.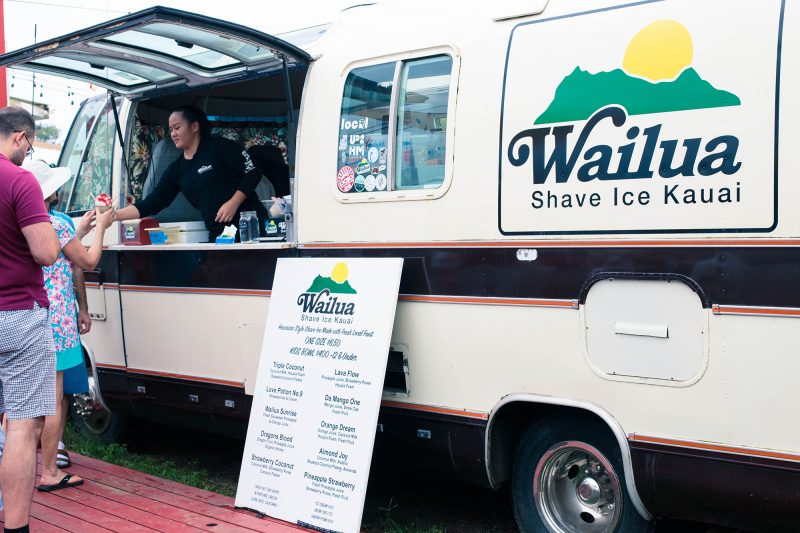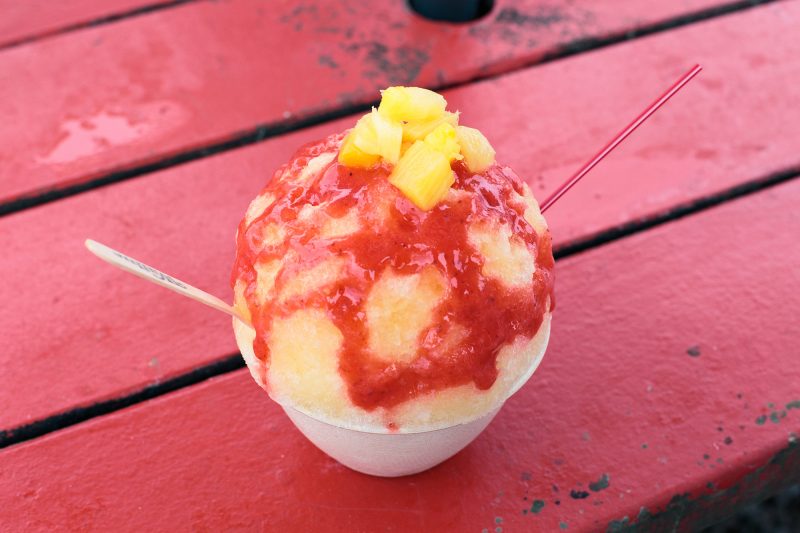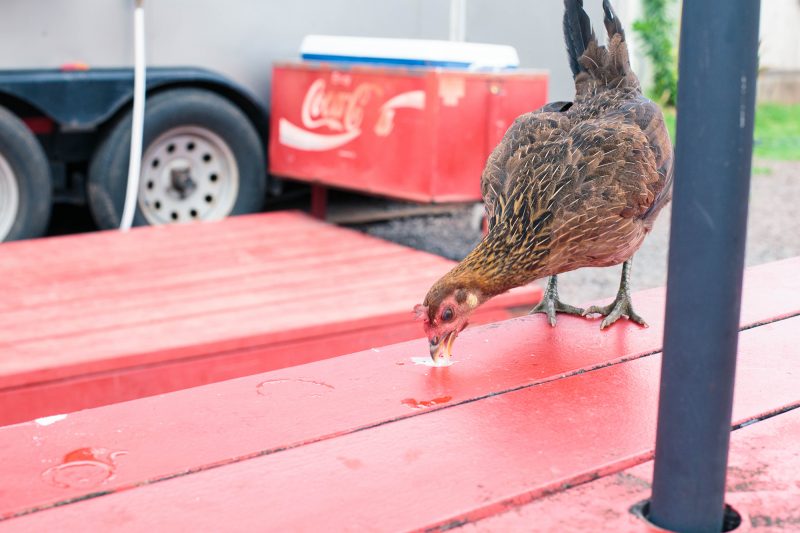 Okay, let's go get more food. The Sleeping Giant Trail is nearby, but with the unpredictable rain, we weren't ready for a muddy hike. Instead, we went to get some Ono fish tacos, grilled and mochi-style (fried with mochi). Both were great and flaky, but grilled seemed to be the winner here.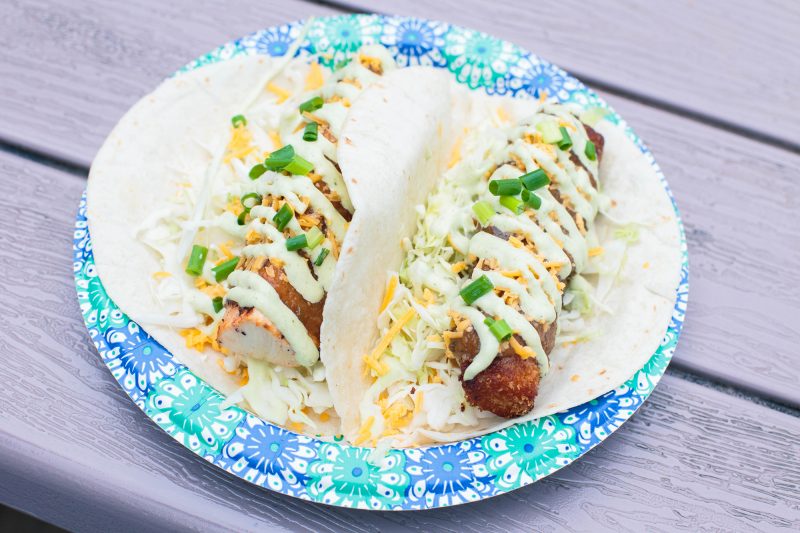 We relaxed in the resort for a bit before picking up dinner at Mark's Place (again). This time we tried the special, which included Katsu, teriyaki beef, and beef stew. The beef stew was great, but I would recommend getting just the beef stew next time (not the special plate) so you get more sauce. Then we finished off with some manjus for dessert. Ube (purple yam) on anything is good. That concludes a day filled mostly with food.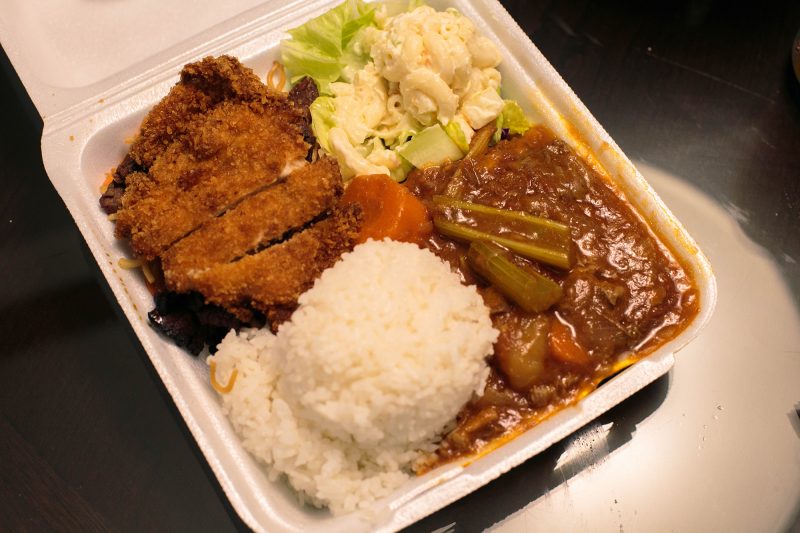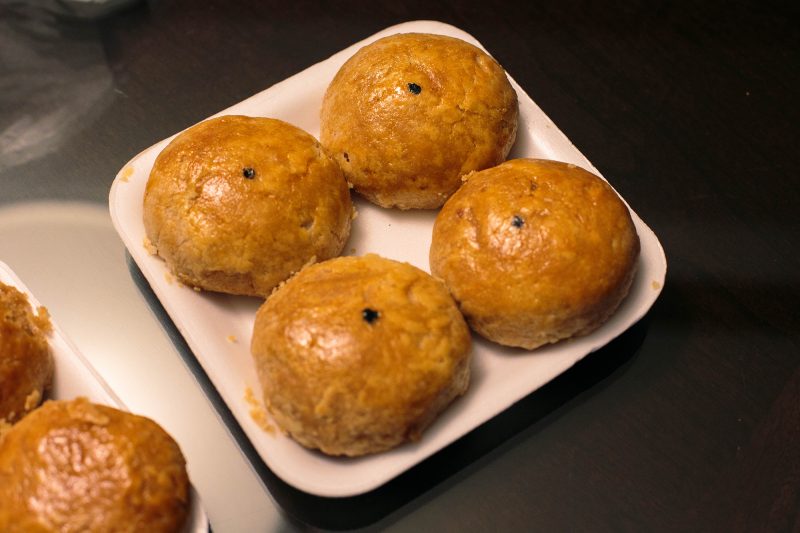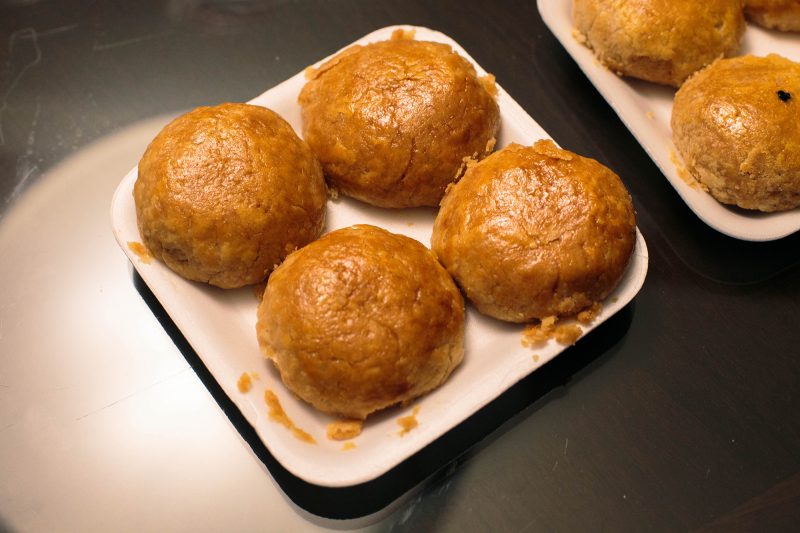 Day Three
By Wednesday, the skies finally started clearing a bit so we were west-bound to see Waimea Canyon. It's touted by many as the "Grand Canyon of the Pacific" and it was obvious why those comparisons were made. I found that although Waimea Canyon did not have the same expansive feeling one gets when standing at the edge of the Grand Canyon, it was much more lush, which also made for beautiful pictures. Generally the clouds start rolling in after 8:30AM so we wanted to get there before then. There are several lookout points including the Pu'u O Kila Lookout (the highest one), Kalalau Lookout, Waimea Canyon Lookout, and Pu'u Hinahina Lookout. They belong in either Koke'e State Park or Waimea State Park. It's a windy and narrow road up the mountain, so it's important to slow down as there are no mirrors letting you know if there's a car around the bend. Just keep driving along – the signs are hard to miss for each lookout. From the highest point you'll see the Kalalau Valley below. If you want to do the Kalalau Hike, it's an expedition that takes a few days but offers spectacular views of the Napoli Coast. Maybe we'll attempt it next time with the right gear. Also, please don't be a fool like us and forget to wear sunblock. We thought we'd be in and out of the car between lookouts but still got burnt. I'm peeling as I'm writing this.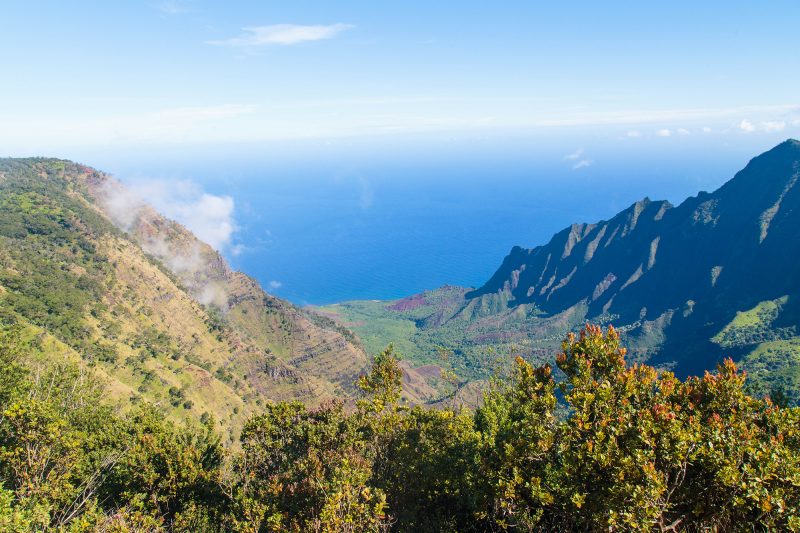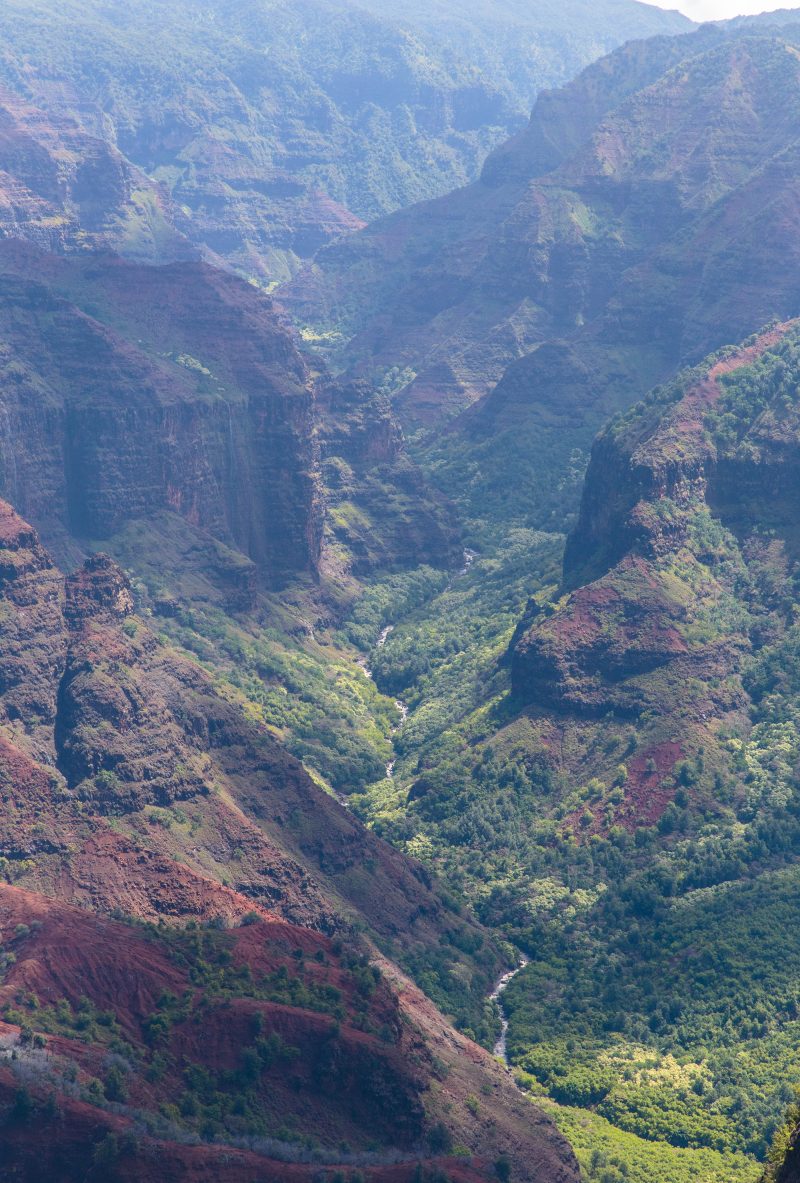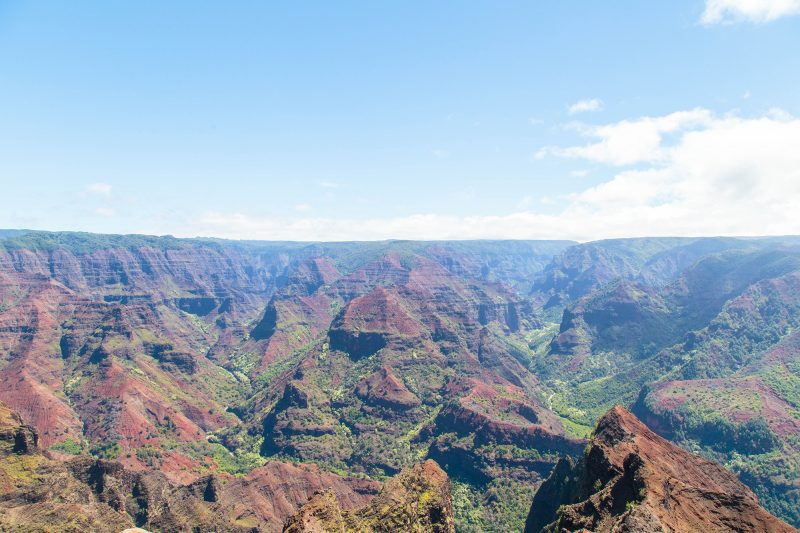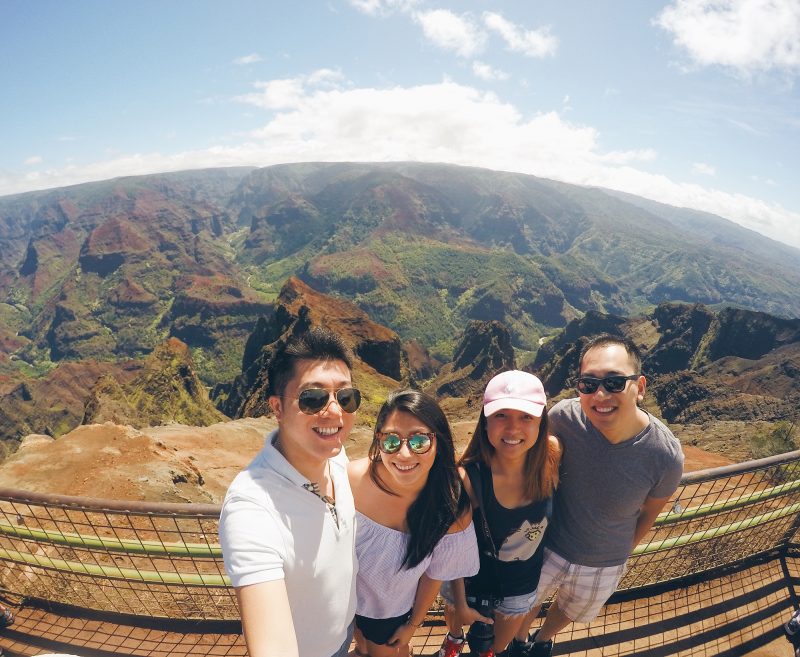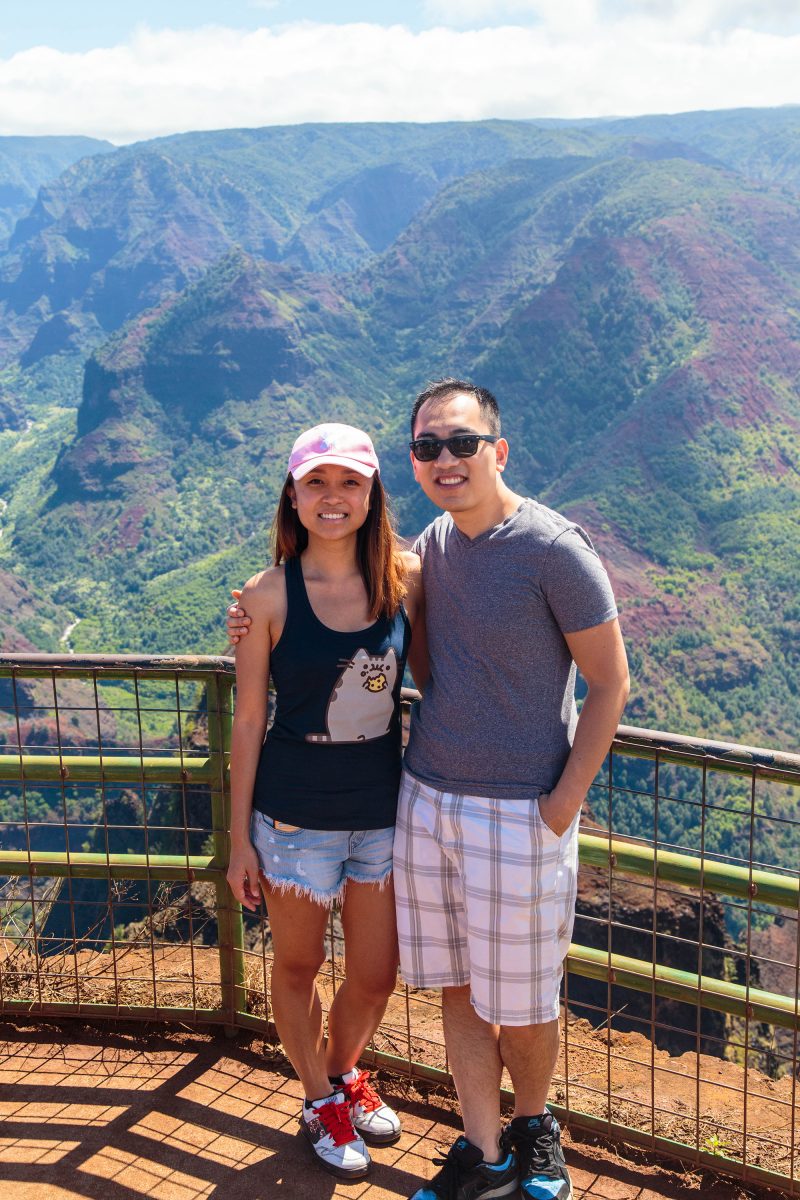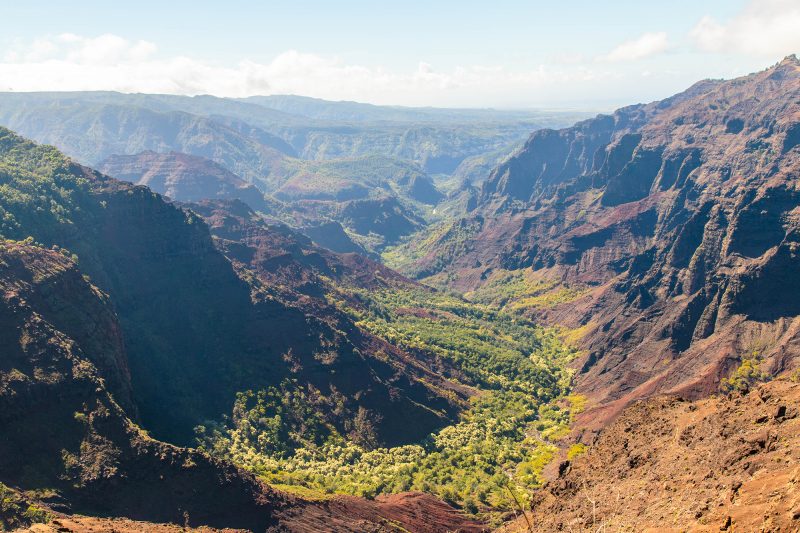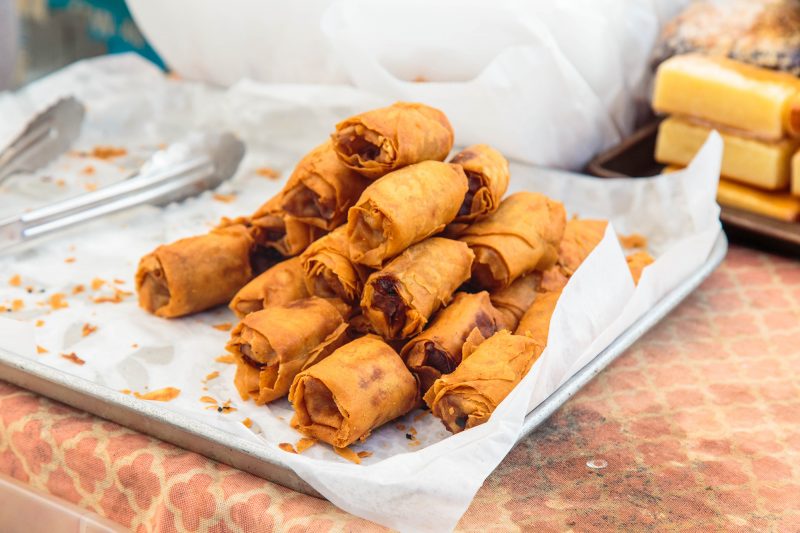 After a whirlwind morning of enjoying the views, we were ready to fill our stomachs. Kalua pork is a staple food in Hawaii, and Porky's is a food truck that sells some of the most scrumptious pork and sausage buns with sweet and spicy sauce. We ordered all three items on the menu, which included pork with sausage on a bun, grilled cheese with pork, and pork with hot dog on a bun. All three were tasty, but the first one really hit the spot.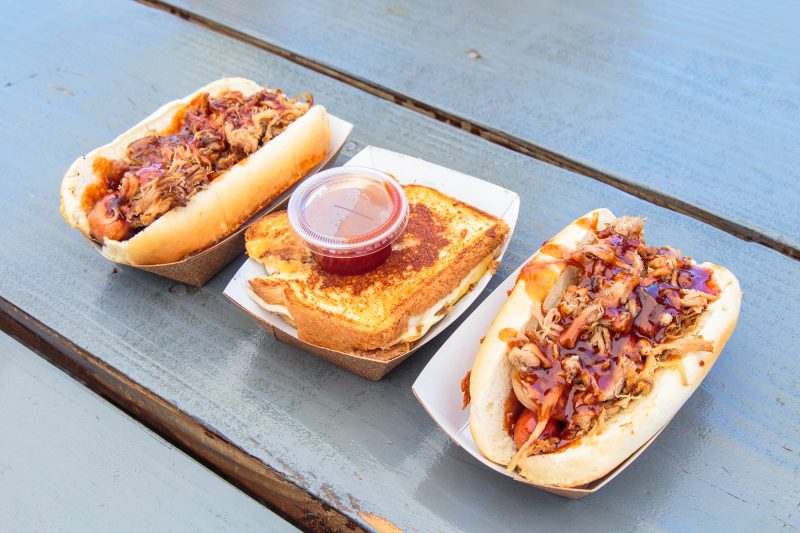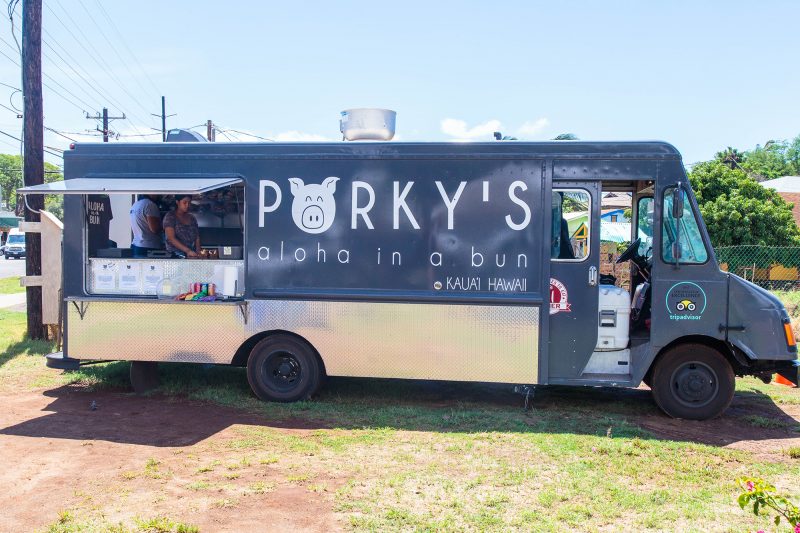 Vanessa and I made a quick pit stop to the Glass Beach. The road in there is quite bumpy, narrow, and filled with holes, so I wouldn't recommend driving a rental car in there unless you have a jeep. There's supposed to be a bunch of tiny, colorful glass fragments in the sand, but it wasn't too impressive. You have to look pretty hard and there wasn't really anything else there. I'd say it's skippable.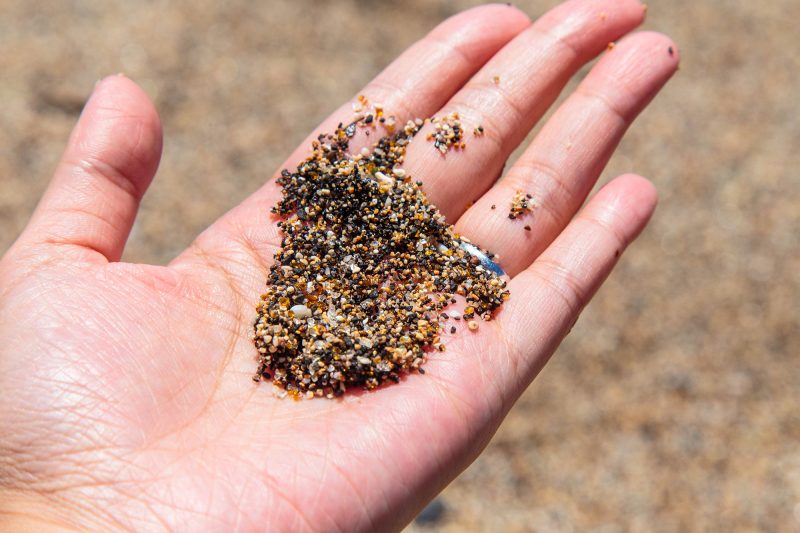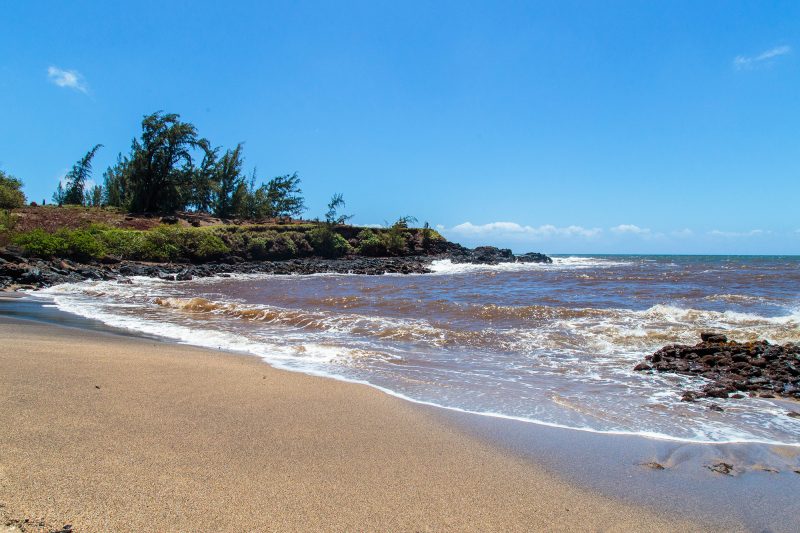 Though it's said that Kona has the best coffee in Hawaii, I think it was still worth our time visiting the Kauai Coffee Company. There is a free mini self-guided plantation tour. Gotta admit, I had no idea that coffee grew on branches and looked like olives. Inside, there is also a gift shop and free coffee tasting. Some of the flavors were interesting, such as anything involving fruits, macadamia nuts, or chocolate. At that point it doesn't taste much like coffee anymore though.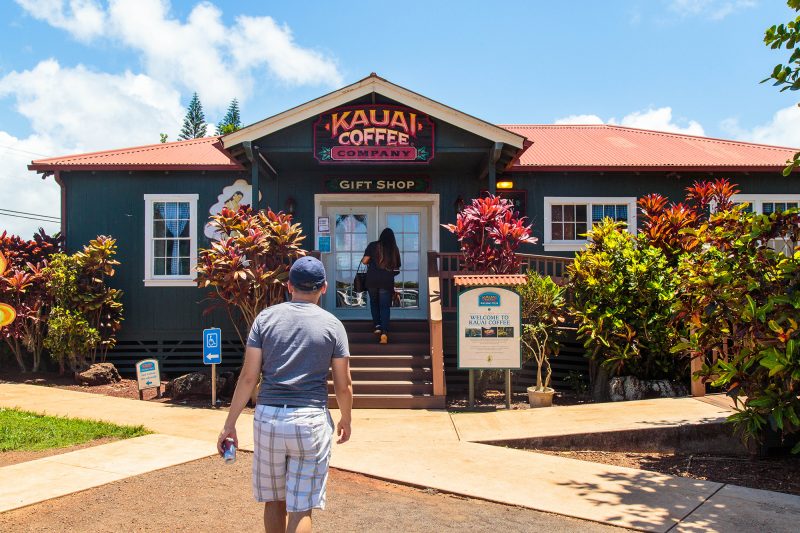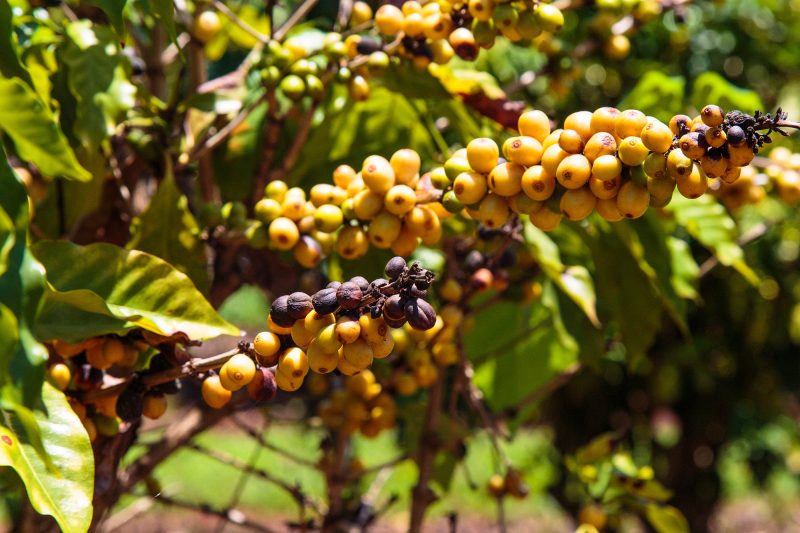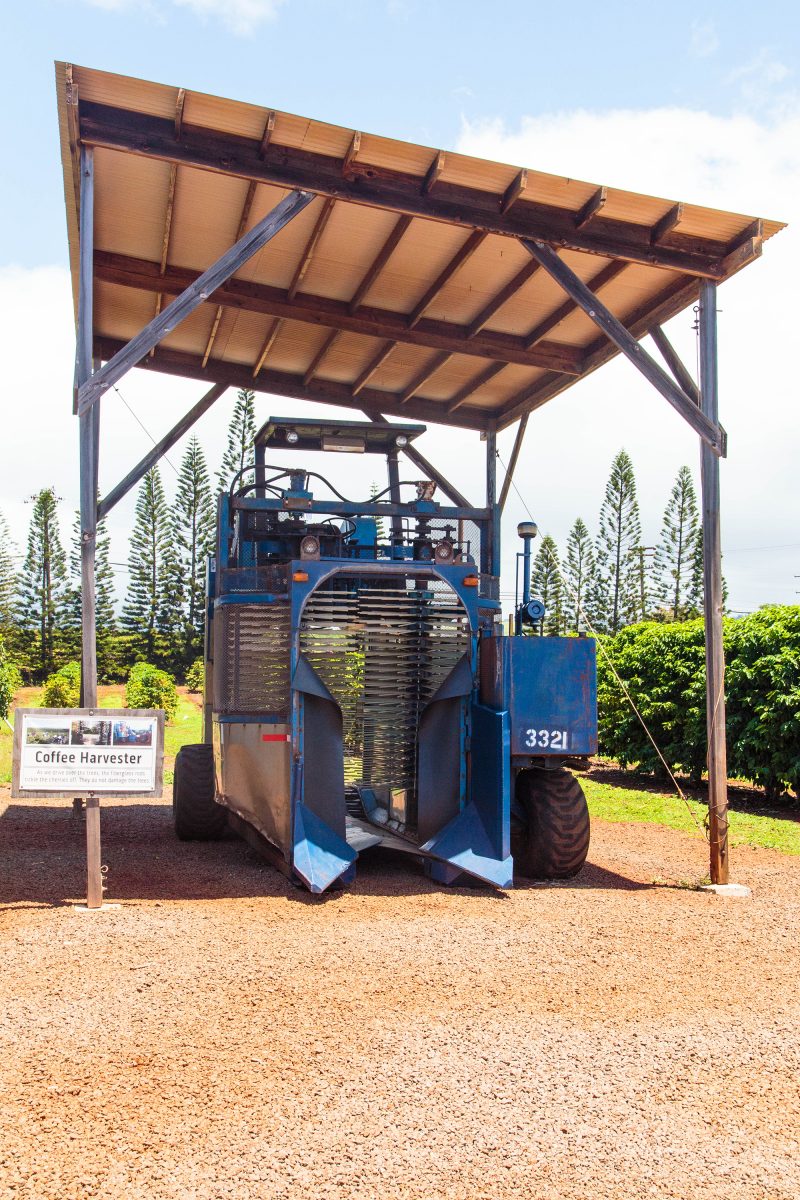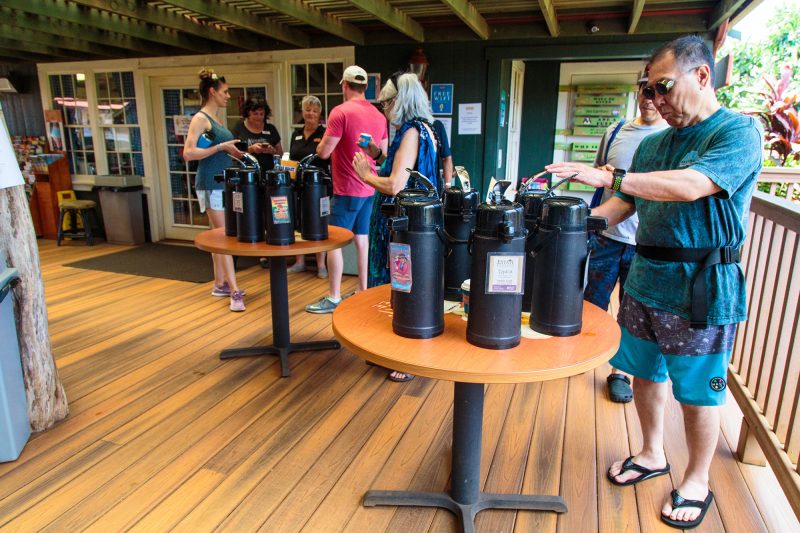 With no more torrential downpours, we were finally able to visit the north. Kilauea Lighthouse and Wildlife refuge is located at the northernmost point. The attraction closes early at 4pm and sometimes offers tours inside the actual lighthouse. We didn't see a lot of wildlife in there, but the smell was definitely present. You can see a bunch of birds perched on the nearby small, uninhabited islands. Aside from looking out into the ocean, there's not much else to see.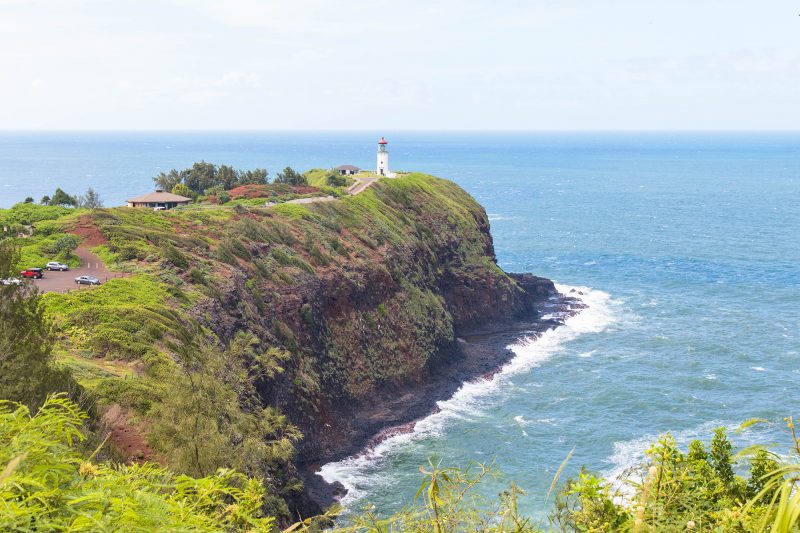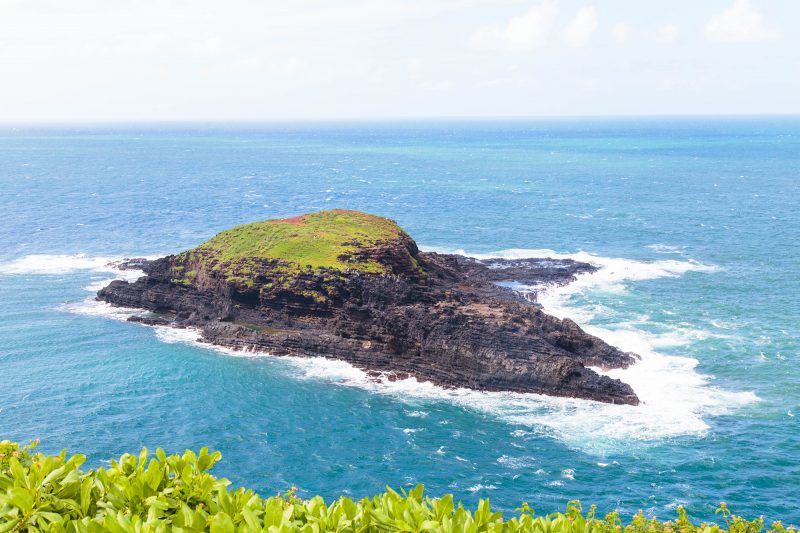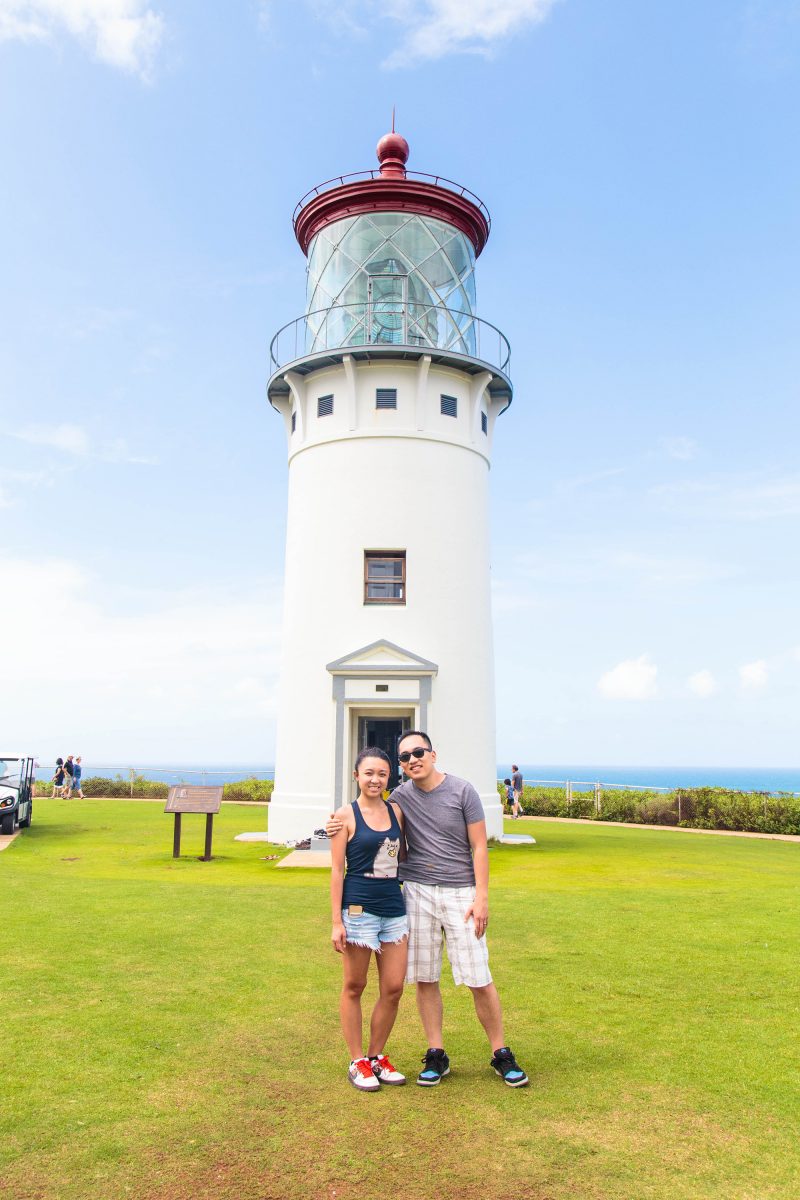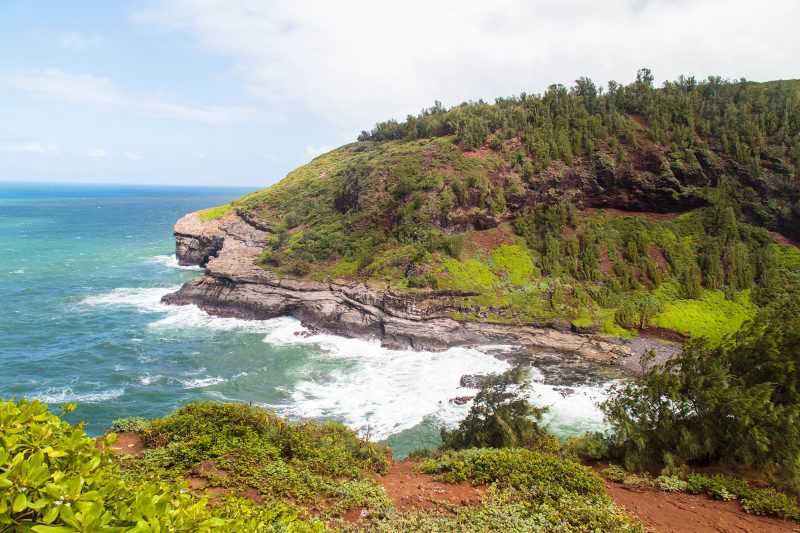 Also up in the north is Hanalei Bay. The views are definitely more spectacular with a drone so you can see the actual crescent shape of the bay, but it is a nice beach to chill in with a bunch of small shops and eateries nearby. The parking lot wasn't very rental car-friendly, though. Again with the bumps and holes. I have to say, Tie and I are not really beach goers even though we enjoy being near the water. Nor can we swim, yet we keep returning to tropical islands. Sorry we can't really give surfing tips!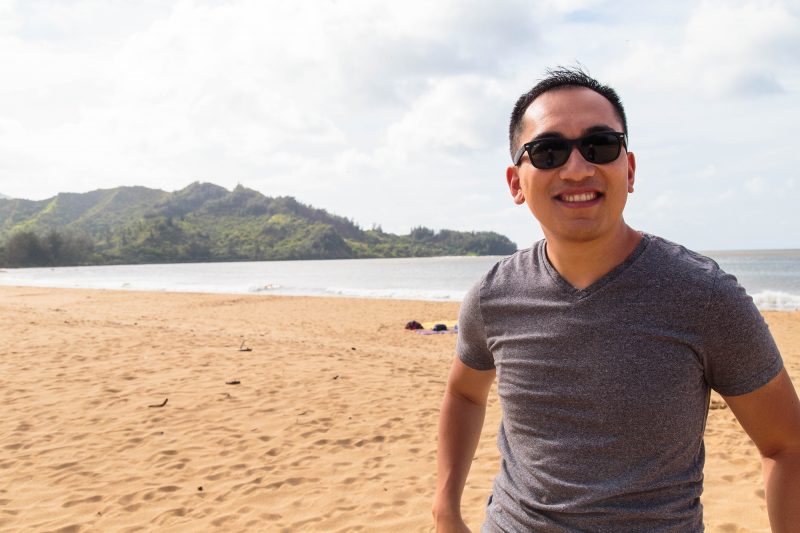 For dinner, we headed to Smiley's Local Grinds, a small restaurant in Lihue. The beef stew was delicious, as well as the kalbi. I still preferred the loco moco in Mark's Place. The one here was a little too bland for my liking. Oxtail soup had good flavor. Not our best meal in Kauai, but I'd order that beef stew to go in a heartbeat.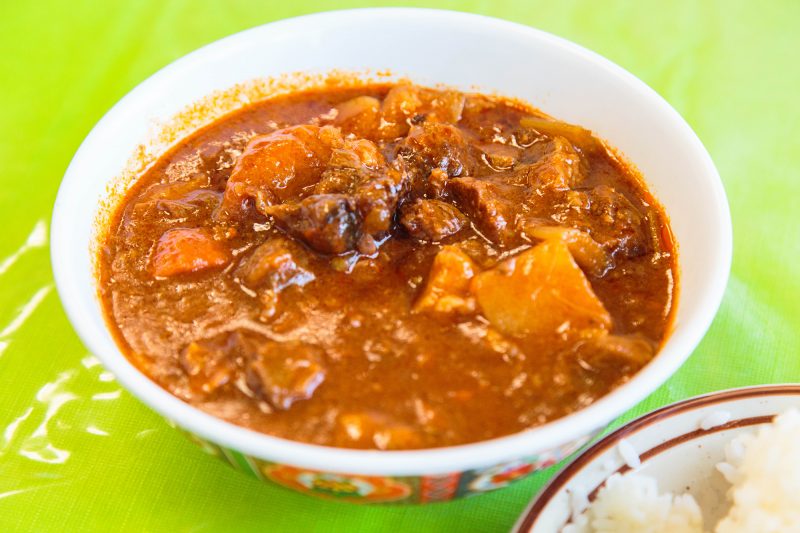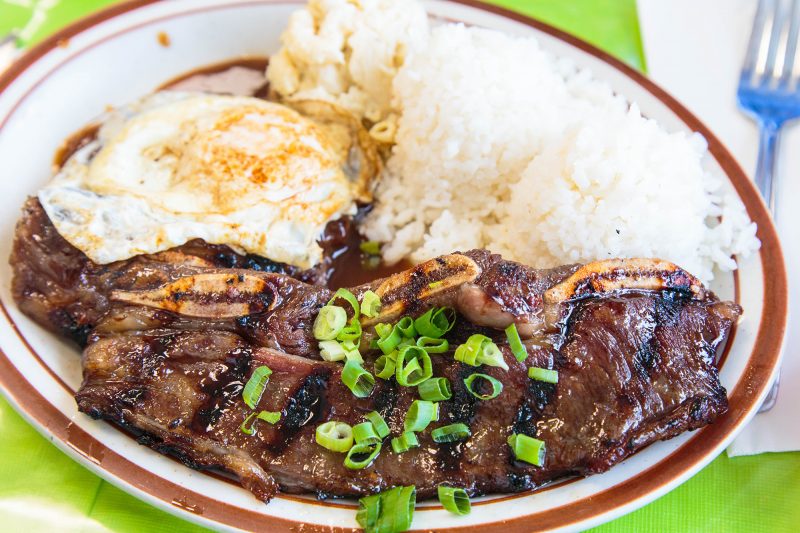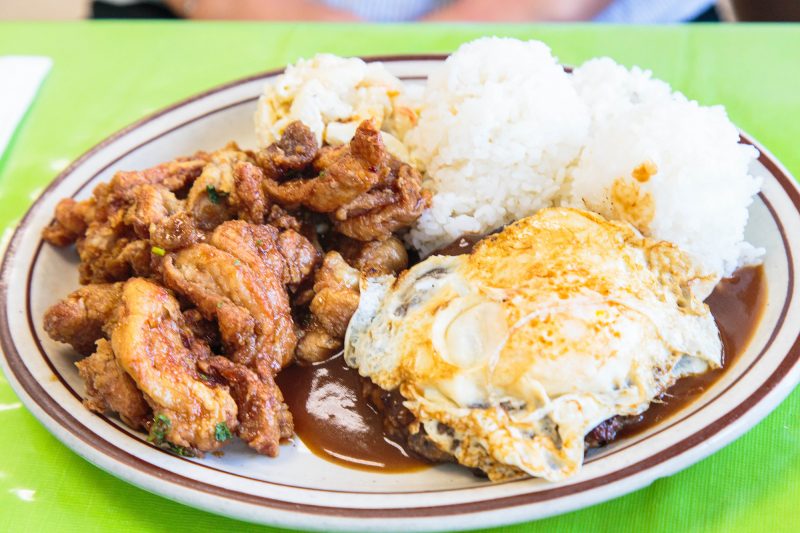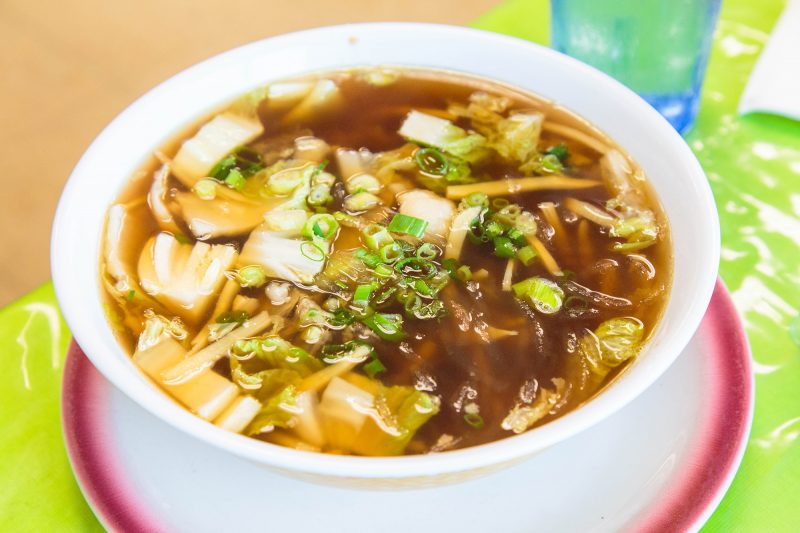 Day Four
Okay, now for the highlight of our trip. I had watched some travel video previously about helicopter tours in Kauai. Admittedly, that was what first drew me into visiting the island. Indeed, there are many mountainous regions that are simply inaccessible by car, which is why you have to drive around in a giant incomplete circle to get from end to end on the island. Luckily, you can still fly over it to check out all the areas you missed on land. The tours aren't cheap, running at around $350 per person for a private one-hour flight. But we've never had an experience like this before and it really is the best way to see Kauai. So to hell with it, we booked the tour. We went with the Mauna Loa Helicopters company and our pilot Blake was a real friendly British chap. They have doors on and doors off options – we went with the latter to get the best views and best pictures. We were securely strapped into our seats and I had my camera around my neck, so it never felt frightening even though I'm usually afraid of heights. It's extremely windy up there with the propellers spinning, so we kept our gear and limbs inside at all times.
The tour was absolutely stunning. I never dreamed that we would one day be flying over canyons and out over the ocean, looking back at the gorgeous Napoli Coast. We lost count of how many waterfalls there were all over the island. The pilot pointed out where they filmed Jurassic Park and Pirates of the Caribbean. That soft morning light hitting the mountains is a sight I would never forget. I had thought it might be something like looking out the window on a plane, but it was on a whole other level. Imagine being so close to the mountains that you can see the goats on them. I felt like I was in the second 50 Shades of Grey movie, but without the crash.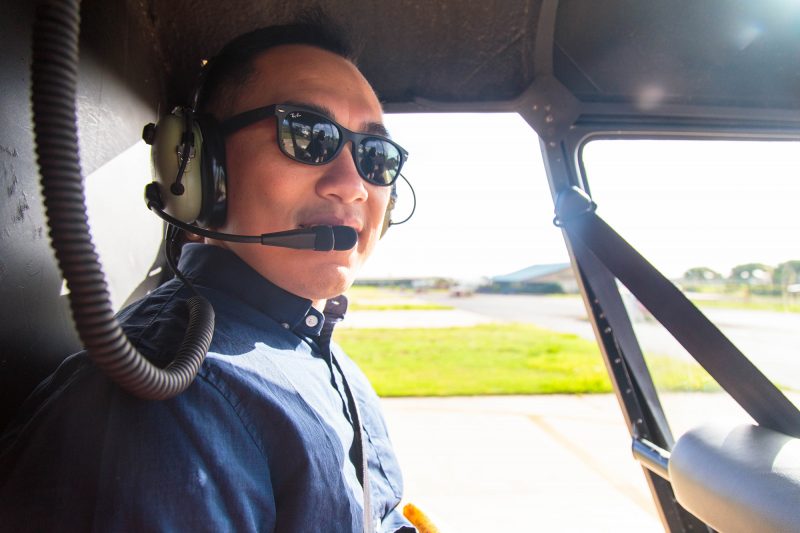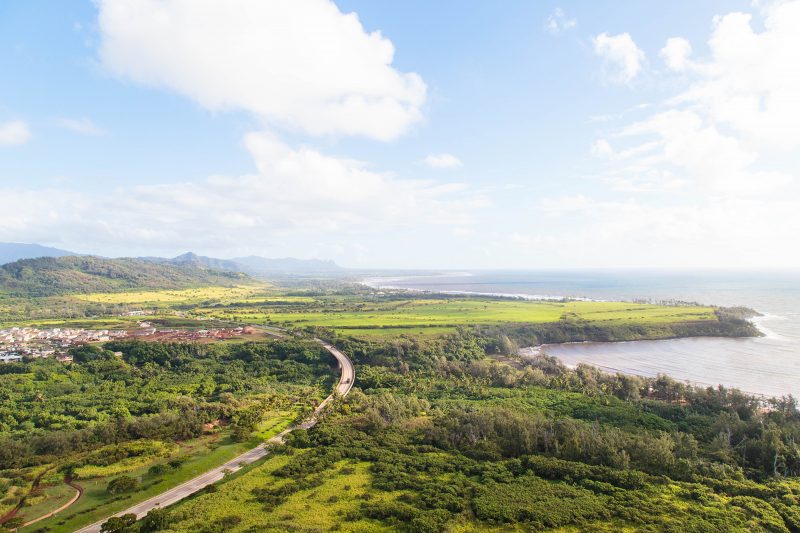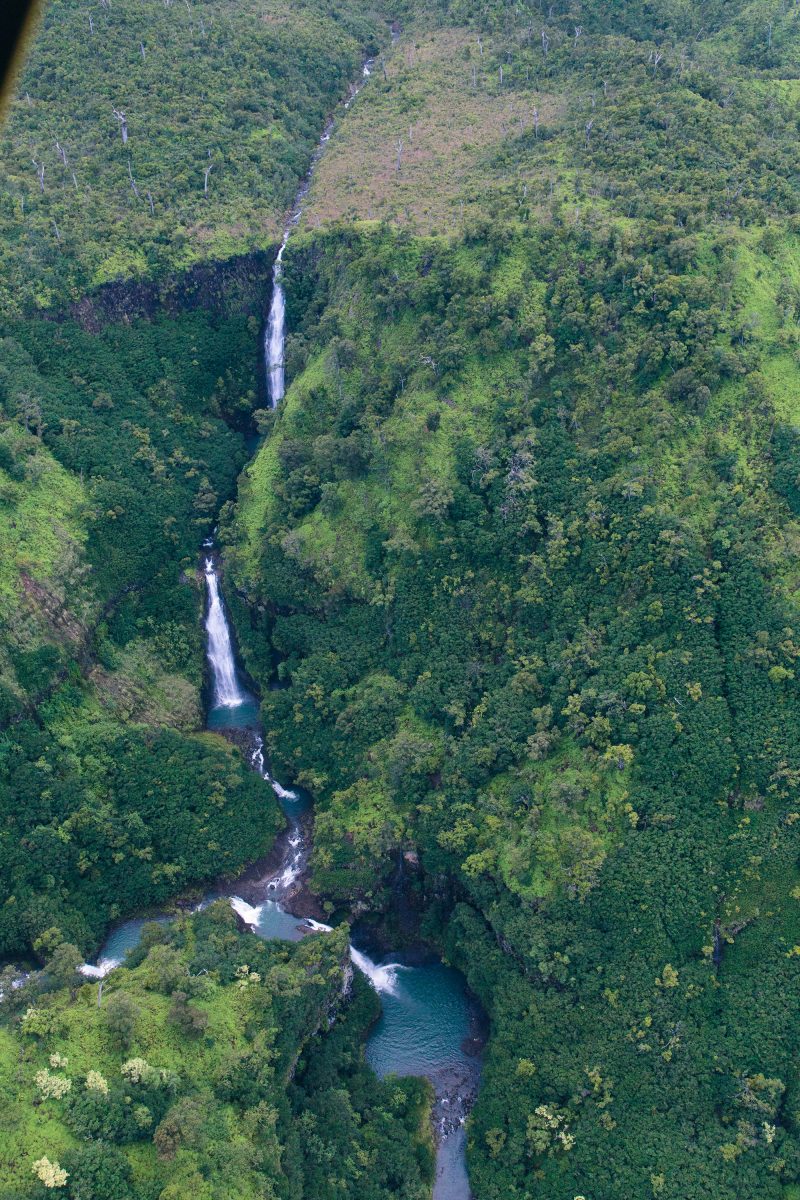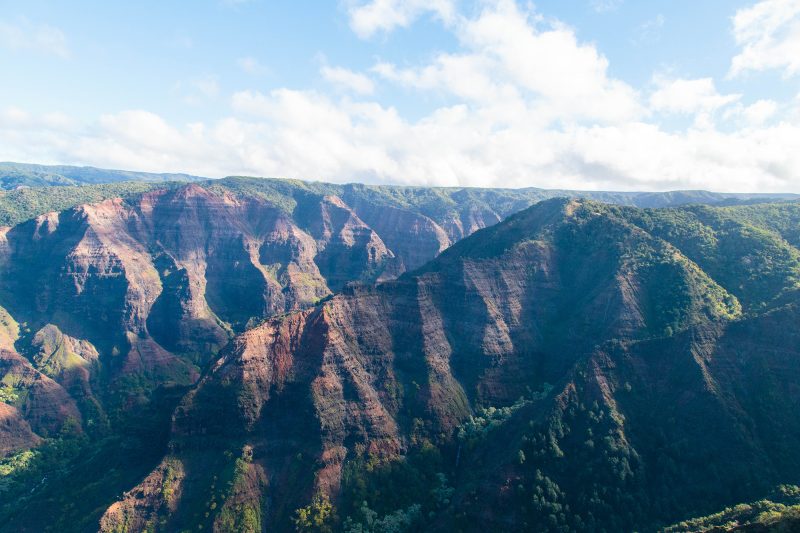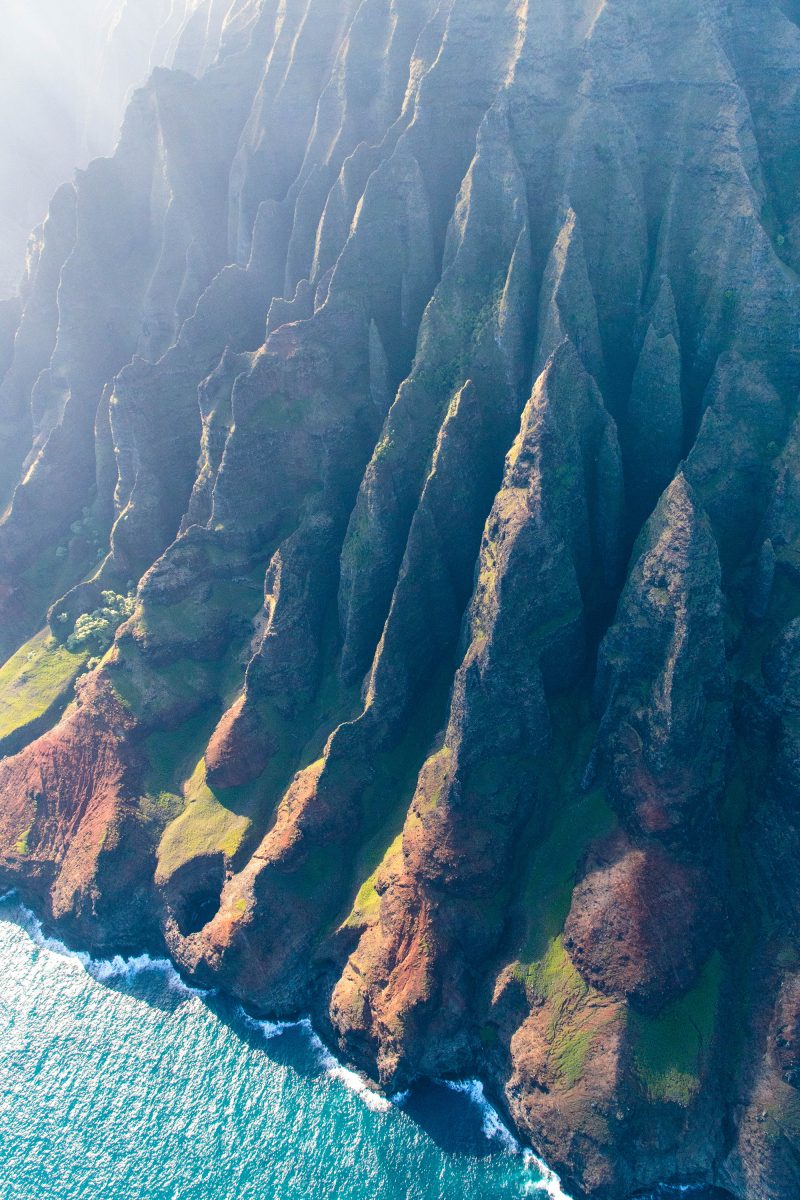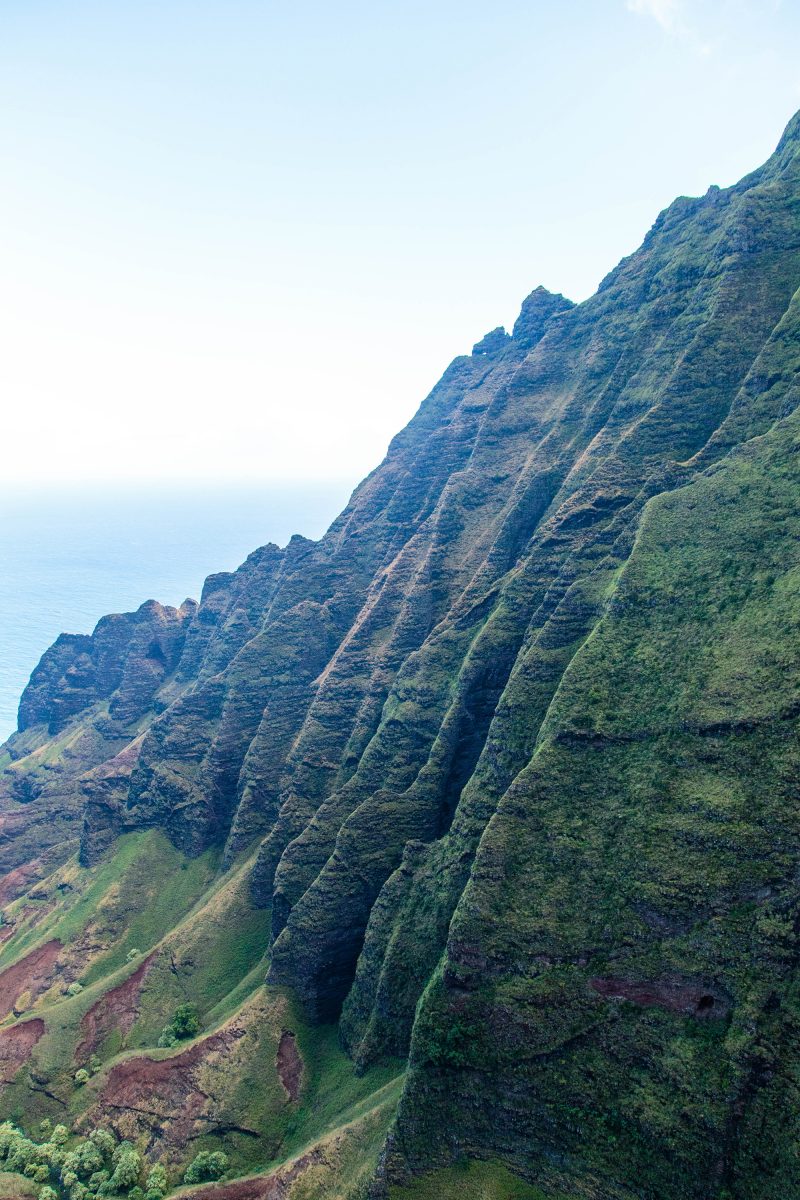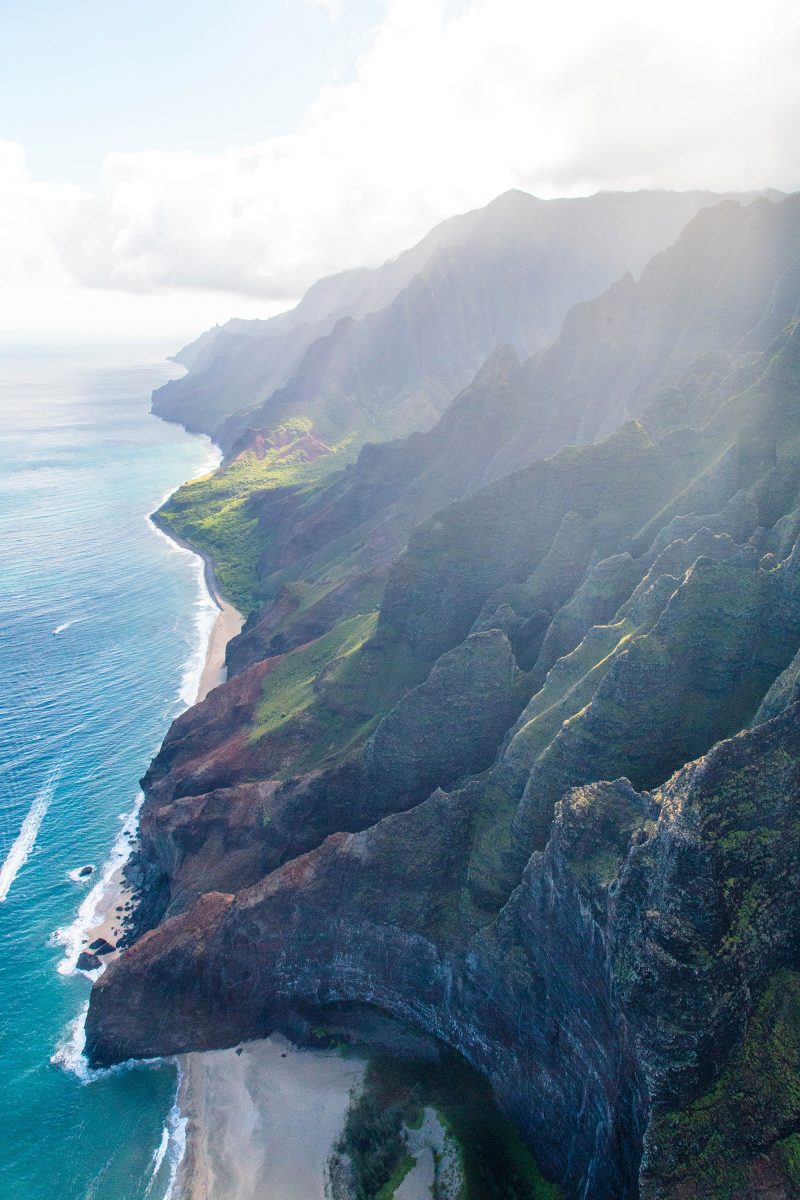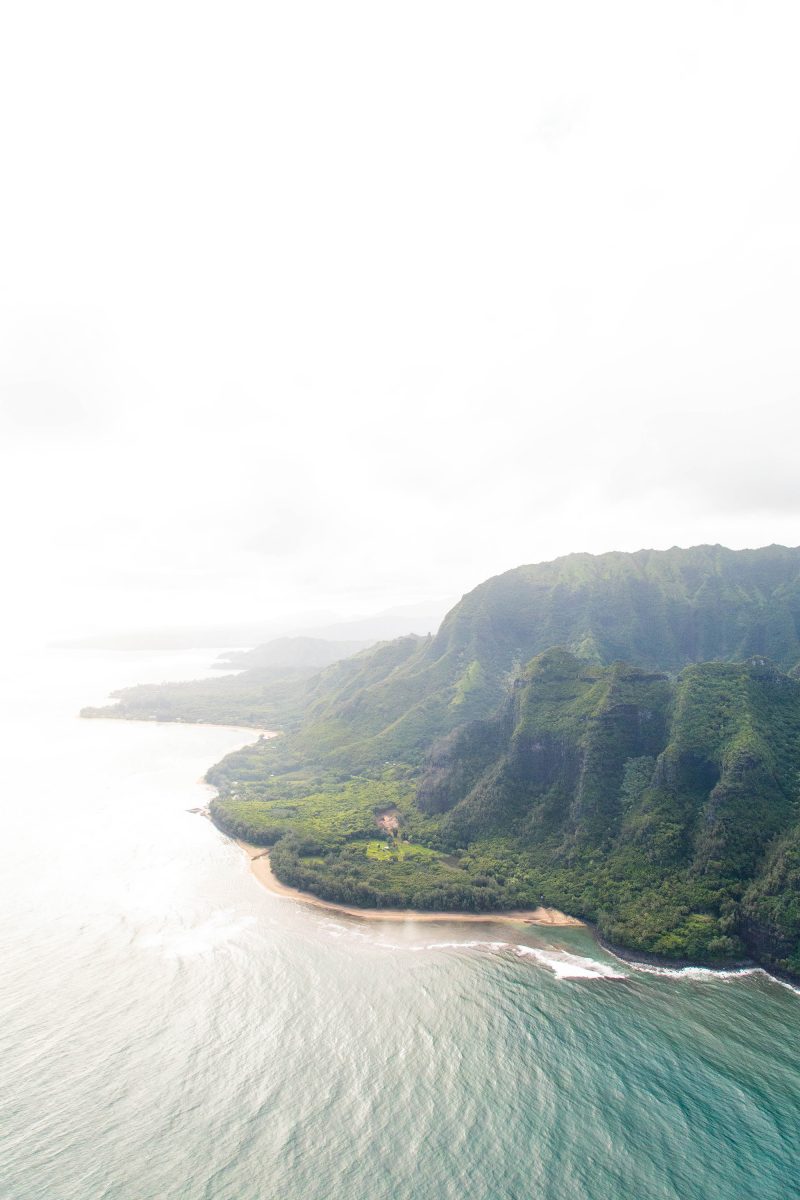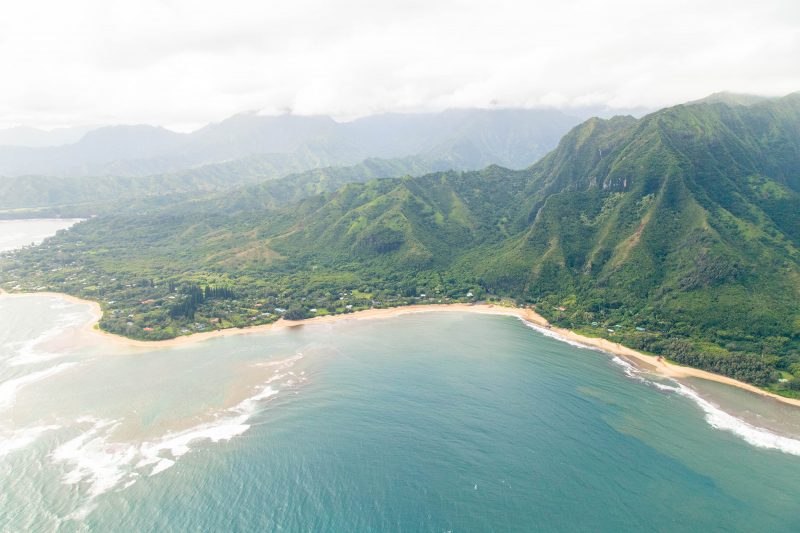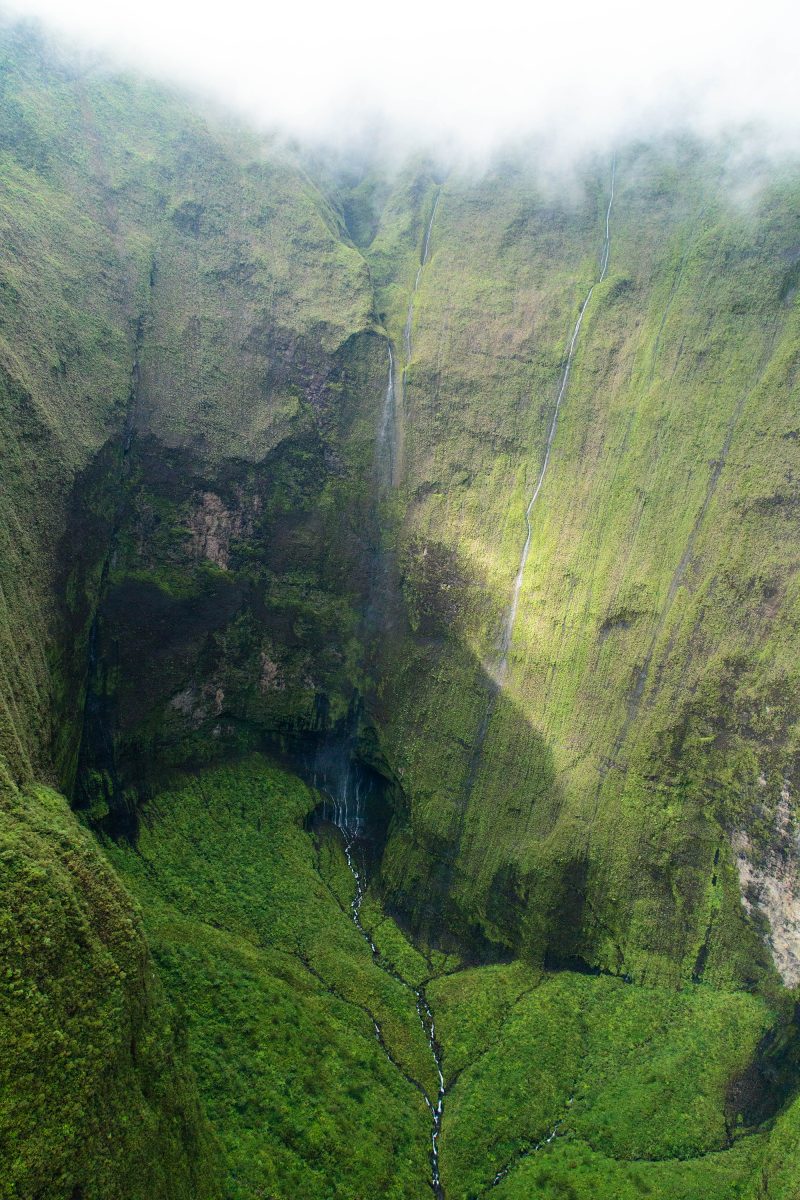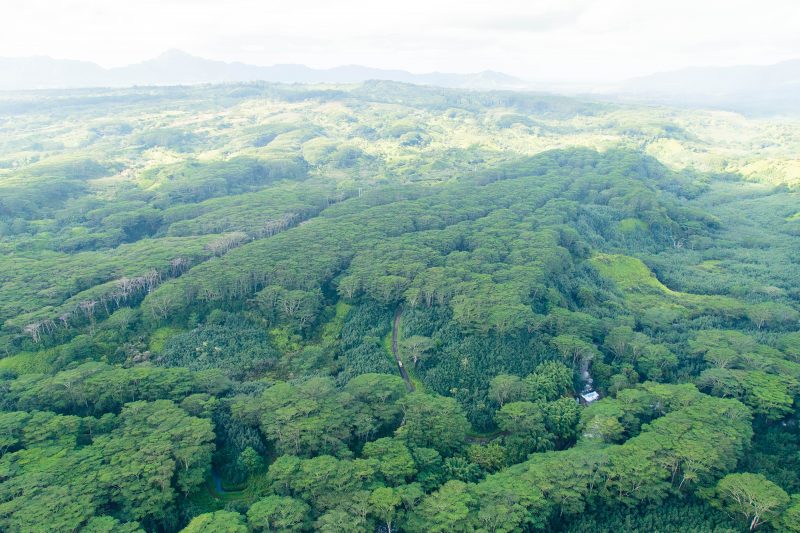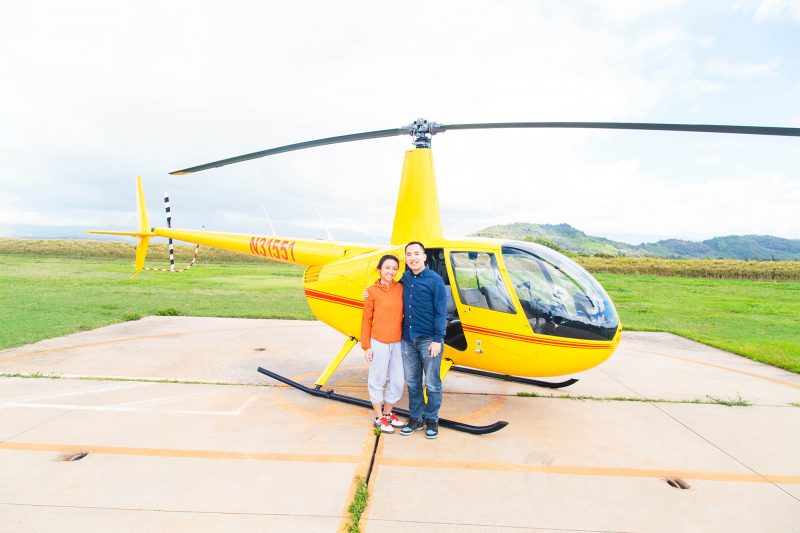 For lunch, I had been anticipating trying out saimin ever since the driving tour guide recommended it. It's a soup noodle dish that's a fusion of Filipino, Japanese, and Chinese origins. Supposedly Hamura Saimin is the best place to get it. Sadly, I was uber disappointed even though we were super hungry. The egg tasted like dirty socks (or something like that), the wontons were bland, the noodles were over-cooked. The whole thing was just kind of sad. Maybe it's an acquired taste? But I didn't see the appeal of it at all. It was kind of devoid of flavor and even the skewers weren't that good and tough. I wasn't able to finish my meal because it was so unappetizing. If you're curious, go try it anyway, but I'm still trying to erase the memory of the taste from my mouth.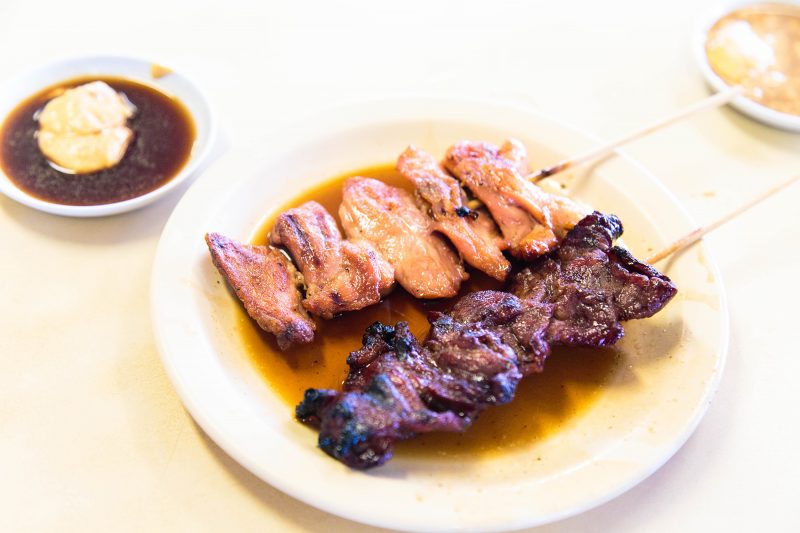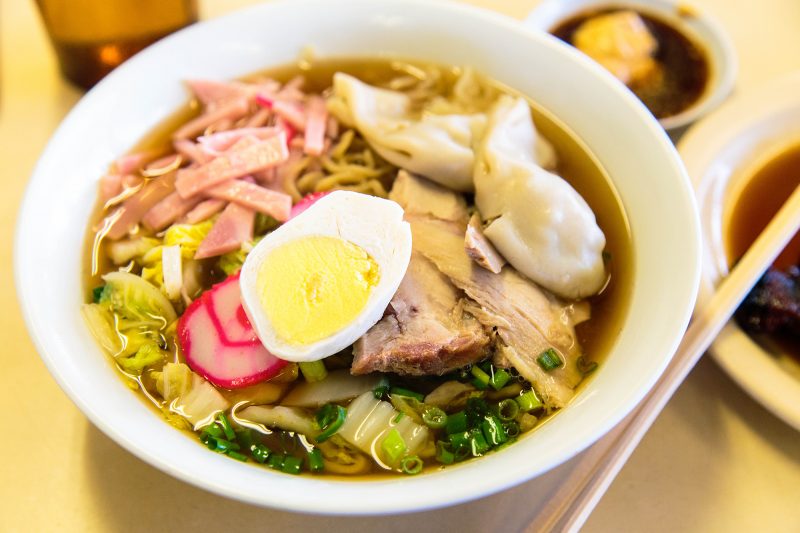 With some time to kill, we drove to Hanapepe Town. There's a handful of shops and dining spots that reminded me a bit of the old wild west. We've heard good things about Bobbie's Restaurant for comfort food but sadly already filled our stomachs with that disappointing saimin. This tiny town is also known for its Eleele Swinging Bridge, with a small photo gallery on the other end.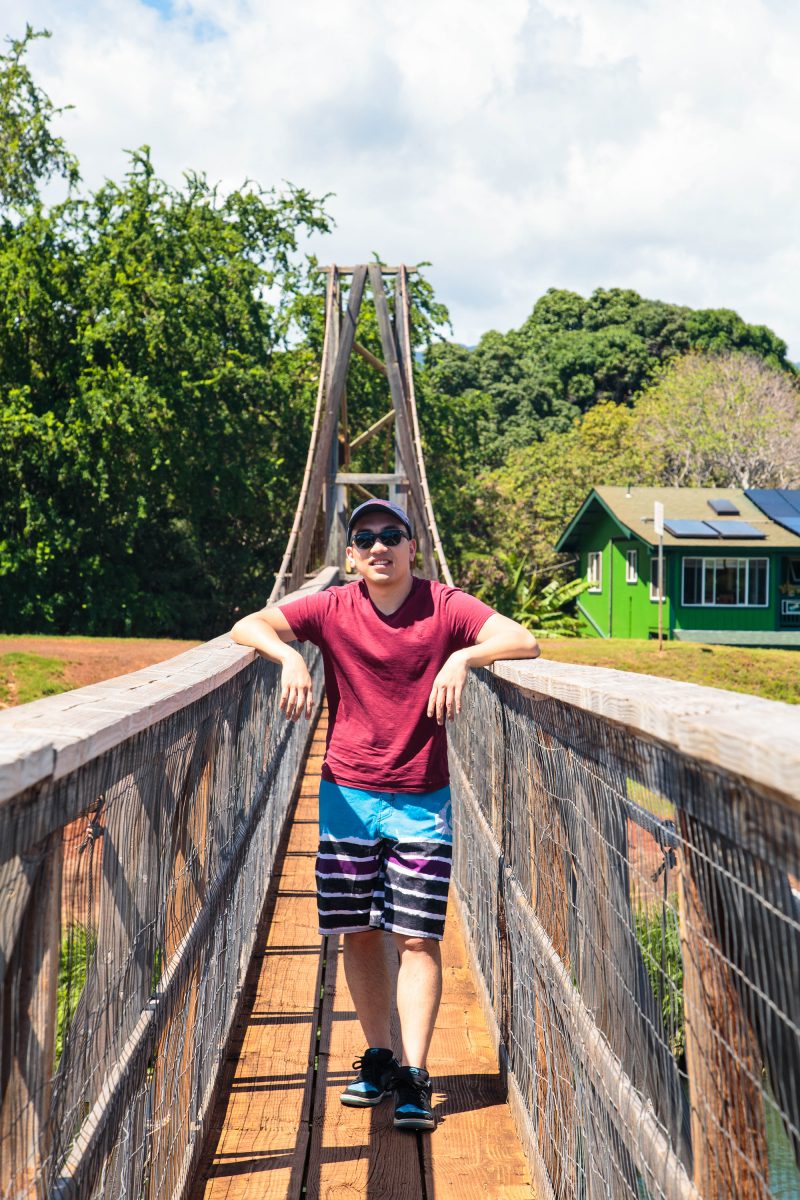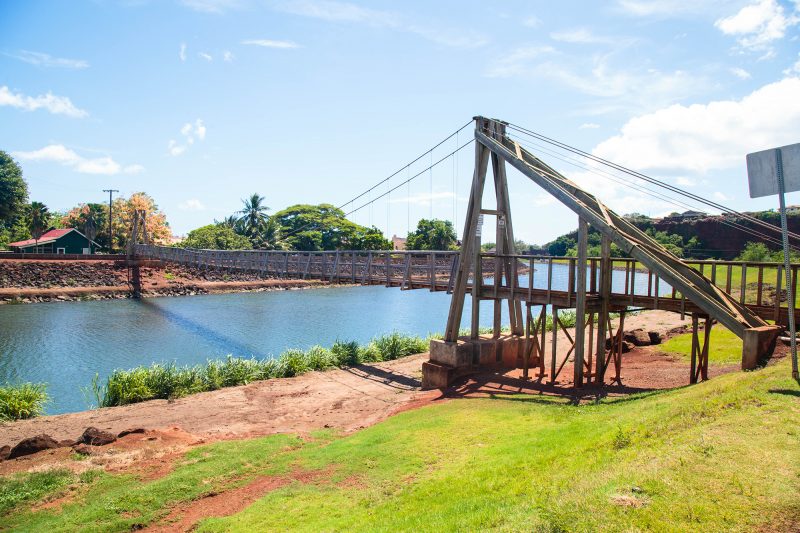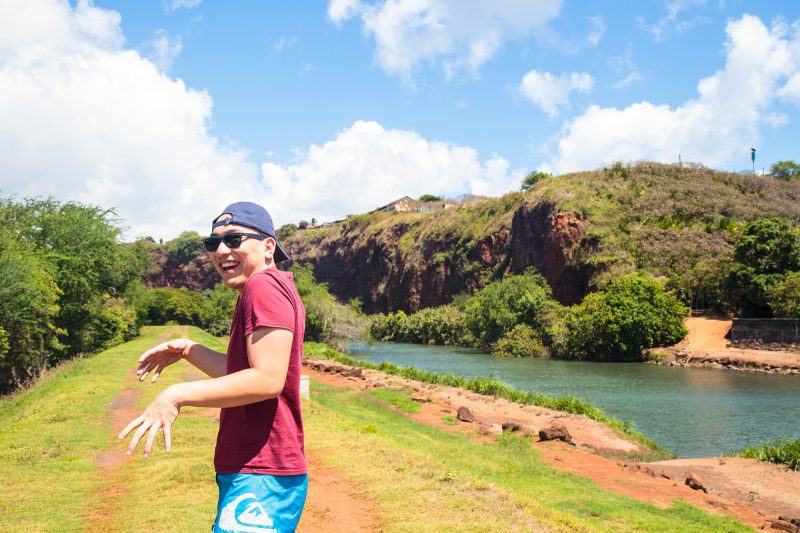 Finally, it was time for our 4-hour catamaran sunset tour of the Napali Coast. We went with Holo Holo Charters at $130 a person. There were light snacks (crackers, dip) onboard and a DIY taco dinner with meat, beans, salsa, all that good stuff. The crew was very friendly and attentive, making sure I was getting my fill of Mai Tais. I wouldn't recommend drinking too much, though. As we went out to the ocean, it got really rocky and windy; people were falling all over the place. Thank goodness for seabands! There were about 40 passengers, so sometimes it was difficult getting pictures without anyone in it. There was a guy who dropped his phone into the water and a crew member actually jumped in to retrieve it. The coast was gorgeous up close, with water splashing everywhere and forming tiny rainbows by the side of the boat. We even rode up to a cave and heard a bunch of bats inside. The colorful mountainous formations really looked like giant feet sticking out onto the ocean. As the sun set quietly while the captain played Sweet Caroline, it felt very romantic, even with so many other people onboard.
Admittedly, Tie and I rarely spend much time inside the resorts when we travel and are usually out and about exploring. But since Kauai is such a small island, we checked many things off our list rather quickly and were able to take it easy the last two days. Between lazing around in the pool with our friends, we also drove nearby to fill our bellies. The next day, we stopped by Dim n Den Sum, located in a small food truck lot with outdoor seating on the grass. Excellent fried spam musubi and coconut fried shrimp (I'm a sucker for crunchy things). On a particularly rainy day, the owner even delivered food to our hotel because the truck wasn't open. 5 stars for service alone! I also recommend the garlic noodles from the adjacent food truck.
For dinner, we went back to Mark's Place (can you tell we're obsessed?) and ordered their amazing loco moco for the very last time. Then we brought our dinner to Koloa Landing, where we watched the sunset inside Ray and Vanessa's Ford Mustang with the top down. And right afterwards, it started pouring. Kauai, the island where it's all about timing.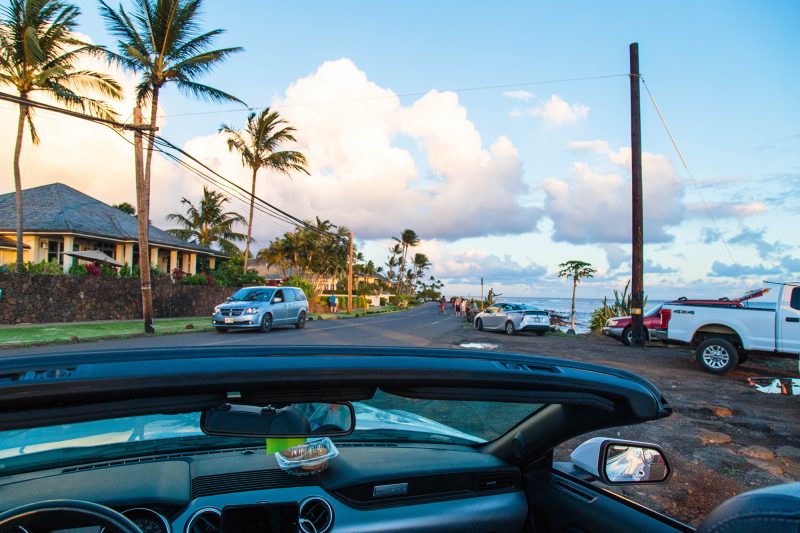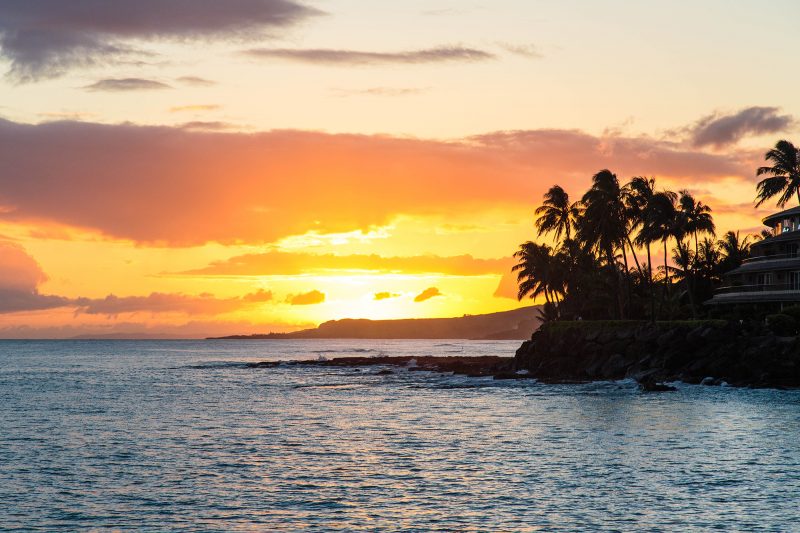 The next morning, we woke up earlier to catch the sunrise. Outside of the Grand Hyatt Kauai is a short hiking trail called the Maha'ulepu Heritage Trail. We walked along the beach and up the cliff where several other early birds await. Guess we never quite got over our jet lag. It was a spectacular view – the clouds looming above and the waves crashing below as the sun arose and cast a warm orange hue over the sky. We even saw a couple getting their wedding pictures taken on another cliff. Definitely worth the climb!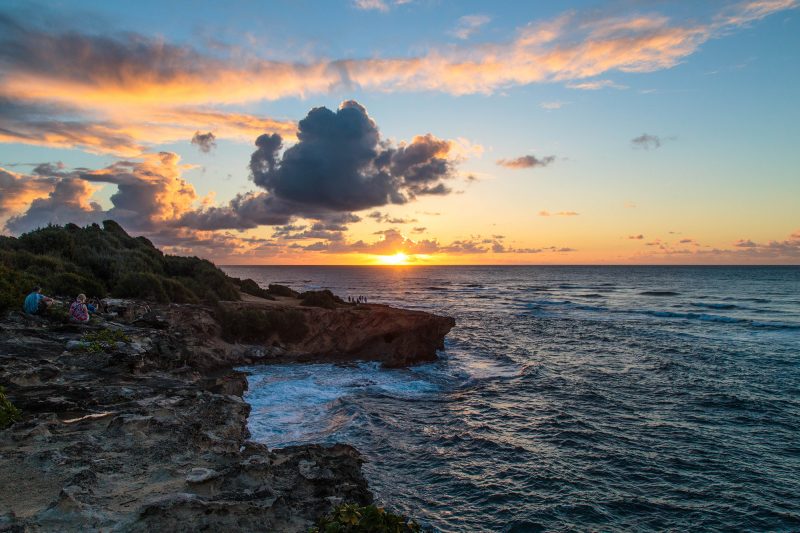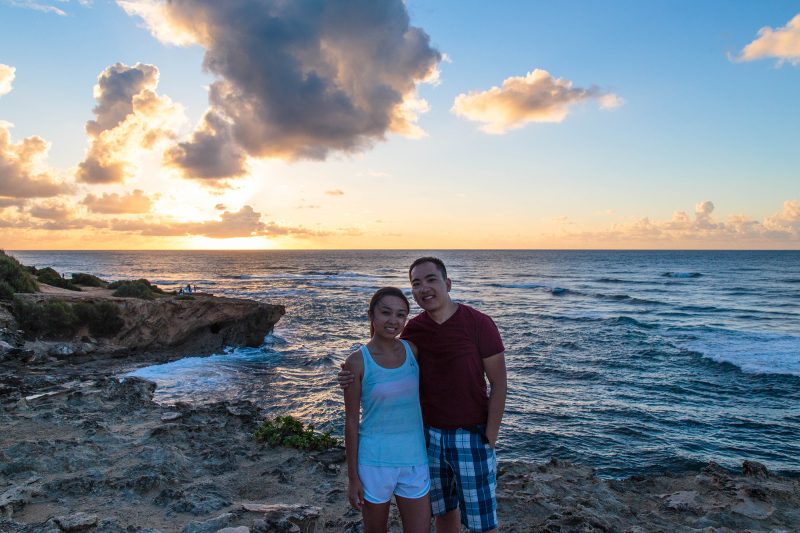 The best part about waking up early is getting in before the brunch rush starts! We chose to eat at Anuenue Cafe, located inside the Poipu Shopping Center. While everything was fantastic, I must say the Triple Crown (banana macadamia nut pancakes with Portuguese sausage) was especially impressive. Not overly sweet and with a crunchy texture atop from the crushed nuts. I'm normally not much of a pancake or sweets person, but damn it was good. Same with the Kalua pork fried rice, which was sweet and spicy with pineapples and jalapeños. The line does fill up quickly. I only wish we had also ordered Anuenue, which has tomato jam, hollandaise, eggs, and crushed bacon.
On Saturdays, the Kauai Community College hosts a farmer's market open to the public. Parking gets filled up fast, so we got there around 9:30AM when it opened. There were beautiful tropical floral bouquets filled with plants I'd never seen before. Wish we could've brought it home…would have been a real showstopper. There were also lots of local produce we don't have back at home, such as Apple Bananas that actually tasted like apples. The fruits and vegetables all looked ginormous and healthy, probably thanks in part to Kauai's incessant rain. Most notable were the sugarloaf pineapples. When we visited Maui in the past, we brought back some golden pineapples, but these white sugarloaf ones in Kauai were way sweeter. No acidity so no itchy tongues! They were also much more expensive at $16 for a medium-sized fruit, but…it was worth it. They were perfectly ripe and delicious – they even had sugarloaf soft serve! Technically you can still buy them online…for $60 apiece. We brought two home with us, making sure to run the leaves through water so any bugs that got trapped in there got washed off, lest you want to see the head lobbed off by Agricultural Inspection.
Following another relaxing afternoon of wading and getting burnt in the hotel's swimming pool, we went back out to get dinner at Da Crack, which is close to the Poipu Shopping Center. It's a Mexican hole-in-the-wall where you just place your order and eat outside on the benches. This. Place. Puts. Chipotle. To. Shame. I mean, not that Chipotle is a high bar to begin with, but it really chokeslams it and throws it to the ground. I am truly heartbroken that I cannot taste that perfect garlic shrimp burrito bowl with the works back in New York. I scarfed that thing down so fast. Please, if you happen to be in the area, have a bowl for me.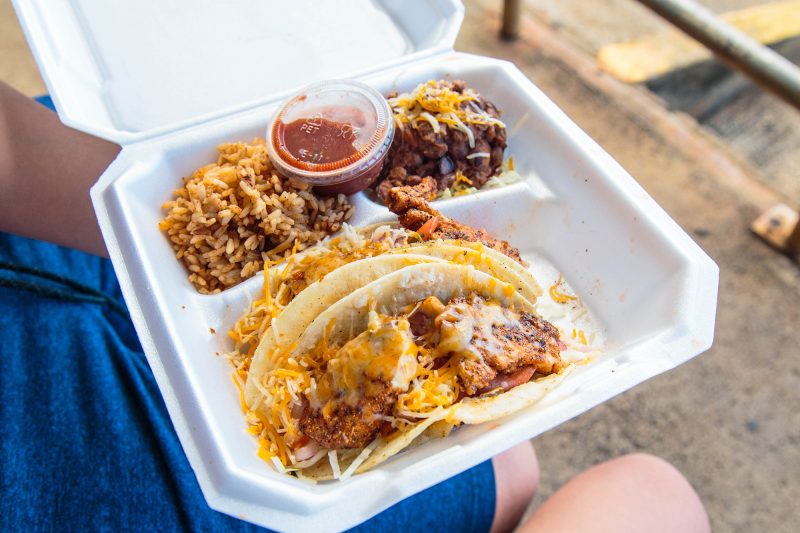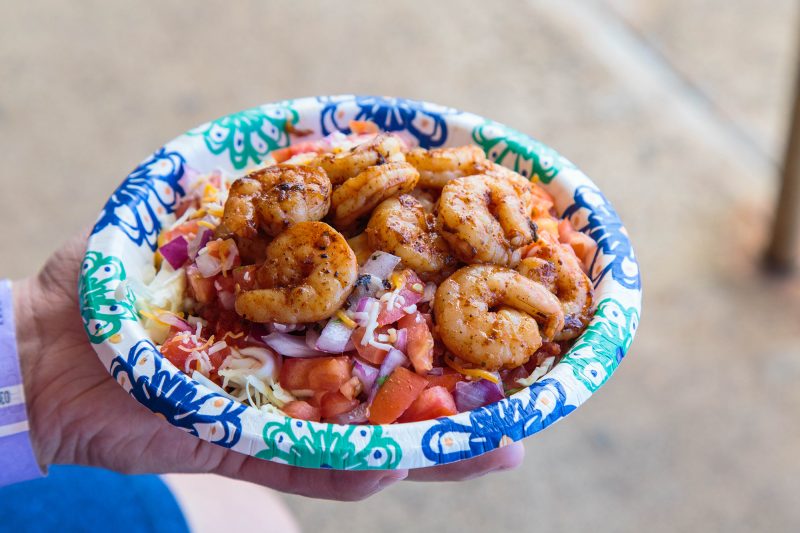 All right, that just about wraps up our week in Kauai. As expected, it had been filled with some amazingly scrumptious island food and picturesque views everywhere. I can see why Ray and Vanessa went back twice. You find yourself falling in love with the place all over again whether you view it by air, land, or sea. I'm not a huge fan of rain, but I guess it comes with the territory. Next time we'll consider visiting Big Island and perhaps returning to hike the Kalalau Trail (hopefully not in the wake of any major storm).