Back in 2014, we visited Hawaii and had a 8.5 hour layover in Seattle. With all that time, we obviously weren't going to stay in the airport and rot away. We had checked in our carry-on luggage at the gate, so we didn't have to roll them around. Having our hands free during the layover made getting around quickly so much easier. From the airport, we took the train out to the city, which was only about half an hour away. And from here on, we walked everywhere!
Hunger calls, so the first stop was Pike Place Market. It's seafood galore here, and one of the stands actually toss their fish in midair when a customer buys it. We had some jambalaya, clam chowder, oysters and ceviche. There are also fruits and vegetable stalls, as well as shops selling art. We totally forgot about the disgusting gum wall and neglected to check it out, so if you're in the area, please partake in the gross experience on our behalf. It's basically a wall filled with chewed gum. From the outside of Pike Place Market, we were able to see the snow-capped Mount Rainier in the distance.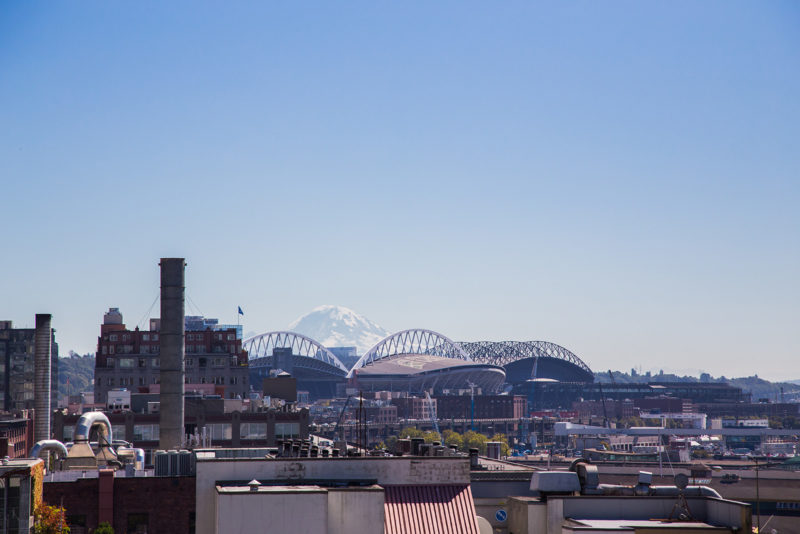 After we were satiated, we decided to go for a walk to the Space Needle. It's only a 23 minute walk. There were so many coffee shops along the way; this is definitely the birthplace of Starbucks. It's pretty hard to get lost looking for the Space Needle. It's so tall you can see it from any angle! On the lawn there was a sculpture garden. Tie attempted to climb one of them to no avail.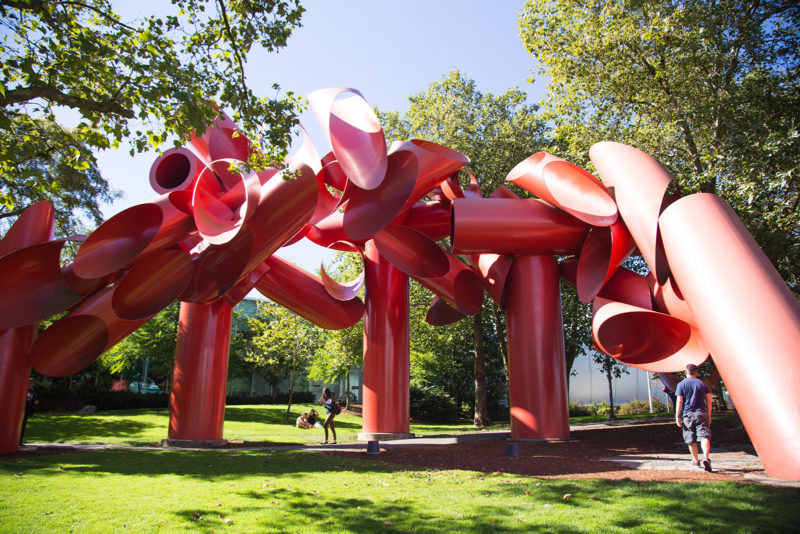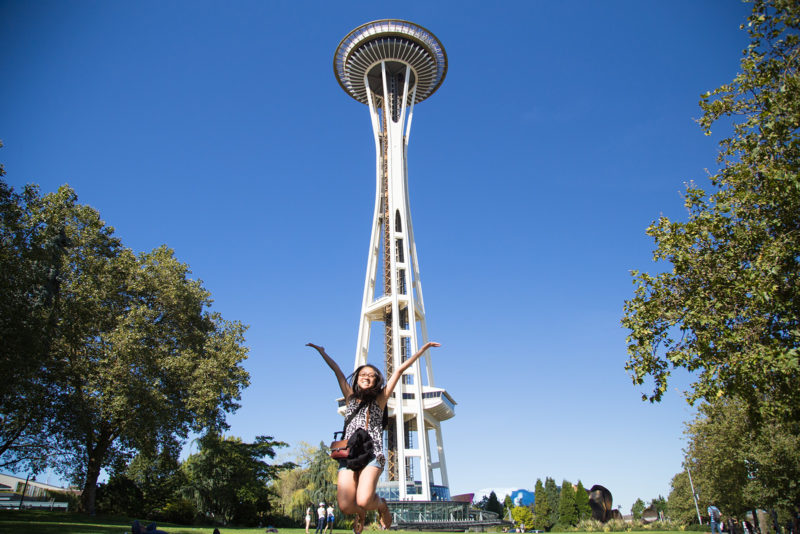 We walked around the lawn and discovered the Chihuly Garden and Glass exhibit towards the back. Time was running out for our layover, but we decided to do a quick 1 hour walkthrough even though it was kind of pricey at $27 per adult. But it was totally worth it – the glass blown sculptures were stunning and beautifully lit. As we made our way to the garden outside, I realized I had seen this exhibit on someone's Instagram before. The glass house was absolutely gorgeous, the sunlight playing off the red and yellow flowers suspended in midair. Too bad there was an event going on inside so we were only able to view longingly on the perimeters 🙁 The store also had a variety of glass merchandise (it ain't cheap). Happy to say we were able to spend a good amount of time at the exhibit and make it back in time for our flight.
This preview of Seattle left me longing for more, and next time we will plan a longer trip there. I was surprised how much we got to experience in roughly 5-6 hours.