Back in 2013, I was itching to attend Jazz Fest in New Orleans for my birthday. Primarily because Frank Ocean was playing, and I'm a huge fan. Also, a few of my advertising friends had worked on a campaign promoting NOLA, which made it all the more enticing. But I couldn't find anyone to go with me so I never did buy the festival tickets. Later that month, however, Tie decided he was up for a trip down to Louisiana so we signed up for the Southwest Airlines credit card and got a free flight (the beginning of our point-chasing team). We timed it so our visit coincides with the Oyster Festival. I always try to find local events in places we travel to. Some of the most enjoyable things to do come around only during specific times of the year, and I want to take advantage of that wherever we may end up.
Disclaimer: Somehow I managed to lose all my NOLA photos from my DSLR and only managed to salvage the ones I'd already uploaded to Facebook. So sorry for the low-res pics!
It was our first trip together, and at the time we weren't even dating yet. Yes, there were some awkward moments because Tie had been interested in me and the feeling was not quite mutual. I wouldn't divulge into details for the sake of saving both of us some face, but we were good friends and had a great time hanging out and exploring the city. It was due to this trip that I realized Tie would make an excellent travel companion in the future. We stayed at the Marriot in the French Quarters (thanks to a last minute Priceline deal) so most attractions were within walking distance. Otherwise, you can rent a rickshaw. Here are some of the highlights!
Oyster Festival
On the first day, we went to the aforementioned Oyster Festival. There were a bunch of food/drink stalls, including Dragos, Acme, Abita (Purple Haze, yo), and many other local favorites. It was right by the Mississippi River, where we strolled along until it started raining a bit and we had to hide under a gazebo. Of course, this being New Orleans, there was also live music. The oysters we got from the Acme stand were bigger than the size of my hand; it was certainly interesting to try, but I personally prefer smaller oysters. It took two bites to finish these, which leaves a sort of metallic taste in your mouth. We overshot and ordered half a dozen, giving away our remaining oysters to some very happy people in the back of the line. There was also a stand with information about recycling oyster shells.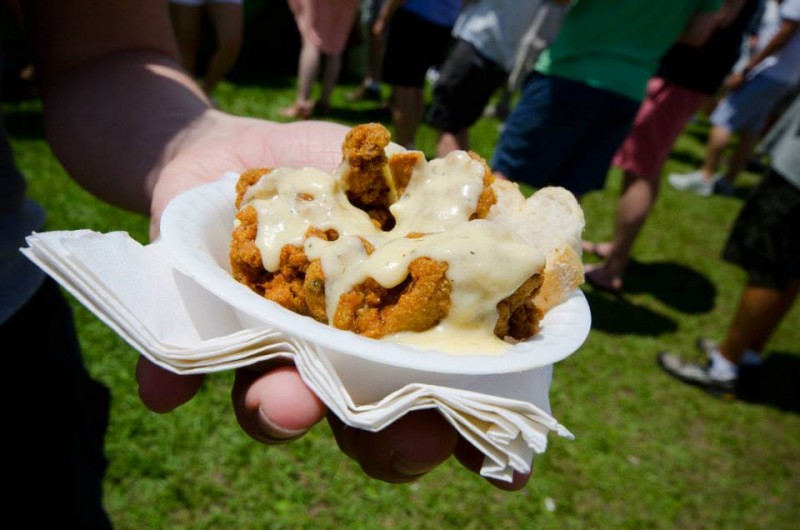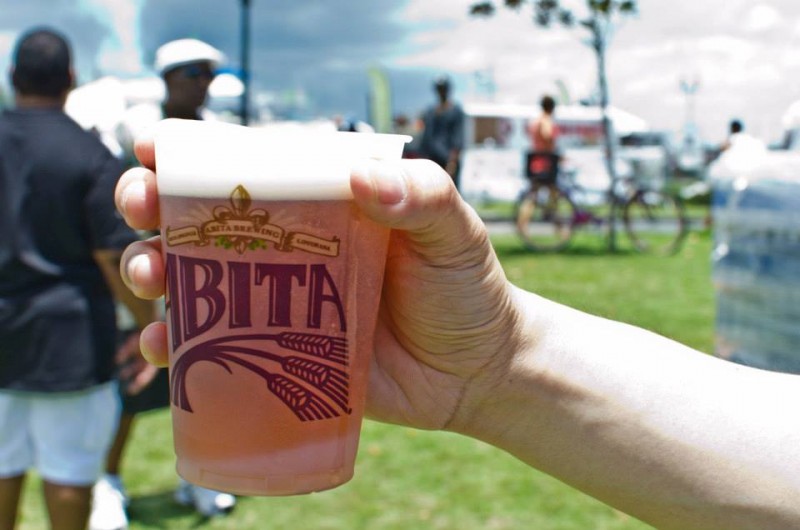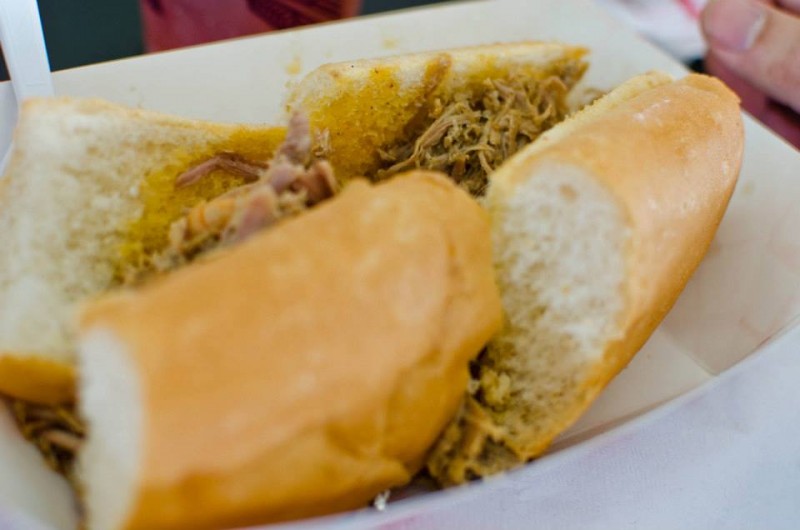 Audubon Aquarium
While the entrance fee was quite steep at $24 per adult, the Audubon Aquarium does house a large array of sea creatures and is worth a visit if you have the time. You'd think by now we'd had enough of aquariums because we've seen these things a thousand times, but nope. Still fascinating (and air-conditioned).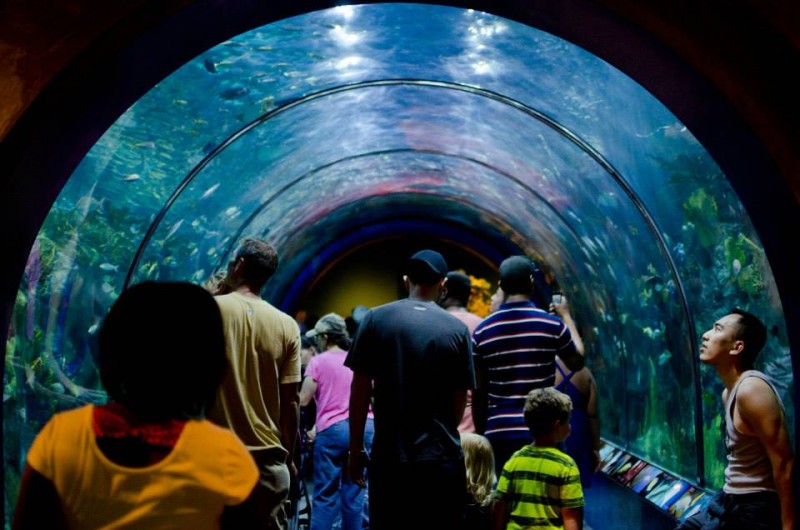 Drago's
For more oyster love, we headed to the Drago's near Harrah's Casino. I've never had char-broiled oysters before; it was juicy and buttery with a slight crisp, and did not leave a metallic after-taste. Can't wait to return to NOLA in the near future and wolf down some more!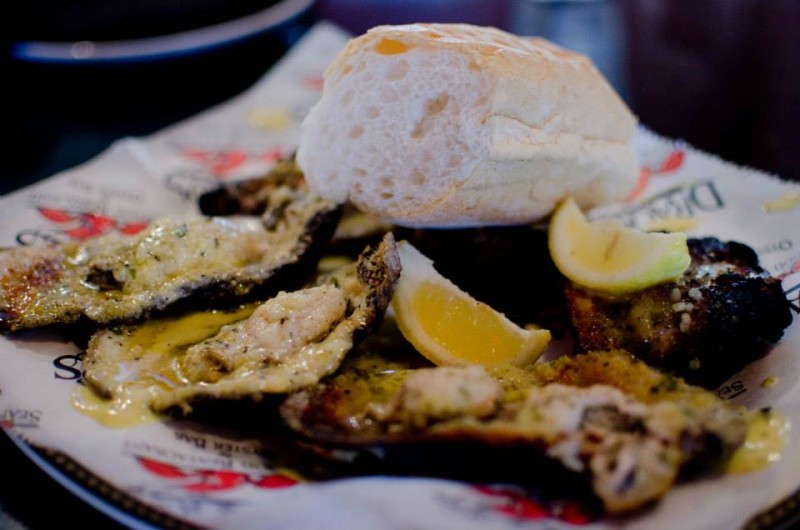 Cochon
Cochon
is a pretty popular Cajun/Creole restaurant, so we made sure to get a reservation beforehand. Everything was absolutely delicious, and I highly recommend the alligator bites, fried with chili garlic mayonnaise. It's a staple of New Orleans, even if it tastes like chicken 🙂
Frenchmen Street
Frenchmen Street is a three-block stretch of live music venues. There was also a night art market – very chill vibes all throughout. We watched Little Freddie King perform at D.B.A while hanging by the bar before calling it a night.
Bourbon Street
Ah, the infamous Bourbon Street. Full of live music, voodoo shops, and drunken shenanigans. You'll find many bachelor/bachelorette parties going on at once. The street is filled with people. I really loved the energic atmosphere. Look up to admire the architecture of the French-styled buildings; there are also businesses in the upper balconies. Some bars charge a cover or a one-drink minimum, but it's worth it for the live music! We recommend getting the Hand Grenade cocktail (it's a bong-like container that looks like a grenade).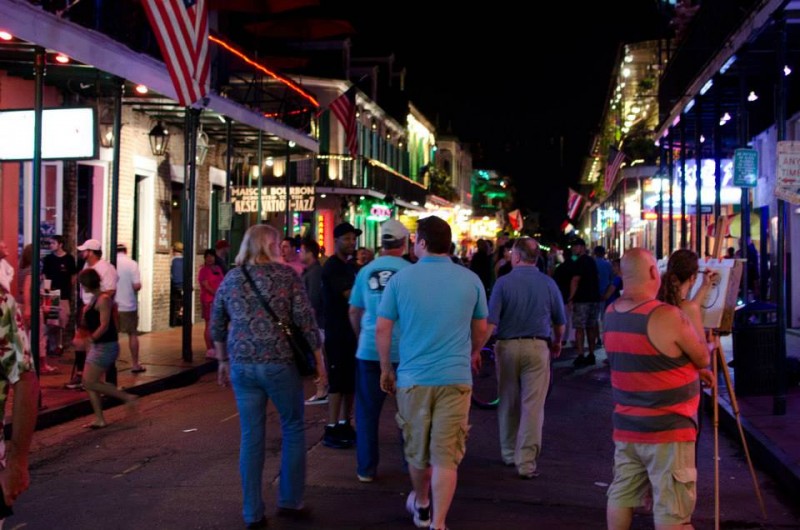 Swamp Tour
New Orleans is home to many alligators, so we booked a tour to see them up close and personal (even got to hold a baby gator!). You can watch as the guide feeds the alligators marshmallows and chicken, and the really loud airboat takes you through the thick of the beautiful swamp.
Cafe du Monde
Perhaps the most popular breakfast spot in New Orleans, Cafe Du Monde is crowded even on rainy days. It is world-famous for their French coffee, often paired with powdery beignets. Even though neither Tie nor I drink coffee, we had to try it (verdict: black coffee goes well with the sweet beignets). You have to grab your own seat, so waiting in line with other tourists is kinda pointless. When you find a table, the waiter will serve you.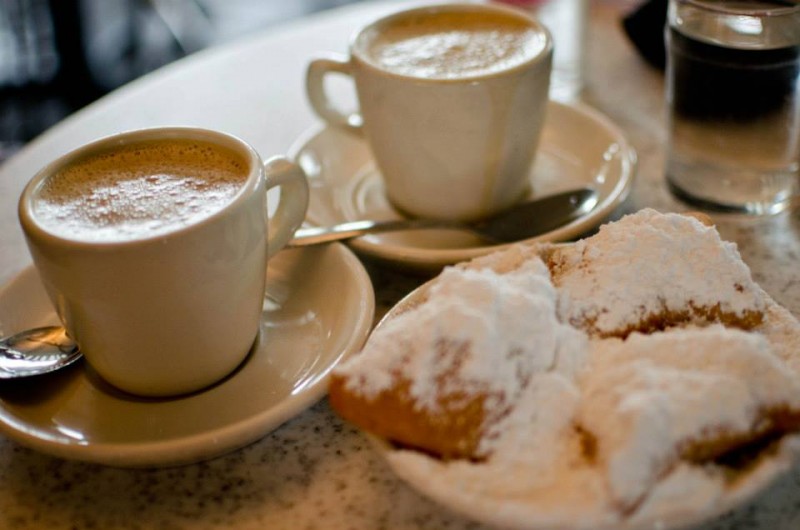 Gumbo
Before New Orleans, I had never eaten gumbo. After the trip, Tie and I learned how to cook it at home (though with a lesser degree of success). It is a delicious stew of shrimp roux, andouille sausage, okra, rice, and whatever else you decide to put in there. And it's so hard to find a good gumbo in New York…I think we're gonna have to go back. We liked the gumbo at Stanley, where we had a savory breakfast.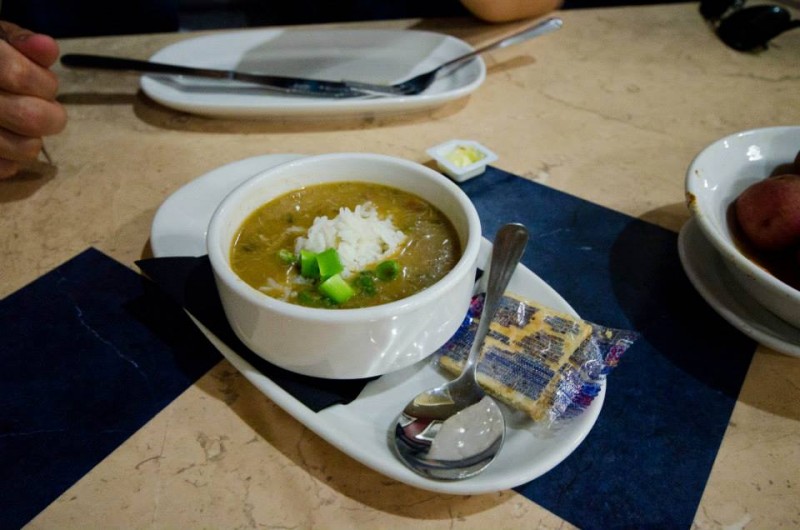 Crawfish
Also known as crayfish. There are a bunch of seafood boil places that opened up in NYC in recent years, but as usual we want to go straight to the source. It was May, peak crawfish season, and they are especially jumbo down south. We ordered three pounds of the stuff (a measly amount) at Deanie's Seafood, a diner-looking restaurant that also had slot machines to keep you busy while you wait.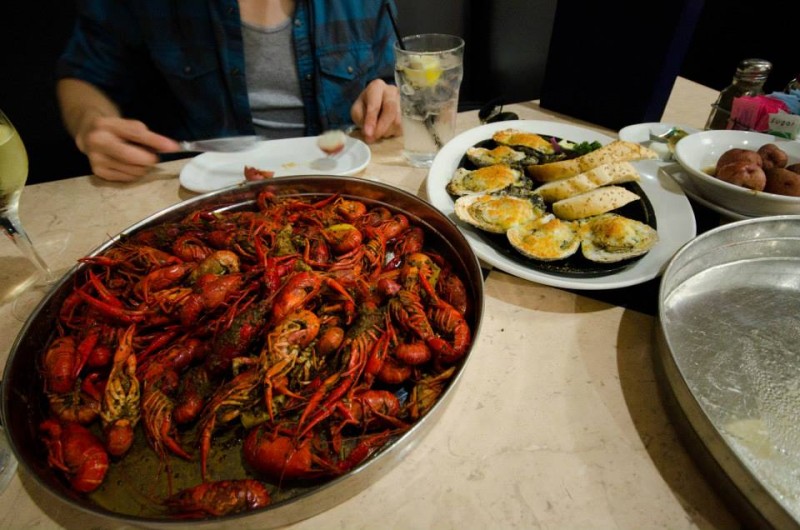 The Pelican Club
For some quality fine dining, I highly recommend The Pelican Club. We made a reservation in advance, but there were barely any people at the restaurant when we went for dinner. Still great food, though!
Art District
Close to the Central Business District, on Julia Street, you'll find many gorgeous art galleries with contemporary and traditional southern art. We went during a gallery walk event, so nearly every one we went into offered refreshments. Sipping on wine, pinkies up, while admiring art – what a great way to spend an evening.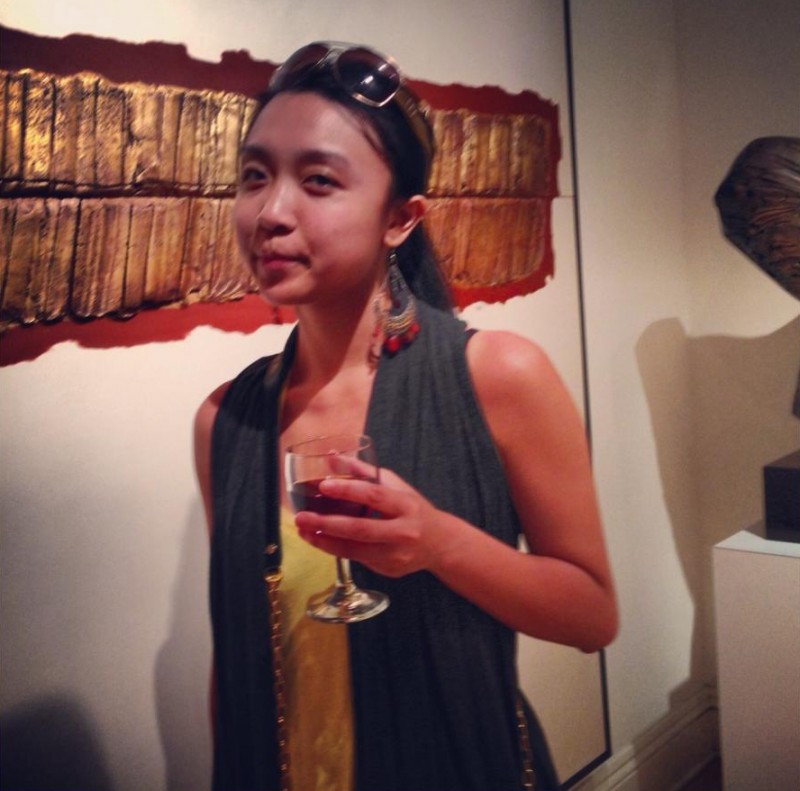 The Old Coffeepot Restaurant
We decided to get a hearty brunch before going to Cafe du Monde, although looking back now it seems out of order. The Old Coffeepot Restaurant is a popular spot that serves up homey food that's good for the soul.
Harrah's Casino
It was strange to see a casino located in the middle of French Quarters, but if you're looking to kill a bit of time and try your luck, Harrah's is a good bet (harhar). Also, free air conditioning.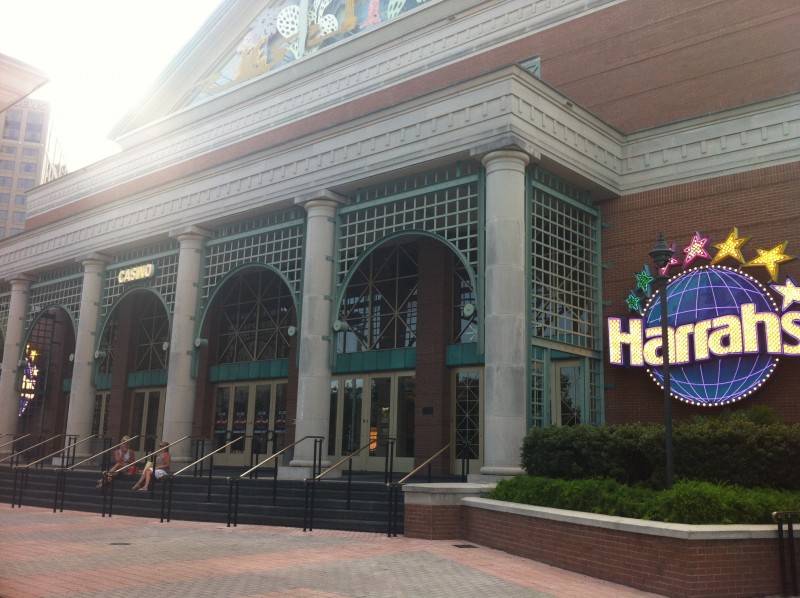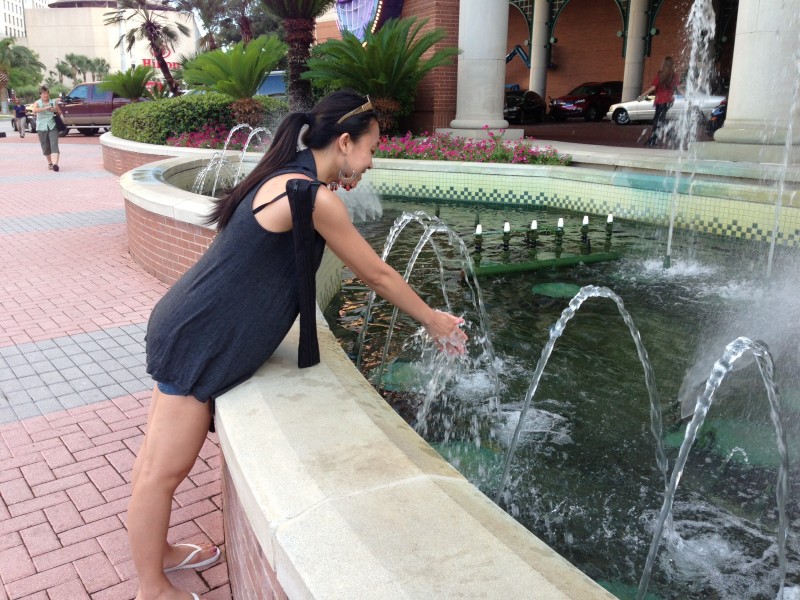 Bacchanal Wine
Tie and I have been to many beer gardens in the past, but never an outdoor wine garden. Bacchanal Wine is a little out of the way from French Quarters, so we took a cab there. We selected our wines, they popped it open, and we were given glasses to drink from in the garden. It was incredibly laid-back, as we sipped on our Merlot (?) and shared life stories. Tie and I learned a lot about each other that night. That is, until I got crunk on the walk home and started singing in the streets. Sorry for being a belligerent drunk, NOLA. But it was fun, and I have no regrets – just a faint recollection of the events that transpired.
Louis Armstrong Park
After a night of drunken debauchery, Louis Armstrong Park was a welcome reprieve from the hangover. It's a quiet park with sculptures and ponds and is also site of the Congo Square, where slaves formerly congregated on Sundays off. As Tie and I left the park, we came across two older gentleman who invited us to see them perform at a show that night. We politely declined, saying we had to catch our flight back. They asked if we were together, but I informed them we were just friends. Before leaving, one of them told Tie not to let go of me because "that's the girl who's going to become your wife one day." It was funny-awkward at the time, but now it's funny-ironic. I guess sometimes strangers are able to see what you cannot.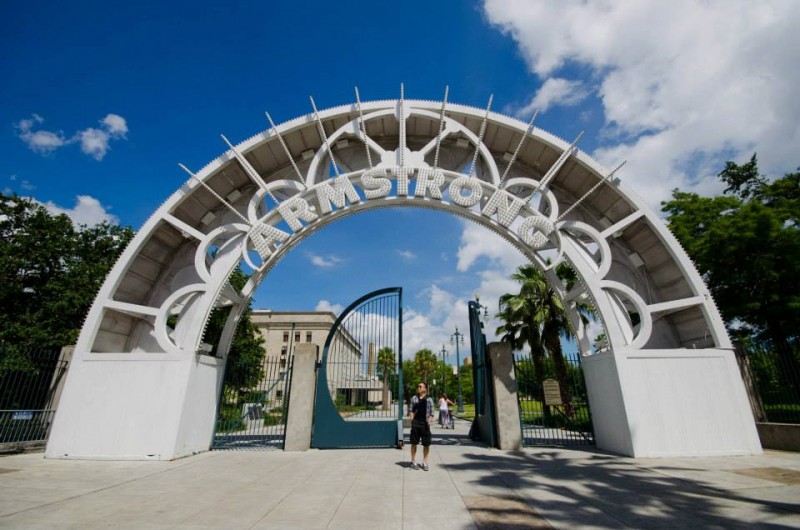 Speaking of catching our flight…we actually missed it due to traffic on the way to the airport. As it was the last flight of the day, we had to sleep overnight at the airport. On the upside, we had Popeye's for dinner, opened up a bottle of wine with a key, and watched some Fringe and Arrested Development on Netflix. All good!