In a previous post, I had written about booking a first class flight for our next trip to Korea and Japan. And then, it came time for us to embark on our journey. As travelers who have ever only flown economy class, we were very excited to experience a flight in the first class cabin. And we were going to be aboard an Airbus A380.
After arriving at the airport, we checked in our bags and went through security. There were expedited lines for first class passengers at check in as well as security. This allowed us to quickly make our way to the airport lounge. It was a morning flight and we haven't eaten anything yet. I was excited to see what the lounge had to offer in terms of food and drinks.
Arriving at the lounge, the front desk checked our boarding passes and advised us someone will come and escort us to the gate when it's time to board the plane. I had no idea what being escorted to the gate entails, but I figured that I would find out when the time comes. We made our way to the first class area of the lounge. There were separate sections for first class and business class, but it doesn't seem like it was enforced that you needed a first class boarding pass to go to the first class seating area.
I thought that the food selection at the lounge was mediocre. I was expecting some hot food, but the only items available were cold items from the fridge and some small sandwiches with deli meats and cheese. They also had chips and fridge stocked with various drinks. We each picked up a small sandwich and sampled a few things from the fridge. We ate enough so that we weren't hungry anymore since we were more excited about the food offered on the plane and wanted to save our stomachs for that. So we just sat around with our drinks until it was almost time for boarding.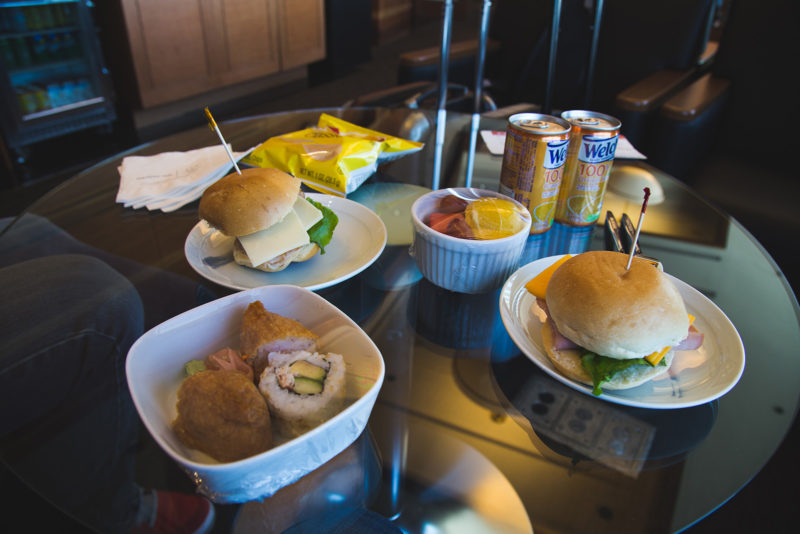 I checked the time and it was almost time for boarding, but we haven't been notified yet, which I thought we would be. I went to the front desk to check and was told that our flight was delayed by about 15 minutes and ensured us that we would be escorted. At this point, I was still unsure what that entailed. Normally when we travel economy class, I notice that first and business class flyers were welcomed to board first. So I was expecting to be at the gate and being part of the first group to board. After waiting for another 15 minutes, I was getting a little nervous because the plane should be boarding by now. I was told by the front desk that the gate is currently very crowded and that we would be escorted to the boarding area after the crowd is gone. Now I understood that we would end up being the last ones to board rather than the first. "How ironic", I thought. So after another 5 to 10 minutes passed, someone came to escort us to the gate. So we just walked with her to the gate, which was not a short walk as the gate we were boarding at was the one furthest from the lounge. After arriving at the gate, our boarding passes were scanned and we were on the plane. In retrospect, we probably should've just went to the gate and boarded with the rest of the business and first class flyers. This way, we can just put our stuff away and relaxed on the plane until it was time for takeoff. So now I know that being escorted entailed having an agent walk to the lounge to meet with you, then walk with you to the gate after everyone else has boarded. I did not see much of an advantage to it.
The gate was empty. Everyone else has already boarded the plane. We got our tickets scanned, boarded the plane, then quickly put our carry-on luggage in the bin above our seat and got seated. The overhead compartments were much larger than we were used to in economy. I guess it only made sense since the seats were larger as well. Korean Airline's first class seats are called Kosmo Suites and they were very nice and spacious. We were greeted by our flight attendants and were offered a drink. They also asked us what size pajamas we wanted. We requested champagne, but were told that due to some federal regulation, they cannot serve alcohol until we were in the air. I settled for a glass of water while we were still on the ground. We were given an amenity kit that included different creams for your face and hands, an eye mask, a dental kit, and a shoe horn. We were also given a Bose noise-cancelling headset to use during our flights.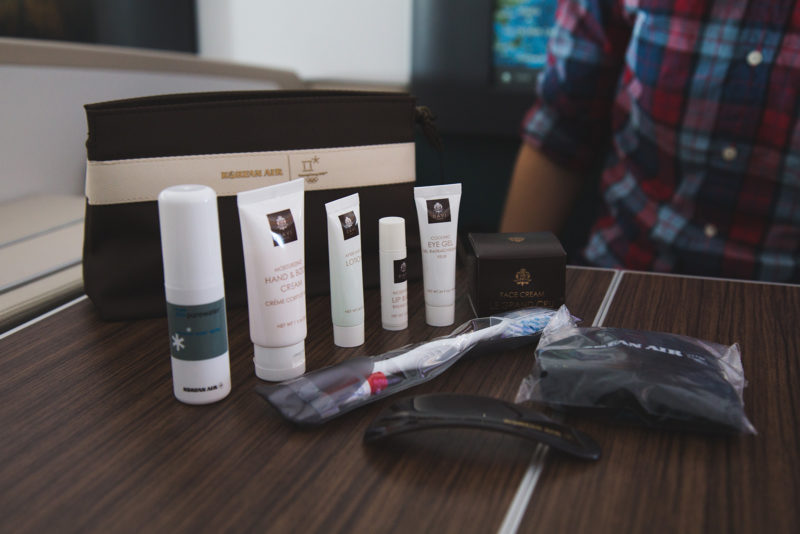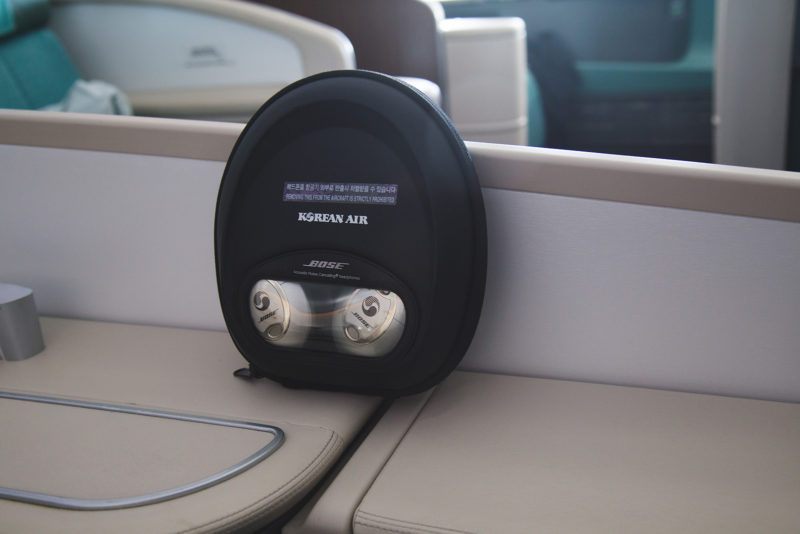 The cabin had 12 seats. 8 were occupied and 4 were empty. Once we were in the air, we were again offered a drink. This time, we both requested the champagne. After the celebratory sip of the champagne for our very first first-class flight, it was time to change into our pajamas. There was also a pair of slippers tucked away in one of the pockets next to the seat. We each took turns using the bathroom to change into our pajamas, which were pretty comfortable. Shortly after, the flight attendants were starting to prepare lunch. Unlike what we were used to, they started by taking out our tray table and laying a small tablecloth on it. Each dish was served on plates and we were given silverware to use. It's like dining at a restaurant. Here are some pictures.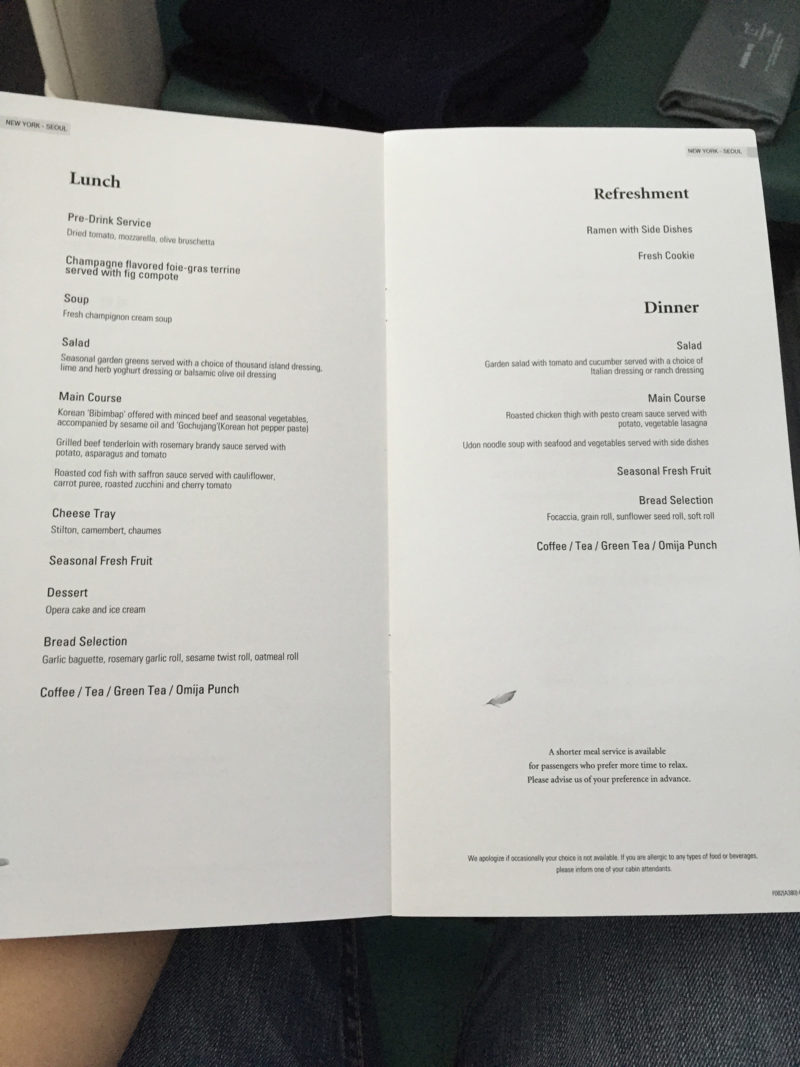 Both Margaret and I didn't like the foie-gras very much. The taste was a little too rich for our liking. Margaret mentioned that she would make a very bad rich person. For the main course, she ordered the bibimbap and I ordered the roasted cod fish. Other than the foie-gras, the food was very good. We were very full by the end of the lunch service. After the plates and silverware were taken away, Margaret decided to take a nap. They had also dimmed the lights in the cabin. I wasn't ready to sleep yet, so I decided to take a walk around the cabin. Behind our cabin, there was a mini bar and a set of stairs that led to the upper deck of the plane. That was where the business class cabin resided. The lower lever contained the first class and economy class cabins. Afterwards, I put on my headset and checked out the selection of movies available.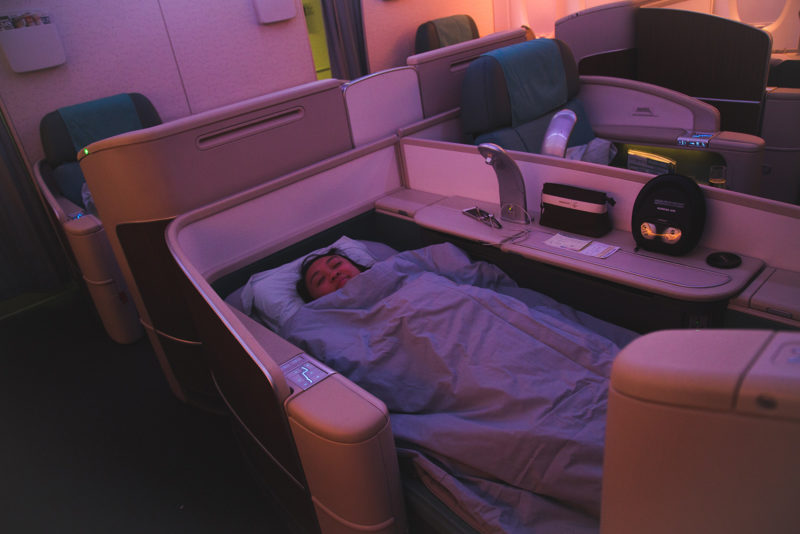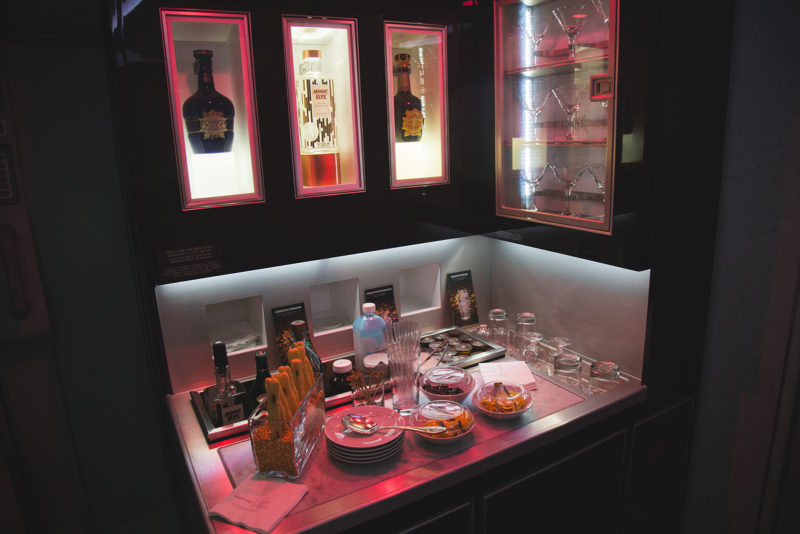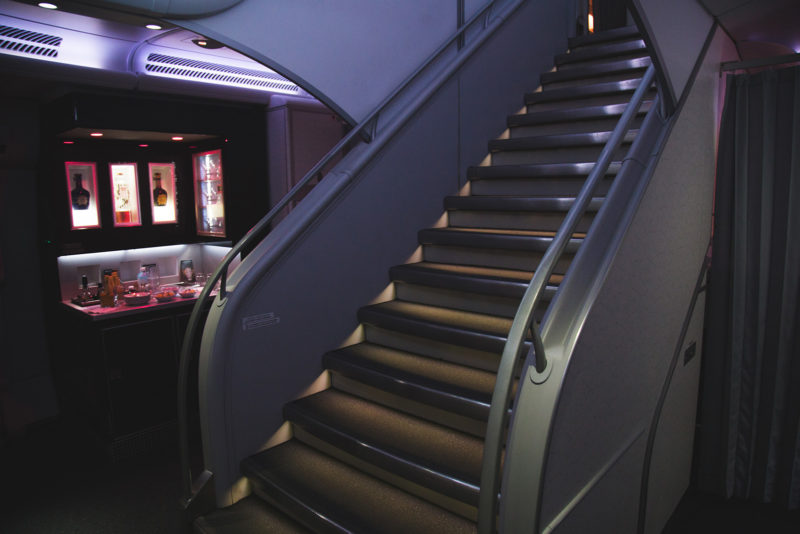 Between lunch and dinner service, I was flipping between taking a nap and and watching movies. Meanwhile, Margaret was just sleeping the whole way through until dinner time. When it was dinner, the flight attendants came around to the people that were awake to ask if they wanted dinner then or wanted to wait until later to have it. I was awake and decided that I wanted dinner then. I also woke Margaret up for dinner. Dinner did not have as many courses as lunch. It was basically a salad and a choice of 2 main courses. We both had the udon noodle soup. You can tell from the pictures that the cabin lights were still dimmed and not everyone was having dinner yet.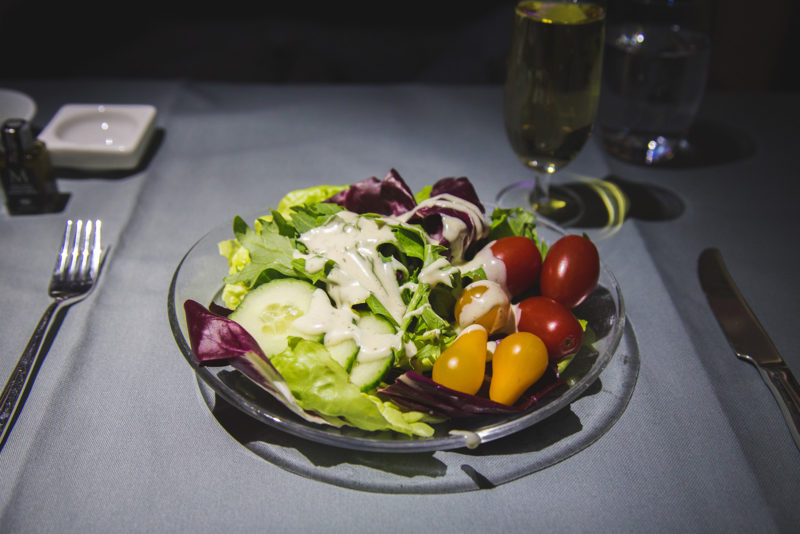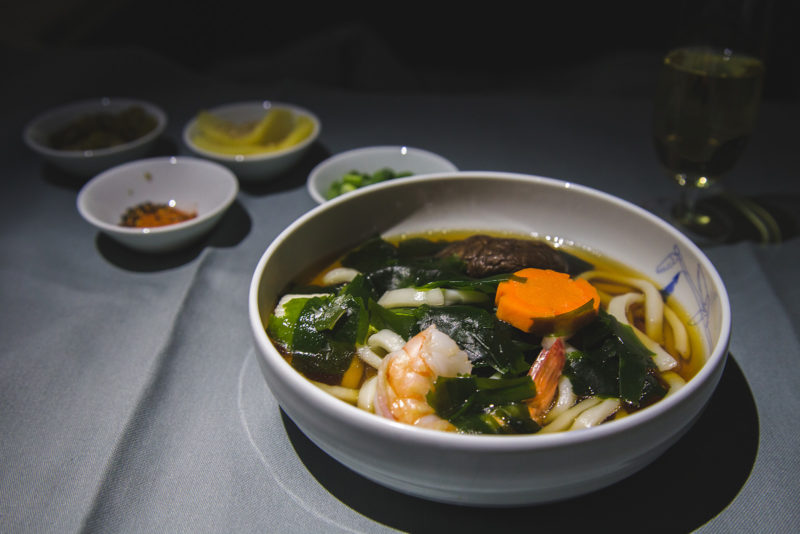 After a few more naps and movies, we were about to arrive at our destination. That about sums up the flight. It was definitely a very comfortable 14 hour plane ride from New York to South Korea. I can get used to this, but I probably shouldn't. And I'm glad I decided to splurge and redeem my points for this experience.