Usually before a trip, Tie and I put together a spreadsheet of all the places we'd like to visit while we're there. But since we were only going to Macau for two days and Tie has previously been there, we decided to just wing it this time around. Even so, we ended up covering a lot of ground! My perception of Macau prior to visiting was it probably is similar to Las Vegas, full of casinos and not much else to do. Funny enough, I've never been to Vegas either. So it was a pleasant surprise when I was proven wrong.
To get to Macau, we had purchased Cotai Water Jet ticket vouchers from a travel agent at the airport when we first landed in Hong Kong. These vouchers were sold at a discount and were used to trade in for a ticket at the ferry terminal. There was a ferry terminal in Sheung Wan and one in Tsim Sha Tsui. The water jet leaving from Sheung Wan runs more frequently – every half hour. But since we were staying at Tsim Sha Tsui, we decided to take the ferry there instead, but it runs only about six times a day. Because there were so few ferries each day at the Tsim Sha Tsui terminal, we went to get our tickets in advanced and select a definite return date and time in order to avoid trying to buy a same-day ticket when the ferries were already fully booked and end up stranded in Macau. Serious gamblers would probably just buy their tickets whenever they feel like leaving and getting on the next available ferry back to Hong Kong (Chinese people love to gamble). We just took a stroll to the Hong Kong-China Ferry Terminal located at 33 Canton Road, Tsim Sha Tsui, Kowloon, Hong Kong to retrieve our tickets.
On the day of, we rolled our carry-ons to the terminal and left the rest of our luggage at the Intercontinental Hong Kong (the hotel we'll be staying in after Macau). Remember to bring your passports because Macau is not part of Hong Kong and it will be stamped (or you'll get a slip that is simply too easy to lose). Before you board, they'll slap a sticker on your ticket with your seat number. The water jet ride was only about an hour and it was smooth sailing (though that is not always the case as I will mention later). There's food and drinks for sale on board, too.
When we got to Macau, there are buses outside of the ferry terminal. Check with your hotel to see which one you should take. Our ride to the Grand Hyatt was complimentary, but that might not always be the case depending on where you're staying.
The area we stayed in was New Macau, so the casinos there are more modern (and really pump up the air conditioning). Many have regular shows and concerts, as well as food courts. We were kind of hungry and decided to go to Asia Kitchen (generic, much?), a restaurant at SOHO, the food court inside City of Dreams, for some Hainanese chicken. It was actually pretty good with the set meal price. Note that you can use Hong Kong dollars in Macau since the rates are almost identical (with HKD being slightly higher). Otherwise you can use your Macanese Patacas. There is also a Din Tai Fung (famous soup dumplings from Taiwan) and a restaurant opened by Hacken Lee and Alan Tam (popular Hong Kong singers), amongst others. As far as food courts go, this one was very chill and clean. There was even a live performance of "Hotel California" from one of the bars.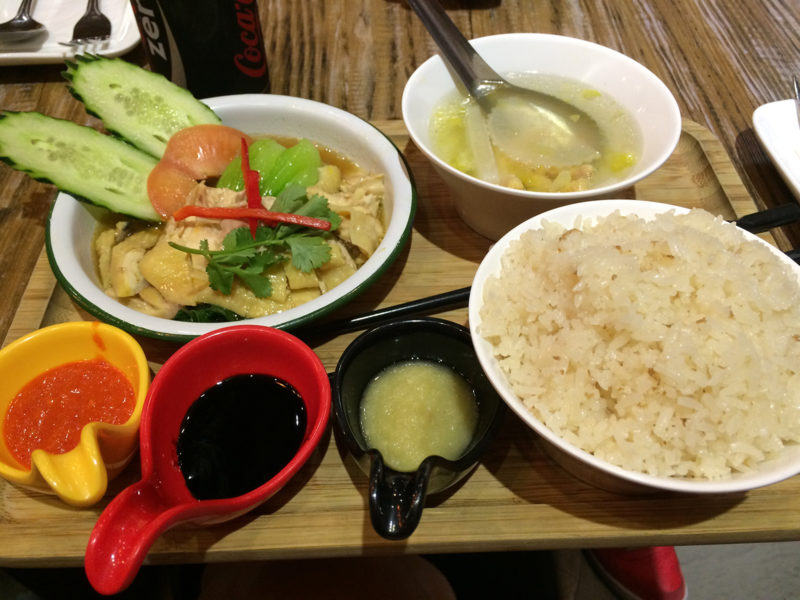 After eating, we left the casino to walk over to Taipa Village, which is past the Venetian. It is a little far, but we wanted to walk off our meal. Plus, there's a strip of moving walkway en route.  I have to say, after going to the real Venice, the fake ones I've seen in DisneyWorld's Epcot and here in Macau just looks extra tacky.
In the unglitzy Taipa Village, you'll find a bunch of food stands and restaurants with Portugese cuisine (Macau used to be one of Portugal's overseas territories). Some famous Macanese souvenirs include almond cookies and beef/pork jerky of different flavors. Koi Kei is probably the most popular pastry chain there. They have free samples in almost all the stores. If you plan on indulging in almond cookies, bring a bottle of water with you because the powder will dry out your mouth. And if you plan on importing some jerky, check to see if meat is on the ban list. Or just try to sneak it in.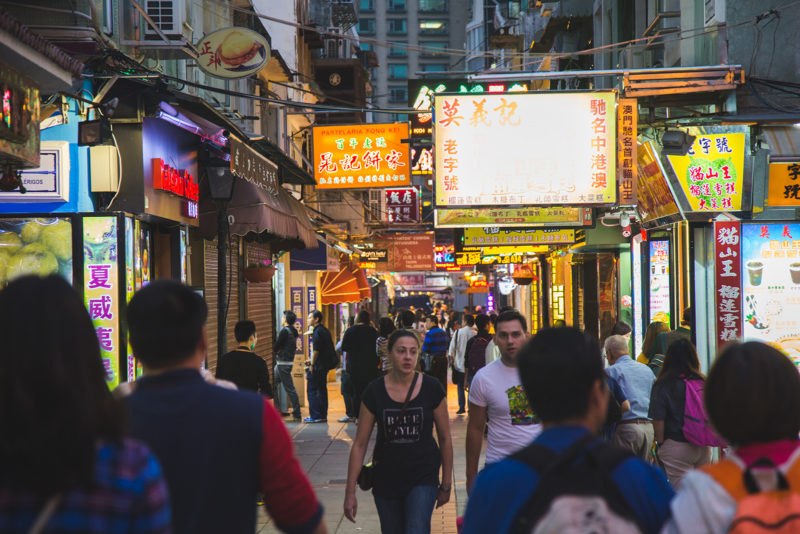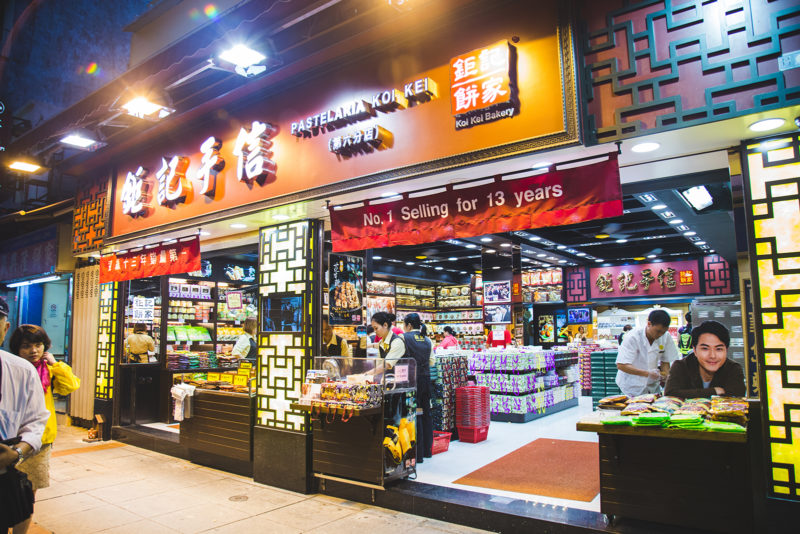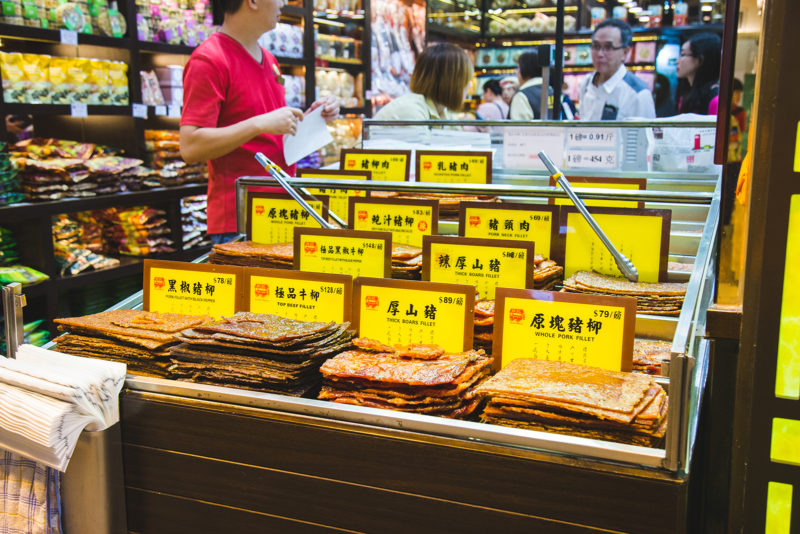 We had dinner at O Santos Comida Portuguesa, mainly because it had a TripAdvisor sticker in the front and looked like they served Portguese food. Compared to a lot of other cheaper options in Macau, the food here definitely leaned towards pricey. They were also pretty bland-looking and very salty.  All I know is the owner loves taking pictures with customers and the place gets filled up quick. Why that is so, baffles me.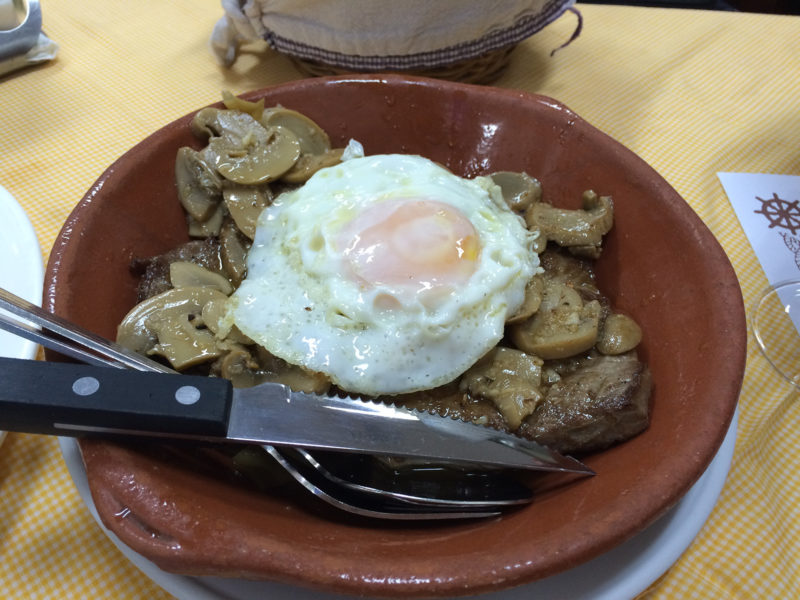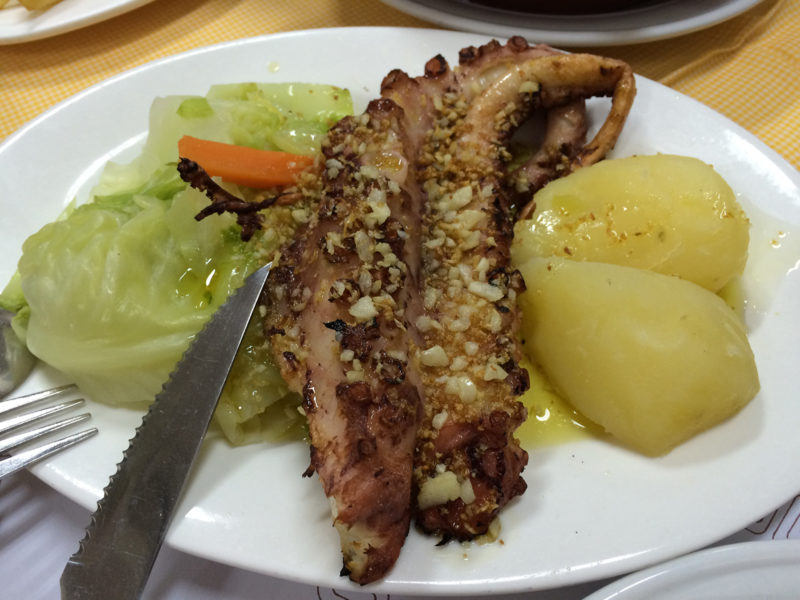 As we walked over to Galaxy Macau for a restroom (because casinos generally had cleaner restrooms), we passed by more restaurants, bakeries, bars, and even a temple. Proof that Macau really isn't just about losing all your money – erm, I mean, gambling.
But since we're in Macau anyway, we might as well try our hand at gambling, even if just a little. And Chinese people are notorious gamblers. I have to say, there were a lot of sketchy-looking people there wanting to buy your gambling tickets. Most played Baccarat, which is similar to Blackjack/War or Sic Bo where bets are placed based on three rolled dice. Remember to bring your ID. I was carded almost every time, which was annoying, but I might have a different perspective when I get older and am no longer carded.
Tie and I preferred playing craps, which only had two tables in the entire casino. Turns out very few Chinese people there knew how to play craps. Regardless, they will join in if the table is hot and it appears many are winning money. All the games inside City of Dreams had pretty high starting bets, but eventually we participated as well because the winning streak was too much for Tie to ignore. I ended up rolling the dice for a very long time, to the point where strangers were cheering me on in English, Mandarin and Cantonese. I owe it all to my shaky hands that inadvertently shook the dice to victory. We walked away with over $1000 USD when the table got cold again. Not bad. Our parents would be proud if they weren't so gambling-adversed.
By the way, sorry for the lack of casino pictures, but they're kinda not allowed 🙂 To find out what we did on our second day, check out part two!