On our third day in New Mexico, we drove to the famous White Sands National Monument early in the morning. As the name suggests, the sand dunes compose of beautiful white gypsum sand that make them look like snow-packed hills. It is about a 3-4 hour drive from Albuquerque. Along the way, we made one interesting pit stop and one that was, well, unexpected.
White Sands National Monument is by the town of Alamogordo, southeast of Albuquerque. We first went down Interstate 25, where there were gas stations aplenty. Naively, we continued on east on Highway 380 before panic started to set in. There wasn't enough fuel in the tank to take us to the next intersection. Over the 70+ mile stretch east-bound, there was not a gas station in sight. Eventually we had to stop in the middle and wave for help at passing cars. Thank goodness it was daytime, and thank goodness for the generosity of strangers. It did not take us long before a pair of kind ladies and their big doggo stopped to give us a lift to the Valero in the town of Carrizozo. Even though they were going in the opposite direction and taking us to get gas would be 40 miles round trip. The least we could do was fill up their tank, and even then they kept thanking us for that as they had only asked for a few dollars of gas in return.
We were already feeling incredibly humbled and grateful for their selflessness. They sympathized with us and said they'd been in similar situations before. We also got to chat a bunch along the way, sharing our differences in lifestyles in the city versus here in the countryside. We told them all about New York City and how there were skyscrapers all over Manhattan without a mountain in sight, different kinds of seafood on the East Coast (and how they sounded like something out of Fear Factor), and what jobs we have in the city compared to the ones in New Mexico (for example, there are lots of oil field workers in Carlsbad while we have a bunch of office jobs). The ladies we spoke to have never heard of sashimi and were stunned to learn about how physically close houses in our neighborhoods are, but it was really not that surprising. New Yorkers are truly spoiled with choice when it comes to global foods and you'd never go for miles and miles without seeing a house like we did in New Mexico. We laughed over our own definitions of what "bad traffic" was based on our hometowns, and we discussed how Tie and I spoke Chinese with our families, while they spoke Navajo. Also how we rarely visit tourist attractions in New York, while they haven't gone to the Grand Canyon even though it was only an hour away.
When we returned to our car, they taught us how to use the gas canister as the lady who drove used to work in an oil field, too. To be honest, the New Yorker in me was anxious that someone might've raided our car while we were away. You can't leave a bike unattended for long in the city or you'll come back to missing tires. But there it was in one piece. As we bid farewell to the two ladies, both Tie and I could not help but feel touched by this experience. Not only did we receive help when we were most desperate, but we also learned so much about our own cultural differences, despite living in the same country. I don't want to bring up politics here, but in our current political climate it is more apparent than ever that communication between dissenting opinions can get real difficult based on the environment you were raised in. I'd say we walked away from this incident learning that sometimes, it just helps to listen and try to understand, regardless of whether or not we share the same ideals or beliefs. Everyone we've come across in New Mexico have been super hospitable and friendly; I did lament how New Yorkers can have such short tempers sometimes over the smallest things.
Anyway, we were back on the road and made sure to fill our tank up this time. About half an hour away from White Sands National Monument, we stopped by Pistachioland, owned by the McGinn family. You can tour around the pistachio orchards and vineyards, and they also do wine tastings. I'll be honest – I mainly wanted to get a picture with the giant pistachio out front. They also have some fantastic ice cream in a massive waffle cone for purchase. The gift shop had all sorts of knickknacks that were pistachio-themed, but the best part was being able to taste a variety of pistachio flavors including green chili, lemon-lime, bacon ranch and more. Of course we had to bring some home.
Finally, it was time to arrive at White Sands National Monument. Due to our little detour, we got there around 3:30PM. Admission is $5 a person. We didn't get to explore the Visitor's Center and promptly started on the self-guided driving tour. There are several stops along the way with picnic areas and hiking trails, but I daresay they all seemed somewhat similar – just lots and lots of white sand dunes with desert plants. We went all the way down to the Amphitheater area where there were fewer people to take some pictures there. We walked about a mile out to get to areas without any footprints, where all you see are the natural waves on the sand created by wind. It wasn't too hot that day, but sunblock and shades are still recommended as the white sand is highly reflective. Many families go there with plastic sleds and slide down the dunes. You can purchase the sleds at the gift shop, and I hear they even buy them back afterwards. We found one laying on the ground and tried it out. It was actually kind of scary, but Tie wanted to do it with a snowboard some time. Trust me, you'll find sand all over your body when you get home. The white sand was actually not hot to the touch so you can walk around barefoot, and it was packed densely enough that your feet won't sink in.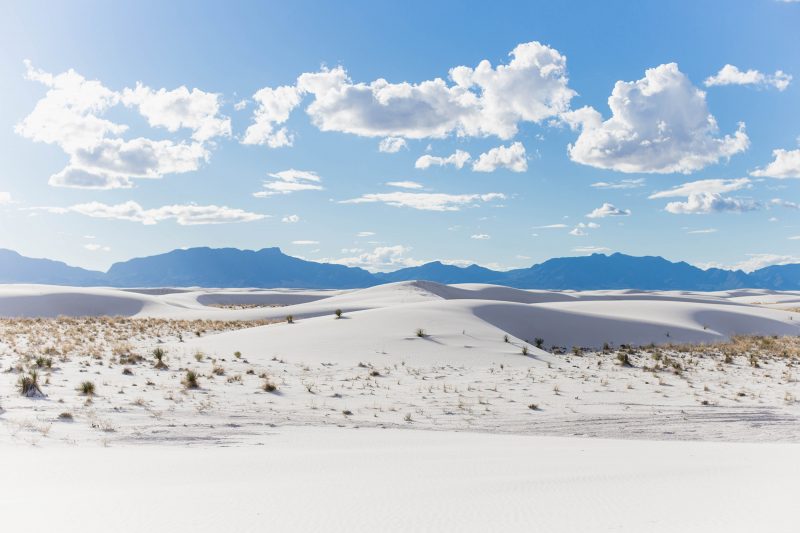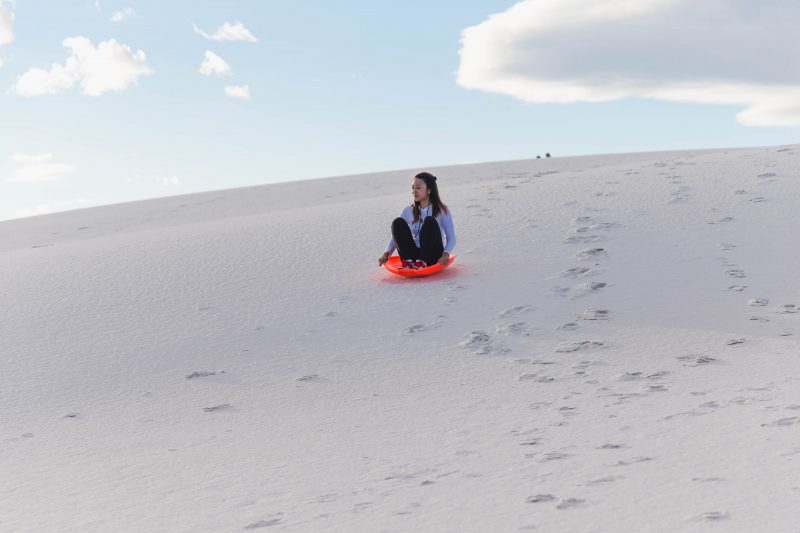 As the sun set behind the San Andres mountains in the west, we drove along the loop to the "Heart of the Sands" area to see it. The sky turned a gorgeous pink-purple hue as the temperature started to drop. There were a couple of impromptu photoshoots going on – evidently, girls love dressing up in bright-colored flowy dresses to get their pictures taken here 🙂 I only wish I had worn one, too. Oh well! White Sands National Monument was truly unlike any other place on earth. Standing there, we saw nothing but endless gypsum sand dunes and jagged mountains on the horizon. It was actually pretty romantic and lots of fun to run around on. As with many things, pictures alone don't do it justice. You really have to be there to feel the wide expanse of the place while keeping track how far you've gone in the back of your mind – it can be easy to get lost, especially after sunset!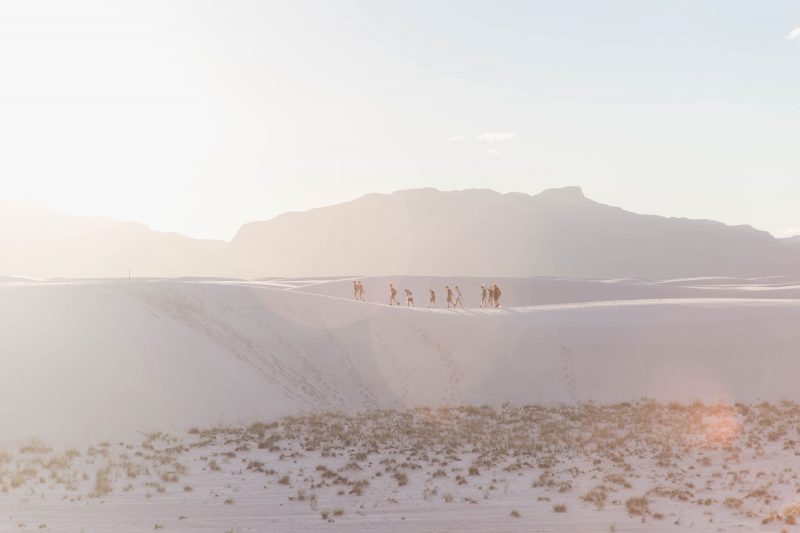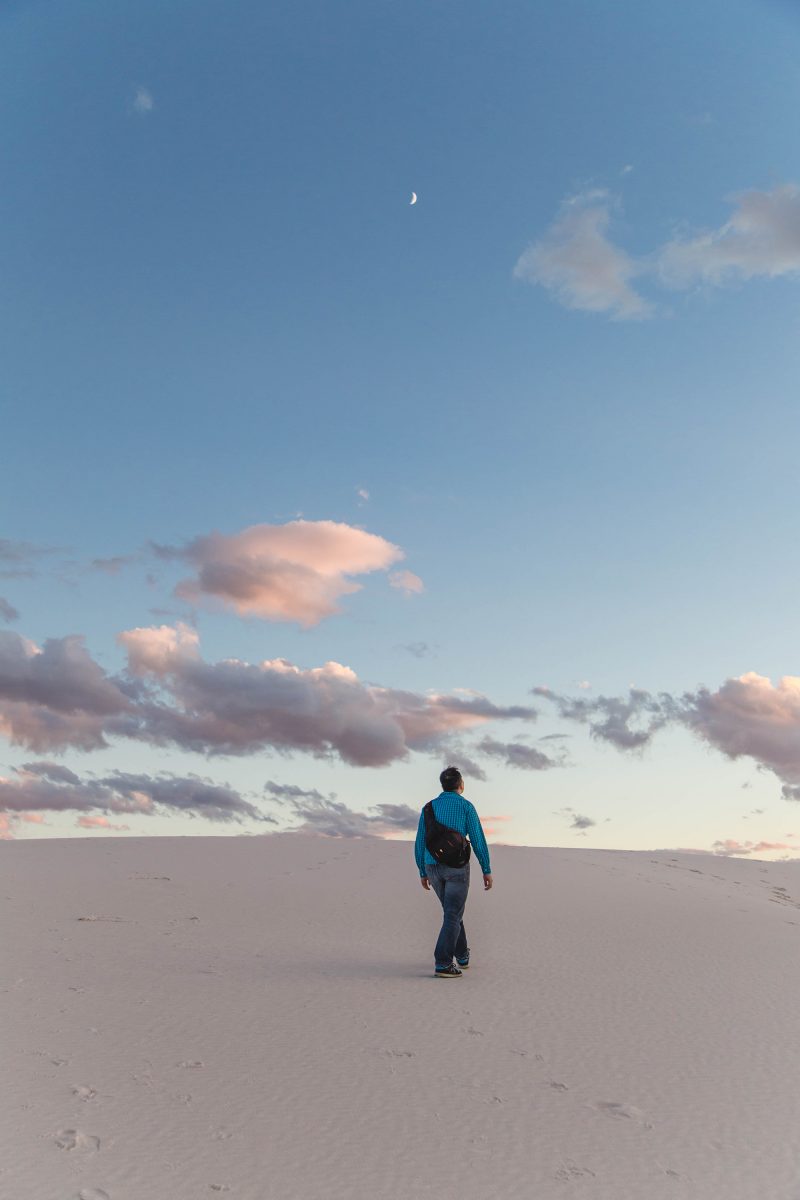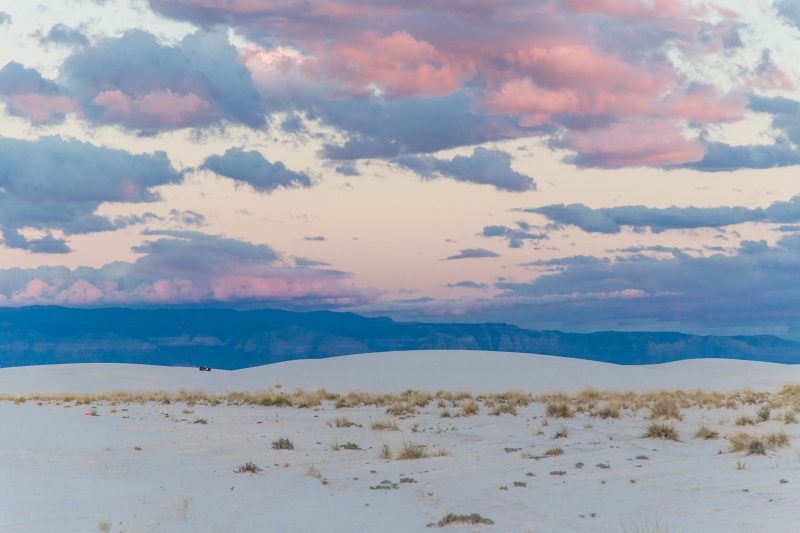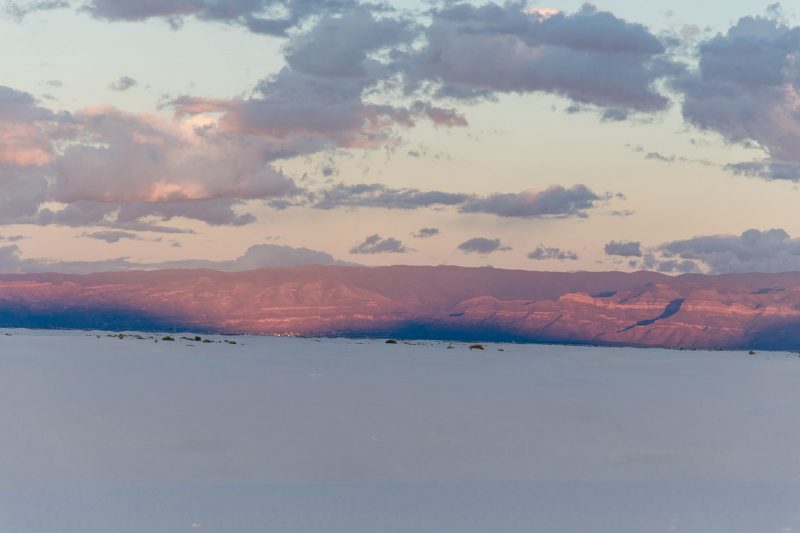 We stayed overnight at the Holiday Inn Express in Alamogordo, which felt very new and clean, with a decent free breakfast. For dinner, get a hot dog with green chili and shredded cheese from the Hi-D-Ho Drive In nearby. I devoured it so quickly, I forgot to take a picture. Great tater tots and sandwiches, too. We got a good night's rest to prepare for another long drive to Carlsbad the next day.