I first found out about the Albuquerque Balloon Fiesta after watching a timelapse video covering the event on Vimeo. Since then, it has remained on our bucket list for several years. Tie and I have been to another hot air balloon festival in New Jersey, but it was nowhere near as big and organized as this was. People came from all over the world, which explained why hotels, flights, and rental cars experienced surge pricing that weekend. Luckily, we had booked our stuff seven months in advance and were able to use points on Jet Blue and Holiday Inn. On the day we went, there must be have been at least 100,000 attendees total for the day and night sessions. We bought tickets to both (it was only $10 a session).
That morning, we woke up around 3:30AM and headed out around 4:30AM. Traffic was already backed up by then (parking opened at 4:30AM), but we had no issues finding a spot. It costs $15 to park, and it doesn't include in-and-out privileges. From getting through traffic to getting our bags checked and tickets scanned at the door, it was all quite organized and went as quickly and smoothly as a busy festival could. There were even shuttles leading from the parking lot to the entrance and school buses that make several stops within Albuquerque to take guests to the park. We were on the field by 5:30AM, as crew members started setting up balloons all around us. Since this was all before sunrise, it was pretty chilly so I'm glad we bundled up a bit with extra layers. I actually brought my tripod but it turns out that wasn't necessary. The sky got bright real quick and it was easier to walk around the massive field rather than lugging a tripod along. We also brought along a blanket, but there were many picnic tables out there so finding a place to sit wasn't an issue.
The mass ascension in the morning session was the main event, where 500+ balloons float up into to the sky (not all at once, though, because that would be total chaos). We got lucky with the weather – not too windy, lots of clouds but no rain, with that crisp October air. The next day it rained, so this would've been the last one to witness the liftoff. We had never been able to get so close to the balloons. You can literally reach out and touch them. I loved the sound of the fire breathing in to inflate the balloons. It was our only source of light, and felt kind of like a car revving up before a race. Everyone was excited and cheered when the first few balloons flew up. There were many that included company logos, but we were chasing after the abnormally shaped ones – mostly in the form of animals. Our bewilderment at seeing these massive colorful balloons take to the skies brought back a childlike sense of wonder. Soon they drifted further and further out until they were just a dot.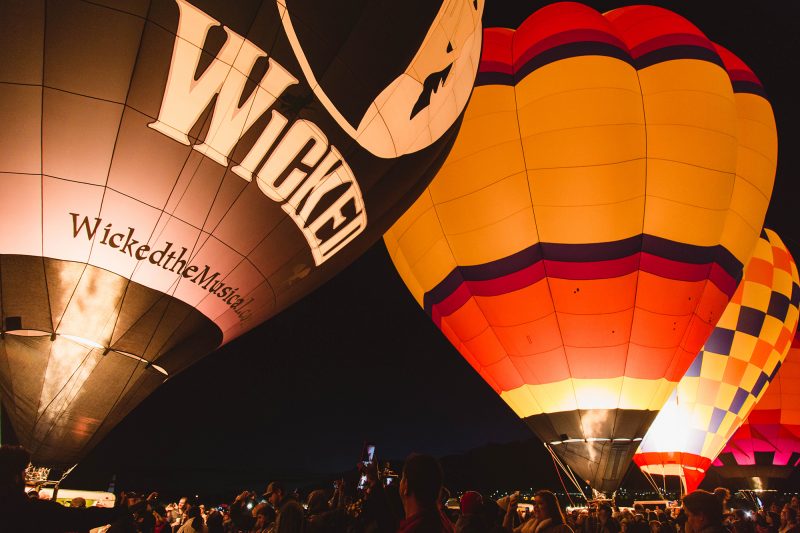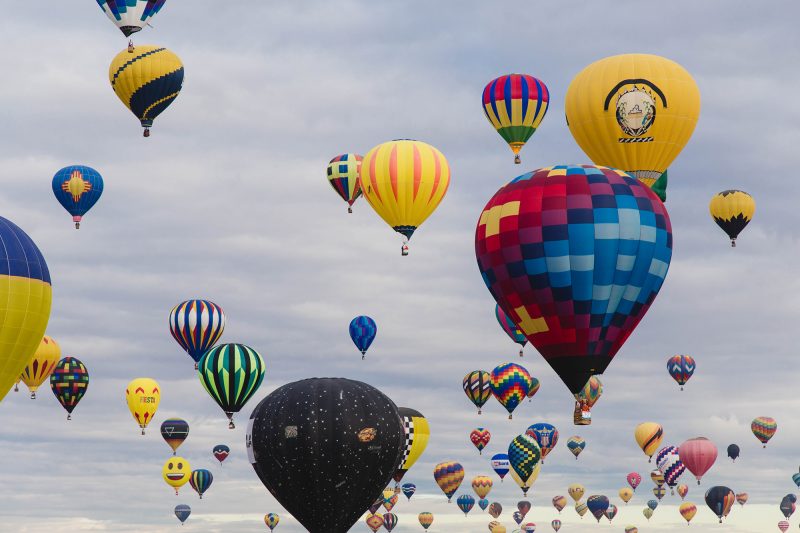 The mass ascension ended around 9AM. We then scoured the festival grounds for some food. The prices weren't exorbitant and the lines weren't long, but we decided to get something we actually wanted to eat outside, additional parking fee be damned. The night session started around 4PM so we had too much time to kill anyway. We left the fiesta for the time being to get lunch at Slapfish. Some people might be doubtful about eating seafood when New Mexico is a landlocked state, but let's be real. Anyone can get fresh seafood sent to them these days. And Slapfish was frickin' delicious. A casual restaurant where you seat yourself anywhere and order at the counter beforehand. I wish I could've taken it back home with me. Ugh. Just look at this spread. Unique chowder-soaked fries. Hawaiian bowl with garlic shrimp, grilled pineapples, and an amazing bed of garlic-smothered rice. Perfectly battered fish tacos. Melt-in-your-mouth crab and lobster ("clobster") grilled cheese sandwich. My mouth is watering again. Not to mention, the manager (or owner?) there was super friendly.
Our stomachs filled, it was time to visit The Candy Lady. Tie and I are both fans of Breaking Bad, for which Albuquerque is also known to be the setting of. Seriously, we passed by so many lawyer billboard advertisements with the headline "Better Call (Insert Name Here)." Anyway, The Candy Lady is the shop that provided all the prop meth used on the show, so of course we had to check it out and get ourselves a little baggy to taste. The store actually got the rights to sell Breaking Bad merchandise, so I'm sure they were making a killing for some time. They also have a bunch of other sweets (including some shaped like genitalia) for sale. In the backroom, there is a tray of the aforementioned blue crystal meth, which is just rock candy. I managed to snap a picture of the "operation" before the hired Walter White impersonator came in and blocked the door. You can get a picture with him, and he really did look a ton like Bryan Cranston, but the creepy Heisenberg vibe we got was too much. I was convinced he wanted to blow us up Gus Fring-style.
The Candy Lady is actually located in the Old Town part of Albuquerque, which reminded us a lot of Sedona, Arizona. It was a quaint ol' Western-style town with Mexican influences. Performers singing in Spanish and playing guitar outside, Dia de los Muertos stuff hanging everywhere (to be fair, it was October), and Native American art for sale in the tiny shops. It was all very touristy but also kind of charming.
Since we woke up early that morning, we decided to head back to the hotel and take a quick nap before attending the night session. So glad we did that and regained some energy. The traffic wasn't as bad for the night session, and we paid the $15 parking fee again. This time we walked around the festival some more. There were stalls selling food and souvenirs, and a discovery and artisans center on the right-side of the field that we didn't get a chance to check out. We instead went to the left side of the field to grab free swag from Bimbo (mostly just pastries) and Canon (pins and a stuffed fox toy). I should've signed up for the free lens cleaning at the Canon tent during the morning session. It was already completely booked. You can also rent zoom lenses for free, which was pretty cool. Too bad they didn't have the EOS-R. I wanted to see just how big it was!
Okay, enough nerd talk. Outside, we saw a Native American rain dance, but it was quickly overshadowed by professional skydivers up above. They spiraled downwards, emitting some colored smoke and carrying a ginormous American flag. Imagine being a professional skydiver. I wonder how many gigs they get a year?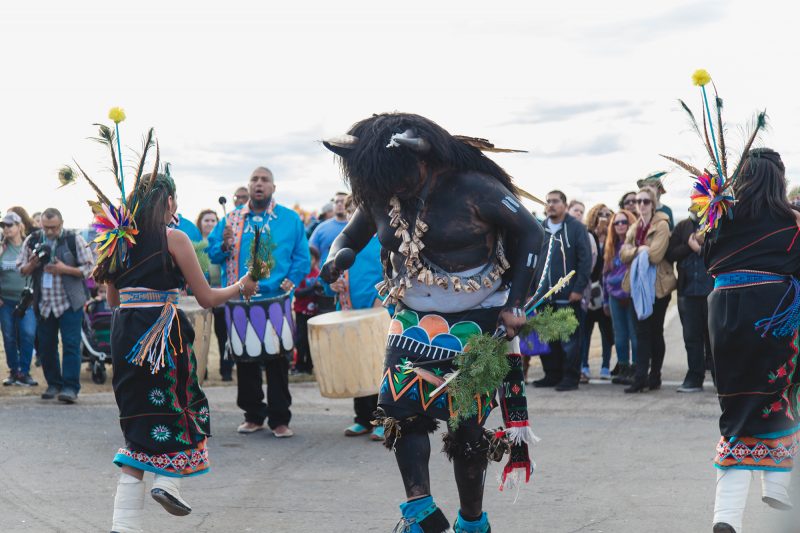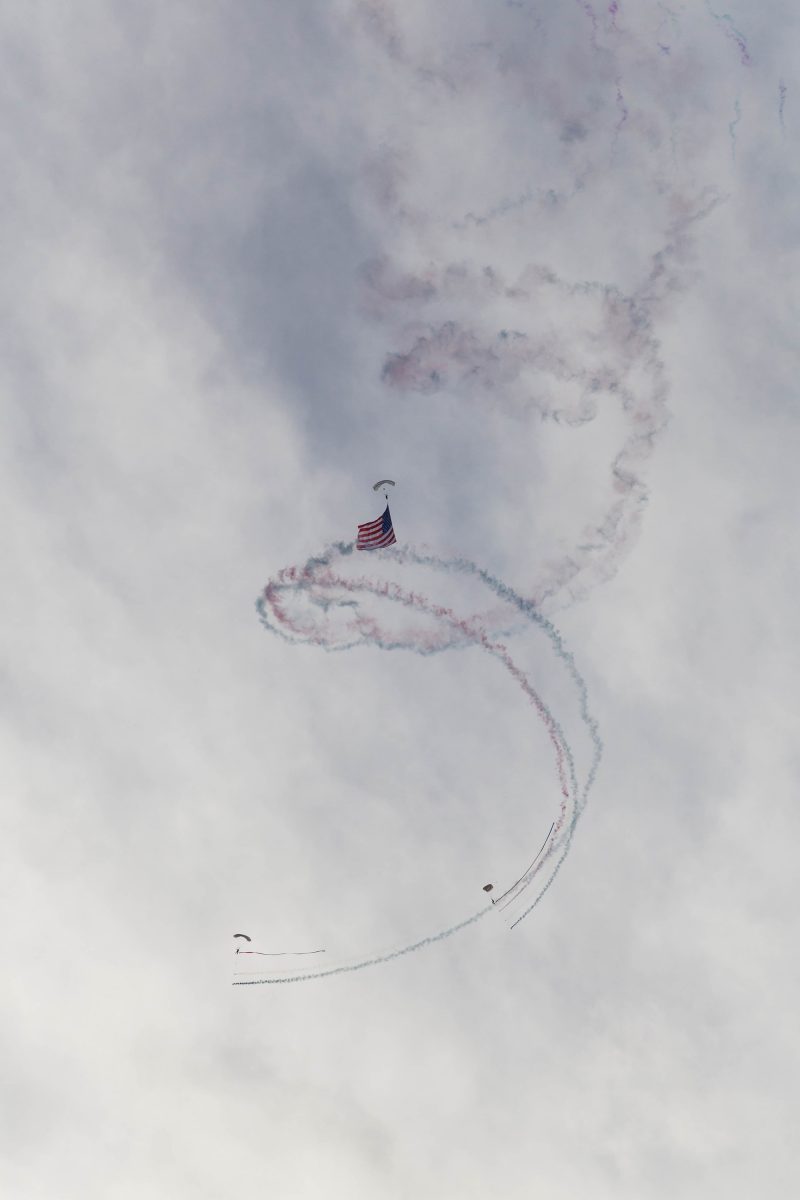 As night fell, balloons that had been deflated earlier during the day re-inflated, but this time they stayed on the ground. Every couple of minutes, there would be a countdown and then they'd all light up at the same time. Pretty rad.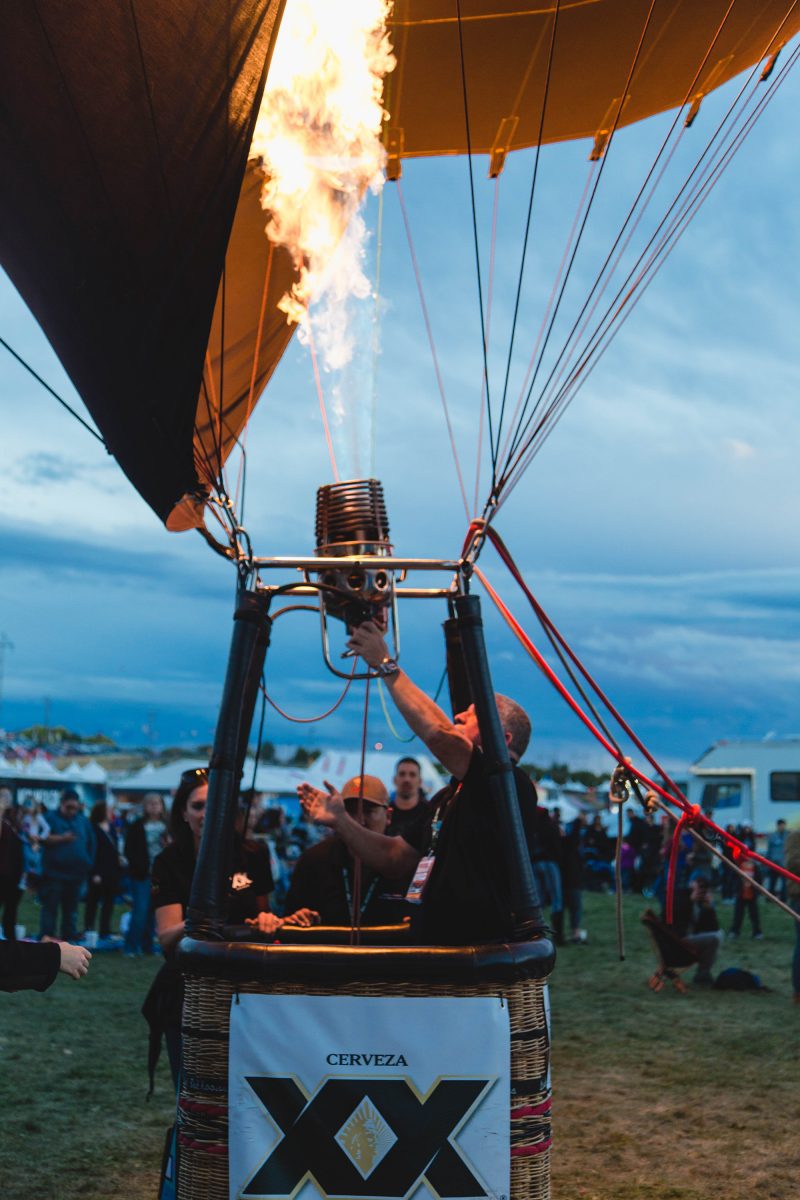 It might've taken a while to inflate the balloons, but they were down again to make room for the fireworks show. The professional skydivers reappeared for the opening act, shooting fireworks in the air as they descended. Seemed pretty dangerous, but hey, they were pros. The fireworks actually started on the right side of the field, followed by a second half of the show on another side of the field. It was one of the more spectacular ones we've seen, with a good range of huge, colorful, and varied fireworks unobstructed (except partially by the giant Canon hot air balloon that was still up). The weather was perfect, everyone's energy was still up, and it was a fantastic conclusion to the fiesta. We go to our fair share of festivals, and this was definitely up there amongst the best. A huge thanks to the event organizers and civilized attendees for not shoving people around even when it was packed.
Bonus! After the festival, we went to get some soul food at Nexus Brewery. It might be a bar atmosphere, but the gumbo they served was the best I've ever tasted. They did not skimp on the okra, sausage, shrimp and beans (and it's more of a dry-ish gumbo). Plus their take on the Nashville hot chicken was no joke in terms of heat – just look at how dark it was! If this was around where we lived, I'd probably go there regularly for the gumbo and to down a beer while catching a football game.