I never intended on visiting Basel, Switzerland, but it was a convenient place to catch a flight for the cities we did want to go to. Still, it was a decent one-day trip. We stayed at an AirBNB on the outskirts of the city and took a train into Basel. Parking was just too expensive (as was everything else, really). I really wanted to indulge in some quality chocolate and cheese, but I wasn't ready to pay 40 swiss francs for a cheese fondue with only bread. So unfortunately, didn't get my foodie fix here. We made up for it in other ways.
Spielzeug Welten Museum Basel
Our first stop was recapturing our youth in this toy museum. Admission is 7 CHF and free for children 16 and under if accompanied by an adult. And let's be honest, this is primarily a place for the kiddies or some nostalgic adults. They also have a mini scavenger hunt throughout the museum. If you collect all the clues, you win a gift in the end (looked like it was a pair of sunglasses). There are four floors of intricate exhibits, and we worked our way down. On the top floor is a massive collection of teddy bears; I have never seen such variety. Bears on race cars, bears in the hospital, bears at a picnic, families of bears… Imagine all the different things you can do as a human being, and then imagine yourself in bear form. The displays were jam-packed, but it looked like an organized chaos. Major kudos to the set designers. On the 3rd floor you'll find a bunch of miniature environments – mansions, Cleopatra's room, pharmacies, meat shops, etc. Some of the exhibits were interactive so when you wave your hand over the sensor, the amusement park comes to life. The ferris wheel lights up, the rides start spinning around, and music plays. On the lower floors, there was also a special advertising exhibit full of retro tin signs and even an authentic Pez dispenser. As a designer and marketer, these displays totally spoke to my soul (or soul-lessness?). There were also more "exotic" toys from around the world such as Japanese kokeshi dolls. Our favorite thing about the museum, however, was probably the animal-shaped carts that we were obviously way too oversized for but rode on anyway. Overall, this was our favorite attraction in Basel. We didn't have any of these toys growing up, but for a moment it felt like we were living vicariously through someone else's childhood, and that's really cool.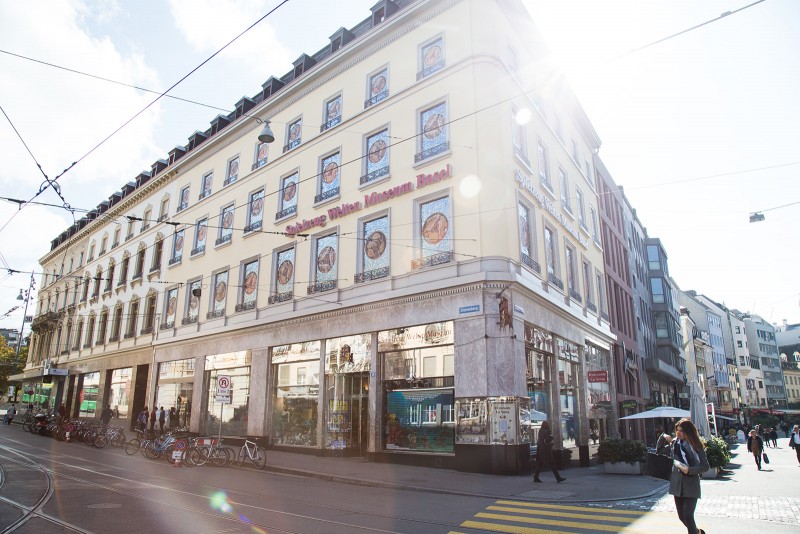 Tinguely-Brunnen
Nearby, we came across this unique fountain designed by artist Jean Tinguely. Each of the mechanical parts interact with the water, and lots of people just sit around watching it do its thing. Somewhat meditative.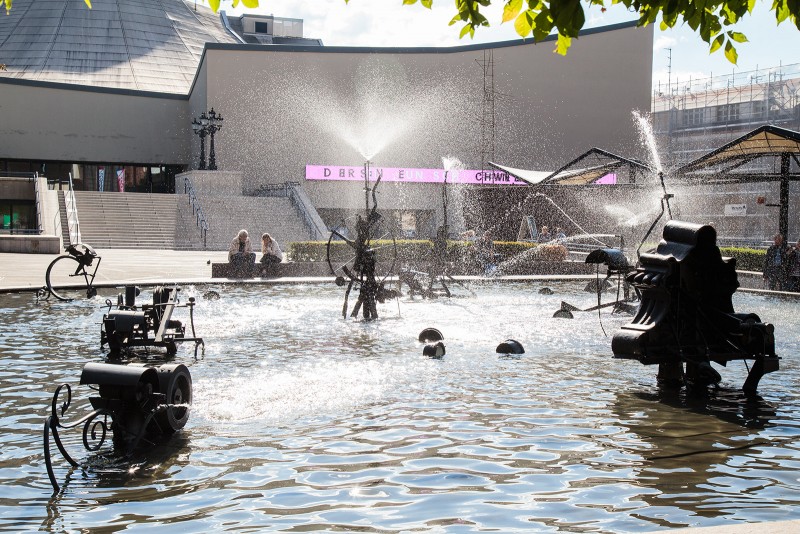 Elisabethenkirche
A short walk from the Tinguely fountain is this neo gothic church, set atop a hill and viewable from a distance away. Not a lot of people inside at the time; it looked like they were setting up for something. If you're into churches, check it out. Otherwise, nothing too extraordinary.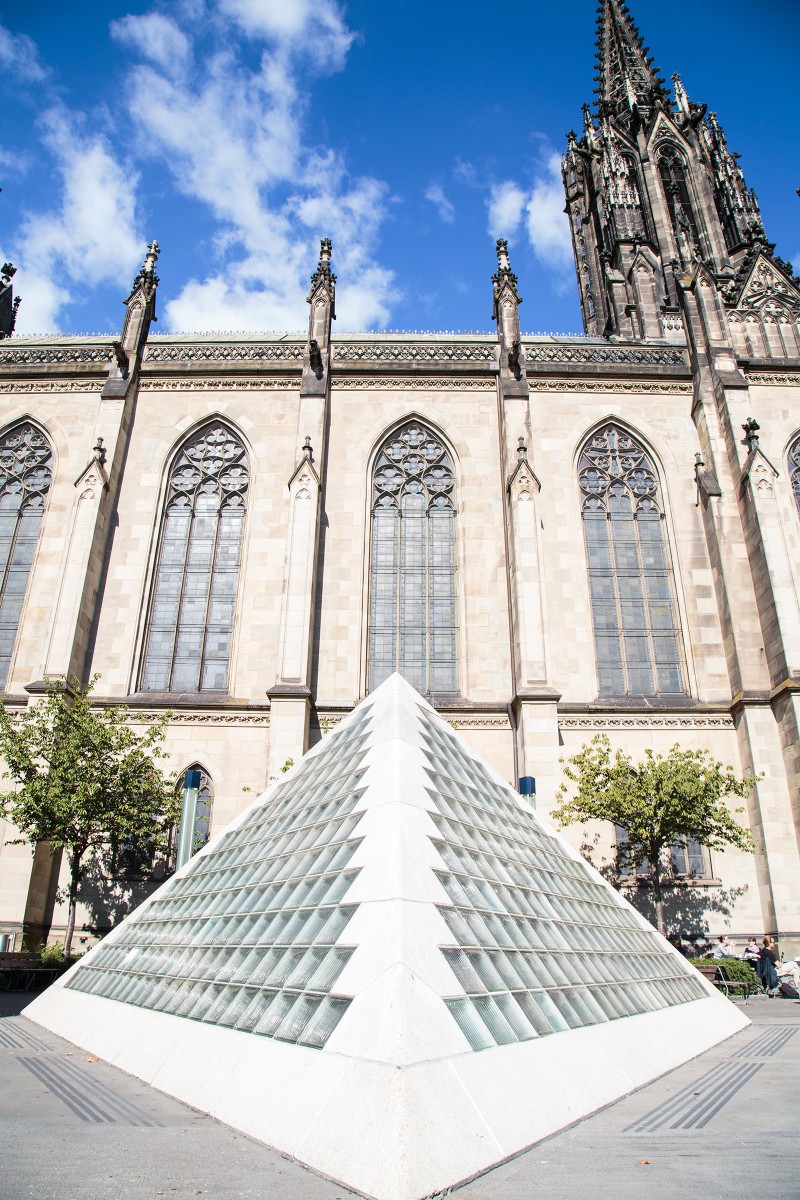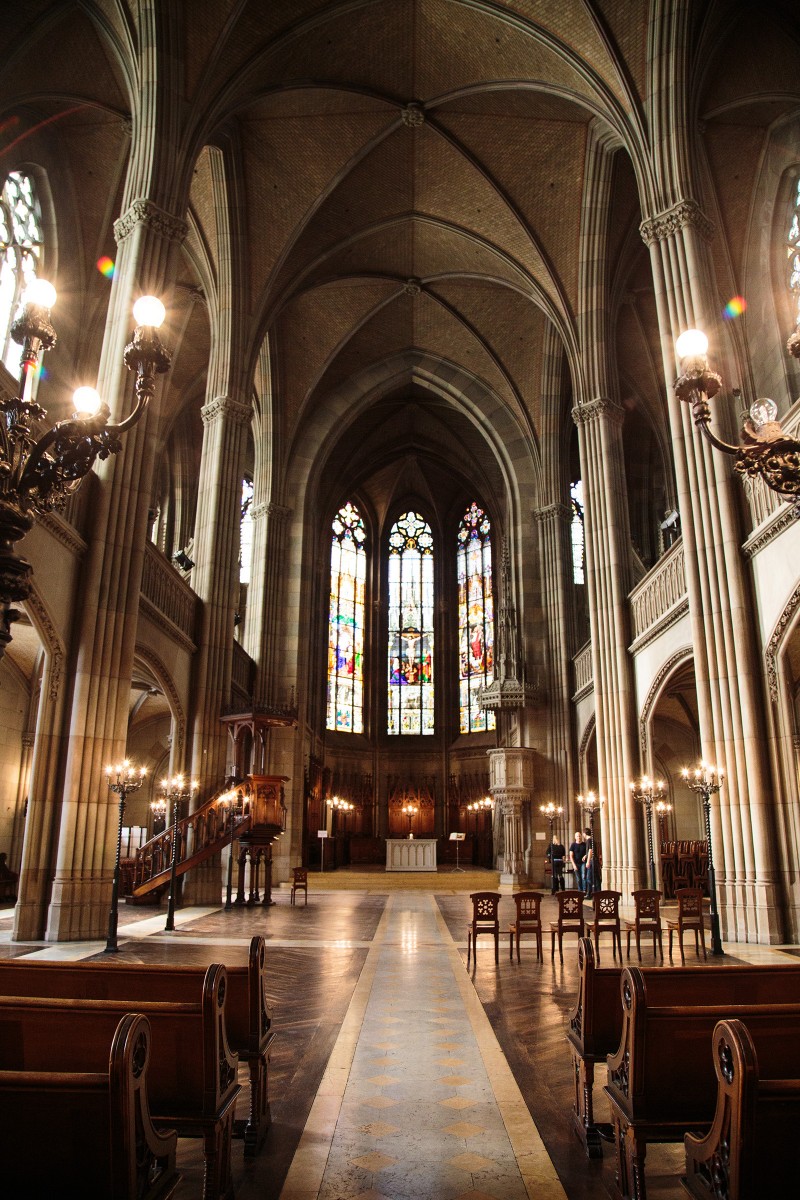 Rathaus
Rathaus means town hall, which doesn't sound very exciting, except the Rathaus in Basel is vastly different from its surrounding buildings. The gorgeous red stone facade with gold and green details throughout (check out that roof!) reminded me of Moscow's Red Square. Located off a shopping street, it offers tours in German (we didn't go inside). Definitely the most architecturally fascinating building we came across in the city. On some days, you can also find a farmer's market in the square it faces (it wasn't there when we went).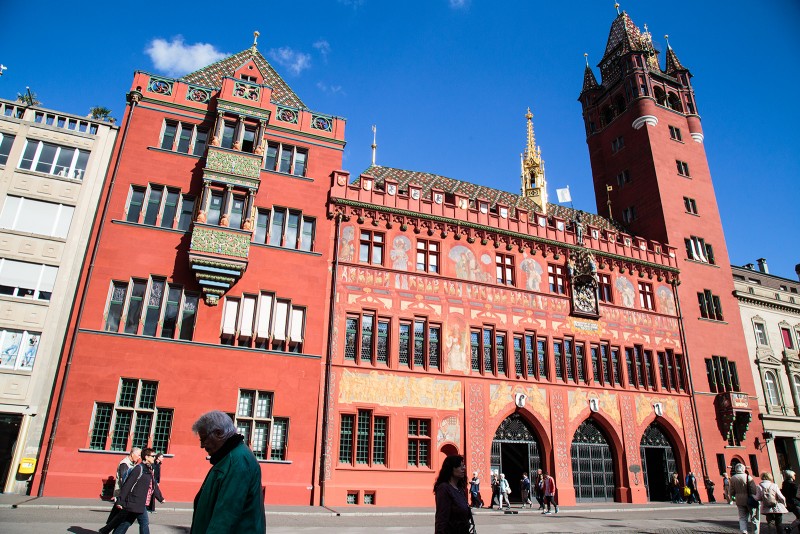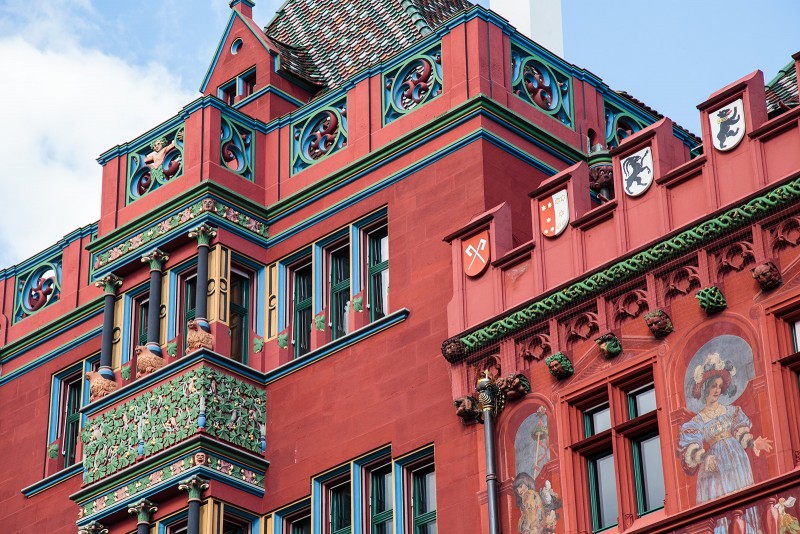 Mittlere Rheinbrücke
Late afternoon, we decided to take a break by the Mittlere Rheinbrücke, which means "Middle Bridge." Here you can get a nice overall view of Basel and the Rhine river. Locals seem to like coming here to wind down or enjoy a snack. I imagine it would also look beautiful at night and during sunset.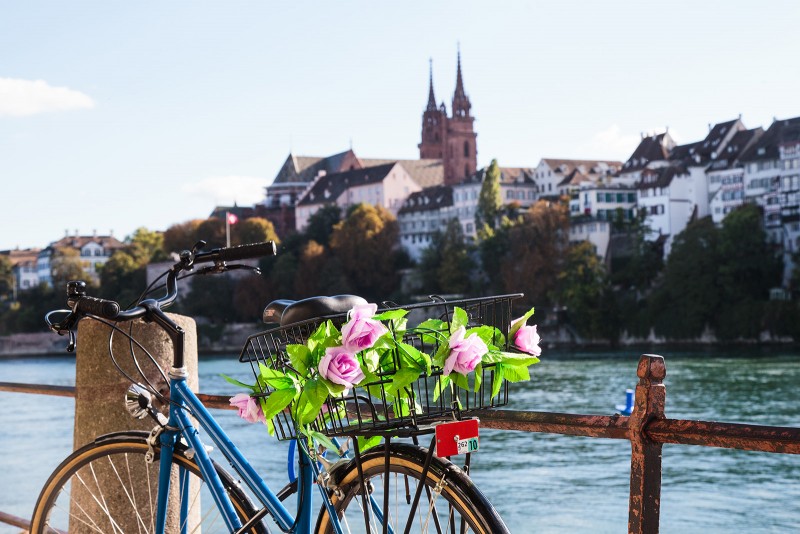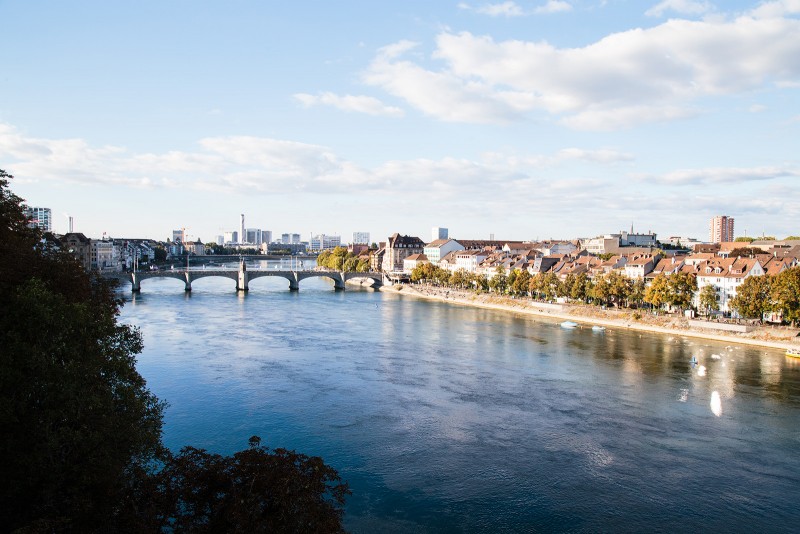 Basler Münster
From across the Rhine river, you can take an inexpensive ferry to Basler Münster (or take the long way and walk around like we did). It's another church, but my favorite part was the cloisters. It also offers a panoramic view of Basel from the courtyard in the back. Like Rathaus, the building has a colorful tiled roof and a red sandstone exterior. Good place for photo ops!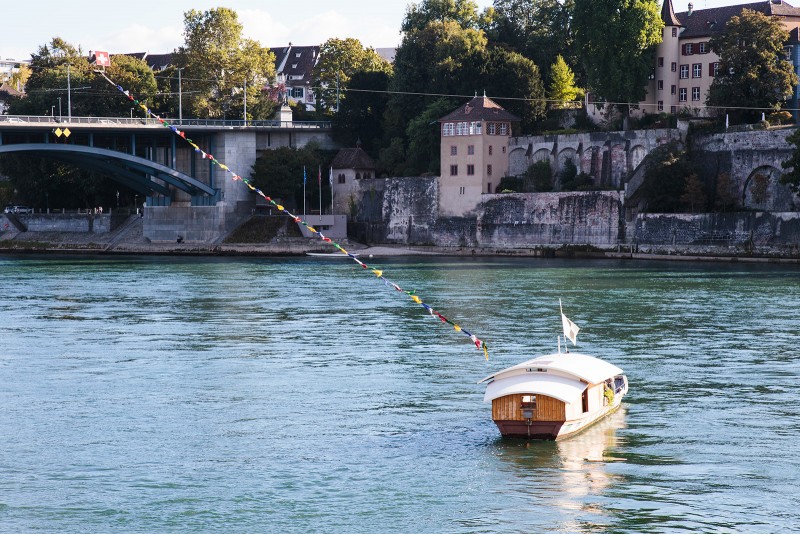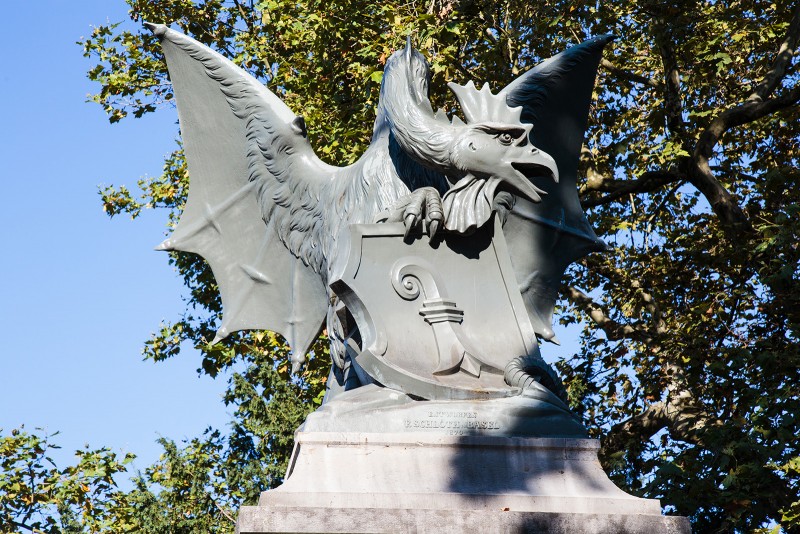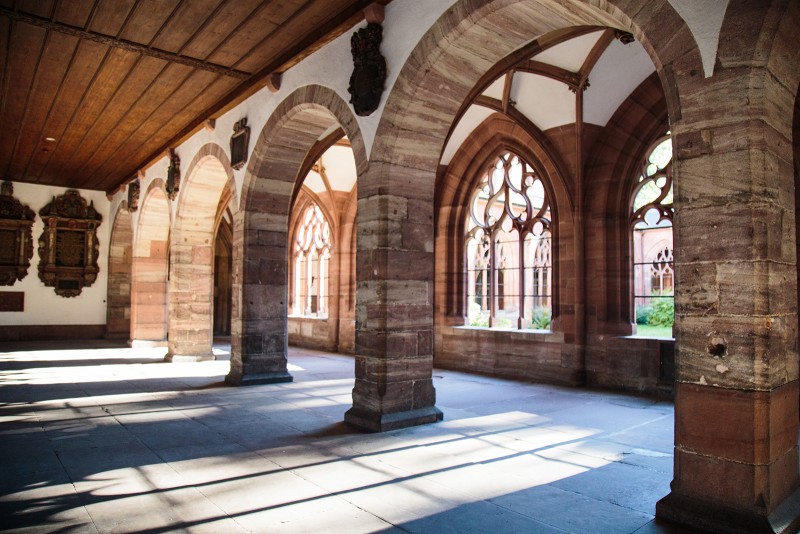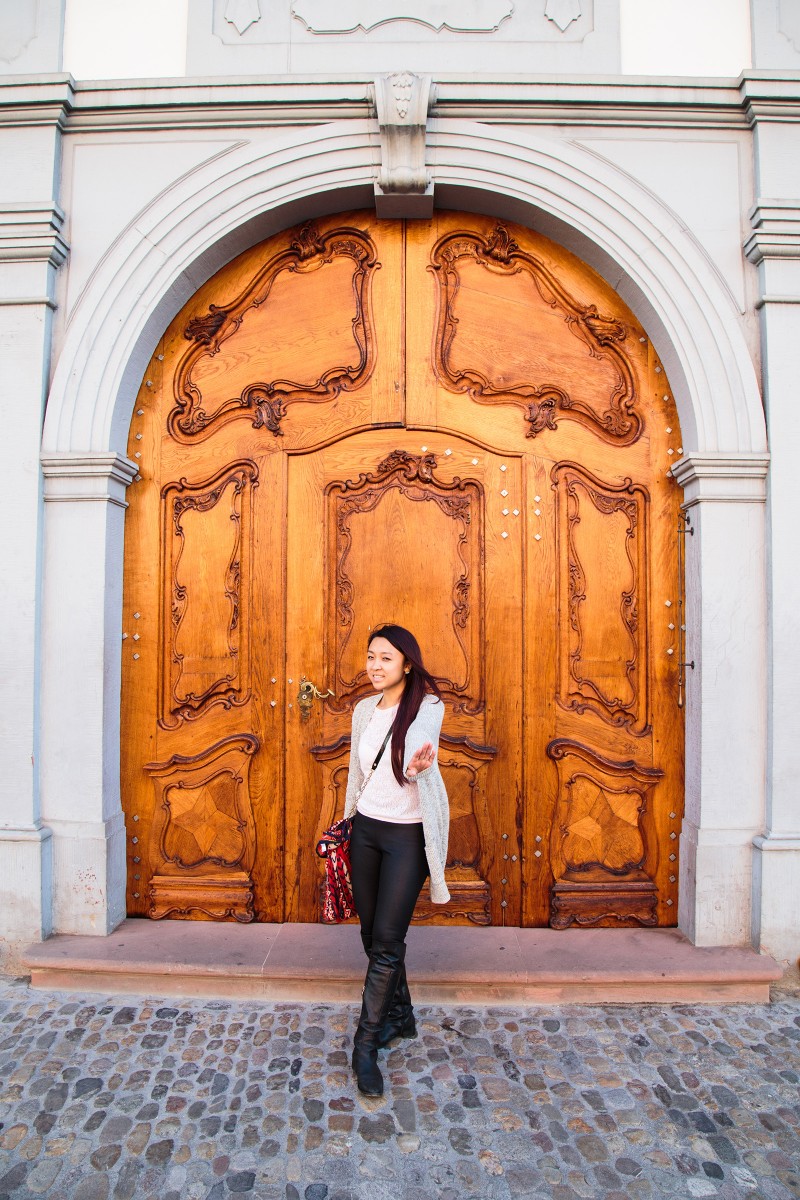 Kunstmuseum Basel
Basel has many museums, but we happened to arrive at Kunstmuseum between 5-6pm, where admission is free. So we made a mad dash and tried to check out as many exhibits as we could. Photography is forbidden in certain areas, such as the Jean Tinguely exhibit. Decent modern art museum, but I probably would not have wanted to pay the original admission price of 18 CHF. (Has this post convinced you of my cheapness yet?)
Walliser Kanne
Finally, a good restaurant to try in Basel is Walliser Kanne, which is known for its fondue, schnitzel, and raclette. Again, prepare to get sticker shock, but it is a pretty popular dining option if you're willing to pay up. Just the smell of the cheese is intoxicating.