Amsterdam was a mix of romantic walks along the canal, well-curated museums, and some seedy things. We spent a total of five days living out of a tiny AirBNB by the canal and walked our way around the city. I had attempted to rent a bike before quickly realizing that there was no way I could avoid getting hit by a car or running someone over. So we got our cardio in instead.
We knew we wanted to visit a number of museums and take a canal cruise, so we ordered an Holland Pass [small] for 40€ next door, which also came with a thick guide book to the city's attractions. The pass covers one gold attraction (for example, the Rijksmuseum), two silver attractions (for example, Rembrandt House Museum), and a transportation pass, which we traded in for a canal cruise. It also gives a discount on a bunch of attractions around Holland. While Amsterdam's museums are beautiful, some are also quite expensive, so having the pass at least saved us a bit of money on admission fees.
Rijksmuseum
In recent years, Amsterdam has gained quite a reputation for its many fantastic museums. Amongst the most popular is the Rijksmuseum, located right behind (or in front of?) the over-Instagrammed "i amsterdam" sign. In it are famous works by Dutch artists such as Van Gogh, Rembrandt, and Frans Hals, as well as art from Asia. As we do with many of our museum visits, Tie and I downloaded an audio guide onto our phone and shared our earphones.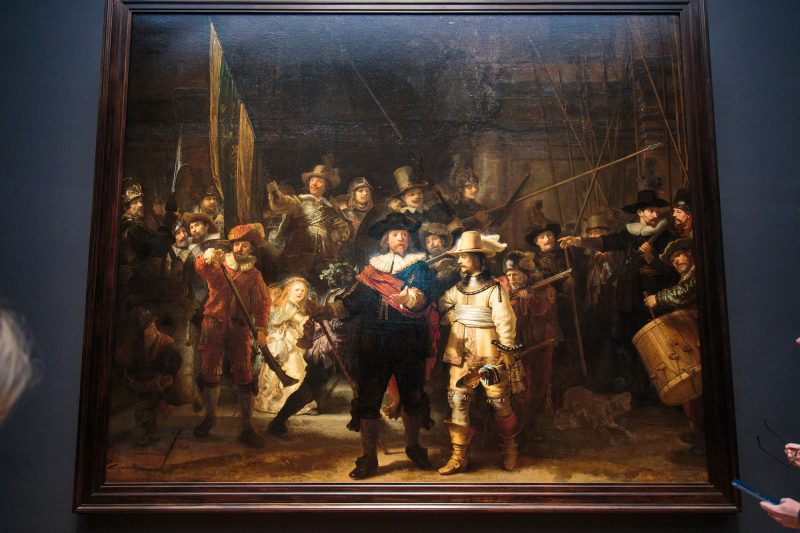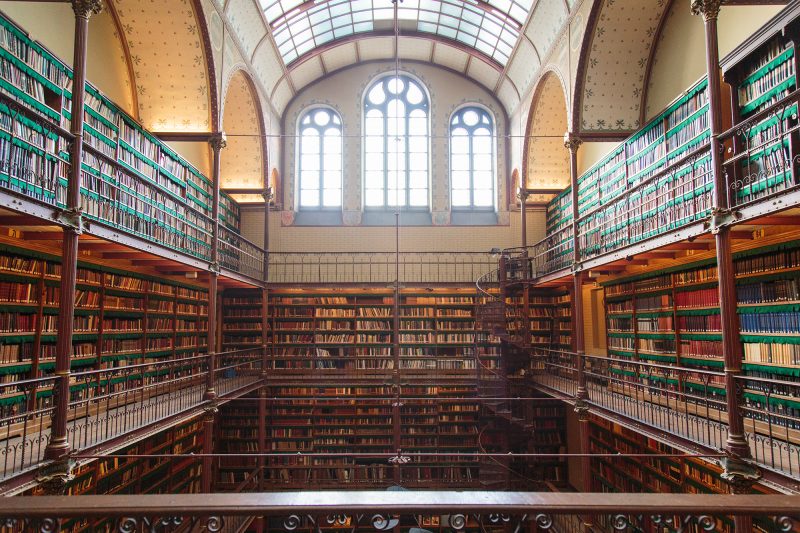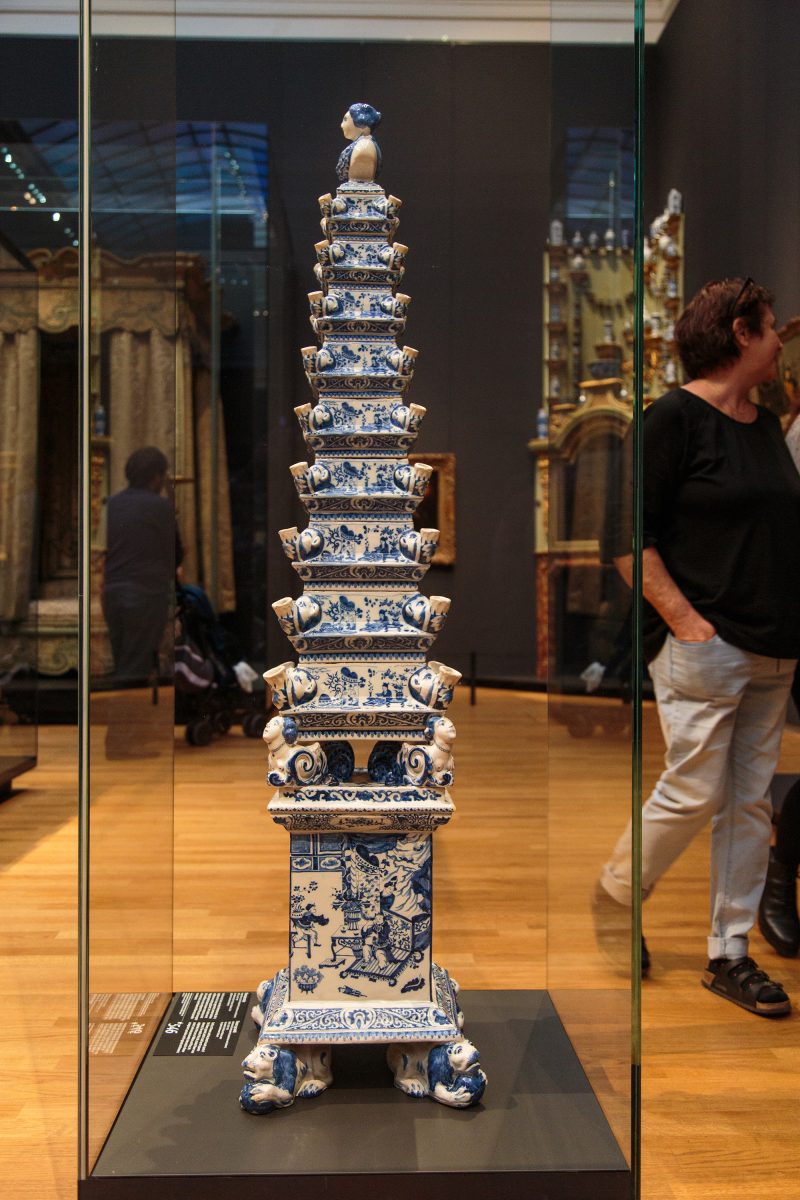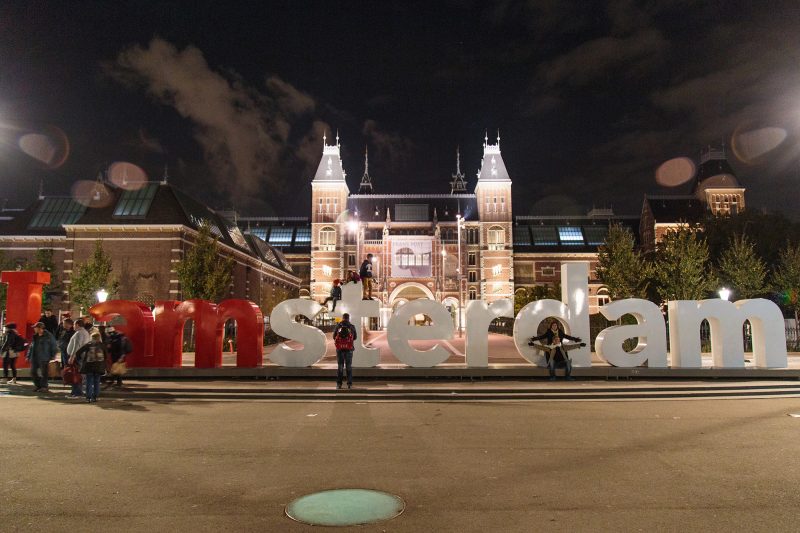 De Jordaan / 9 Straatjes
We window-shopped around the De Jordaan and 9 Straatjes (9 streets) areas, which are filled with clothing boutiques, art galleries, souvenir shops, and antique shops. The stores in the 9 Straatjes closed around 6pm, so it's not a place for night time shopping on weekdays. There were stylish bags, coats, jewelry and very Dutch gifts like the blue and white porcelain vases and cogs. But we have yet to come across someone who actually wears cogs in public (or at all).
Anne Frank House
When I was in high school, Maus moved me in a way I never thought a comic book could. Like Maus, Anne Frank's now famous diary told of her personal experience during the Holocaust. Her family was constantly on the move, hiding from the Nazis. The Anne Frank House, as it is now known, looks like any other unassuming building in Amsterdam from its facade. But inside were hidden rooms and an entire secret cellar where the Frank family hid. They couldn't come outside during the day and the curtains in the house had to be shut. What was most touching was Anne's will to live in spite of her circumstances. In her diaries, I didn't see her as just another Holocaust victim, but as a regular teenage girl with friends, boy problems, and dreams of becoming a writer. It's not surprise that her diary has been translated to so many languages; it's relatable and humanizing, two things that statistics do not usually reflect. One of the visitors was so touched she cried throughout the self-guided tour.
If you are planning to visit, I suggest purchasing the tickets beforehand to avoid the queue. Otherwise you'll have to stand in a very long line to buy them after 3:30PM (like we did). And note: there are no photos allowed inside.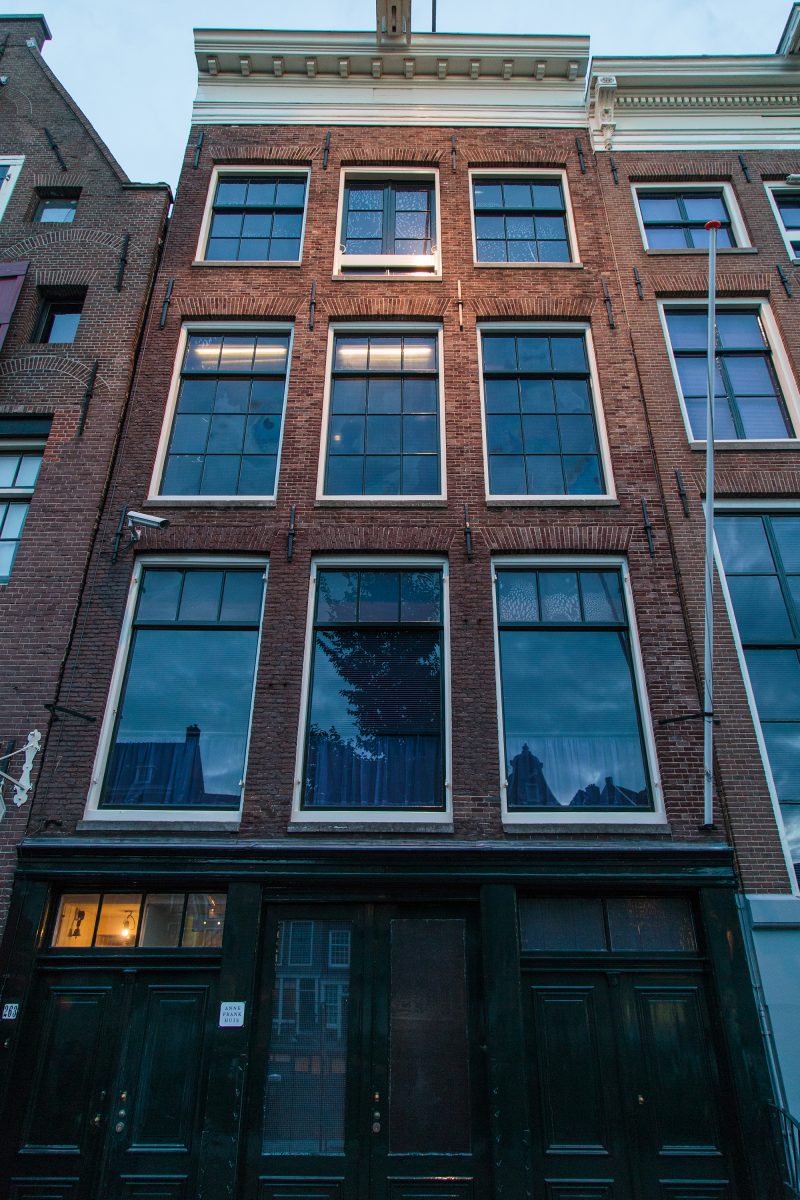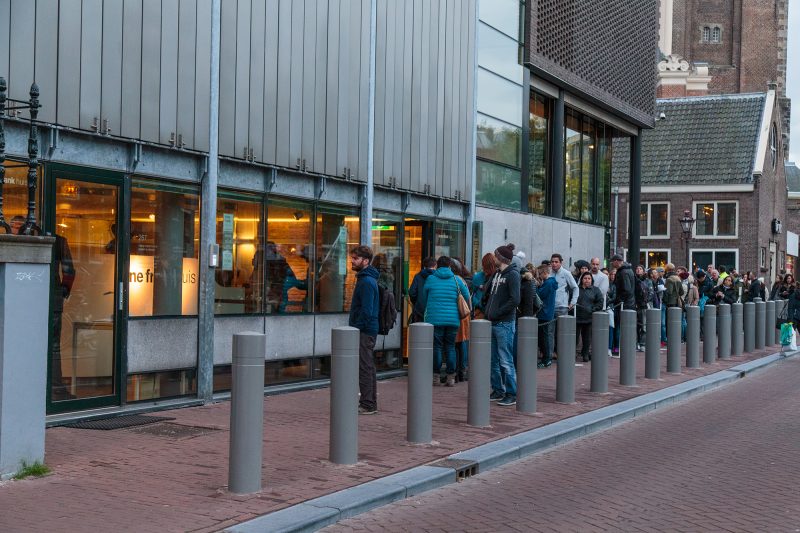 Heineken Experience
Heineken, perhaps the most well-known Dutch beer, has a brewery in Amsterdam where everything is green like a leprechaun. Our tickets came with a free tasting and tall glass of beer. Once we got through the history lesson part of our audio self-guided tour, the experience became more immersive. There were branded "games" and interactive green-lit bottles. You can also personalize your very own Heineken bottle. Overall, I was not too impressed with the tacky games and lack of space to stand around and drink my beer in peace. There were way too many people crammed into each room. But if you're a Heineken aficionado, they do provide a generous amount of beer.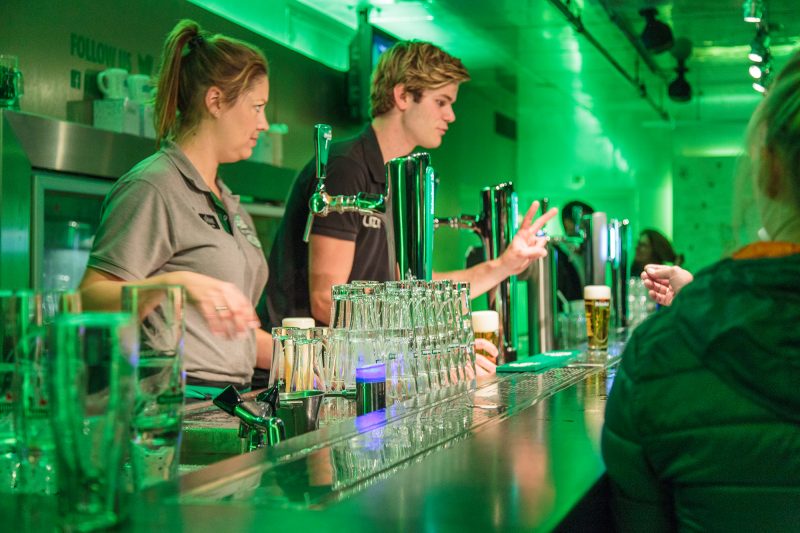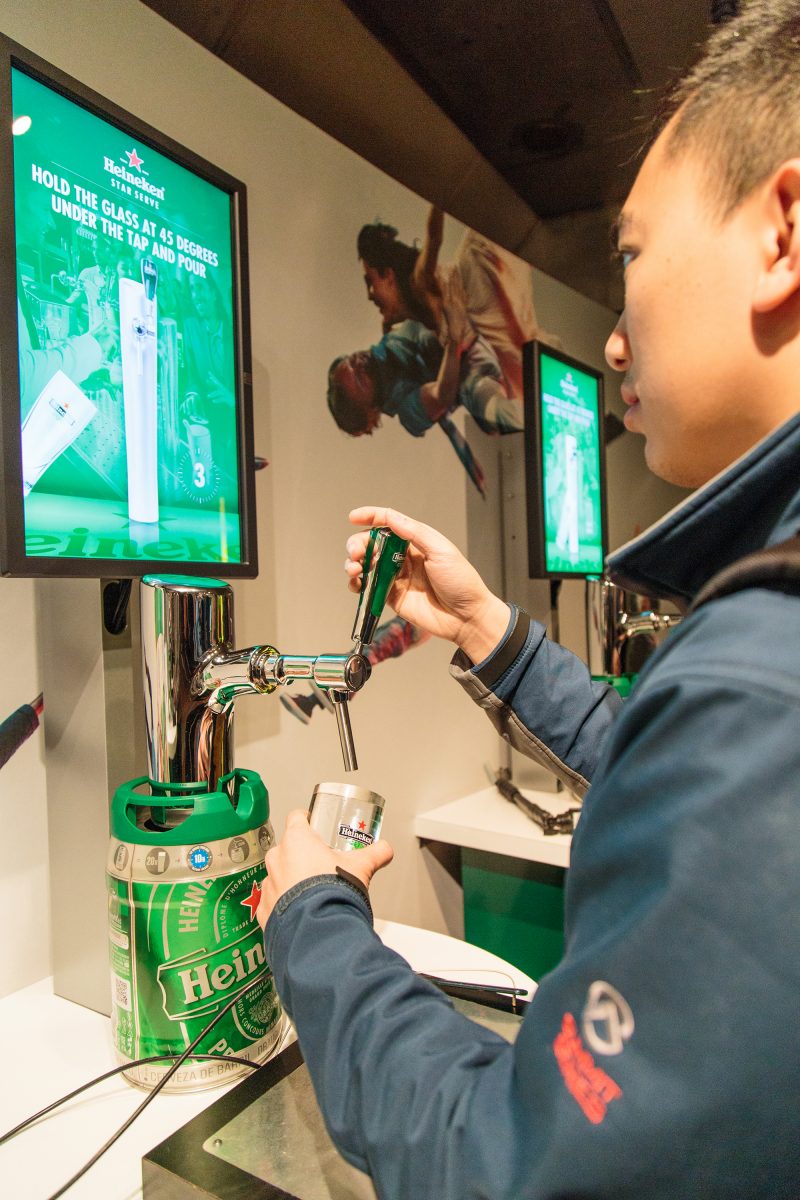 Van Gogh Museum
The Van Gogh Museum is located in a large glass building within walking distance from the Rijksmuseum. Photography is not allowed inside here either. There are multiple floors showcasing Van Gogh's art, as well as biographical snippets and letters he wrote to his brother, who was his only fan while Vincent was alive. The reason why you can find Van Gogh's art in almost every major art museum around the world is because he was incredibly prolific, regularly churning out illustrations and paintings. Even more impressively, there was no one who appreciated and bought his art (except his brother who lent him money). By the time Van Gogh died, he was broke. Any other artist probably would've given up long ago with such poor reception, but Van Gogh kept motivating himself, despite his mental illness (re: that whole ear incident). It made me think about all the social influencers today, putting themselves out there with hopes of gaining a fanbase. Would they have trudged on if no one was watching their videos or reading their blogs? I guess we'll see if Tie and I give up on this blog because we get no visitors (hopefully not).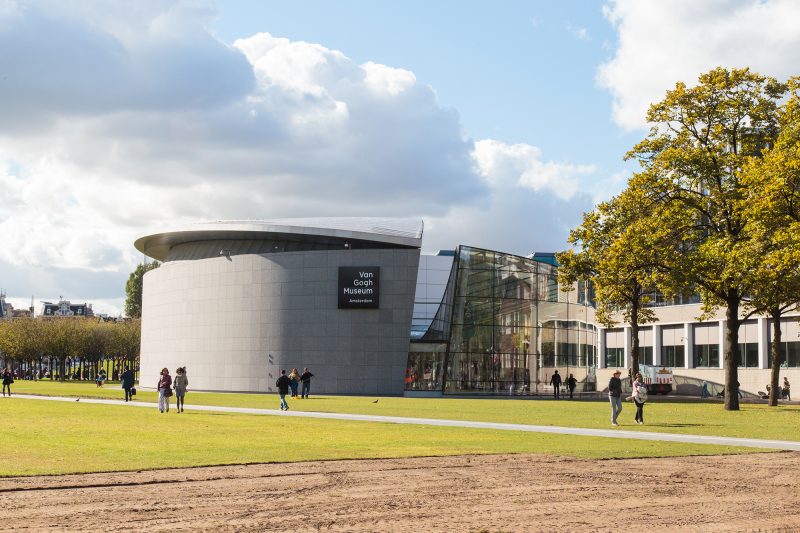 Canal Walks
You can't really avoid the canals in Amsterdam as they are everywhere. Along the river are the iconic tall, skinny brick townhouses. Since we did not bike around town, we instead walked along the cobblestone streets and crossed bridges adored with flowers. We came across a bunch of house boats, too. People literally live inside them, and you can even rent some as an AirBNB. And don't worry about getting seasick – they are moored on the canals so they won't float away in the middle of the night.
Canal Cruise
The Lovers Canal Cruise was included as part of our Holland Pass (the silver selection). It was a comfortable hour-long calm boat ride where we plug the provided earphones into a built-in audio guide in our respective language. Quite interesting to see Amsterdam from a lower angle, looking up at the city. I'm a bit concerned about the sea level rising, though, because some bridges we barely passed underneath. It was a nice break from walking everywhere and can actually lull someone to sleep.
Royal Palace of Amsterdam / Dam Square
Right by the Royal Palace of Amsterdam in Dam Square, there was a carnival with some quality thrill rides and the classic ferris wheel. There were a ton of shops and tourists in this area. We found that the best view of the palace at sunset was located inside the nearby H&M.
Red Light District
When you spot a small red lit pillar blocking cars from entering one of the cobblestoned streets, you'll know you've entered the red light district. Either that, or the mood lighting emitting from the floor-to-ceiling store windows. There are sex shops, peep shows, museums and prostitutes all around. Swarms of tourists, many sheepishly, line up to check out some of the peep shows. We decided to give it a try, even though it was way overpriced. But hey, we're here. For €2 per person for two minutes, you too can cram yourself into a tiny booth to watch a naked woman or couple grinding on a spinning platform. Two people max are allowed in each booth (the booths wrap around the circular peep show "stage," if you will), but no two guys are allowed in together. The most awkward/entertaining part was watching all the other audience members gawk at the, er, performer. All in all, I didn't find it too exciting watching someone dry hump the floor repeatedly. Perhaps the live sex shows are more engaging.
But aside from that, the Red Light District is really known for the scantily clad women hanging out like seductive mannequins by the storefronts. If you like what you see, you can book some time with her to do whatever it is you do like two (or more) consenting adults. Prostitutes get a bad rep, but from what I see, those are just hardworking women who found an opportunity that pays well and on which they can support themselves. That being said, I did get flipped off by a prostitute, not realizing I was still carrying my camera around my neck. Word to the wise, don't have your camera out in the Red Light District. Even if you're not pointing it and shooting, some of the women still get freaked out and assume you might be filming or taking pictures.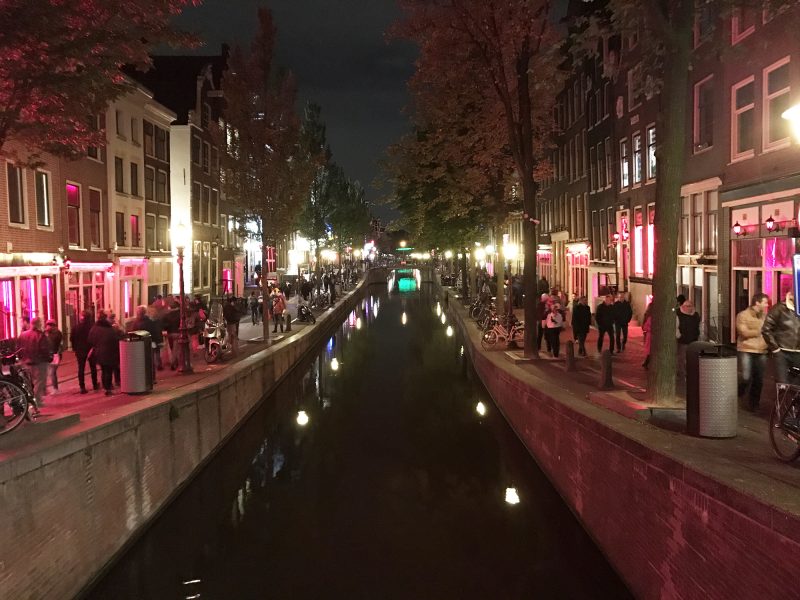 Coffee Shops
Another hedonistic feature of Amsterdam are its many "coffee" shops. Many do serve drinks, but you're really there for the marijuana. Along with shops selling shrooms, this is where you can get high AF. And that I did, leading to the second embarrassing moment of this trip. Tie and I decided to smoke some weed and really blend in with some of the local teenagers. There are varieties of weed to choose from the menus, and it turns out the stuff in Amsterdam are quite potent, especially for someone like me, who usually does not smoke at all. I never quite understood the phenomenon of "tripping balls" until now. Somehow I found our way back to the AirBNB. Needless to say, I will not get cocky around recreational drugs again.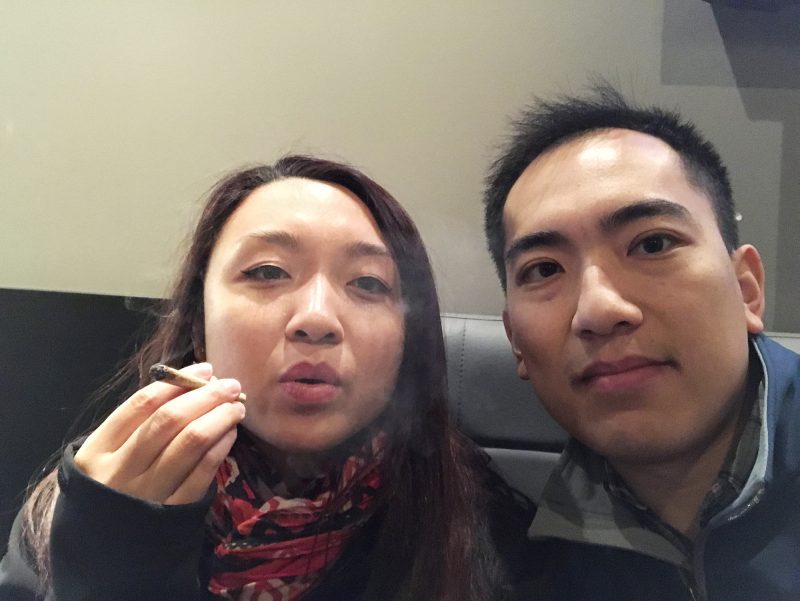 Rembrandt House
Rembrandt is one of the most famous Dutch painters today, and the house he once owned and lived in is now a museum. In it are an original mid-17th century kitchen, beds, and a studio where Rembrandt taught students how to paint. At the time, he was already quite successful so he was able to afford a loan on the expensive property. But apparently Rembrandt was too frivolous with his money, and he ended up being unable to pay the mortgage. He lost his house and was forced to sell his possessions, which are now on display in the museum. And you can tell by the sheer amount of stuff he owned, Rembrandt was a hoarder. We had a pleasant visit inside the museum, but it got pretty cramped inside the rooms as there were also groups of students on a field trip there.
Zaanse Schans
I'll admit, one of the reasons I wanted to visit Holland was because of the old Playstation game Twisted Metal. One of the stages takes place in a field of windmills and thus I was enamored. We took a day trip out to Zaanse Schans via a short train ride to see some of the aforementioned windmills in person. There was a small village selling souvenirs and gouda cheese, and it also housed some farm animals. There were tour groups at the location, but other than the windmills along the green pastures, there wasn't much else to see.